Christmas is knocking on the door! (Well, not really, but you know what I mean). And it's time to take out our favorite Elf! But don't even think about setting them up on the Christmas tree! That's boring! Here are 35+ free Elf on the Shelf printables that will help you set up an unforgettable visit for your cute Christmas guest while creating special memories with your kids.
If you do it right, your kids will be very excited, and they will look forward to the Elf on the shelf shenanigans every year. What could be better than starting a new family tradition?
This post contains affiliate links.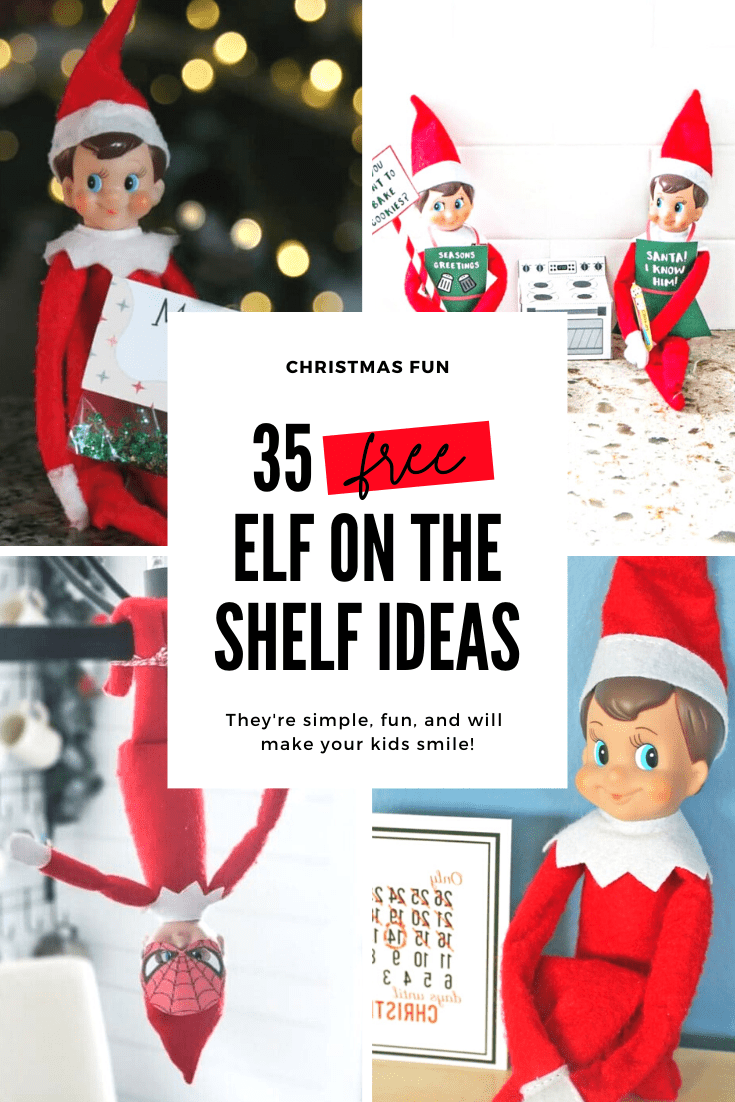 What Is Elf On The Shelf?
It all started from a children's book!
"The Elf on the Shelf: A Christmas Tradition" is a picture book for kids (written in 2005) by Carol Aebersold and Chanda Bell. It tells a Christmas-themed story in rhymes, explaining how Santa Claus knows who has been nice and who has been naughty.
Our Pick
Santa sends one of his scout elves to every house to be watching the children and how they behave. The Elf reports back to Santa every night, when the whole family's asleep, whether the child has been naughty or nice. The Elf moves around the house and hides in a different place every night before the sun comes up.
The book explains that Scout Elves gain their magical abilities after being adopted and loved by a kid. As a result, the Elf gets its special Christmas magic powers after the child gives them a name.
Even though it sounds like a fantastic way to keep your kids busy and behave well, coming up with different spots to hide the little Elf is not an easy task for any parent. I know firsthand how challenging it could be, especially when your kids get a bit older. For this reason, a list of Elf on the Shelf printables comes in truly handy.
Welcoming Your Elf On The Shelf
The best time to announce the Elf's arrival is between the day after Thanksgiving and December 1st. He stays at your house until Christmas and usually arrives with a welcome letter explaining: 
Why did they have come to your house?

What are they going to do each day during their stay with you, and 

What they will report back to Santa Claus. 
If you're looking for inspiration about your letter, using an Elf on the shelf welcome letter template could give you a great start.
A great way to make the Elf on the Shelf tradition a bit more challenging for older children is to implement one of the rules from the book: 
"If you touch me, I lose my magic and must go."
The Elf on the Shelf: A Christmas Tradition
As a rule, this will give you a bit more creative freedom when you think of fun ideas on where to place your Elf on the Shelf.
A great way to start is to set up a special box or basket for his bed and place them in your living room area. Put in small items like pillows, a tiny chair, table, or whatever else you have around your house from your other kids' toys, which will help you keep your children busy for a while.
The best time to set his bed up is after dinner. This will allow your kiddos to put him to sleep, right before they go to bed, too.
And here are some Elf on the shelf printable letters you can use for your cute little friend's arrival:
1. Elf On The Shelf Welcome Letter Printables

Struggling to come up with a cute and fun arrival letter for your little Elf's visit this year? Worry no more because these printable letters are exactly what you're looking for.
2. "I'm Back" – A Printable Poem Arrival Letter
If you've already had a fun time with the cute little elf the previous year, you should grab this printable with a cute Elf on the Shelf poem.  
3. Elf Mail Printables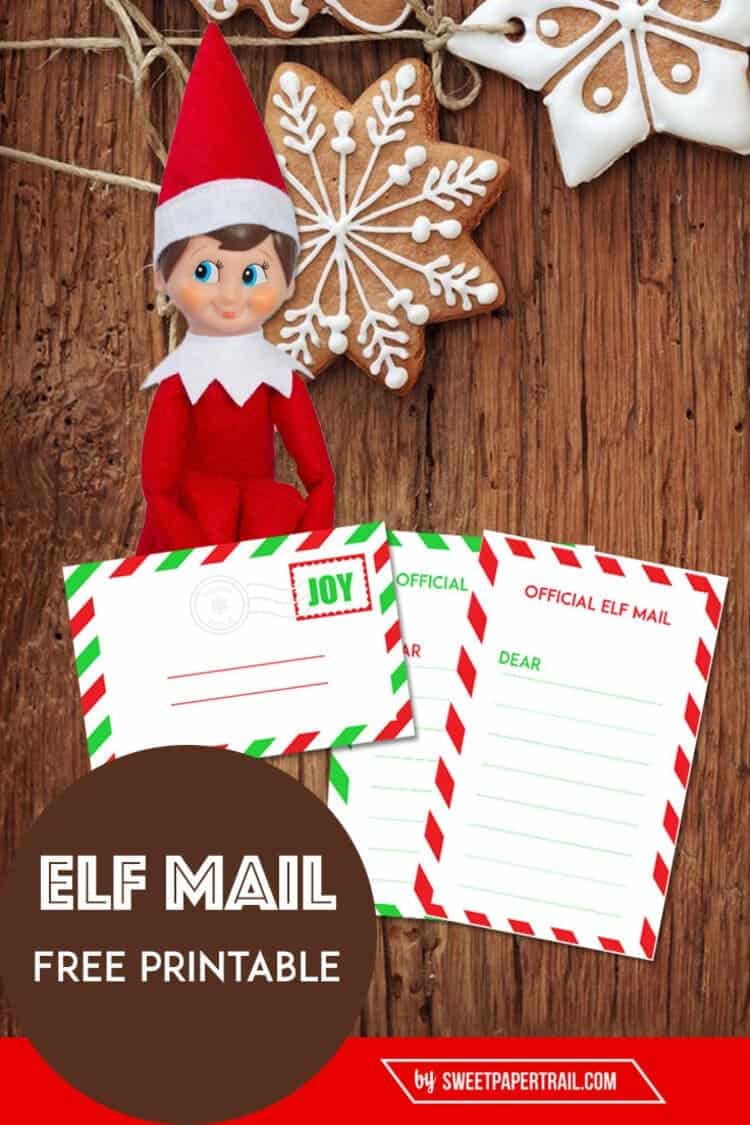 These are cards and envelopes that the Elf can use to write to your kids. As your cute little guest can't talk, letters are the best way to communicate. Using pretty printables makes it even more special.
4. Elf On The Shelf Printables You Need – The Bad Behavior Letter
Here is another great way to remind your children that when they don't behave well, Santa hears about it. Use your cute Elf to show them what they did was wrong and suggest a way to fix it in a letter. 
What a fun way to teach the kids the difference between right and wrong!
The Elf Getting Into Trouble
The Elf communicates with children through letters and different signs, making them aware of his presence. Your children might not see him at all times (he is very experienced in hiding in the most unexpected places) but they should know he's always watching. 
After all, the Elf's visiting because he has to report whether the kids have been good or bad. If the Scout Elf likes what they see, they could leave letters or gifts for the kids.
For example, if a child has been particularly well-behaved, the Elf could leave a special treat to show they like what they see. 
5. Elf On The Shelf Ideas Printable Calendar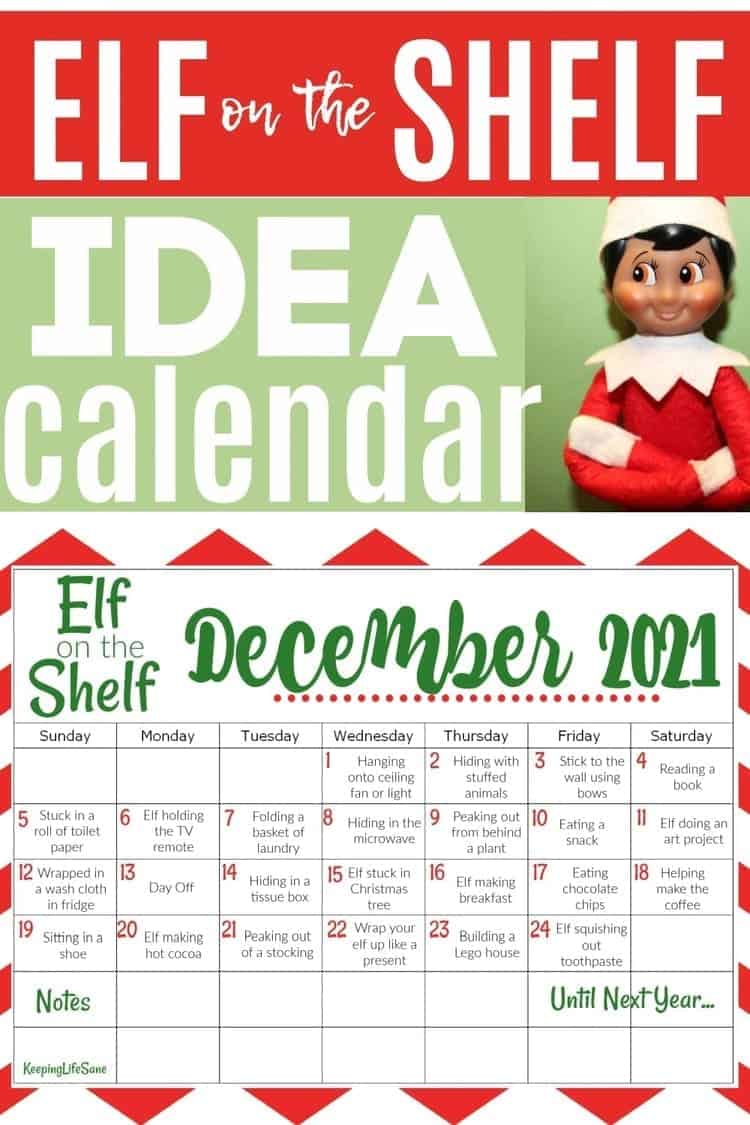 It would be great to have a printable elf calendar with fun activities for the whole family.
6. Elf On The Shelf Countdown To Christmas Printable Cards 
Print out these cute little printable cards and count down every day until Christmas eve together!
7. Elf On The Shelf Printables Set Of Notes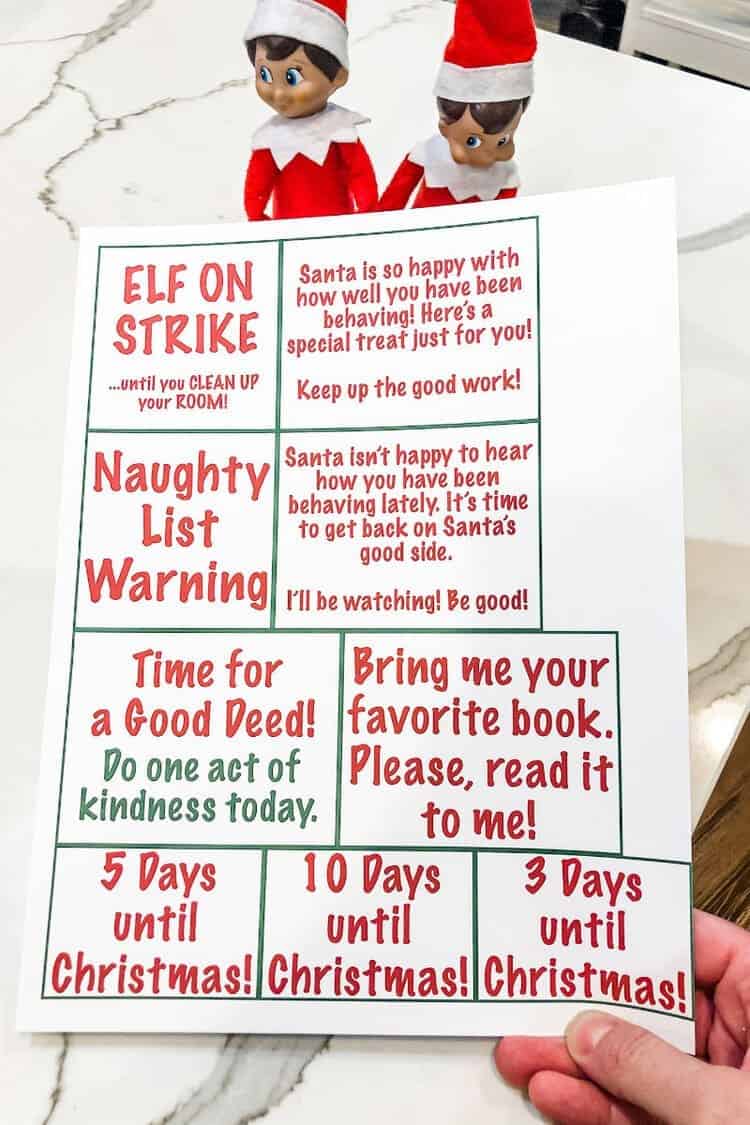 A great way to organize your cute little Elf's visit and have fun notes to go along with your setups! I love this set not only because it's free. It also includes a bunch of notes, like:
10 Days, 5 Days, and 3 Days Until Christmas Signs

"Elf on Strike for a messy room" sign

Naughty list warning (for bad behavior)

Good deed note (get your kid to do a good deed)

"Read a book to me" elf note

Elf on the Shelf Good Behavior/Treat Note
8. Elf On The Shelf Printable Kit
This kit is fantastic! It's a great way to welcome your Elf for the very first time. Throw in a little celebration and make the adoption official (with the Elf adoption certificate).
9. Elf On The Shelf Good Deed Cards Printable
This set of printable cards is a fantastic way to include good deeds in our Elf on the Shelf Christmas tradition. Your Elf can deliver them throughout the season and encourage good behavior.
10. Elf on the Shelf Printable Poems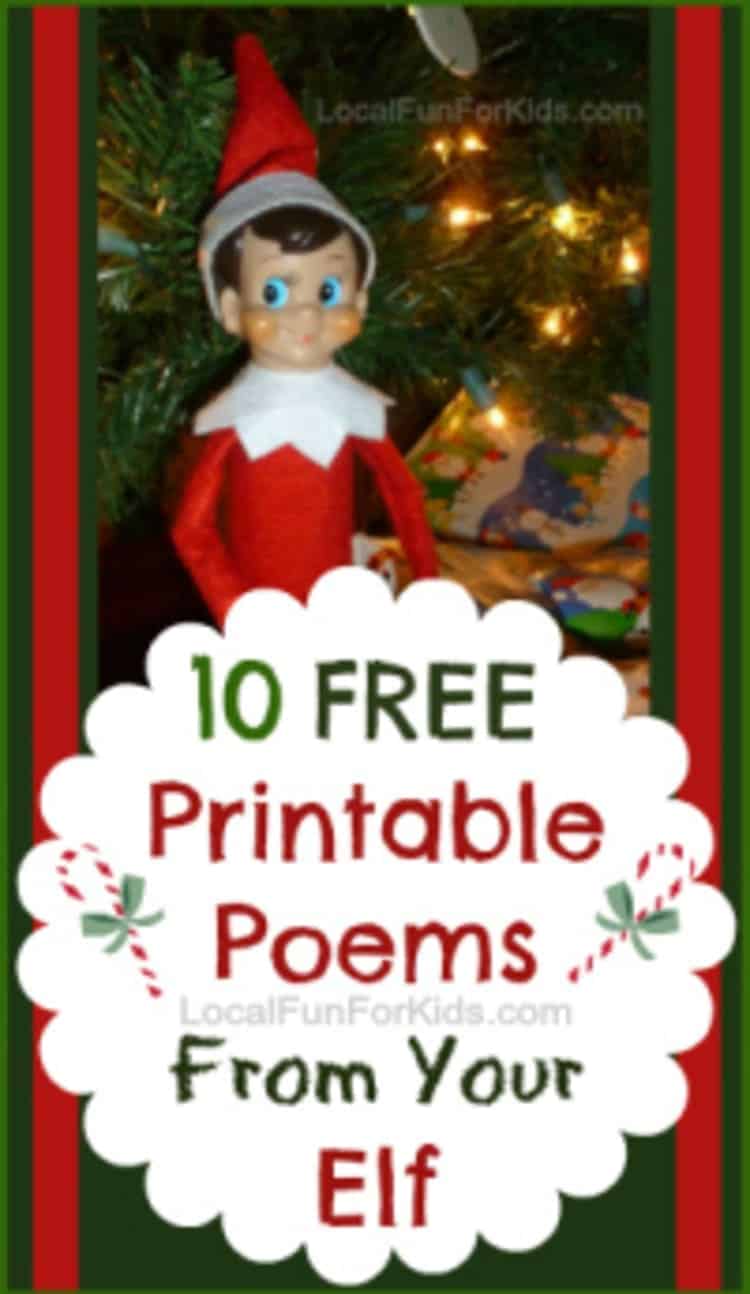 Do you have emerging readers at home? Print these poem cards and have your kids read them. You'll have fun and practice reading during the holiday season.
11. Magic Elf Dust Printable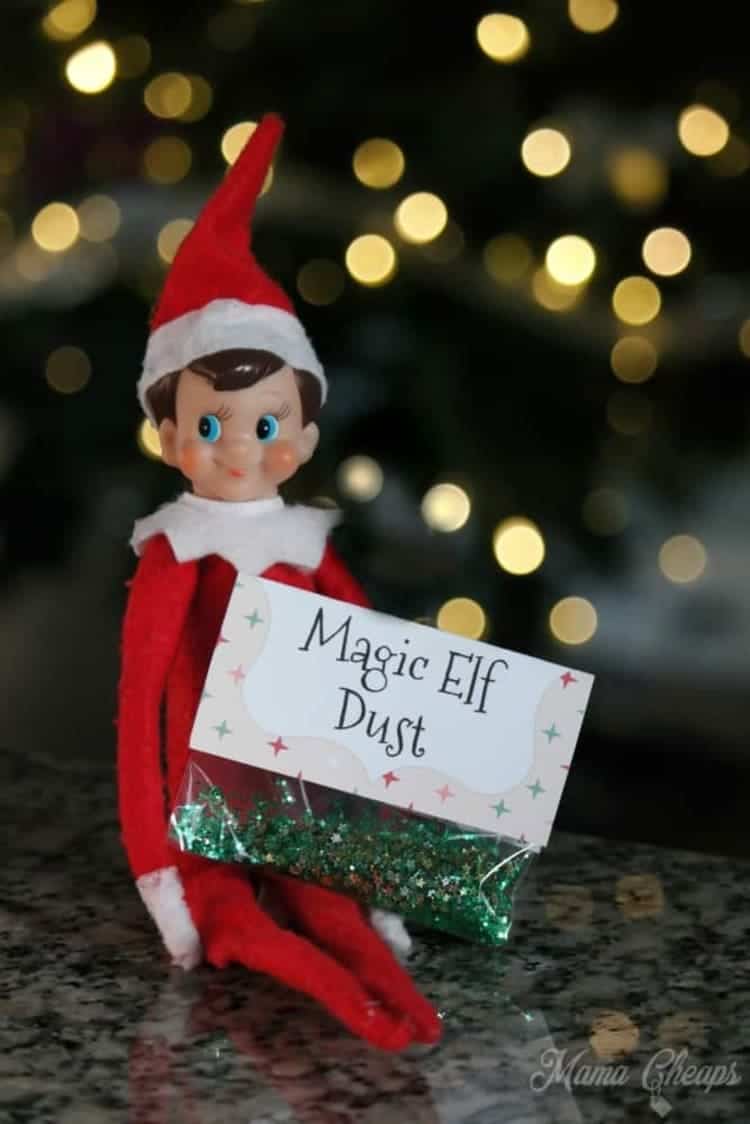 Ooh, this printable is a life-saver! The poem specifically states that the magic of the Elf will be lost, if the kids touch them. However, accidents happen and your Elf might get touched.
Don't panic! Just print out this cute magic elf dust printable and save the day!
Free Elf On The Shelf Printables For A Magical Christmas
Since Elf's only way of communicating is by letters or touching or moving objects, here are some printable ideas to make his (and your) work easier. You can use these free printables to make this year's Elf visit fun and memorable.
Masks And Costumes For Your Elf
12. Elf Superhero Costumes
Got superhero fans at home? Then, your kids are going to love these adorable Elf on the shelf printable superhero outfits. Iron man, Batman, or Captain America? They're all a print away!
13. Elf on the Shelf Harry Potter Sorting Hat Printable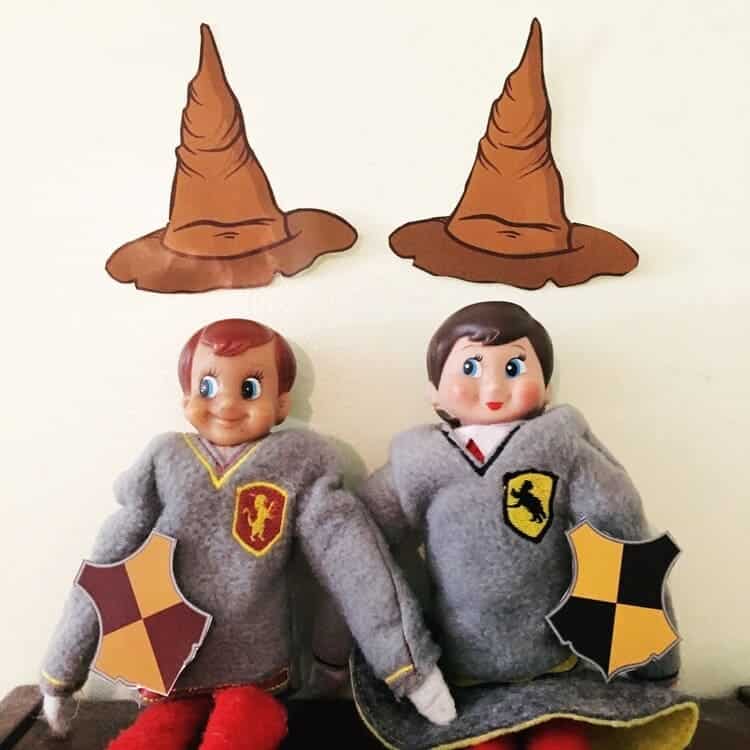 Raise your hand if you know which house you're in! If you do, you know you have some avid Harry Potter fans at home. If that's the truth, then you need to print out these cute Harry Potter-themed props for your little Elf.
14. Printable Butterfly Wings For Your Elf
Got kiddo at home, who's into fairies and butterflies? Then you need this fantastic Elf on the shelf printables – butterfly wings. Instantly transform your Elf into a fairytale creature! So much fun with such a simple idea!
15. Darth Vader Elf Mask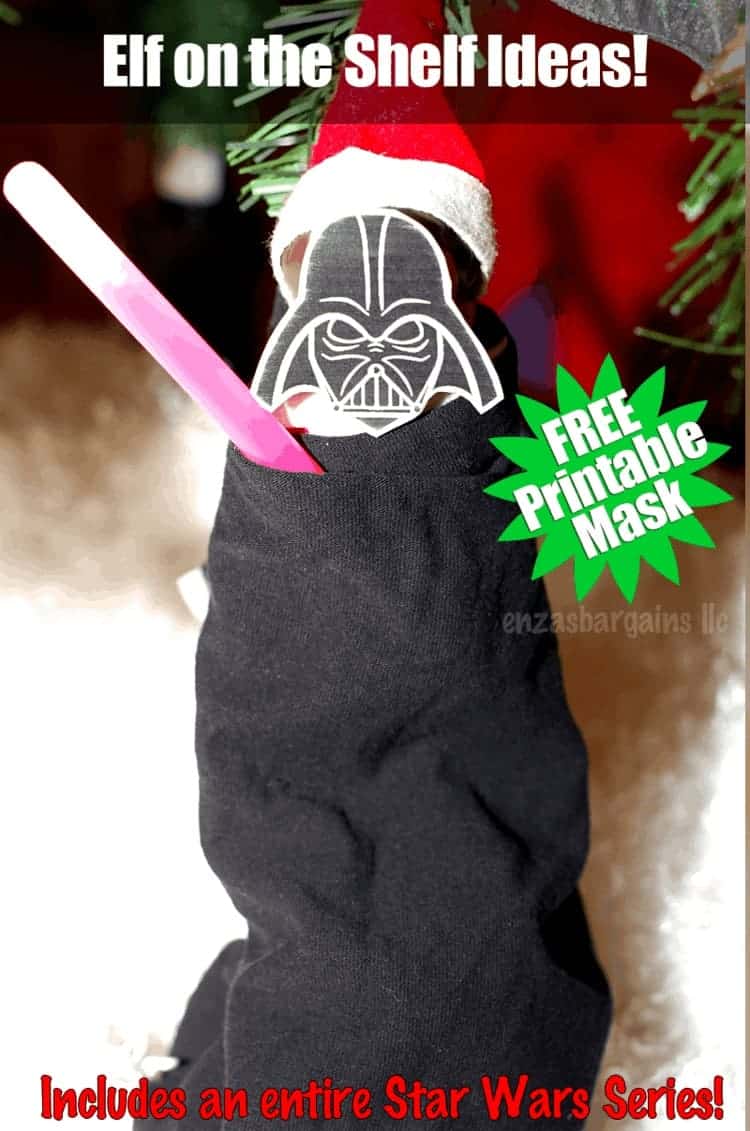 Consider the Darth Vader Elf mask for your Elf on the shelf this holiday. It's a must if you have Star Wars fans at home. The stick lightsaber is so clever! You shouldn't miss this one out.
16. Minecraft Santa – An Elf Mask Printable
If you certainly want to up your Elf game this year and you have gamers at home, this printable will be a total hit! Get your Minecraft Santa mask printable and surprise your kids in a way they never expected.
17. Minecraft Zombie Head Printable For Your Elf On The Shelf
If you had success with the Minecraft Santa printable, you just have to try the printable Minecraft Zombie head next. I promise, your children are going to love it!
Printable Props For Your Elf
18. Elf On The Shelf Free Printable Props
A collection of printable Elf props that will help you create a mini-house with an oven and a sleeping bag! And all you have to do is download the file and print the props. Easy peasy!
19. Elf On The Shelf Kissing Booth Free Printable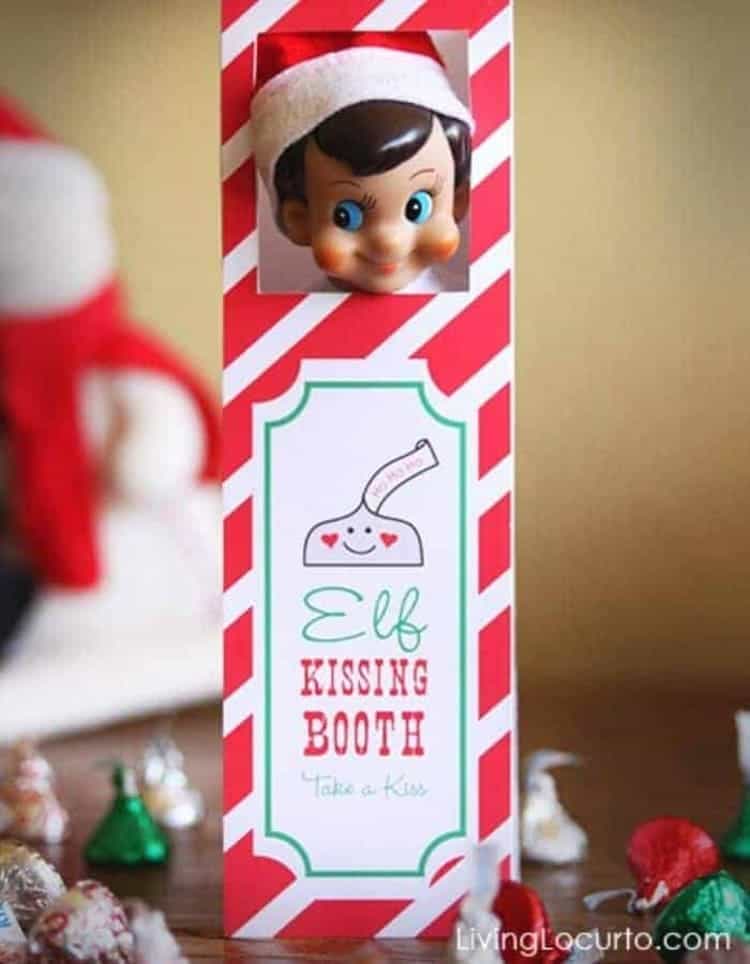 These printable props are my absolute favorite! Print out this cute Elf on the Shelf kissing booth and grant your kids a bunch of sweet elf kisses. Such a cute idea!
20. Elf's Printable Ice Cream Stand
Are your kids fans of ice cream? Yes, this is a rhetorical question. That's why I know they're going to love this printable ice cream stand prop. 
21. Disney's Frozen Elf Photo Backdrops
You can have the Elf dressed as a princess, watching "Frozen" on the TV with your kids this holiday season. 
22. Elf On The Shelf Holiday Cutouts
The most adorable Christmas cutouts printable props to add to your Elf on the Shelf experience this holiday season. These cutouts include: 
A penguin

Santa Claus

Reindeer

Snowman
And all of them are just so cute! 
23. Printable Outhouse Toilet For Your Elf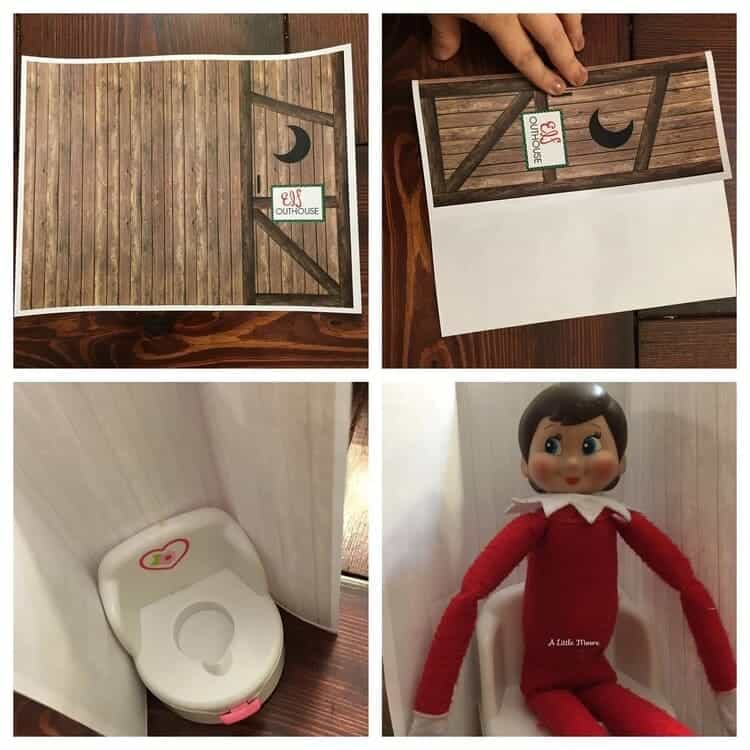 I have to admit, this one made me chuckle. Hard. A printable outhouse (an outside toilet) is a hilarious prop to include in this Christmas season Elf's visit.
24.  Candy Cane Jail – Elf On The Shelf Printable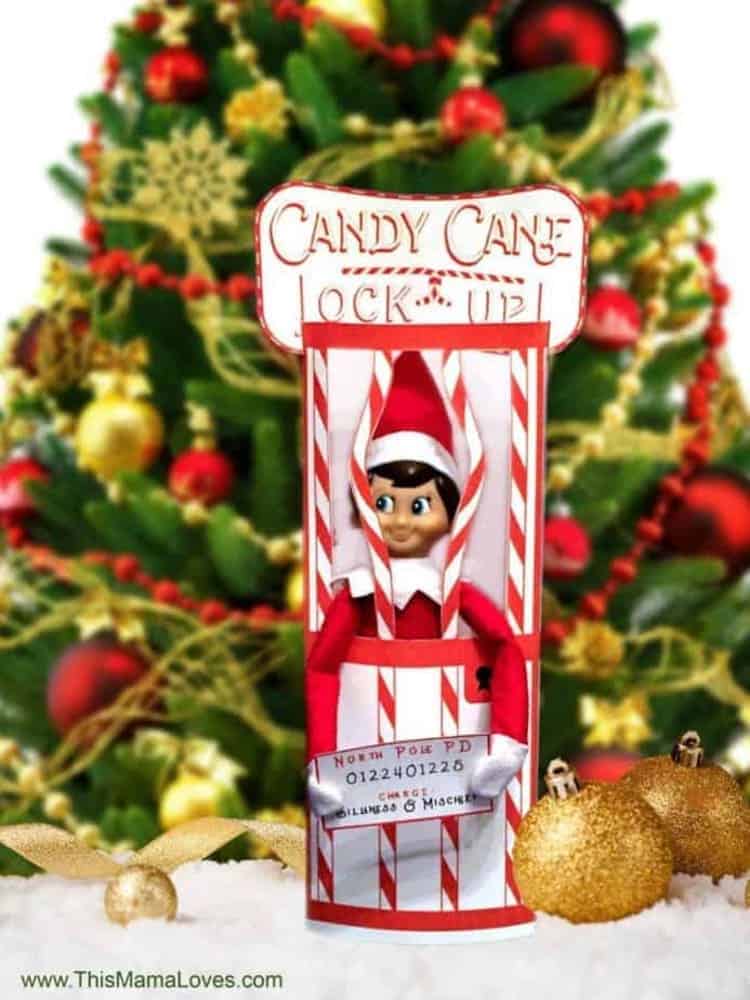 Has your Elf been naughty? Put them in a candy cane jail! This printable is so much fun!
25. An Elf Rocket Ship Printable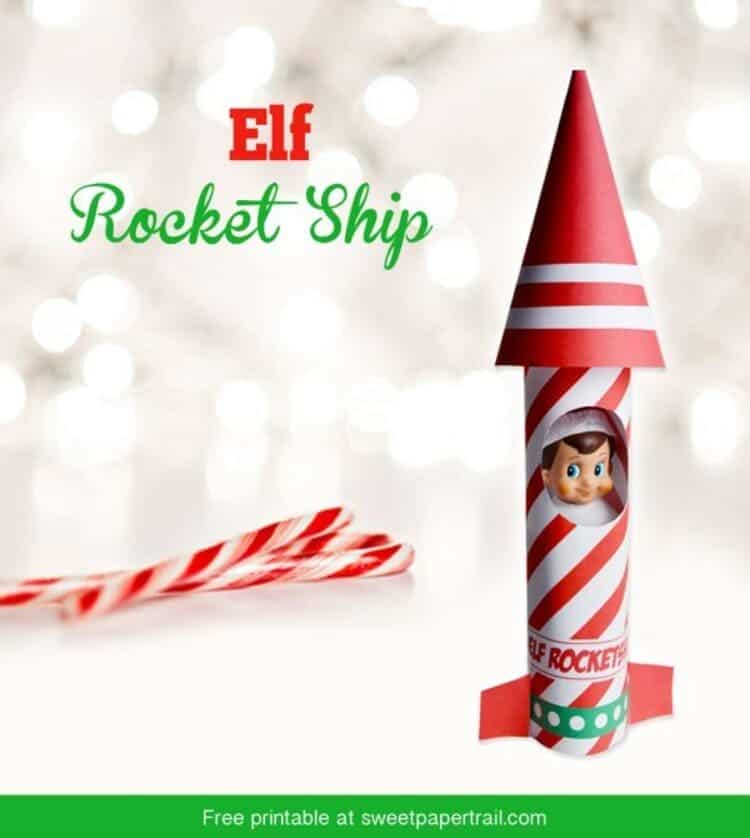 Arriving or leaving with a blast – this printable rocket ship will take your Scout Elf's traveling skill out of space! Literally!
26. Elf on the Shelf Christmas Baking Printable Set
This is the best free Elf baking printable I stumbled on! The cookies are especially adorable!
The set includes:
An oven
2 types of aprons
A Cookie dough tube
A Cookie sheet with cookies
A "Do you want to bake cookies?" sign
Directions for the oven
Directions for the accessories
Fun Activities And Worksheets
27. Elf On The Shelf Diary – Fun Activity To Practice Writing
If your kid needs a bit more practice on their fine motor or writing skills, then you need to get this printable – your Elf's own diary! 
Such a fun idea to help your kids improve their writing skills during the holiday season!
28. Free Printable Elf On The Shelf Coloring Pages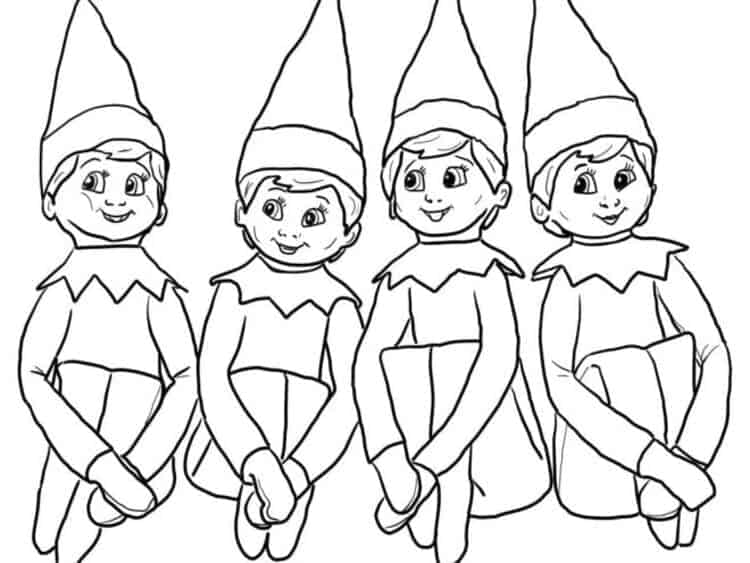 You can also print some coloring pages for your kids to enjoy. They will have a lot of fun with their favorite Elf. Besides, while they're working on their creativity and imagination, they're improving their fine motor skills.
29. Elf Naming Activity Printable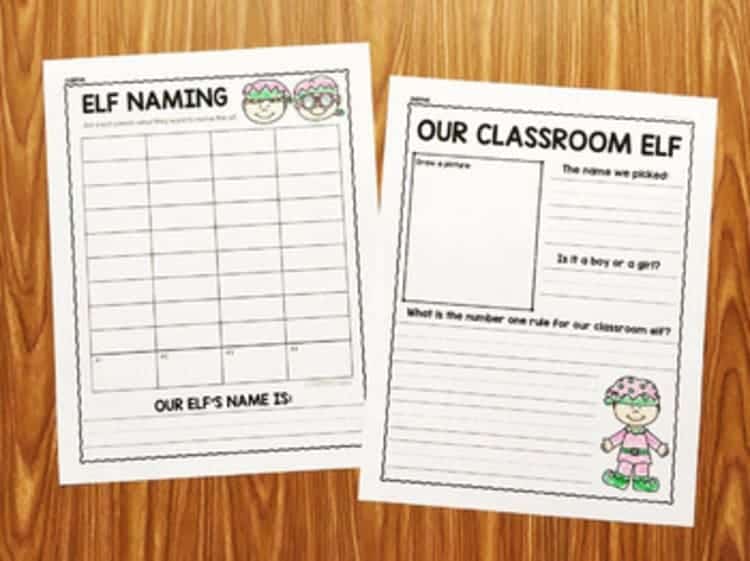 Naming your little elf guest is one of the most important things you should do after you get your Elf for the first time. After all, they get their Christmas magic powers after they get a name. That's why I think this elf naming printable will come in very handy.
30. Secret Code Message Free Printable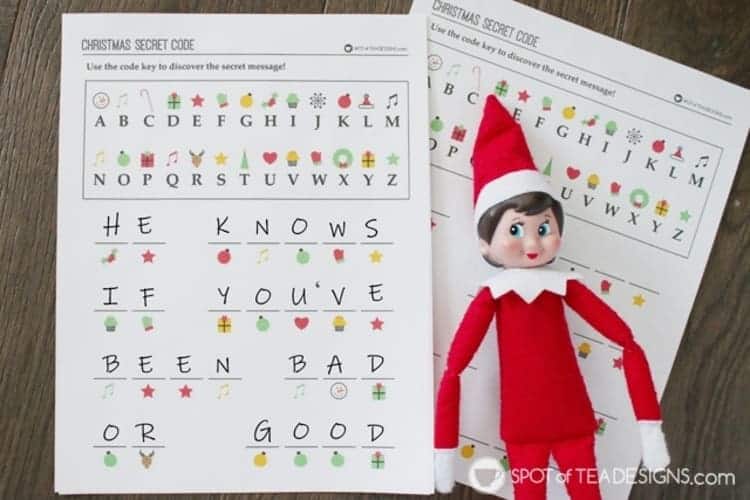 Your Elf might bring a secret coded message from Santa. In short, this printable is an absolute winner for young kids who're just learning to write.
Elf Games Printables
31. Printable Elf Charades Game
Are you into board games during the holiday season? In this case, you should not miss the printable Elf Charades game. It will allow you to spend some precious time with the whole family.
32. Elf Twister Printable
Do you like to play Twister? Because if you do, you should include your Scout Elf in the family fun, too!
33. Elf On The Shelf Playing Cards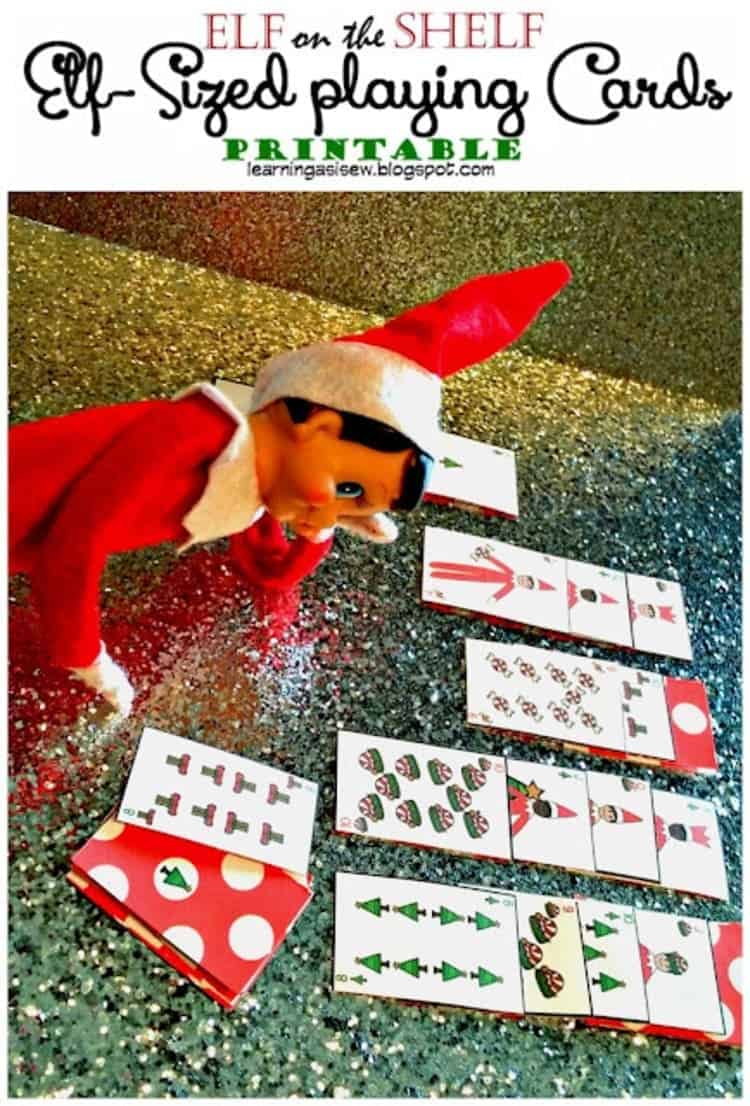 If your kids just recently got into card games, you're going to love this printable! Not only you you can print out these cute elf-sized playing cards and set up a fun game for your Elf, but you can also have other toys join.
How to Say Goodbye to your Elf on the Shelf
When the Christmas holidays are over, your Scout Elf needs to leave for the North Pole for a year. Use the last few days before Christmas Eve to prepare your kids to say "Goodbye" to their little friends.
Here are some Elf on the Shelf printables you can use for the task:
34. Printable Elf On The Shelf Goodbye Letter With A Poem
If you've used a poem in your Welcome letter, why not say "Goodbye" to your Elf with a poem, too? Because this printable comes with an adorable poem from an anonymous author:
35. Elf on The Shelf Goodbye Note And Gift
Turning your "Goodbye" (when it's time for the Elf to leave) into a gift exchange, significantly decreases the sadness in your kids. At least, that's what my experience shows. Print out this cute Goodbye note and use it with your Elf, when it's time to get back to the North Pole.
36. Urgent Elf Recall Letter From Santa Or How To Lose The Elf Earlier This Year
If for some reason, you don't want to deal with your cute little elf guest anymore, surprisingly, there is a way to send them off to the North Pole as painlessly as possible. How do we do that? An urgent letter arrives from Santa. Finally, a brilliant idea that works!
FAQs
What to do when you forget to move the Elf on the Shelf? 
You are an adult, a busy person with a lot of responsibilities. And last night you forgot to move the Elf, but you don't have to worry! 
There are plenty of reasons why your Elf might decide not to move during the night. Here are 15 different suggestions you can put in use:
Last night, Elfie was not feeling well and couldn't return to the North Pole. Do you think we should check his temperature?
Didn't you hear about the snowstorm last night? Not a single person (or Elf) could pass through it.
The government closed all of the airports and forbid air traffic last night. We live in crazy times, you know…
You've completely exhausted your Elf, sweetie! He got so tired, he needed to sleep all night long.
Well, your Elf didn't feel like moving. At all.
The Elf was unable to leave the house because the dog didn't let him out.
Your Elf is giving you another chance to make it to the "Nice Kids List", since he didn't want to tell Santa how naughty you were last night. You get a chance for a do-over.

Sweetheart, your Elf stayed up late watching <insert your favorite TV show> with me. What can I say…? It just got too late when the last episode ended.
Honey, your Elf did move! However, they liked this location a lot, as it gives them the perfect view of your actions the whole day.
Are you aware of how much you (or your dad…) snore?  Your little Elf was curious what that noise was. So, he was up all night, figuring out who snores.
The truth is your Elf forgot to set his alarm clock for the morning. And because he's tired from keeping an eye on you all day, he overslept…
Thing is, your Elf's immigration papers were never processed. As a result, he is technically an illegal foreigner. So he stayed in the same position to avoid being seen by ICE.
Your toys were having a party last night, and your Elf on the shelf joined them. It was pretty late when I went to bed. But from what I heard, the toys were still in the middle of the party.
Your little friend didn't have enough information about you to report to Santa. And because they take their duties extremely seriously, they decided to keep an eye on you for today, too. Because if a scout elf doesn't have enough data to present to Santa, they must wait a day or two more. It's Santa's orders.
<Insert the name of another favorite toy> challenged your little Elf not to move. At the moment, your Elf wins!
What do you do when the Elf on the Shelf leaves?
There are many things you can do when your Elf on the Shelf needs to go to the North Pole again. You can try the suggestions from the list of Elf on the shelf ideas above. They will help you decide how to set your Elf's departure.
Does the Elf on the shelf leave notes?
Yes, your elf will leave notes for your children when they get up in the morning. You can print out some of these Elf on the Shelf ideas from the post to get started!
Can you buy a real Elf on the Shelf?
Yes, of course, you can buy a real Elf on the Shelf! You can get your own Elf and join millions of people in this fun family tradition for Christmas. Here are the two options I would recommend:
Elf on the Shelf book and toy set (affiliate link)
Elf on the Shelf toy only (affiliate link)
What are parents supposed to do with Elf on the Shelf?
Parents should be aware that there are two rules to follow in the Elf on the Shelf game.
Rule #1:
The parents should move the Elf every night while their children are sleeping. This will leave the kids with the impression that the Elf returns every night to report on the children's behavior to Santa in the North Pole (as the original poem states).
Rule #2:
The parents need to make sure that their children are aware they are not allowed to touch the Elf because if they do, the elf will lose their special magic powers.
Use the ideas list in this post for inspiration and involve the whole family in this cute Christmas tradition!
The Elf on the Shelf is a fun Christmas tradition for families with young children. It can help you keep track of your children's behavior during the holidays and encourage them to be nice. If you do it right, you can easily turn it into your family's favorite Christmas tradition.
Besides, it makes an excellent (and fun!) decoration for your home. With these printable ideas, you can set up your cute Elf friend's visit in no time.
Did you like these Elf on the Shelf printables? Then, you're going to love these Christmas ideas, too!