I have to be honest and say that I wish I'd read this post two years ago! We've done the Whole30 three times now, and the farthest we've gone is day 19. As a mom of four who loves junk food, the Whole30 was quite a challenge, but in this post Allison (from Frugal on the Prairie) shares fantastic ideas for being successful on the plan as a family. I think Whole30 number four just might be in our future after all! Here's Allison…
Ready to ring in the New Year with the Whole30? Worried about how you're going to do it with a family? I've been there, done that and have a few tips for you so don't panic. 🙂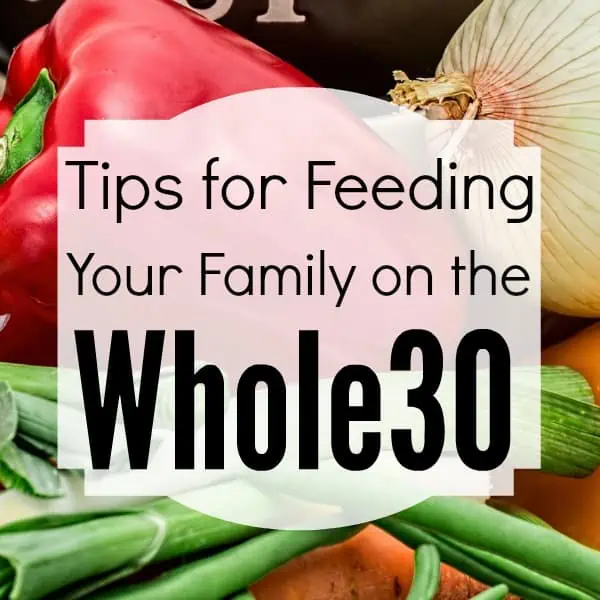 If you're unfamiliar with this program, here's a very brief description: The Whole30 diet is where you strip out all foods that have a poor impact on your health, such as sugar, grains, dairy, and legumes.
Don't Have a Last Hurrah
I can't stress this one enough. Depending on your family's current eating habits (no judging here, I love ice cream!), switching to the Whole30 lifestyle may be difficult. DO NOT binge on chips and cookies the night before because it will make things ten times more difficult for both you and the kids.
I recommend planning ahead to do the Whole30 and gently weeding out the unhealthy stuff over time before you start. This will help keep the headaches and cravings down, at least a little bit.
Think "Family" Meals, Not "Ours and Theirs"
I have a toddler so trust me when I say I've experienced that picky-eater fiasco of making two separate meals. It can be frustrating and exhausting when you're washing two times the pots and pans.
Start planning your meals by combining the two worlds together and even taking a vote on certain recipes if you think that will help. Not everyone will love brussel sprouts, but you can gently convince them to say goodbye to cheesy crackers and hello to one family meal.
For example, there was a period where my child only wanted to eat sausage and Goldfish crackers. We compromised with him by eating sausage as a family but replacing the goldfish with veggies. Then we introduced other Whole30 meals and I now cook one dinner for all of us.
Prep Your Ingredients Yesterday
Let's be honest- cooking for a family is just another thing we juggle on top of chaotic school and career schedules. When you're on the Whole30, prepping ingredients and meals ahead of time is a MUST! It's easy to convince your husband to wait 30 minutes while you cook a healthy dinner but when your kid says they're hungry, you feed them immediately (and rightly so!).
Spend a couple of hours on the weekend chopping vegetables and preparing/cooking meat. And don't forget about those sauces. For starters, you have to make your own Whole30 compliant mayonnaise, ketchup, and salad dressing. Don't leave that ketchup until 5:30 pm on a weeknight because it's seriously going to stress you out.
Be Prepared to be Patient
You never know what your family is going to love or hate on the Whole30. If you've been primarily consuming processed foods, it may be an uphill battle. Drastically changing the way I ate was h.a.r.d. and I'm a full-grown adult. If you're feeling the sugar cravings, it's likely your kids are too and there may be a slight shift in moods.
Are you worried about convincing your children to eat food they don't like? Be firm about the Whole30 rules but remember to be gentle. I served my son sweet potatoes numerous times before he was finally willing to touch them. We all want our kids to love eating healthy, not dread it.
Plan Your Meals
The key to a successful Whole30 is to plan, plan, plan! If you don't have a recipe in mind and dinnertime is rolling around, it's really hard to say no to fast food. Here is one of the meal plans I use to help get you started.
If you're doing a "Perfect Whole30" then you're following that tough rule of absolutely no snacking. But playdates, school, and soccer practice may throw this idea out the window. Have Whole30 compliant snacks available for your kiddos. Sometimes we just need a little extra something to get us through a long day and that is okay! You're still doing the Whole30, even if it's not "perfect."
Throw Out the Bad Stuff
Is my child the only one who can sniff out a bag of Goldfish from a mile away? His detective skills are incredible and that's hard to handle if I haven't thrown away any non-compliant food. Go through your pantry and be firm about what will be kept and what won't. If it isn't in the house, they can't eat it. Throw those chips, candy, and sodas out!
Overall, the Whole30 can be a little tough to start but incredibly rewarding if you stick with it. If an ice cream fanatic like me can survive and convince her family to love it, then so can you!
Note: I am not affiliated with or endorsed by the Whole30 program or it's authors in any way. All views and opinions are my own and based on my personal experience. Please consult a physician before you make any drastic changes to your diet.