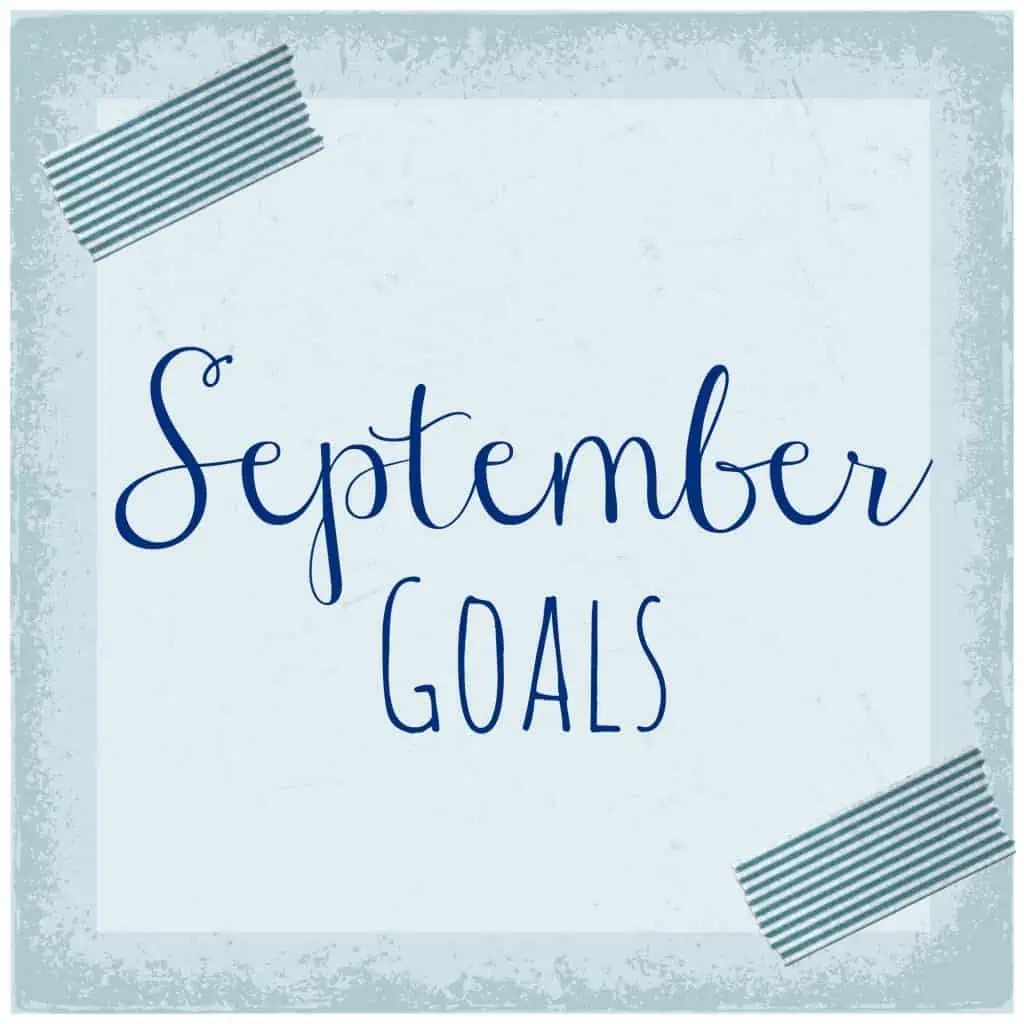 Our summer break officially ended today. My son went off for this first day at his new school, which means we're getting back into a routine. I'm not going to lie and say we've been forced into this kicking and screaming. We're only a few hours in, and I already kind of miss the freedom summer affords, but routine is nice too.
Given that we're getting back into the swing of things, I thought this would be a great time to lay out some goals for September. I'm hoping that sharing these with you will help me stay on track and be successful. *crossing fingers*
1) Organize and Declutter!
I feel like this goal never really leaves my list. I recently shared my Organized Utensil Drawer and  2013 Day Planner with the lovely Heather and Stringtown Home. She featured both of them and said something along the lines of how I really know how to organize! Um… anyone dropping by my house unannounced would probably think otherwise. I know how to organize… maintaining it is a totally different story, but that's going to change this month. My goal is going to be to create systems that work for us. If we aren't able to maintain them we're probably not using the right system. If things go well I'll soon be sharing lots of organizing posts. 🙂
2) Lose weight!
I've had 3 babies in less than 5 years and unfortunately my body looks like it! I'm going to let you in on a little secret… the pic on my sidebar is about 5 years old. Terrible, I know, but I just can't bring myself to share a current pic, and that's a huge sign that I need to get to work losing this baby/toddler/preschooler weight. I'm going to stick to a certain amount of calories, track them through My Fitness Pal, and exercise at least 3 times each week. I've been really inspired by Megan from Balancing Home. Our three kiddos are pretty much the same ages, and she's in the same boat in regards to wanting to lose weight. She started working towards her goal a couple weeks ago. I definitely recommend checking out her blog.
3) Meal Plan & Clean Eating
We're giving up eating out. This is a big one for us. Despite having a meal planner that I love, I sometimes don't get around to planning out our meals, which frequently means we're left running out at the last minute grabbing whatever calorie-packed convenience food sounds good. I'm going to plan our meals every week, and we're only going to eat at home. I think this will really help me shed some of this weight and, more importantly, be healthier.
4) Early to bed, early to rise.
I've always been a night owl, but now that I have kids this just means I end up sleep deprived instead of sleeping the morning away. Sleep deprived and 4 active kids don't mix well so I need to force myself to go to bed earlier. My normal bedtime lately has been about 2 am so I'm going to shoot for sometime between 11-midnight. Actually, I think I'll shoot for 11 because I'll probably get in bed around 11:30 that way. Sometimes it's hard to say goodbye to a quiet house, even if it's for sleep.
5) Add some personality
My home is seriously lacking in the personality department. We were in selling/buying mode for years as we looked for a new home, sold our last, and moved into this house, which means that for about 3 years now we've lived in very generic looking homes. We've had no family photos displayed and bland colors in hopes of following some basic staging rules. This needs to change! I want to create a gallery wall, start decorating the kids rooms, and really start to make this house our home. We've painted a few rooms already, and that's made a big difference so I want to keep up that momentum.
I'll be updating my progress as the month goes on (hopefully with lots of exciting posts). Wish me luck! 🙂
What are your goals for September?