Happy 2019! The new year is finally here, and if you're anything like me, you're ready to declutter!
One of my favorite parts of starting a new year is having a clean slate, and I love that no where more than in my home.
Parting with the things that are no longer serving us (like emotional, mental, and physical clutter) opens us up to everything new that's coming our way so the sooner it can be gone, the better. What better way to do that than with a brand new decluttering challenge game?!
I have to be honest… as much as I love a fresh start, I wasn't really planning on doing a decluttering challenge right now. I've created a number of free decluttering challenges over the last four or five years, and as much as I hate to admit this… they were starting to feel a little stale.
I knew that if I was feeling that way, others were probably feeling the same way so I didn't want to create another run of the mill decluttering event. I only wanted to do this if I could come up with something that felt new, fresh, and fun just like the new year, and I think I've done it!
I am so excited to share our new decluttering challenge…
Decluttering Bingo!
Now, I wish I could take sole credit for this brilliant idea, but the credit really belongs to a couple members of the Declutterathon facebook group. One has been creating and shared her personal bingo chore/goal cards for years, and the other suggested it could be our next challenge. I thought that was a great idea!
Every week, I'll be creating a new bingo game card that has a variety of different tasks and activities designed to help us on our decluttering journeys.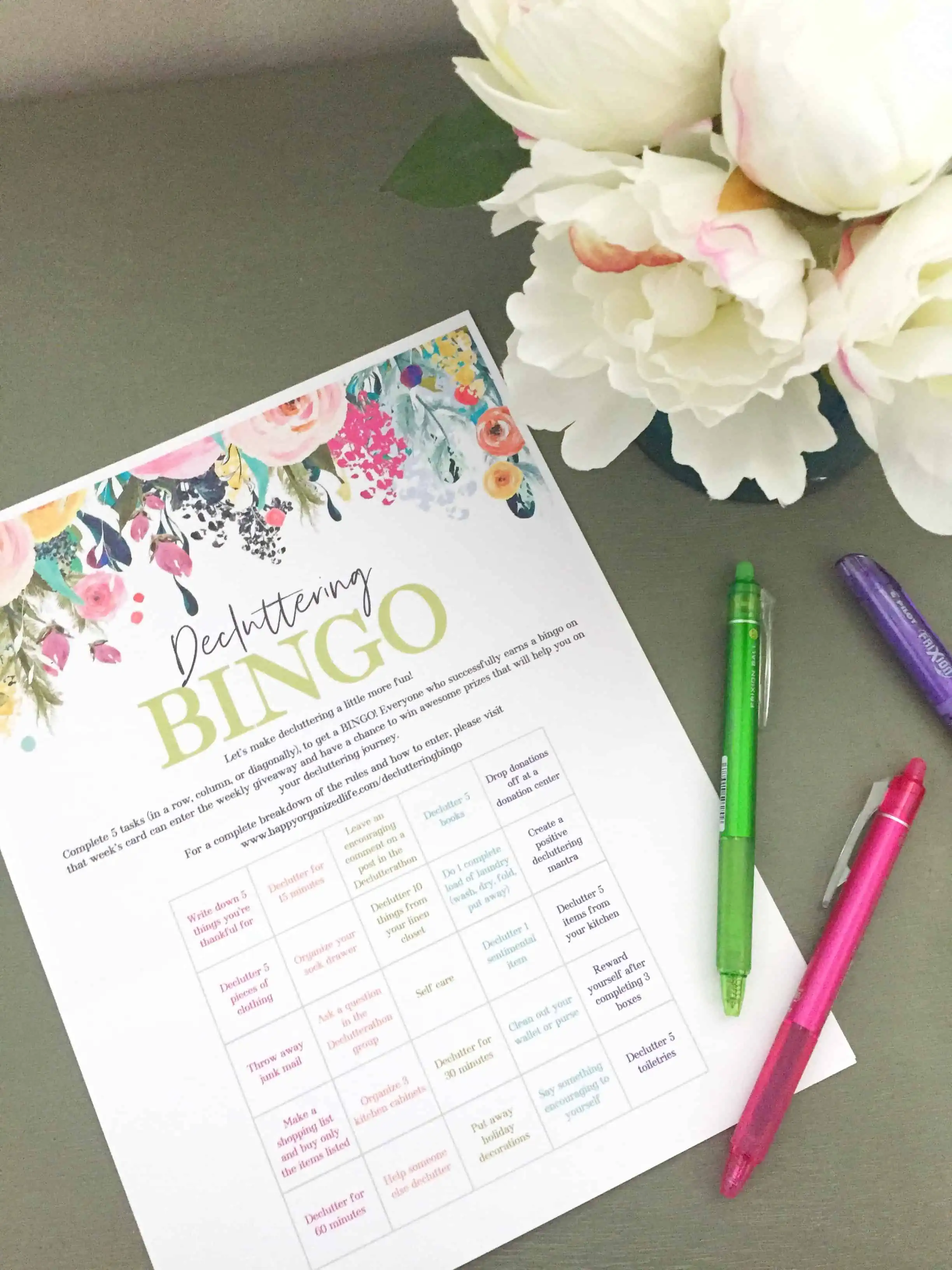 How does it work?
Complete five tasks in any row, column, or diagonally across the board, and you've got a Bingo! You'll also have less clutter in your home woohoo!, and you'll be eligible to enter our weekly Decluttering Bingo giveaway. Say what?!
Giveaway? Aren't we supposed to be getting rid of stuff?
If the idea of winning a giveaway has you on the verge of breaking out in hives, don't worry! It's totally optional. You can play along with the decluttering bingo game and not enter in the giveaways if you'd prefer. That's perfectly okay.
My goal is to choose giveaway items that will either help you on your decluttering journey, make your home a little more organized, or make life a little more enjoyable. After all, we deserve to be rewarded for all of our hard work, don't we?! 🙂
The last thing I want to do is clutter up your home with meaningless stuff (that would kind of defeat the purpose of this, right?). The prizes are just supposed to be a fun twist to help motivate and inspire you, but if it's not your cup of tea, that's okay. Whether or not you participate is totally up to you.
How can I play along?
Playing along is easy. It's just like regular bingo. Complete a row, column, or diagonal line of five tasks, and you've got a decluttering bingo!
Every bingo you get gives you another entry in the prize drawing so the more you declutter, the more chances you have to win. Complete every task on the card, and you'll get 12 entries in that week's giveaway!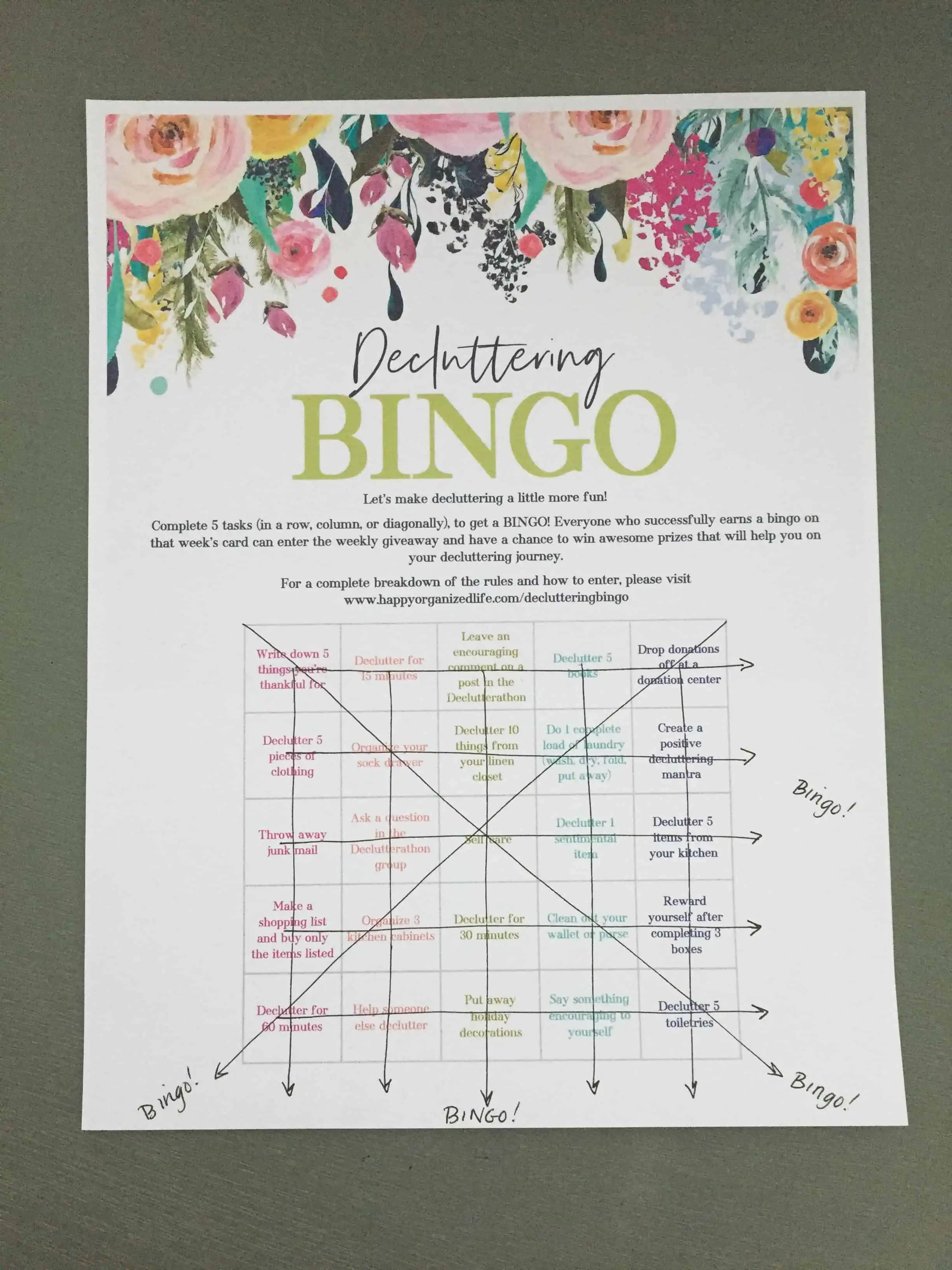 I may also include bonus activities for extra entries, but everything you'll need to know about that week's bingo will be explained on that week's card.
Where can I get a card?
I'll be creating new cards every week to keep things fresh and exciting so the first thing you'll want to do is download your decluttering bingo card each week. I'll be sharing them in my free printable library every Saturday so they're always in one place and easy to find.
Newsletter subscribers can use the link and log in information at the bottom of the weekly newsletter to access their cards. Haven't subscribed yet? Just click here, and we'll get you taken care of!  You'll receive a post to confirm your subscription as well as exclusive access to my free printable library just for Happy Organized Life VIPS. Feel free to help yourself to the 40+ other free printables in the library while you're there too!
The majority of tasks I've included should take around 15 minutes or less to complete (so no need to worry about having to declutter entire rooms!), and I think you'll be pleasantly surprised by some of the things I've included.
How to Enter the Giveaway
If you'd like to play along for prizes (woohoo!), just take a picture of your card and submit on or before Saturday in one of three ways:
Visit the Declutterathon group on Facebook, and post a picture of your card in the decluttering bingo game thread for that week
Post a picture of your decluttering bingo card on Instagram with the hashtag #declutteringbingo and tag me at @happy_organized_life
Or email me at emily@happyorganizedlife.com with "Decluttering Bingo Card" in the subject line
I'm providing a few different options because I know everyone has their preferred way to communicate, but you only have to choose one. Please don't submit your card in all three places. I'd be totally overwhelmed! 😉
Why do I need to take a picture?
The picture of your card is important because it will allow me to see not only how many entries you've earned, but also which tasks are the most and least popular among the participants so I can tweak future cards and make the game as beneficial as possible.
If you'd like to share more pictures like before and afters of your newly organized space or a decluttering action shot, I would love to see them too!
Each week's winner will be announced on Tuesday in the Declutterathon group, my Instagram account, and the weekly newsletter, which may or may not go out on Tuesday. If you want to know who won as early as possible, be sure to follow along on Facebook and Instagram.
---
Whew! This is a longer post than I anticipated, but I hope I've done a good job explaining how simple (and fun!) this will be! It really is as easy as getting your card, completing at least one bingo, and submitting the card on or before Saturday to win a prize. Easy peasy!
I can't wait to get this started and see all the progress we make around our homes!
Happy decluttering!!