Looking for inspiration to turn your backyard into the most fun playground? You are in the right place! The best backyard playset or swing set is waiting for you here.
We all know that keeping children entertained can be difficult, and with video games, tv, and the internet, getting them to play outside can feel impossible, but it's extremely beneficial for their growth and development.
Installing a backyard playset might be exactly what's needed to encourage them to play outside, get some sun, and it opens up a whole new world of imagination and adventure.
These are the 15 best backyard playsets that are sure to help keep your kids active and entertained for hours.
This post contains affiliate links.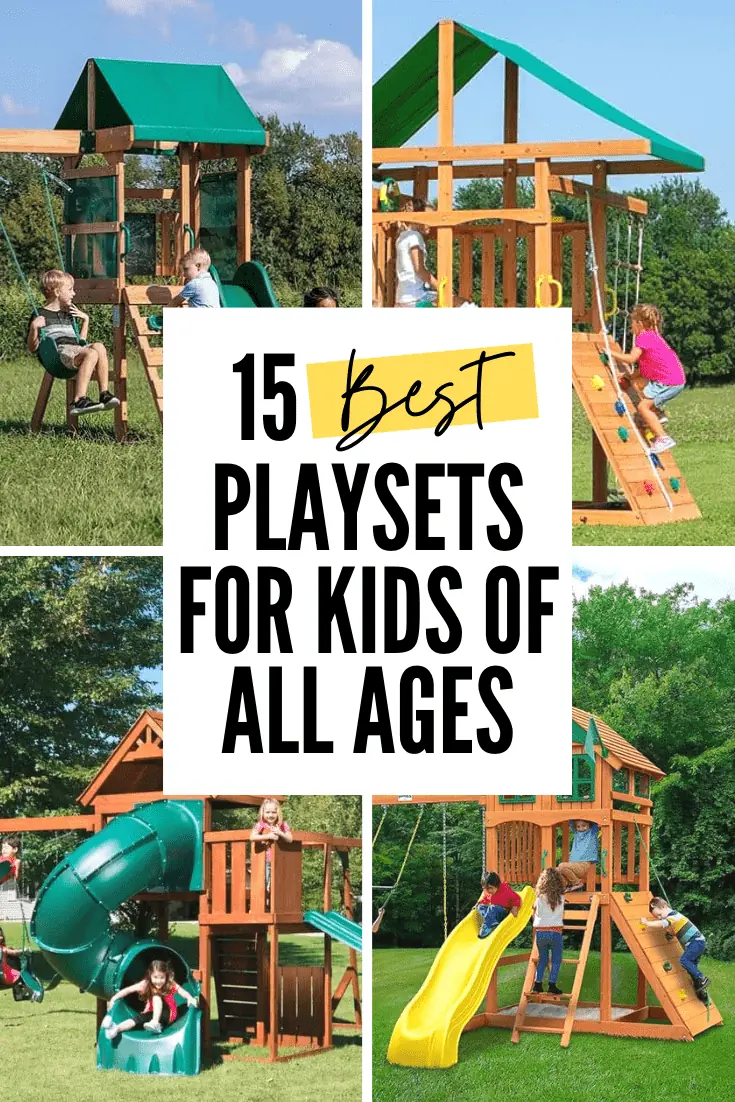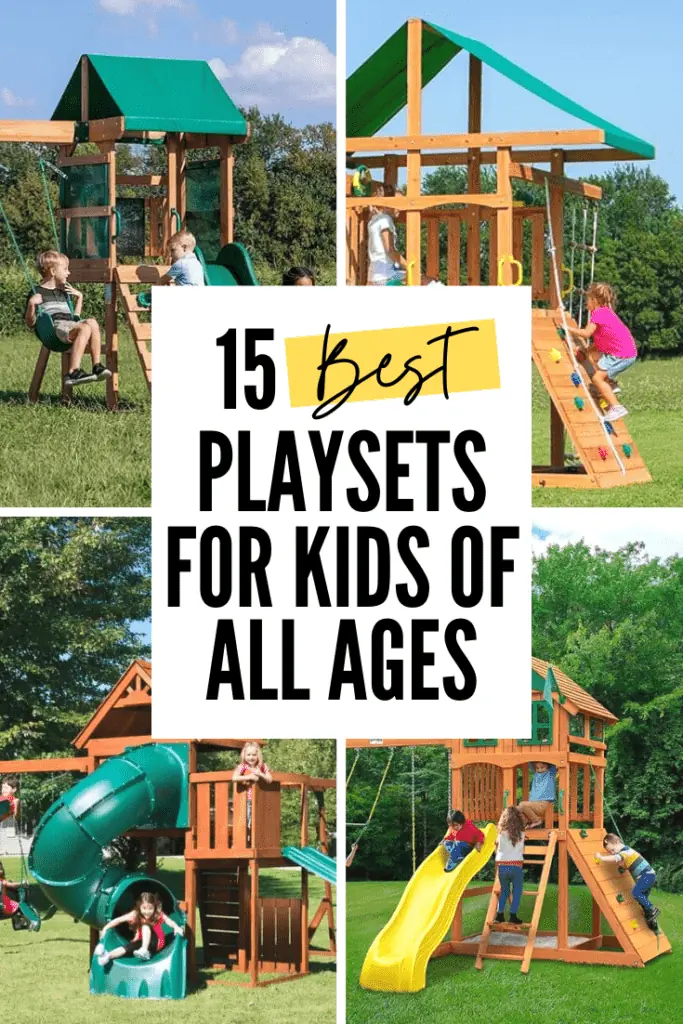 15 Best Backyard Playsets & Swing Sets You Need For Your Kids
This list of best backyard playsets includes something for every age range. From baby and backyard swings to high-end playsets, you'll be able to find something for your kiddos no matter their age.
Also, be sure to read to the end for more helpful tips and things to consider before buying your new playset.
1. Best Overall Backyard Playset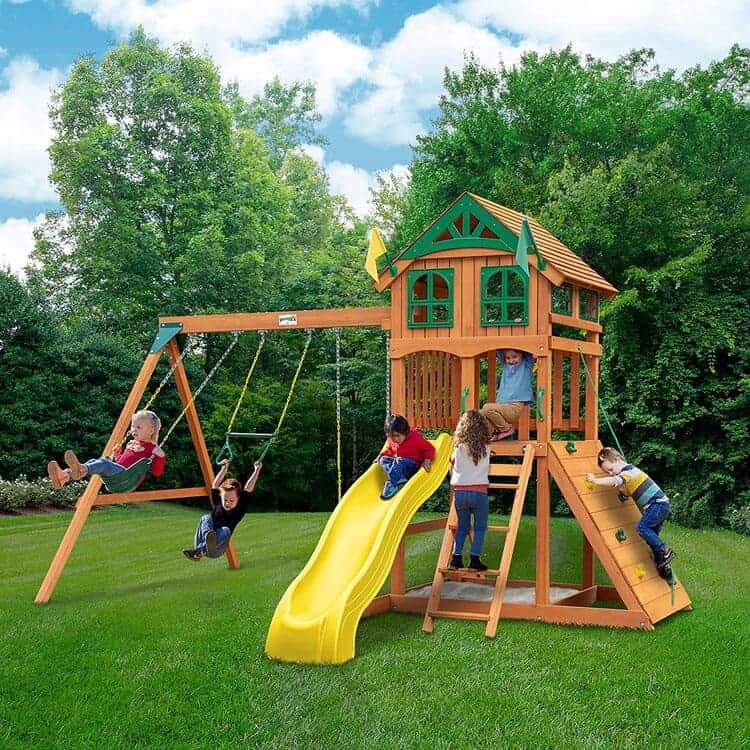 The variety of Gorilla Playsets is fantastic. This charming wooden playset has a wood roof, two belt swings, a built-in sandbox area, an alpine wave slide, and a rock wall with a climbing rope. It also has a few nice touches on the treehouse component, like a steering wheel and telescope. A single trapeze bar connects the two belt swings, but an extra arm allows the addition of a second trapeze.
Make your backyard into a mini-park, and your kids will have a blast every day!
Pros:
Suitable for younger and older kids
Durable construction
Versatile layout
Cons:
2. Best Backyard Playset Additions
With the addition of amusing accessories, adventures feel more real and alive. Check out these examples below: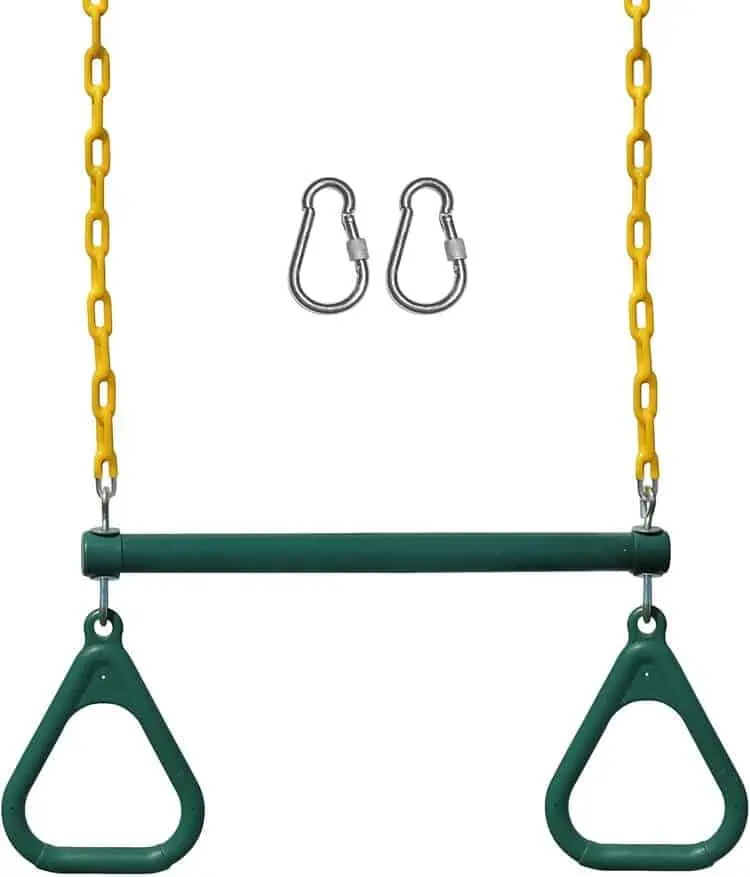 If your playset doesn't have a Trapeze swing bar, look no further. This accessory has a heavy-duty chain and locking carabiners that will ensure your child can safely swing and hang upside down. Just be sure to supervise your kids to help them avoid injuries.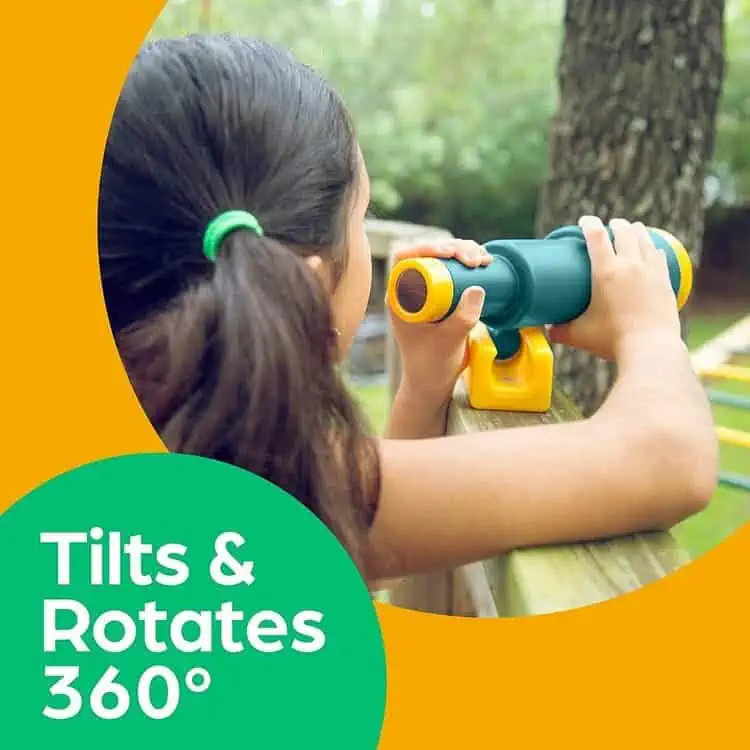 Another option for an extra accessory to add to your backyard playset or swing set is the Pirate Ship Telescope. It can attach to a variety of playhouses and provides hours of imaginative play as your children transform into pirates, explorers, and ship captains.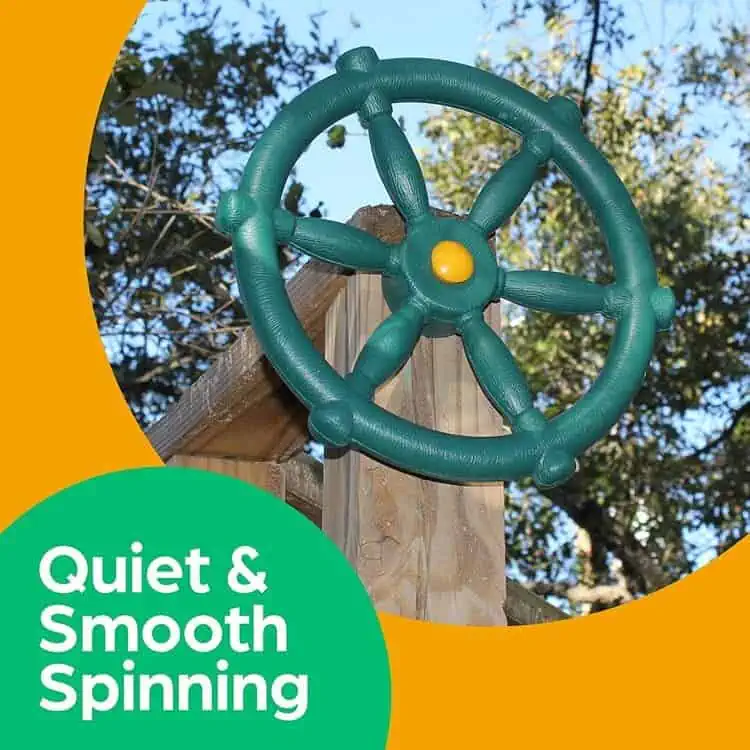 Speaking of pirates, there is another addition you can complement your playset with – a Pirate Ship Wheel. Your kids' creativity and imagination will skyrocket as your little sailor explores the high seas.
3. Best Classic Swing Set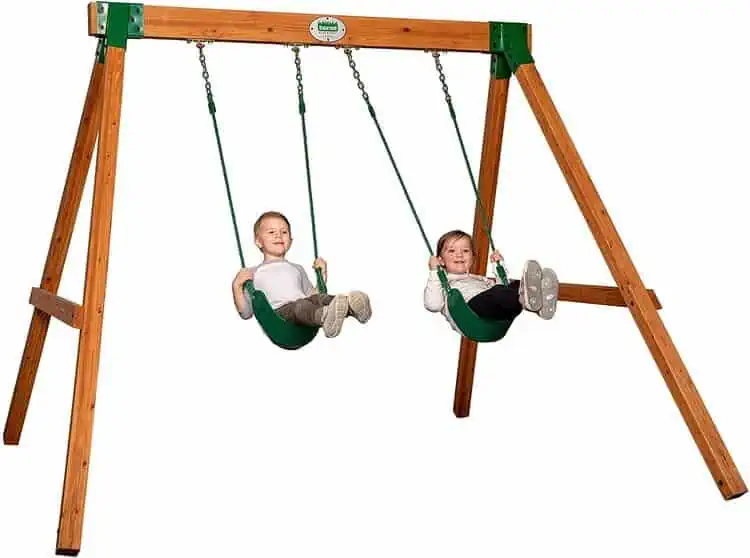 The Backyard Discovery Wooden Swing Set is the classic dual swing design made from 100% cedar. The swing has heavy-duty posts, and the ropes help to avoid finger pinching. The broad swing lanes allow your kids to enter a side-by-side swinging competition.
Prepare for some fun times!
Pros:
Suitable for kids ages 3-10 years old
More compact design
Stable with heavy-duty legs
Quick and easy to assemble
Pinch free swing ropes
Cons:
Tighten the hardware and bolts on a regular basis if used daily

Beams may start to crack with time
4. Best Playhouse Swing Set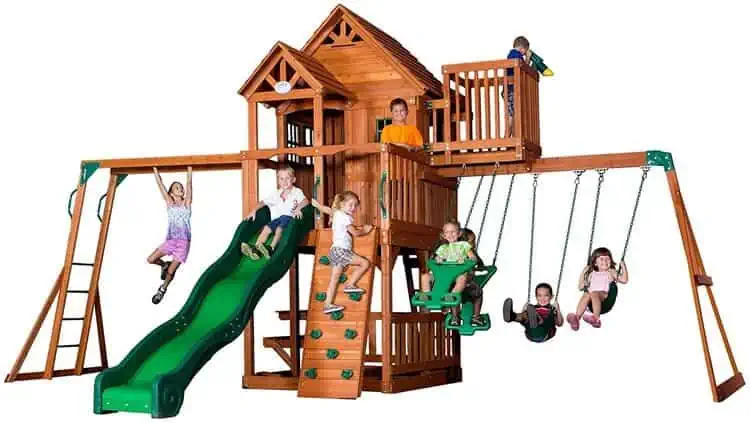 There's plenty of room for fun with the Backyard Discovery Skyfort II. It has a bit of everything included: monkey bars, climbing wall, sun deck, picnic table, sandbox area, a large clubhouse, and more. Best of all, it's made from 100% durable cedar wood, proven to resist rot and natural decay.
With the two belt swings and a two-person glider, your little ones will safely swing for the skies! Just make sure you have enough space in your backyard for this particular playset.
Pros:
Age range: 3-10 years old
Durable and safe
It has the most features of any of the options on our list
Perfect for social and imaginative play with multiple children
Pinch free swing ropes
Cons:
Requires large yard for installation
Time-consuming assembly
The setup requires at least 2 adults
A Smaller Backyard Swingset Option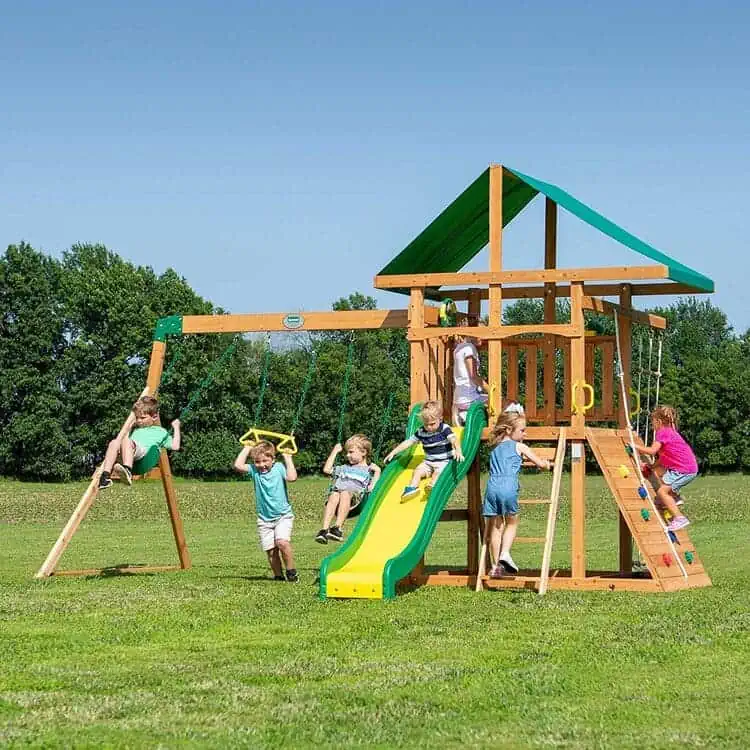 If you are looking for a similar backyard playset but smaller in size, this Mount McKinley Swing Set may be for you. 
Youngsters can:
Climb the rock wall

Go up the step ladder

Pull themselves up the rope ladder
With the open wooden structure, telescope, and steering wheel, the little one's imagination can run wild. After a quick slide back down to the summit, they can put their natural treasures in the toy storage box.
Afterward, they can finish their adventure on the belt swings or swing trapeze bar.
Pros:
Age range: 3-11 years old
Durable and safe cedar construction
Variety features to appeal to kids
Cons:
Requires some space in your backyard for installation
Several tools required for assembly
5. Best Swing Set With Monkey Bars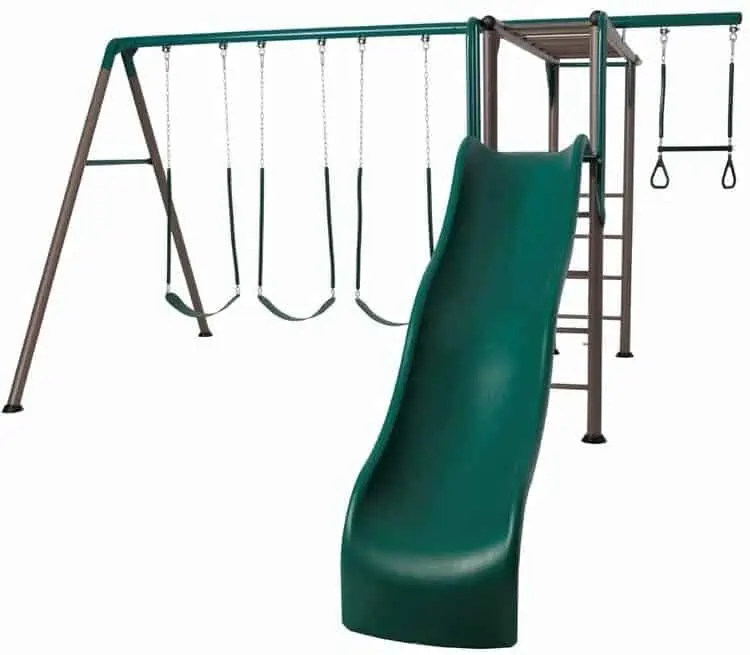 This Monkey Bar Adventure Swing Set is ideal if you don't want a playset with a tower. The hard edges are rounded or covered with plastic caps, and the rubber grips on the swing chains will prevent finger pinching.
Metal swing sets are usually low-maintenance and long-lasting. This model includes enough elements to provide children with several ways to play. It has:
three belt swings,

a trapeze bar,

monkey bars,

a fireman's pole, and

a wavy slide. 
Pros:
Age range: 3-12 years old
Safe construction
Sturdy steel frame
Several ways for kids to play
Accommodates up to 6 kids
Low-maintenance design
Cons:
Metal can get hot in the sun
Ladder steps can be slippery
Takes up quite a bit of room
6. Best Rated Backyard Wooden Playset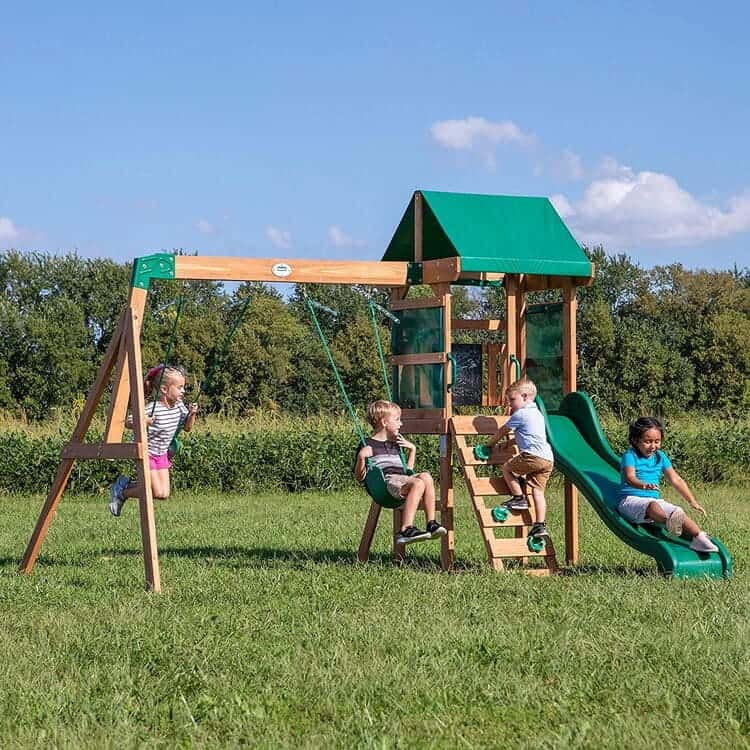 This Buckley Hill Swing Set is the perfect starter swing set! Kids at any age can enjoy it, but it's the most fun for ages 3-6 years old. Made from 100% cedarwood, it's the perfect wooden swing set for any sized yard, and it has enough elements to keep kids occupied.
It contains a fast slide, two belt swings, a rock wall ladder, and a lower shaded area that could double as a spot for a sandbox or fort. 
Our favorite element is the chalkboard so your kids may create one-of-a-kind works of art.
Pros:
Several ways for kids to play
Affordable
Can attach additional features
Easy assembly
Cons:
Assembly is quite easy but can be time-consuming
Not as sturdy as the bigger swing sets
7. Best Small Space Swing Set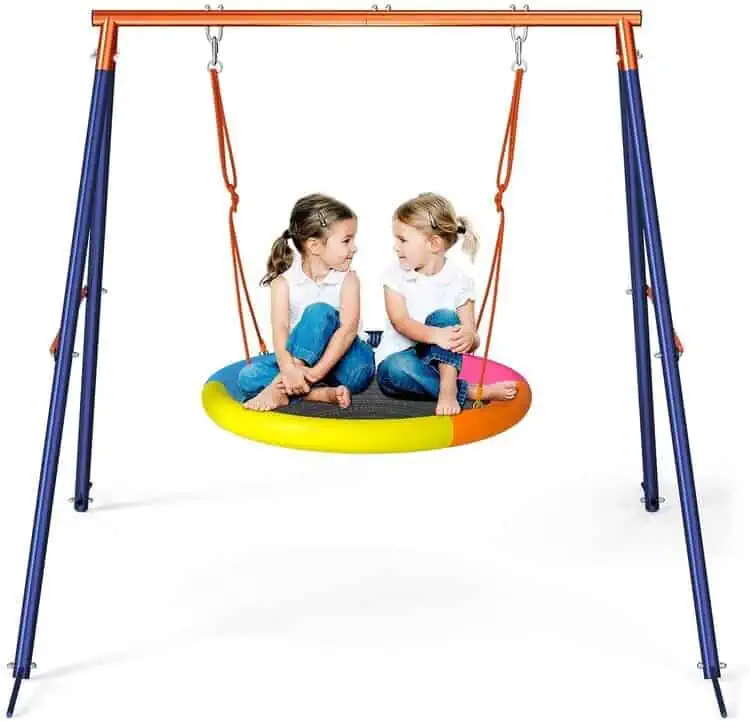 You don't have a lot of room in your backyard? We've got your back! With the Saucer Swing, you can bring the swings from the park home. It is simple to assemble in a few minutes thanks to its simple design and instructions.
Attach the swing to an existing playset or hang it from a tree branch; the choice is yours. The saucer swing seat is sturdy and big enough so children can sit, kneel, or lay on it. It's also a great opportunity for kids to socialize and have some quality bonding time.
Pros:
Clever and compact design
Affordable
Easy assembly
Attach to the playset or tree
Cons:
Not as sturdy
Mesh fabric can wear out over time
8. Best Budget Wooden Swing Set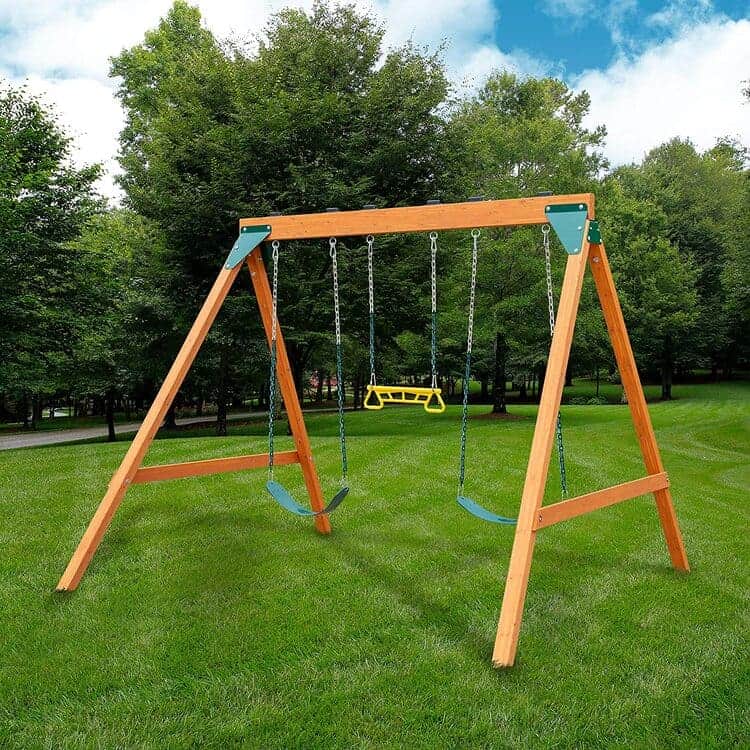 Are you looking to add some charm to your backyard and keep your kids entertained? The classic a-frame Ranger Wooden Swing Set is a great and affordable option.
Your kids can express their inner acrobat on the trapeze bar, the coated chains avoid finger pinching while playing, and it's easy to replace the existing swings with bench swings, gliders, or baby swings. Keep in mind that you'll have to buy other seats and swings them separately.
Pros:
Suitable for younger and older kids
Suitable for smaller yards
Easy to install and maintain
Cons:
There's not as much to hold their attention
9. Best Budget Metal Swing Set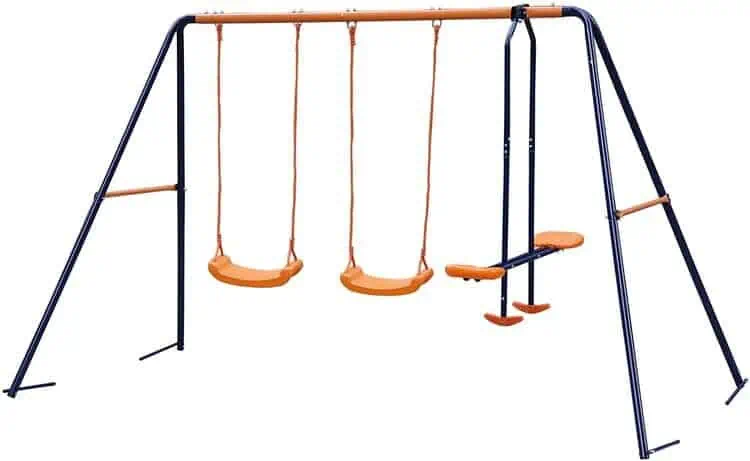 If you are looking for an inexpensive swing set made of metal, you need to check out this Metal Swing Set. It has two seats and a swing glider to accommodate up to four children at once. The swing is waterproof and rust-proof, so that your kids can enjoy it for a longer period of time.
Pros:
Suitable for younger and older kids
Sturdy, and durable construction
Safe and comfortable
Easy to maintain
Cons:
Can be a bit challenging to install
10. Best Toddler Swing Set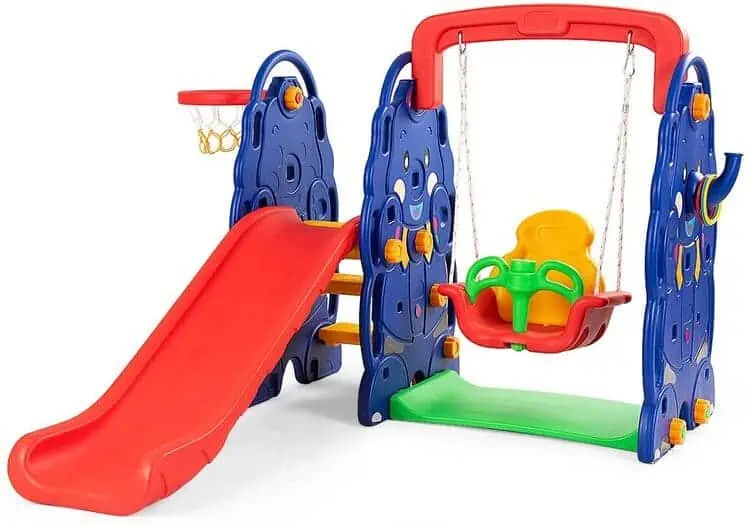 This Toddler Climber and Swing Set is ideal for outdoors and indoors due to its small size and lightweight material. It's made from non-toxic HDPE material, has no sharp edges, and it has some neat extra features like the elephant trunk ring toss and basketball hoop.
Pros:
Suitable for smaller kids
Sturdy, and durable
Fun design
Easy to assemble
Cons:
Not adjustable so kids can outgrow it fast
11. Best Swings For Toddlers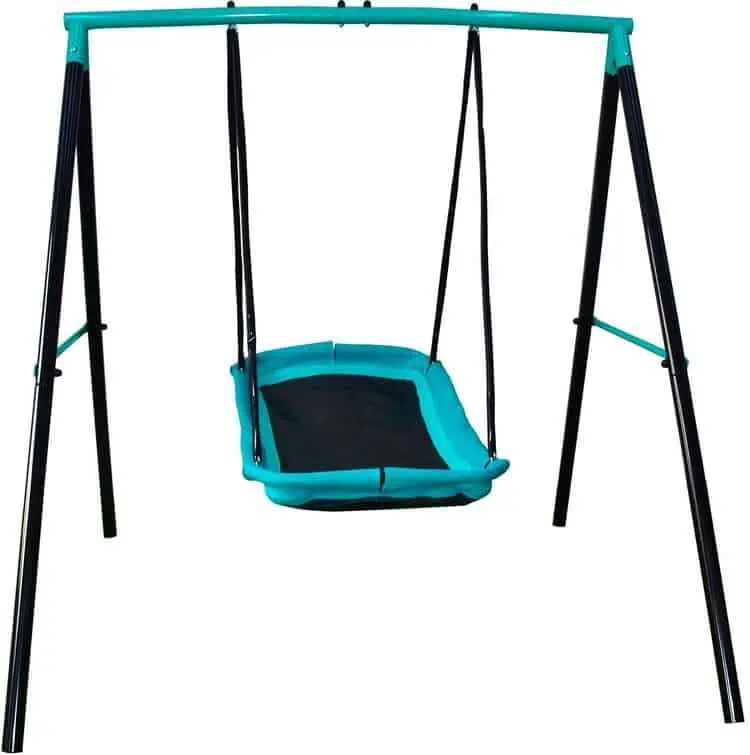 The spacious, padded swing seat of the Toddler Swing can support up to 198 pounds. It allows a safe ride for two children. The swing frame is thick, made from weather-resistant steel, with a powder-coated finish.
The advantage of this heavy-duty swing is that you can install it indoors.
Pros:
Suitable for smaller kids
Solid, and durable construction
Low maintenance
Quick and easy to assemble
Cons:
Mesh fabric can wear out over time
Best Backyard Playset For A Toddler
If you have one toddler and are looking for a swing with only one seat, this option might appeal to you: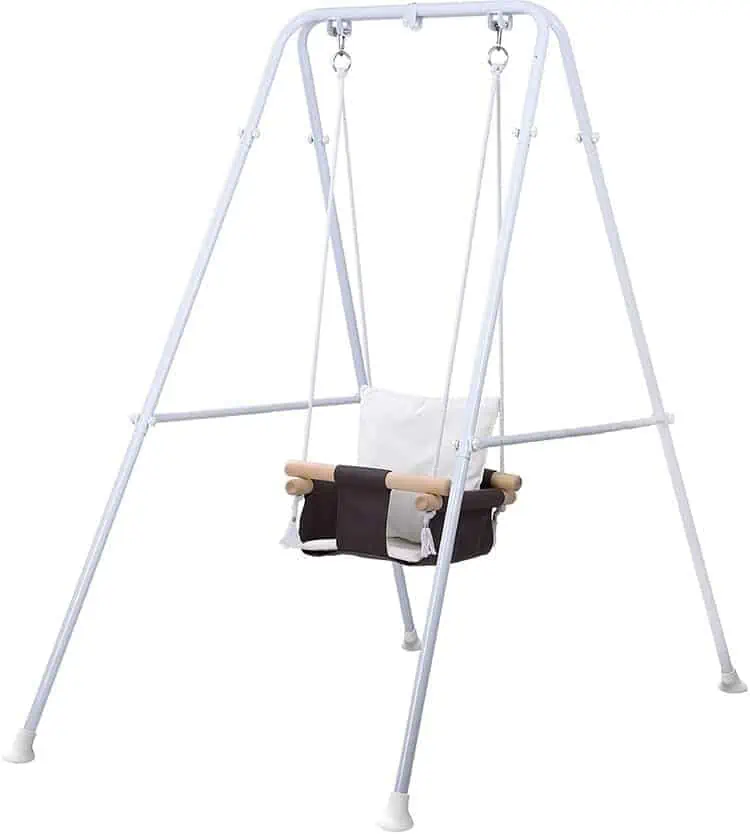 This freestanding Toddler Swingset has the benefits of a traditional hanging chair. Made from pure cotton, the cushion seat and pillow feel softer than the plastic swings. The material helps to avoid skin irritations and adds to a more comfortable feel.
The swing has heavy-duty carabiners, anti-reverse screw caps, and non-slip rubber feet. Which means, you can use it both indoors and outdoors.
Pros:
Suitable for smaller kids
High quality and safe material
Easy to clean
Quick and easy to assemble – no tools needed!
Simple design
Cons:
You will have to keep it indoors on a rainy day to extend the life of the swing
FAQs about Playsets
Your home playset is going to be the backdrop to so many of your son or daughter's most precious childhood memories.
If the pressure to choose the right one feels a little overwhelming, don't worry. We're here to answer the most frequently asked questions and walk you through all of the important considerations for choosing and buying your family's perfect play or swing set.
What To Look For When Buying A Playset Or A Swing Set
 A decent swing set or backyard playset can be an investment in years of future entertainment and physical play for your older kids – and maybe even your grandkids!

via WeTheParents.org
Choosing the right backyard playset or swing set can be challenging. Especially if it's your first time. There are a few factors you should consider first.
Among the most important are the following:
Safety features
Age-appropriate
Materials used
Price range
Assembling difficulty
Ground surfaces
City Ordinances and Guidelines
1. Best Backyard Playset Safety Features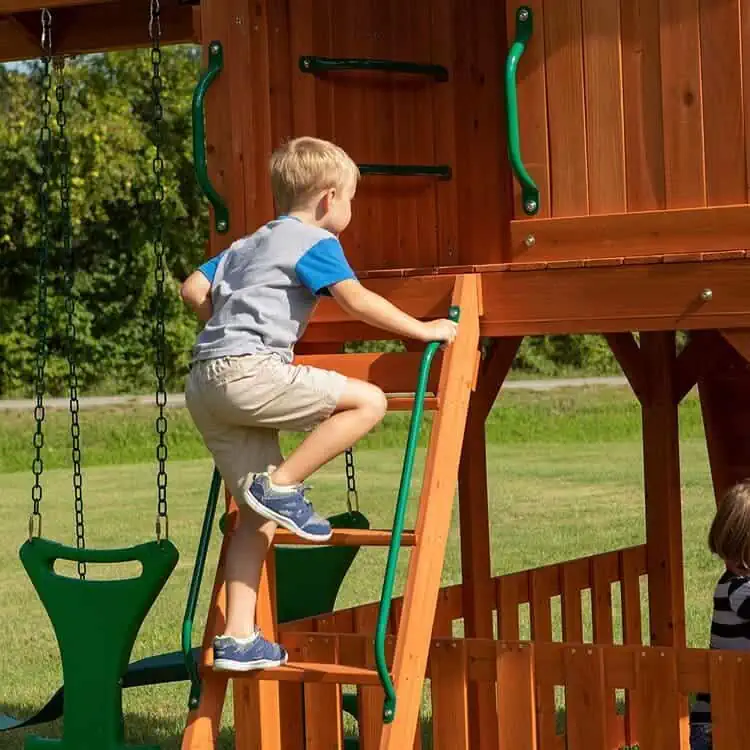 When it comes to purchasing the perfect swing set for you, many parents base their decision on price. That is understandable, but there's another factor that needs to be considered too, and that's safety!
The safety features included on more expensive swing sets are worth the extra money.
Essential safety features for swing sets must include:
Rounded or capped edges to avoid scraping, scratching, or injuring your kids.

Hand grips to the swing chains to protect children's fingers from pinching.

Design of all slide platforms and decks to keep children from sliding/falling off.

Free of lead paint or any other type of wood treatment that could harm your children's health.
2. Age-Appropriate Playset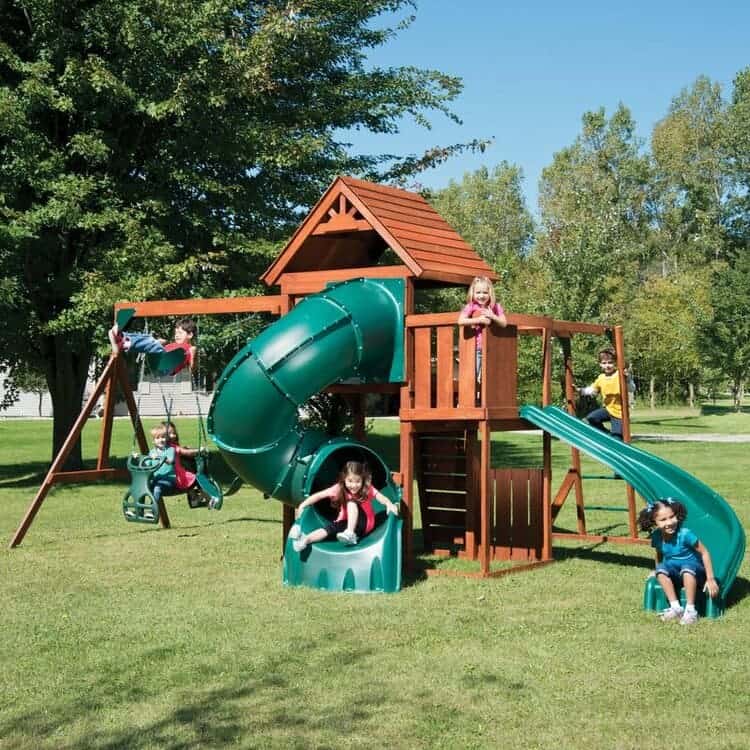 Play is an essential part of childhood. It promotes children's health and wellness, builds strong, healthy bodies, and reduces stress while inspiring creativity and imagination.
Other benefits include:
Enhanced motor skills

Coordination

Agility
Play also helps children learn independence and improve their social skills, and experts recommend that all kids and adolescents between 6 and 17 years of age engage in at least 60 minutes of physical activity every day.
Thinking long-term when purchasing a playset or swing set can help you get the most for your money.
It's okay to buy the set you believe is ideal for now as long as you know your kids may outgrow it in a year or two, and you'll have to replace it.
Choosing something small may also be kinder to the waller short term, but it may not serve your needs for long and may necessitate the purchase of another playset in just a couple of years.
Many playsets have features that can be enjoyed at different stages of childhood and have parts that are easy to replace or expand. A lifetime swing set, for example, allows kids of various ages to enjoy their playtime and guarantees a longer lifespan.
One of the most important steps in choosing a playset is asking your kids what they'd like to play with and would be most entertained by.
Best Backyard Playset For Younger Children
We'll walk you through playset features suitable for:
Kids under the age of 2
Children of age 2-5
Youngsters aged 6-9
Best Backyard Playset For Children Under The Age Of 2
For toddlers, crawling, standing, and walking are all new skills. Physical activity promotes the development of:
Balance
Coordination
Muscle control
Playing on an outdoor playset is an age-appropriate activity and is very beneficial for this age group if they have the necessary play features. Of course, being so little, they also need to be under proper supervision at all times.
Essential playset features for children under the age of 2 include:

Short, low stairs and ramps with appropriate safety handles
Full bucket swings
Enclosed crawl tunnels with bubble panels or spy panels
Open slides with shorter length and lower height
Fun accessories such as ship's wheels, binoculars, and telescopes
Convertible platform/picnic table/sandbox feature

via SuperiorPlay.com
Best Backyard Playset For Children Of Age 2-5
Children's fine and gross motor abilities grow fast during these years. They want to climb, run, and leap because they enjoy being in motion. Their strong desire for independence causes them to be brave (sometimes a little TOO brave!).
They may need help with balance and climbing so children in this age range are best suited and most safe on play equipment no taller than six feet.
Kids of this age are still learning cooperative play and how to take turns, and a playset naturally promotes developing these skills.
Essential playset features for children ages 2-5 include:

Short ramps with ropes or rock wall-climbing grips
Ladders with small, flat, wide steps, safety handles
Tube slides or spiral slides with shorter length
Lower swing beams
Belt swings, tire swings, or glider swings

via SuperiorPlay.com
Best Backyard Playset For Youngsters Aged 6-9
This age group is stronger and more agile, with improved stamina and gross motor skills. They can climb, run, swing, and jump higher and farther. These kids tend to seek out more daring play elements that allow kids to channel their energy and put their new abilities to the test.
Kids in this age group often compete in races and competitions to see who is the fastest or best at an activity. They can play on their own but still require adult supervision.
There is still a lot of dramatic play and role-playing at this level, and they like to transform their playset into anything from a fairytale castle to a pirate ship.
Essential playset features for children ages 6-9 include:

Higher swing beams and decks
Large rock-climbing ramps
Cargo nets or ropes courses
Extreme slides
Taller horizontal ladders
Trapeze bars, monkey bars, rings, or poles
Buoy balls or disc swings

via SuperiorPlay.com
Best Backyard Playset For Older Children
For children aged 10 and up, adequate physical activity and open space to run and play are still required. 
Getting the right physical activity boosts their happiness and self-esteem and assists them in maintaining a healthy weight and body image. For children of this age range, peer interactions are critical. They value
being accepted by
and spending time with their peers.
Essential playset features for older children include:

Sky Lofts
Bridges
Daydreamer And Tire Swings
Bonker Bags
Challenging Climbing Features
3. Materials Used In A Playset

Swing sets
are made
from a variety of materials, the most common of which are
wood and metal
. Accessories such as slides and belt swings are
typically
made of high-density plastic. That applies both for both metallic and
wooden swing sets,
though m
etallic swing sets are becoming less popular because of how hot they get in the sun.
In our opinion, the best playsets are made from a material that is safe, durable, and long-lasting. 
Today, wood is the most common material used, and the
three most common types
used in the construction of swing sets are
:

Cedar – highly resistant to rot, decay, and damage. Remain aware of the thickness of the wood used in the set.
Redwood – naturally resistant to decay and damage, and is also immune to insect damage. To get a high-quality product, you should look for older growth Redwood and have it center-cut.
Premium preserved pine –

the most durable of all wooden swing sets. They are pre-shrunk and well-preserved. These two procedures reduce cracking, shrinkage, cupping, fungal deterioration, and warping. These swings are more resistant to harsh weather. They can hold more moisture than Cedar and Redwood. This will ensure a longer life span for your swing set.
4. Price Range For The Best Backyard Playsets
The most common wood playset or a swing set starts at about $100-$500 for a basic, simple kit, but on average, they can range anywhere between $200 and $4,000. The cost gets higher depending on materials, features, and equipment, and can even go up to $8,000-10,000.
An expensive backyard playset will usually include features likes swings, slides, lookout decks, rock walls, sandboxes, and will include many safety features. Imaginative touches like a pirate ship's wheel or chalkboard may also be included and can add more opportunities for fun and the imagination to roam.
You may be able to save some money by assembling your set yourself, but if you don't want to DIY it, be sure to factor in the expense of hiring a handyman or an assembly service to build a swing set. Price ranges vary depending on local rates, brand, and the complexity of the swing set.
5. Assembling Difficulty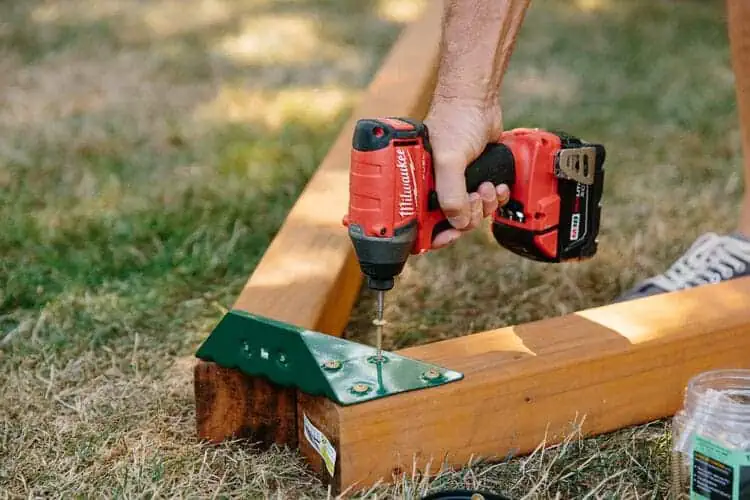 Assembling difficulty varies due to the difference in the brand and model of a playset or swing set. Simple A-frames are usually quick to assemble. If you're handy, you might even consider building your own backyard playset.
Thinking of installing the swing set yourself? You might have to think twice.

The building process may be more difficult and time-consuming than you expect. Some playsets can be very complex and may take a full weekend to construct and install. Complete assembly and installation may take up to 40 hours in some cases.
6. Additional Ground Surfaces For The Best Backyard Playset Experience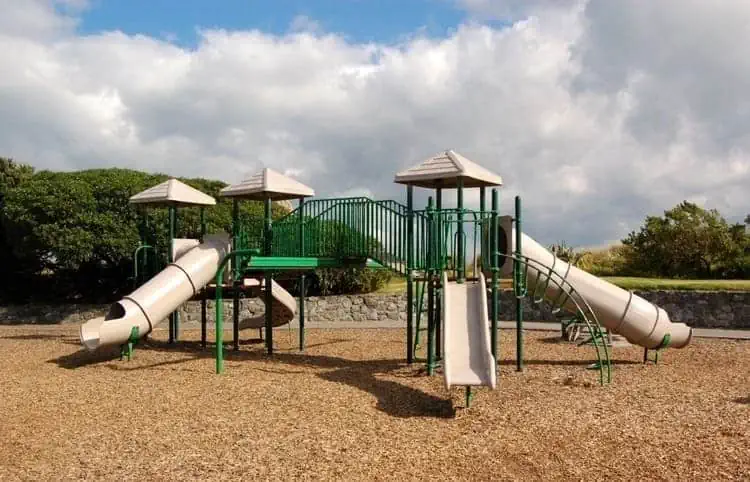 Choosing your playset comes with another consideration too… what's going to go beneath it?
The ground cover for your backyard playset should be safe, low maintenance, and affordable. Here are some of the most popular playground ground cover options to help you decide which one is best for you:
Pea Gravel
Rubber Mulch
Poured Rubber and Rubber Tiles
Natural Grass
Artificial Grass
Play Sand
Wood Chips and Mulch
Engineered Wood Fiber (EWF)
You'll want to consider what works best for your climate and can even visit local playgrounds to get some ideas and to see what your kids prefer.
Sidenote: we've visited parks that have used rubber mulch on hot summer days, and have been overwhelmed by both the heat and strong, unpleasant odor they can emit so I'd definitely recommend caution before going in that direction. It may not apply to all rubber mulch, but it's really ruined the experience when we've been around it.
7. City Ordinances And Guidelines
Depending on the dimensions and features of the playset you choose, some areas may require a building permit before construction and assembly can begin.
I had no idea a playset could actually require a building permit until a friend found out the hard way so it's best to double check in your area just in case and to avoid any unforeseen trouble.
The United States Consumer Product Safety Commission has also developed guidelines for outdoor home playground safety standards, but they are completely voluntary and are not required by law.
You can also check out the playground safety advice from the USA's Department of Health for children up to 14 years old.
Are playsets worth the money?
The vast majority of parents believe that backyard swing sets are well worth the money. For starters, there is no need to take children to and from the park or playground to keep them entertained, which is especially helpful with the recent complicated global events and the widespread community lockdowns.
Due to the strict health measures applied around the world lately, a backyard playset is a very handy way to keep kids occupied.
Do playsets lower property value?
You might think your playset is quite attractive, but if you're planning on selling your home, a potential buyer may not agree.
There are a lot of different factors that can impact whether or not someone will find your backyard playset valuable and attractive, but if it's well-made and maintained, it probably won't hurt your property value. It may even increase it or be an attractive feature that helps to set your home apart! 
How long do outdoor wooden playsets last?
Playsets made of wood are built to last. In fact, with proper care, some could last up to 20 years. Here are some pointers to keep your wooden playground in good condition:
Check for splintering or loose hardware every six months or so
Clean the playset on a regular basis with an outdoor hose and mild soap
Reapply a fresh coat of sealer every 1-2 years, and

restrain

the wood every 3 years
Replace any loose or damaged parts as soon as possible
When should I buy a playset or a swing set?
The quick answer is around November or December. Late fall and early winter are the best times to buy a backyard playset or swing set because:
They will make a perfect present for your kids!
Lower prices – due to entering a holiday season with off-sale pricing
Availability – as fewer people are ordering them
Preference – If you like a specific playset that is out of stock – you can afford to wait for its delivery
Delivery – Usually, you don't have to wait as long for your set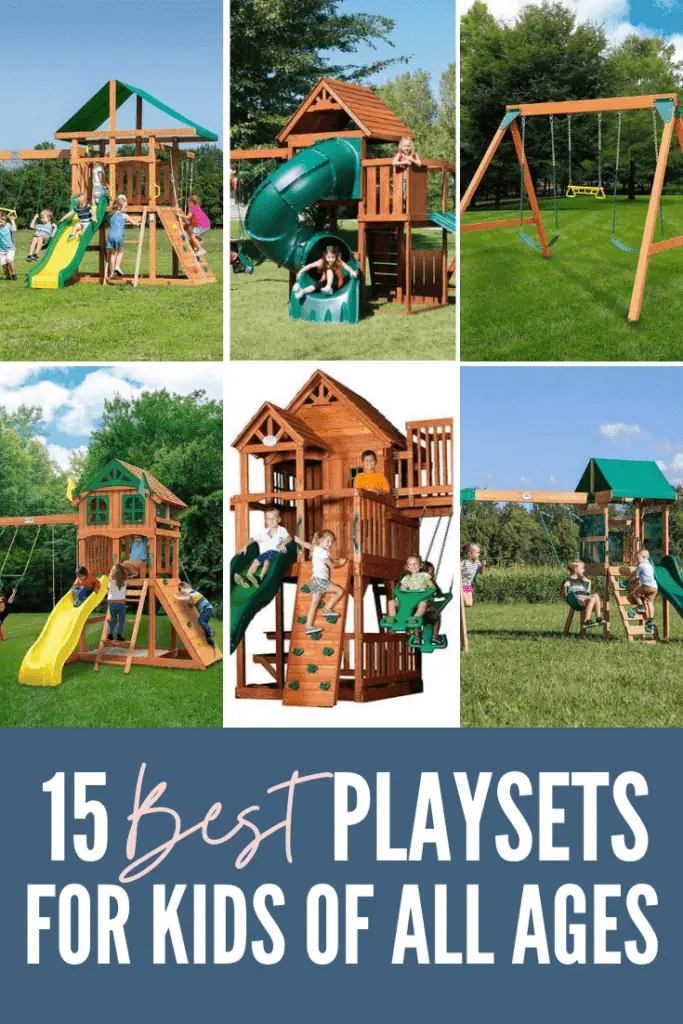 Did you like these ideas for the best backyard playsets? Then you have to check out these other ideas, too: