Hippity, hoppity, Easter's on its way.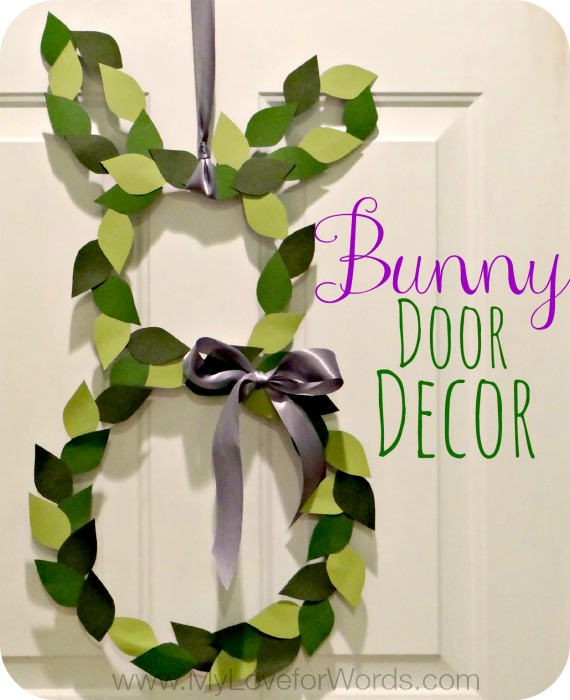 With just days to go before Easter, I knew I'd better get to this adorable bunny project before it was too late so I broke out the glue gun and got to work.
Here's what you'll need:
3 pieces of scrapbook paper in varying shades of green
floral tape
2 embroidery hoops (4″ and 8″)
wire and wire cutters
hot glue gun
scissors
ribbon (2-3 yards)
First, you'll want to tape the hoops together using the floral tape.
Next, shape wire into ears leaving a 4 inch tail to wrap around the hoop. I also wrapped some floral tape around the wire for added strength and to keep the ears in place.
I then made a leaf stencil (approximately 1×2 inches) and traced and cut out many leaves in my three different colors. Despite all of the leaves, this takes only three sheets of scrapbook paper! After attaching the various leaves to my hoops with hot glue I started on the ears.
In hopes of not burning my fingers, I flipped the bunny over and applied the glue to the wire and paper. I then held the wire in place for a few seconds until the glue cooled.
Finally, I added the ribbon bow and hanger, and I was finished!
All in all, this probably took me two hours, which could've been greatly reduced if I'd used a cricut machine to cut the leaves.
Now this little cutie in hanging on the door to our garage. He'd look cute on our front door, but since we use the garage door the most (and I can see it from the kitchen) I decided to spare him the horrible wintry weather and let him stay inside. Honestly, I'm enjoying this little addition so much I think we might just let him stay a little past Easter too. (Seriously, anything that can make me rethink painting these green walls is a winner in my book!)
Linking up at: Adventures of a DIY Mom, Sugar Bee Crafts, Elizabeth & Co., A Bowl Full of Lemons, Home Stories A to Z, Sarah Dawn Designs, Hope Studios, We Like to Learn as We Go, 36th Avenue