I am by no means an expert, and compared to many I'm still a rookie when it comes to this whole marriage thing, but in honor of my 5th wedding anniversary I thought I'd share some things that have helped my husband and I have a happier marriage.
1) It's cliche, but communicate.
Let me guess, you've heard this one before. That's because it really is the cornerstone of a healthy, happy relationship. In my opinion, it's extremely important to avoid playing games with people. Being passive aggressive or expecting your partner to simply know you're unhappy is not fair to him, and it's not fair to you because it will just lead to more frustration.
I recently read that, "Expectations are nothing more than delayed resentments," and boy can I relate to that! I think we do more damage to ourselves and our relationships when we expect the other person to intuitively know how they're upsetting us and how to fix it. Looking for a better tactic? Try to voice your concerns in a calm, loving way. (I said "try." Trust me, I know all too well that's not always possible, but he'll be more receptive to you if you're not out for blood or badgering him.)
2) Be the Change
Every relationship has its ups and downs. It's normal. If you show me someone who says every day is like riding through rainbows on a unicorn, I'll show you someone who's either delusion or lying. Stuff happens, but just as Gandhi said, "You must be the change you wish to see in the world," I believe we must also be the change we wish to see in our relationships.
If your partner's not giving you something you need try this approach: give it to him and see what happens. If he's not affectionate enough, be affectionate with him. If he's not spontaneous enough, surprise him with a special date night and have fun together. One sure fire way to NOT get what you want is to start nagging. No one wants to cuddle up to someone who's just ripped them a new… shall I say "orifice?" Someone who's being sweet and affectionate, however, is definitely inviting cuddles and loving and will probably get it in return. After all, you catch more flies with honey.
One of the biggest mistakes we can make is being stubborn enough to think, "I shouldn't have to do that. I want him to do it." Once you experience how great it feels to get what you've been missing you won't really care who initiated it. Furthermore, you'll be acting to create a better relationship environment thereby encouraging wonderful behavior from him at the same time.
3) It's the Little Things
I think we should always be showing our spouses how much we appreciate and love them. A small, simple action or word can go a long way in making someone feel appreciated. Given that everyone appreciates feeling acknowledged, try thanking your honey for all he does.
"Thanks for working so hard for our family."
"Thanks for playing with the kids so I could take a shower."
"Thanks for getting the mail."
It doesn't have to be a big thing; just let him know he's appreciated.
A fun way to let someone know how much you love and appreciate them is by leaving little surprise notes around the house. A post-it note in his wallet that says, "Surprise, I love you!" or on the steering wheel of his car that says, "Have a great day!" can really give someone a nice jolt of love adrenaline. Of course, these notes can always be a little more scandalous too so be careful if you have kiddos who can read.
4) Prioritize
In a mess of working, bills, cleaning, kids, and family and friend obligations it can be easy to lose track of what's important: one another.
Sometimes we have so many things on our plate that taking time to reconnect can feel like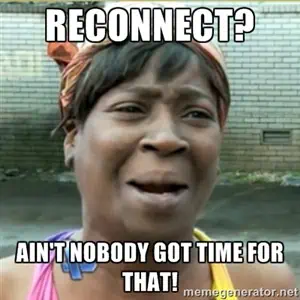 But making your partner your first priority preserves your relationship. All too often, the things that feel like emergencies in the moment can wait a minute, an hour, a day while you reconnect with your spouse. Yes, sometimes other things will be more important, but a lot of the minutiae that consumes us can be done after a few minutes of checking in with your partner to see how his day was, which leads us beautifully into #5…
5) Touch one another!
This is a fun one! Of course there's always the baby-making kind of touching, but don't limit your physical affection for one another to the bedroom (or kitchen, parking lot, or wherever you're crazy enough to do it).
A simple kiss, hug, caress on the hand or back, or dance around the kitchen while dinner's cooking can be all it takes to gently say, "I'm here for you, and I love you." Plus, if you have kids they love to see this stuff. They may say, "EW!" but they'll probably be smiling while they say it. My husband and I have taken a few twirls around the kitchen while dinner's cooking, and the kids always start dancing right along with us.  A little family dance party before dinner is a lot of fun (and sure beats yelling about who's setting the table). Plus, a little hug or kiss is a great way to decrease stress and bring a smile to your face.
Like I said before, I am by no means a relationship expert. My husband and I have great days when I can't imagine how I'd ever live without him and not so great days when I throw all of these tips out the window and can't imagine standing another second in his presence! Thankfully, those moments of frustration are few and far between. Overall we definitely have more happy days than not, and these are the 5 things I've learned in my first 5 years of marriage.
So, I'm curious to know… whatever your status (single, married, divorced), what are your tips for a happy relationship? {Linking up here}