This is a sponsored post written by me on behalf of FrogTape® for IZEA. All opinions are 100% mine.
I love painting. It's one of the easiest, fastest, and least expensive ways to completely change the look of a room, but only if it's well done. Today, I'm sharing my secret to creating perfect paint lines.
When I started my dining room redo, I knew we'd be doing a lot of painting. The walls were covered in red, floral wallpaper, and it had to go as quickly as possible. I knew I wanted to add an elegant board and batten treatment to the walls, but it took months to complete. Between four kids, a husband, keeping up with my blog, and all the other demands of life, we chipped away at the board and batten when we could, and we finally got it all done.
I love it! It took for.ev.er, but it was worth it. However, when it came time to start painting I was a nervous wreck. I didn't want to the pretty green paint we'd chosen to spill down the white board and batten or for it to leak on to the pretty white ledge at the top. We'd worked too hard and long on this project for it to be ruined by paint now.
Thankfully, I knew exactly how to avoid this problem.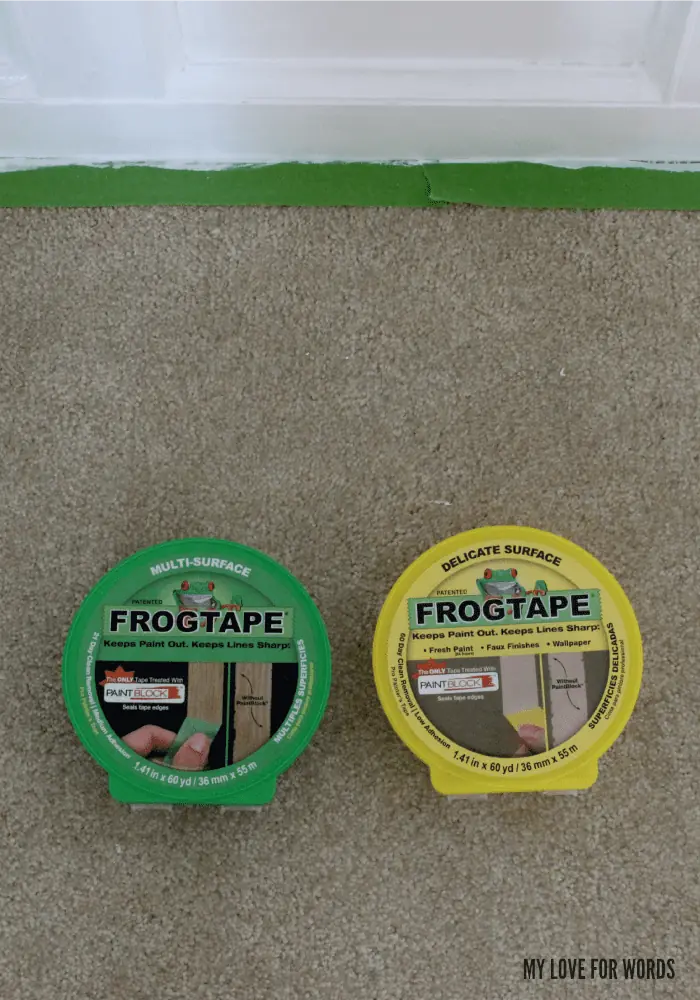 One of the first posts I ever shared on this blog was my office redo. I did a large wall stencil and first discovered the amazingness that is FrogTape® brand painter's tape.
FrogTape can be removed cleanly from most surfaces for up to 21 days and seven days in direct sunlight, which was music to my ears given how long it can sometimes take us to complete projects!
FrogTape Delicate Surface is a low adhesion painter's tape that can be used on
• Freshly painted surfaces (24 hours old)
• Faux Finishes
• Primed Wallboard
• Wallpaper
FrogTape's PaintBlock® Technology prevents paint from bleeding no matter what surface you're using it on. Can you hear the angels singing? Hallelujah!
I'll let the pictures speak for themselves.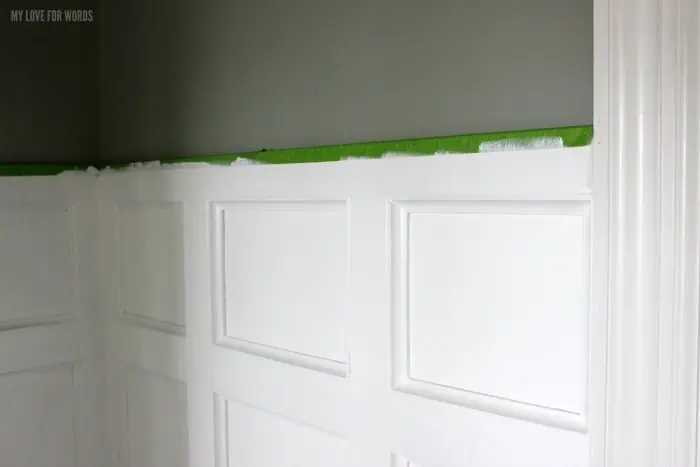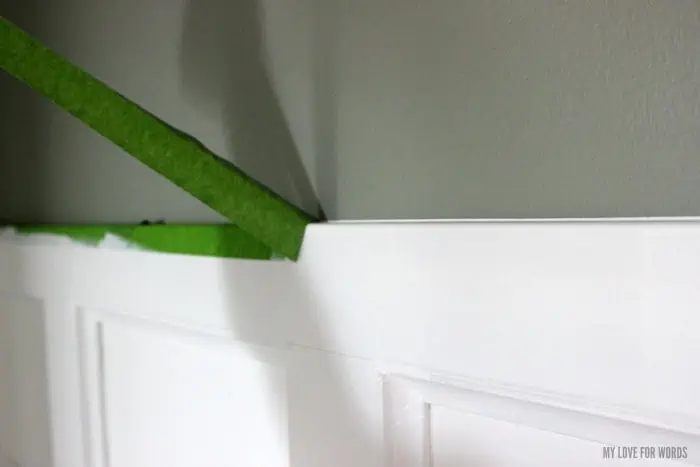 Can you believe how crisp that paint line is? I even put FrogTape on my carpet (yes, the previous owners put carpet in the dining room. They obviously didn't have small children living in this house), and it perfectly protected the carpet too.
I can't wait to share the full room reveal with you in a couple weeks, but here's a little sneak peek until then.
FrogTape is truly my favorite painting tool and my secret to creating perfect paint lines.
Now it's your turn to try FrogTape! Enter the Earn Your Stripes Room Makeover Contest   for a chance to win the $5,000 prize. Simply redo the room of your choice with the help of FrogTape and submit your photos to the FrogTape contest site and to read all official contest details.
Find out more about FrogTape products by following on Twitter (@FrogTape), Instagram (@FrogTape), Facebook, and get Pinterest for FrogTape® painting inspiration.
Which room in your home could most benefit from FrogTape and a fresh coat of paint?