A couple months ago I set an ambitious goal for myself. I wanted to do a complete bedroom makeover for my fourteen year old son while he was away for summer camp. I had only two weeks to buy what I needed, paint, and get everything put back into place before he got home.
To some, two weeks may sound like a lot of time, but more than half of that was spent just waiting for everything to arrive so once it did I wasn't sure I'd be able to get everything done. My husband and I ended up working down to the wire, but we did it! This post contains affiliate links.
Before he went to camp, I told my son to clean his room. Imagine my surprise when I went upstairs, and this is what I found waiting for me.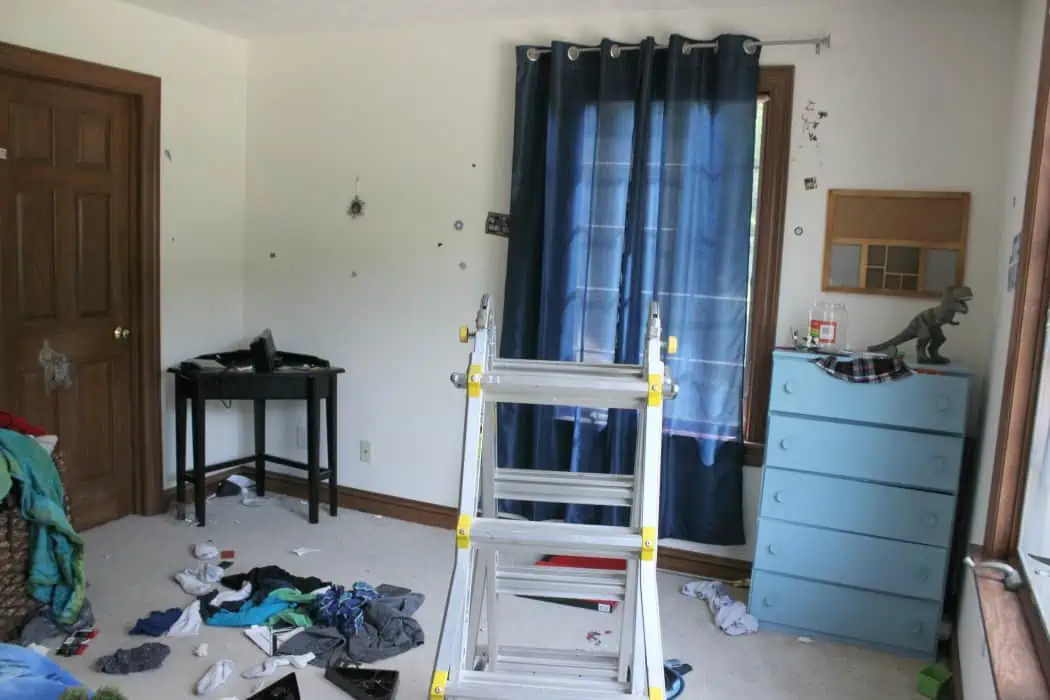 I was not a happy mom. We had a lot of work ahead of us, and cleaning wasn't even on the list! Oh well. We spent the first day cleaning, sorting, and throwing away a lot of trash!
The next step was moving everything to the middle of the room so I could paint. I wanted a soft gray color and really loved the look of Sherwin Williams' "Online."
I used to tape everything off for painting, but I've developed a pretty steady hand over the years so now I save time and just jump right in. If you're looking for a great tape while painting though, you can't go wrong with frog tape. It's amazing!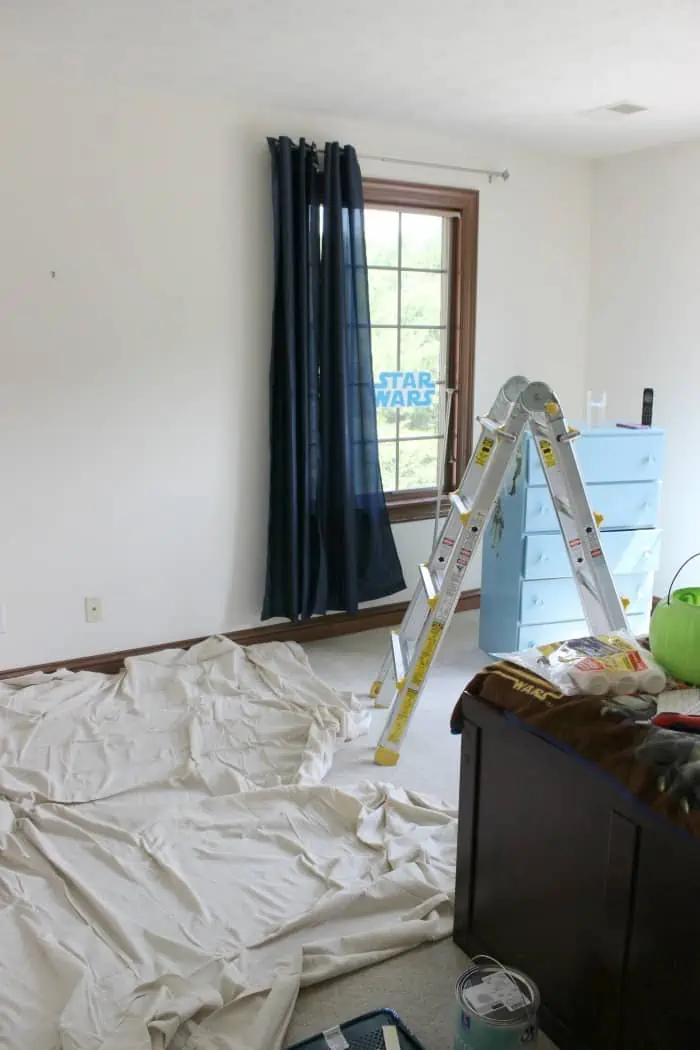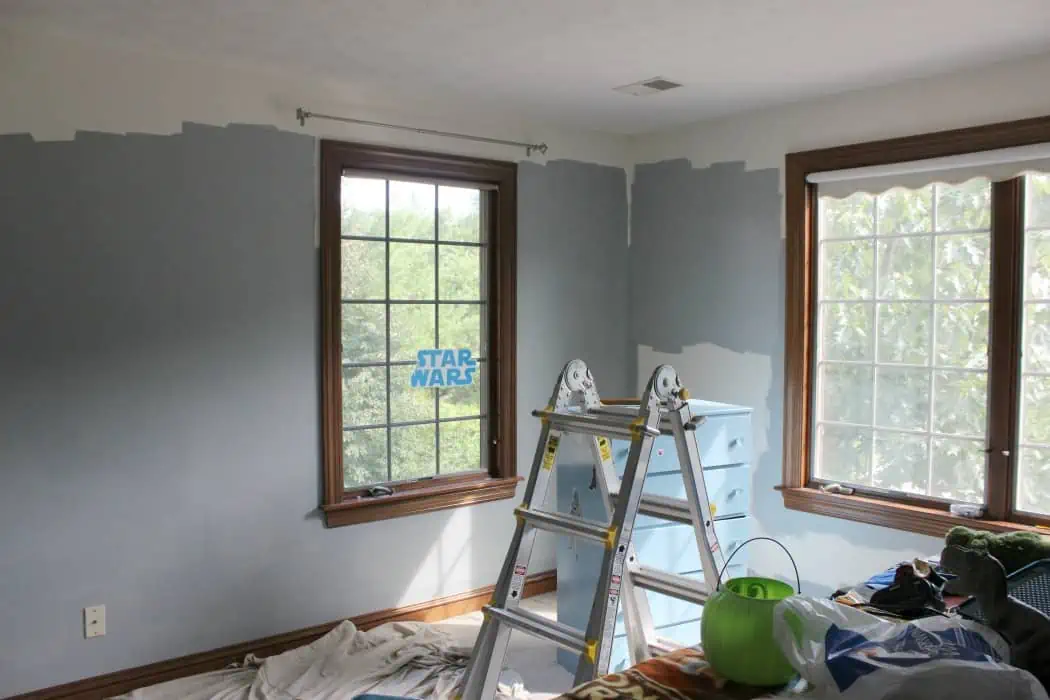 It ended up being more blue than I expected, but that was a happy accident because my husband and son love it. I like it too, I just wish I was better about envisioning what a room is going to look like from a little swatch. I've chosen three different "grays" now for various rooms in our home, and every single one has looked more blue once it's on the walls. I'm nothing if not consistent, I guess!
 The room wasn't 100% complete by the time my son got home, but we were pretty close. His shelves were obviously lacking some items, and his new curtains hadn't yet arrived. They were backordered for six weeks (!!) so I'll have a new update to share when those are finally hung.
The good news though was that we did have a dramatic transformation for him to come home too, which was surprise enough. Now for the exciting part, the pretty afters! I snapped these pictures just minutes before he got home.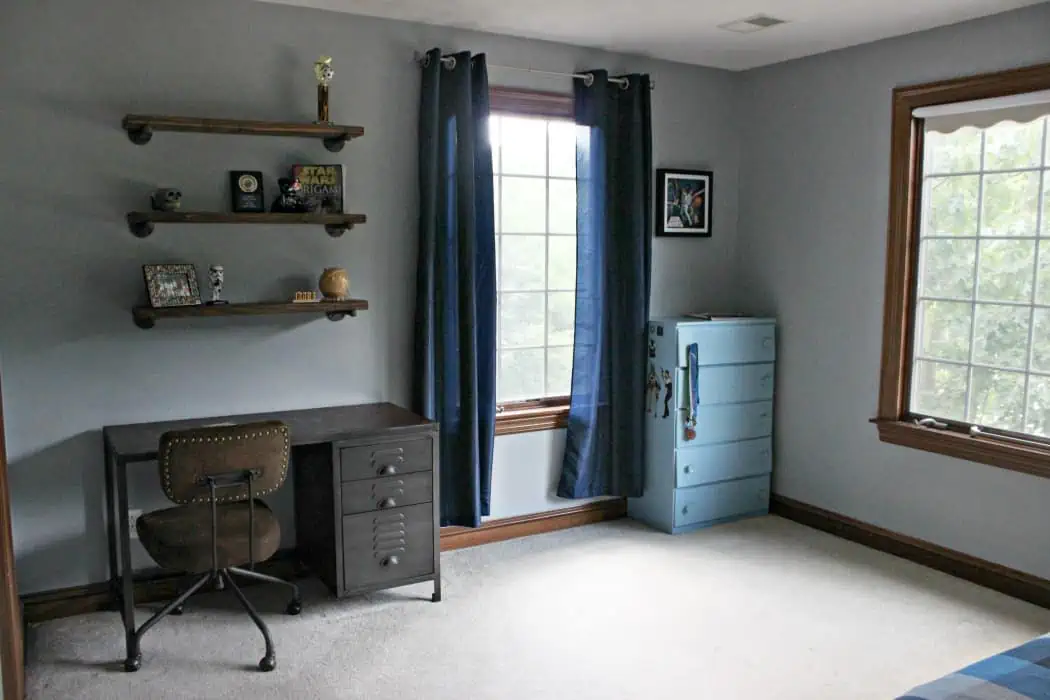 I think this corner is my favorite part of the whole space. As you can see in the before pictures, the teensy desk he had was almost impossible to use, and there was no storage or display space at all. A big blank wall does not an organized, well put together room make. (Unfortunately, otherwise my whole house would be awesome!)
Now he has these rustic, industrial shelves that give the room a modern, masculine touch. I really couldn't love them any more than I already do. I also love how well they coordinate with his new desk from Wayfair and leather chair. Something's wrong with this picture though because he now has a better office chair than I do.
Best of all, we were able to turn an almost empty corner into a functional space he can now use and enjoy.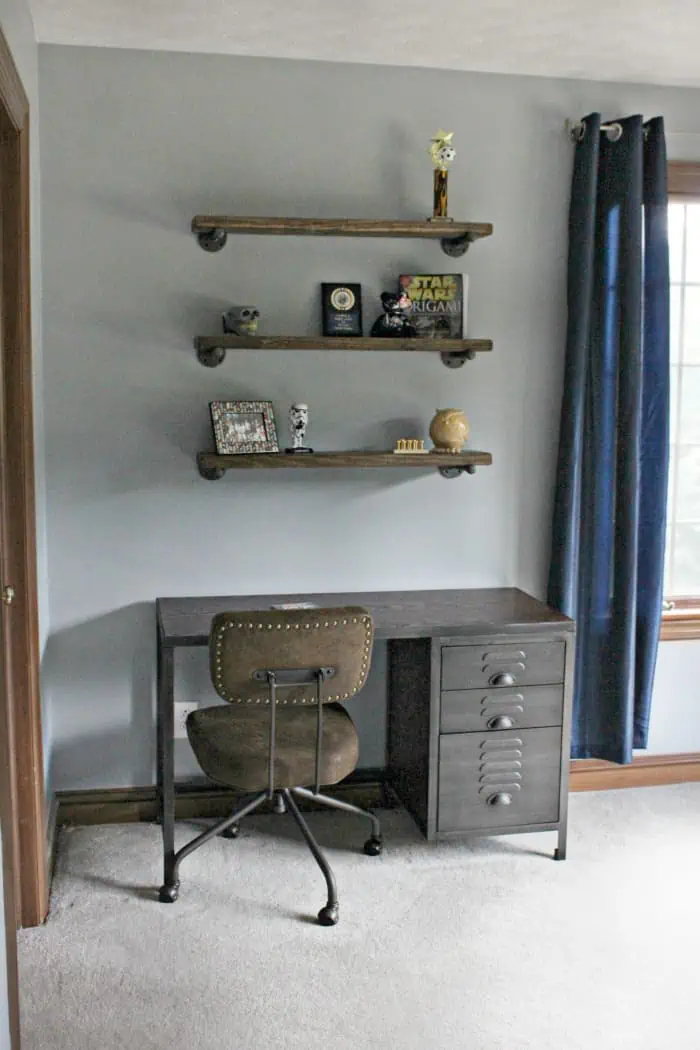 (Seriously, please ignore these super short curtains. They'll be replaced very soon!)
My son is obsessed with Star Wars, which is obviously how his room got its theme, but I didn't want his room to look like it was made for a young child. We chose to remove all of the Star Wars stickers he had all over his walls and saved a few for the side of his dresser.
His various medals and awards are still awaiting a final home too, but the knob of his dresser was about as good as it was going to get at the last minute.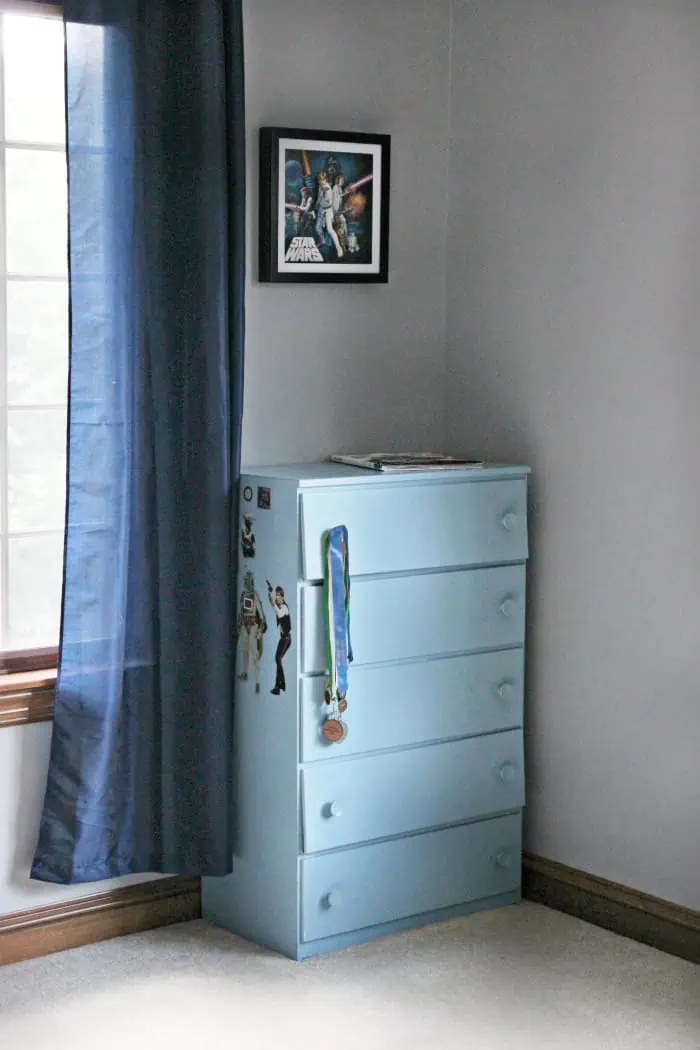 I had my eye on this LED Death Star from Pottery Barn for years. I knew my son (and husband!) would love it, but I just couldn't bring myself to buy it. Imagine my surprise when it happened to be on sale while I was buying stuff for my son's room! Obviously, it was just meant to be.
Now I just can't wait for his new curtains to arrive and get put up. I know he's going to love them because they're blackout curtains, and I'm going to love that they're not a foot off the floor! 🙂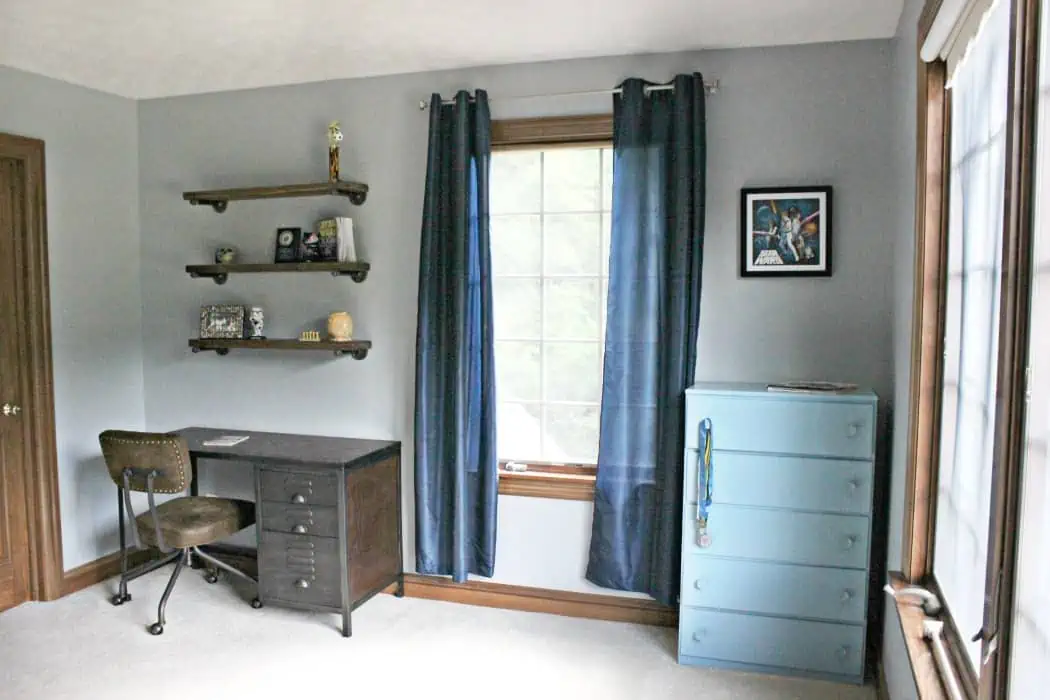 My husband called when they were just a few minutes away so I could get ready for the surprise. Being the evil mother that I am (I am his step-mother after all. I have to live up to the reputation! haha), I decided to play a little trick on him when he got home.
After two fun-filled weeks at camp, free from responsibility and chores, I greeted him and almost immediately afterwards said I couldn't believe the condition he left him room in (true story!) and told him he needed to clean it right away. The poor kid was like, "I'm tired," and I said he could rest after he cleaned him room. hehehe, I know. I'm so mean! He must've hated me in that moment (or at least wished he could go back to camp), but I think it made the surprise even sweeter because he was blown away!! (And relieved that he didn't have any work to do.)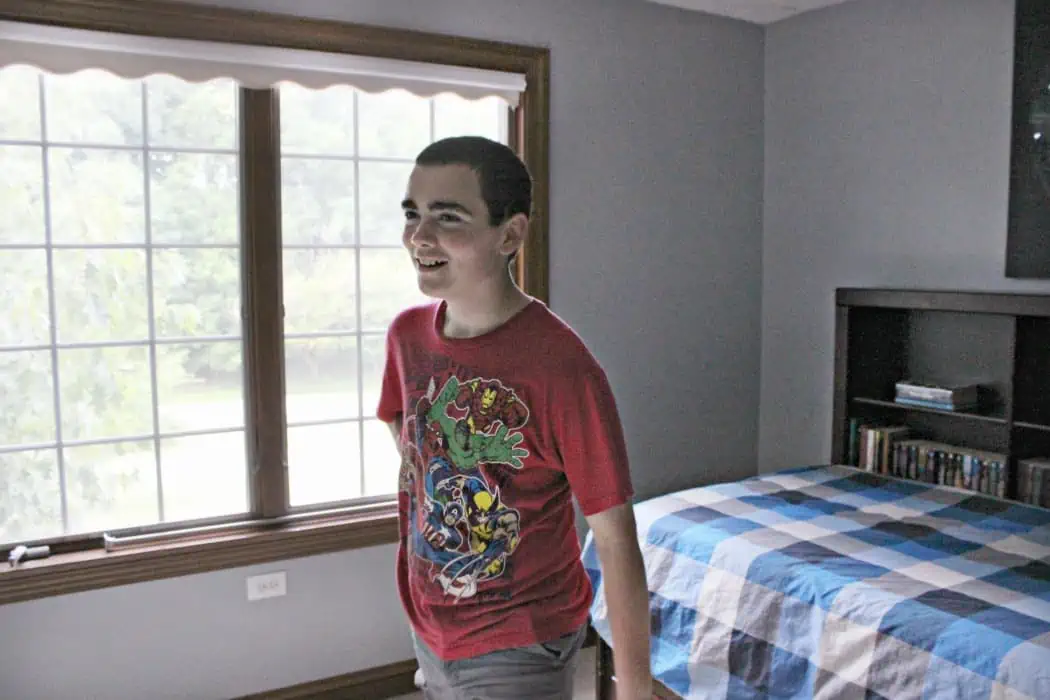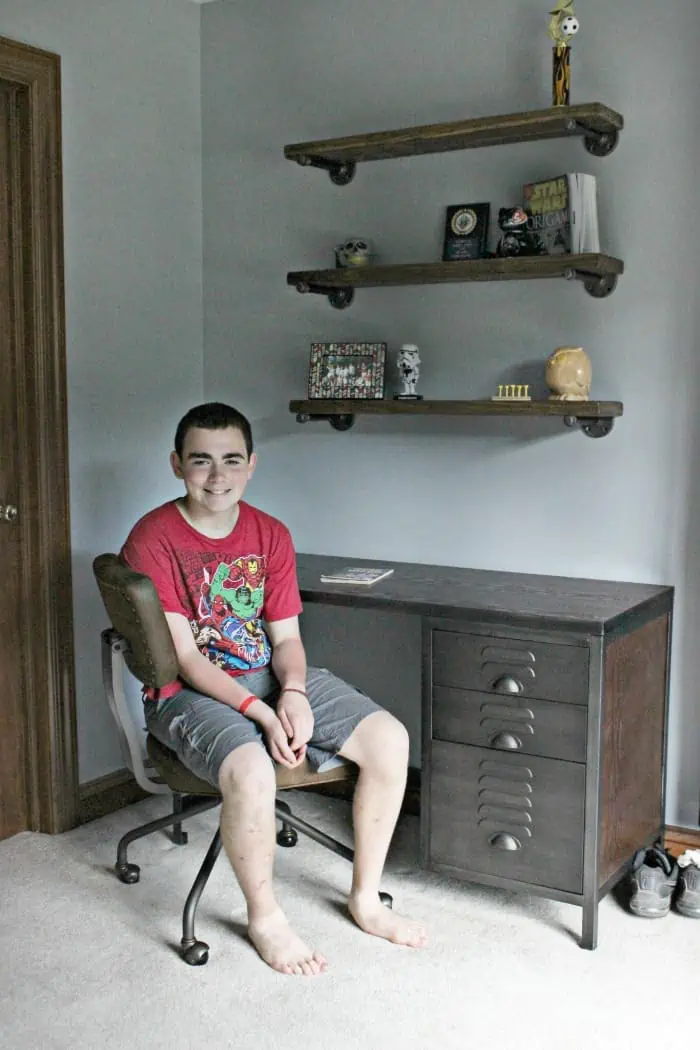 He soaked it all in, immediately started adding all kinds of junk to his shelves (I'm not going to lie… that was hard to watch!), and then promptly took a nap. As much fun as it was to plan and shop, the best part was, of course, seeing his reaction and knowing we'd made him a place that's almost as special as he is.
Now I have three other kids who are desperate for their room makeovers and a nursery to decorate! There's definitely no shortage of blog posts (or work) ahead!