Okay, so when they say "One Room Challenge" they aren't kidding. Making the decisions for this room and writing this week's post have definitely been challenging!
My daughter loves everything creative. She loves to draw, paint, and design so I knew I always wanted to include her in making decisions for her bedroom, but I think I made the mistake of presenting her with too many ideas.
I searched pinterest and various online shops to get ideas for a theme and what we may want to do in her bedroom, and when I shared them with her she basically wanted to do it all. Ahh! Her room was on the verge of being a smorgasbord of ideas, colors, and random themes. Narrowing those down into one cohesive idea was pretty difficult, but we finally decided on the theme of a butterfly garden (probably with a few fairies and animals thrown in too… maybe we didn't narrow it down as much as I thought!).
I'm a visual person, and before I went too furniture or plan crazy, I decided that I'd better create a floorplan to scale so I could see how everything would work together in her space. Her room is almost 300 square feet so I didn't think we'd necessarily run out of space, but I wanted to make sure I had an idea of where everything would go.
This is my tentative plan. This would completely change by the time her furniture arrives, but so far, on my computer screen, I'm liking it.
This post contains affiliate links.
Her door is down at the bottom of the plan so when we walk into her room, the idea is to have a desk and chair to the right and a dress up area on the left.
I've purchased a standing mirror for her, and I plan to create a (hopefully) cute hook space where she can keep her princess dresses. They may not all fit, but I'm sure we'll figure something out.
In the middle of her room, I want to create reading and art areas as well as a little storage space. She is extremely creative, which is good because she's happily using up all of the scrapbooking paper and craft supplies that I've been neglecting for years. I wanted to give her a space to nurture her hobbies and interests away from prying little brother fingers.
I did end up not buying the rug I originally had my eye on. Honestly, I think it may have been too small for the space anyway, and my cart's total was already nauseatingly high so something had to be cut.
The "be" on the rug is for a purple beanbag chair I happened to find in Homegoods recently. I stumbled across (and shared on instagram) a cute bedding set, beanbag chair, and a couple pretty pictures that all coordinated nicely so those will be going into her room as well.
As for furniture, we were starting from scratch, and I probably went a little overboard. The good news is she'll have the essentials and some storage. The bad news, she can no longer go to college! Kidding, but I'm definitely looking at these pieces as things we'll have forever.
I looked around on various sites for pretty daybeds, and I fell in love with the Blythe collection from Pottery Barn Kids. It's feminine and romantic, and nothing else I found that would work in this space could really compare. Because her room is so long and narrow, we decided to go with a daybed. This will help to leave as much floorspace as possible since her room is only ten and a half feet wide.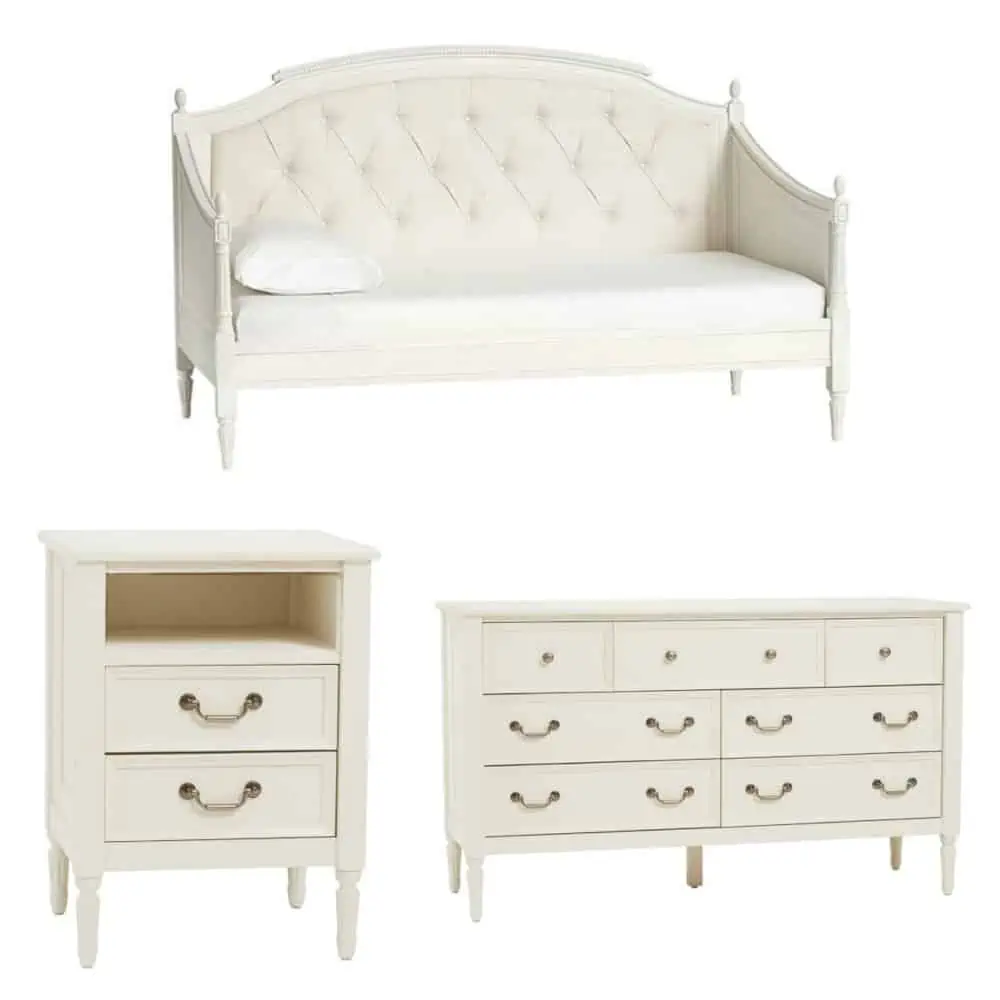 We also went with the coordinating dresser, nightstand, standing mirror, and desk. I have my eye on this easel from The Land of Nod. I'm not sure if it's the one I'll end up going with, but I do love that there's a little storage tray at the bottom, and it would help to break up the sea of white furniture.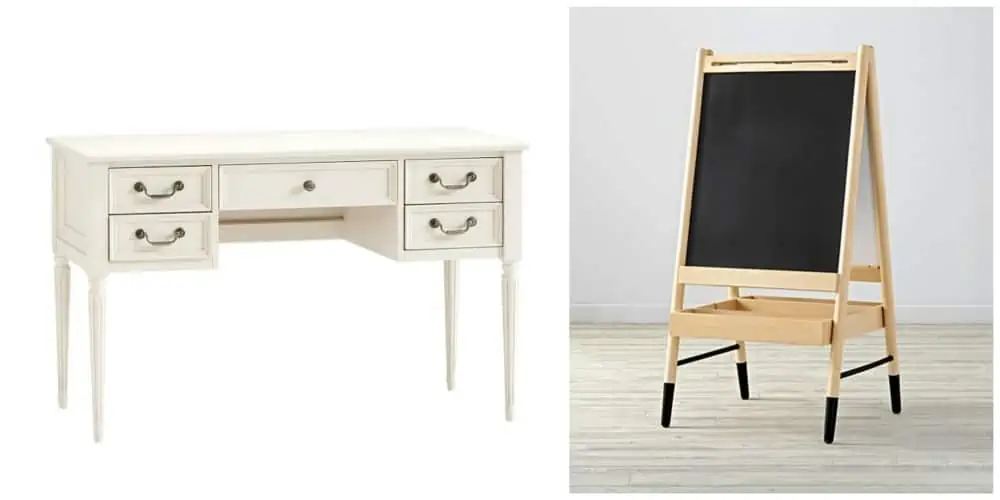 We also chose these ruffled white blackout curtains, but they, unfortunately, won't be available until after Thanksgiving. I do not have the best of luck getting curtains from Pottery Barn, it seems.
As for lighting, I fell in love with these Ruby flushmount light fixtures. They're going to be beautiful replacements for the ugly lights currently in her space.

Our next step is to choose a paint color and get to work. This is the list of things we still have to do:
Remove workout equipment
Paint baseboards & window casing
Paint door (fun color?)
Choose paint color and paint walls
Frame and paint chalkboard wall
Change light fixtures
Install curtain rod
Arrange furniture
Add artwork and decor
and probably a million other things I'm forgetting
I'm really excited to see where this room goes. I hope it turns out as well as it already has in my mind, but we definitely have a lot of work to do.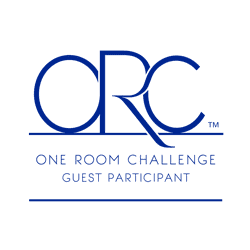 To see what other One Room Challenge participants are doing, click here, and be sure to check out these posts to see how it all began!
Creating a Big Girl Bedroom (week 1)
Big Girl Bedroom Makeover (week 2)