I am very excited (and a little scared) to be taking on this next project. As you probably already know, I focus a lot on my need to declutter and organize, but decorating rarely ever gets done. It's hard impossible to decorate and create beautiful rooms around clutter!
However, I'm determined to create a more beautiful, organized home, and what better way than with an ambitious challenge?!
I've decided to participate in the One Room Challenge, which is hosted twice a year by Linda at Calling it Home. She's been hosting the challenge for ten years now, and more than a thousand rooms have been transformed! I can't wait to add one of mine to that list.
I've decided to focus on my 7  1/2 ( that half is very important!) year old daughter's bedroom and will be sharing updates here on the blog every Thursday.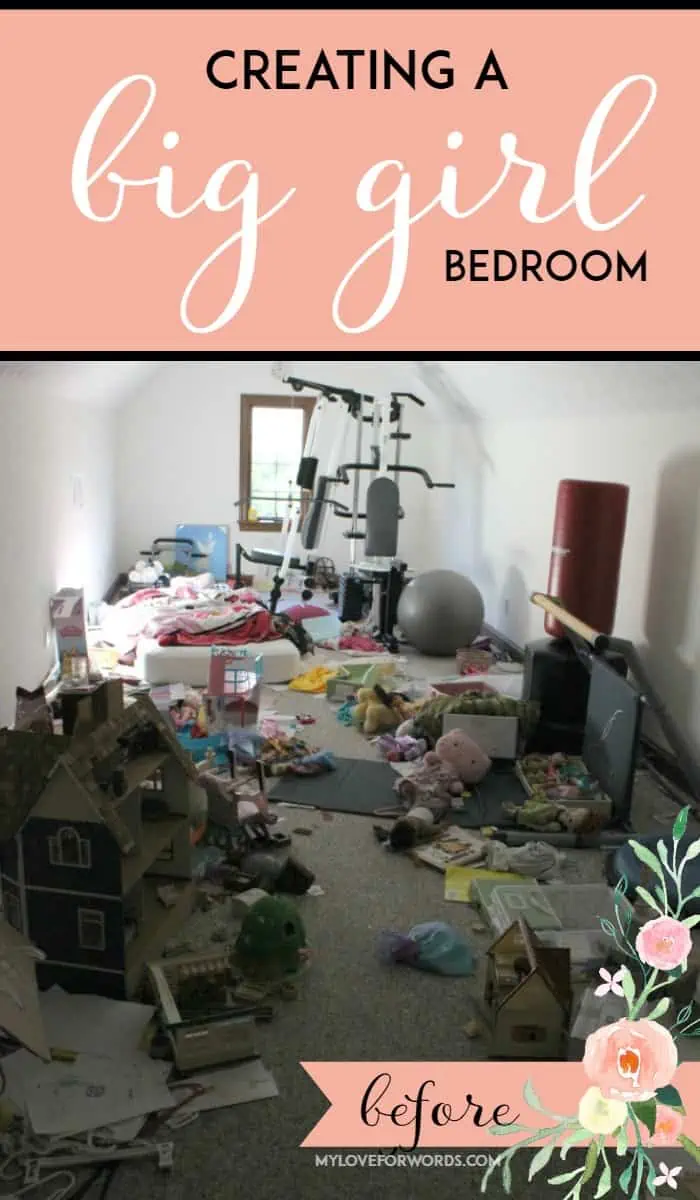 Our home has no shortage of rooms in desperate need of attention, but after doing my son's room this past summer the other kids were really anxious for me to do their rooms as well. We are getting ready to welcome our fifth child into the family in December, but she's only our second girl so I wanted to do something for our first daughter to let her know how special she is to us and will always be even if there's another little girl in our home. Thankfully, she hasn't expressed any jealousy or worry. She's thrilled to be getting a little sister (and cried when she found out she was so happy!), but I still want to do something to make her feel special.
Now I wish I had a beautiful plan to share with you right now, but that will be coming shortly. I want my daughter to have an active role in decorating her room, and we're still trying to nail down our ideas. We also have a good amount of work to do before we can do any decorating. Remember that, "It's hard to create a beautiful room around clutter" thing I mentioned earlier? Yeah, her room is a mess! And just in case you're thinking, "Oh how bad could it really be?" here's a sneak peek of what we're starting with.
This is what you see when you enter my daughter's bedroom.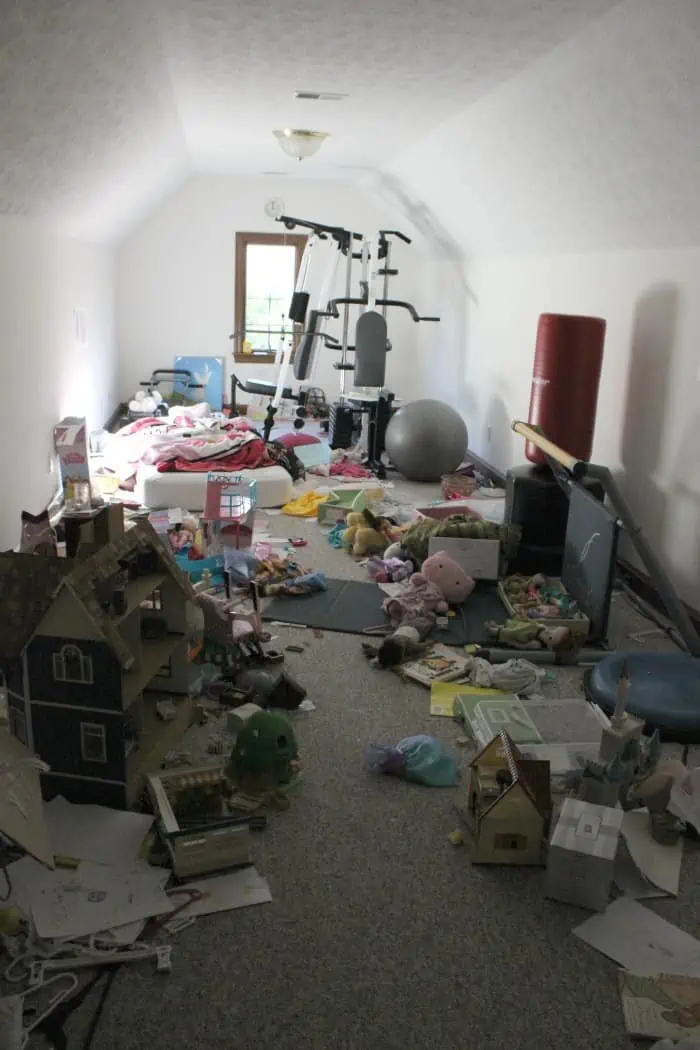 We moved into this house four and a half years ago, and my poor daughter's bounced all over the house. This is her third bedroom! We've had a fourth baby since moving into this house, which caused us to move her to the basement. Then my mother-in-law moved in with us last year so she took the basement bedroom, and my daughter was moved upstairs to the unused exercise room.
This room is long and narrow (about 10 x 29 feet!) with only one small window, and it's directly above our garage. It isn't ideal, but we're working with what we've got. As you can see, we've got a nice mix of workout equipment and toy clutter to work through before anything else can be done. (You can probably guess what next week's post will be about!)
I'm also not sure how in the world we're going to get this huge piece of equipment of out that room. It was generously left by the previous owners. We agreed to keep it thinking we'd use it, but believe it or not, moving into a new house doesn't make you a  new person! (Shocking, right?! haha) I think it's been used two, maybe three, times max so it's time to go!
This punching bag was another gift from the previous owners (aka, they didn't want to have to move it), and it too is rarely used. This is a view from the workout equipment back into the room and towards her door.
The tv was put up there for working out, but isn't hooked up (hence all the junk around it. Plus, we're mean parents and don't let our kids have tvs in their bedrooms. By the looks of things, that's the only thing we don't allow in their rooms! haha).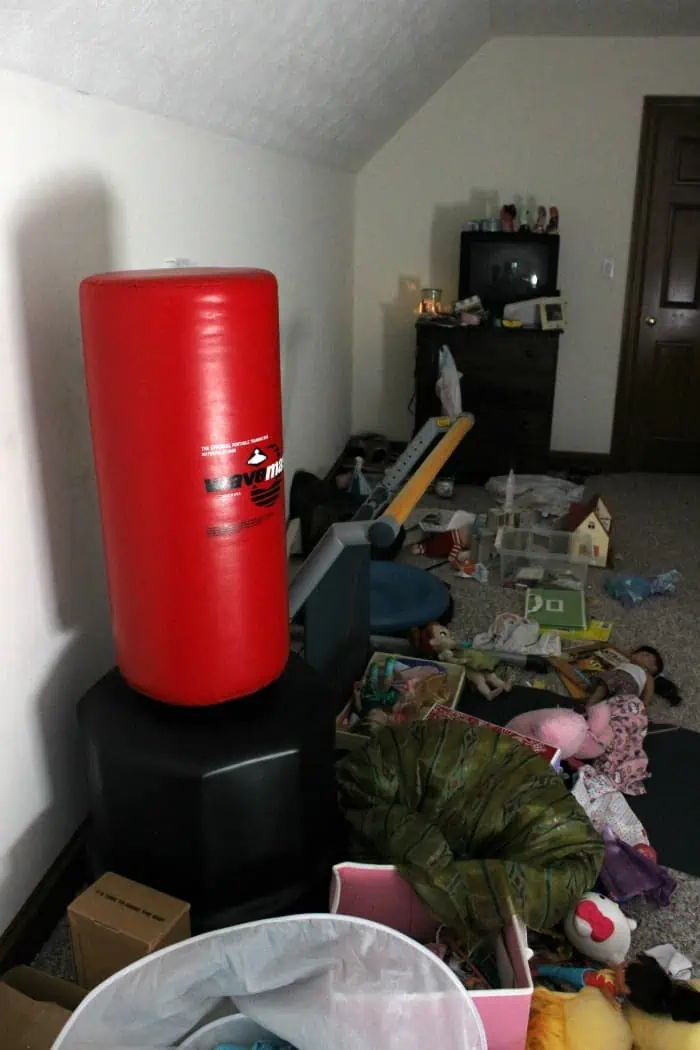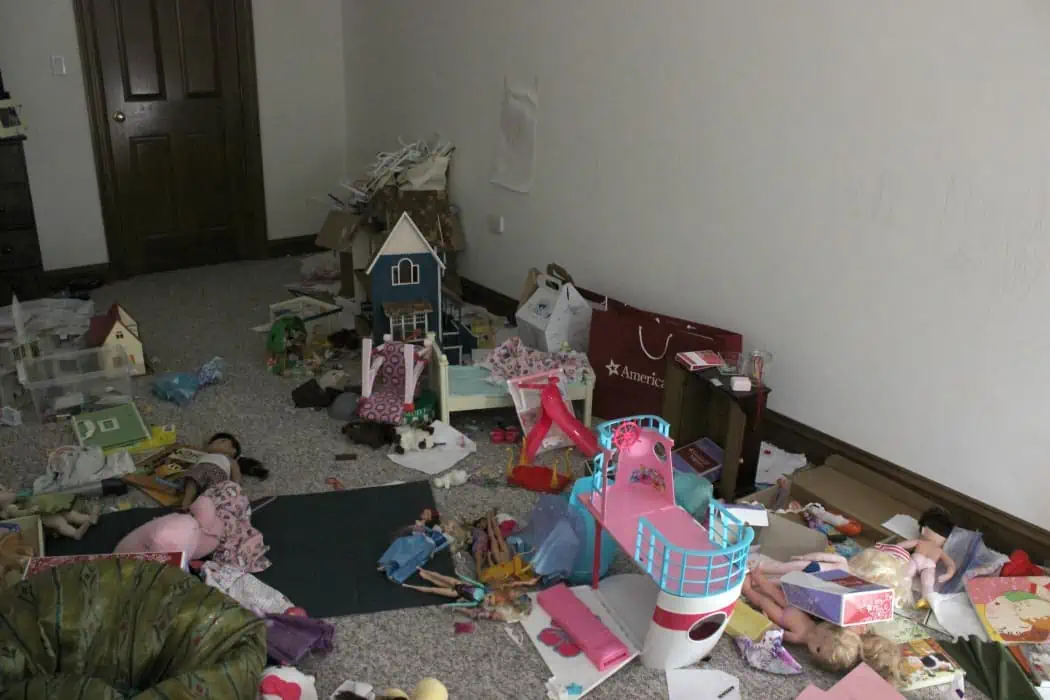 I'll be honest, I HATE sharing these pictures. It's painful to put out into the blogosphere how horrible I've allowed this room to become, but I guess the upside is you know I'm nothing if not honest. Obviously, this did not happen overnight, but I don't blame my daughter for this at all. This is just the result of being disorganized, having too much stuff, and nothing really having a home.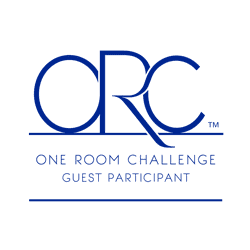 I can't wait to share the progress we make in this room with you, and I hope you'll follow along each Thursday. It can only get better from here, right?! I'll see you then. 🙂