I'm so excited to share that the surprise makeover of my son's bedroom is coming along nicely. He comes home in tomorrow (eek!), and I still have some painting to finish and a room to reassemble, but I think we'll be able to get most of it done before he comes home.
I thought today it would be fun to share a sneak peek at some of the new things he'll soon have in his new Star Wars bedroom.

First though, I have to share what I started with. Before my son went to camp, he was told to clean his room. Needless to say, I was less than pleased when he left, and I discovered this…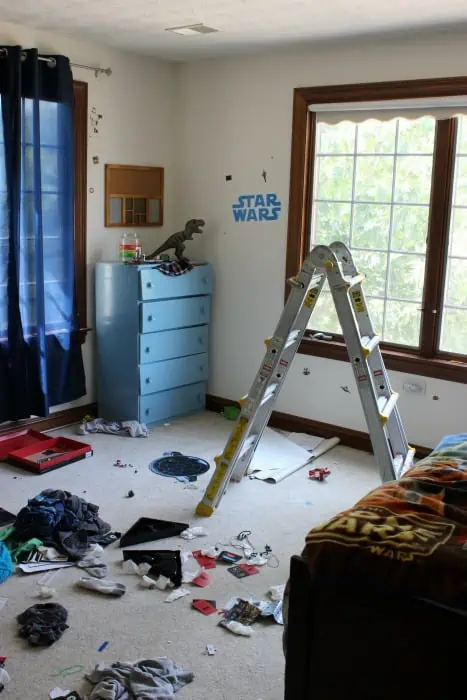 In all fairness to my son, the ladder is my fault. That was taken in for painting, but everything else was his handiwork. Let's just say our definitions of "clean" seem to be very different.
Things I wanted to change:
Walls
I'm not sure this room has been painted since this house was built almost 20 years ago. The previous owners used it as a guest bedroom, and it just feels a little neglected.
Instead of all white, I wanted to add a little color and new artwork to his walls. Sorry, Star Wars stickers. It's time for you to go!
I wanted a nice gray color  so I chose "Online" from Sherwin Williams. Here's a little sneak peek at the color and my wonderfully helpful painting buddy.
I also want to add some nice art pieces to his walls. I've had my eye on this Death Star piece from Pottery Barn Kids for a couple years now so it felt like it was meant to be when it was finally put on clearance as I was designing my son's room. (Pottery Barn "clearance" is still pretty expensive so I was lucky it was something from Star Wars and, as a result, not too hard for my husband to accept.)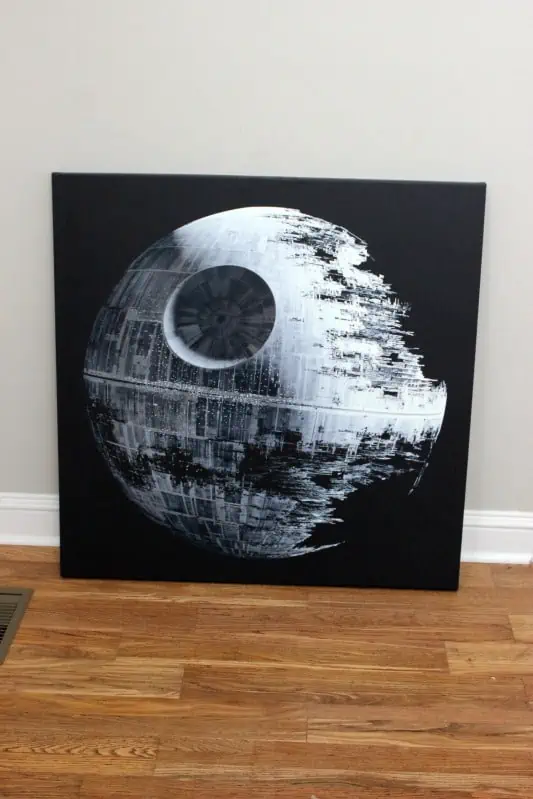 The only issue is that it's kind of gigantic. It's three feet by three feet with LED lights that blink. He's going to freak out! Truth be told, my husband and four year old son have already beat him too it. I wouldn't be surprised if my husband starts sleeping on my son's trundle bed since I told him I didn't buy this for our bedroom.
I'm hoping this will look good above his bed, but it might just be too big. Worst case scenario, I'll make a different piece (I already have one in mind), and this will go in my four year old's bedroom.
Here's a pic of the Death Star and my three year old for a little perspective. My son's holding the flashlight to his eye and saying, "Cheese" because that's his camera… obviously!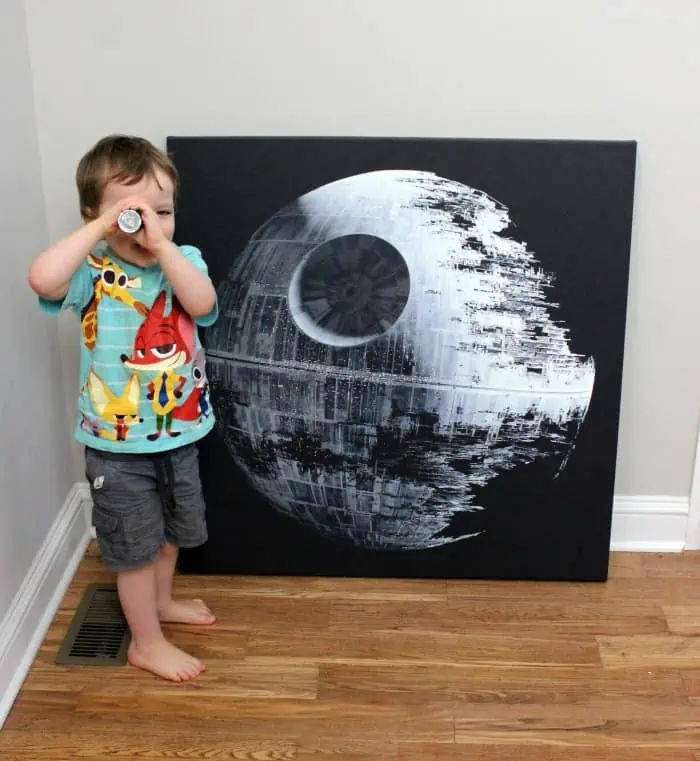 Furniture
We purchased my son's bed for his bedroom in our last house. I don't love that the side of it is the first thing you see as you walk in, but it fits well and is only four or so years old so it's staying. Plus, my son likes it so that's all that really matters.
We will be updating his bedding though. He had Star Wars sheets for years, but those have recently waved the white flag of surrender and needed to be thrown away.
Instead, I found this beautiful checked duvet (on sale! Woowoo!) and some gray, t-shirt sheets. The sheets feel great, and blue is his favorite color so I think these will both be a big win.
His little corner desk, however, is being replaced. My son spent most of his educational years thus far attending schools outside of our home so he really didn't use his desk very much. Now that we homeschool, and he does all of his work at home, I want him to have more space to work and get organized.
He's also now 14 and almost taller than I am so while working at this cramped little desk may have worked when he was younger, I know it can't be comfortable now. He'll be getting a new, larger desk that will sit in the same place between his bathroom door and window.
Here's the desk waiting to be assembled. I found it on Wayfair for a fraction of what I would've had to pay if I'd purchased a similar desk from Pottery Barn Teen. #winning  I can't wait to see it put together and finally in place.
He'll also have this beautiful new chair to sit on.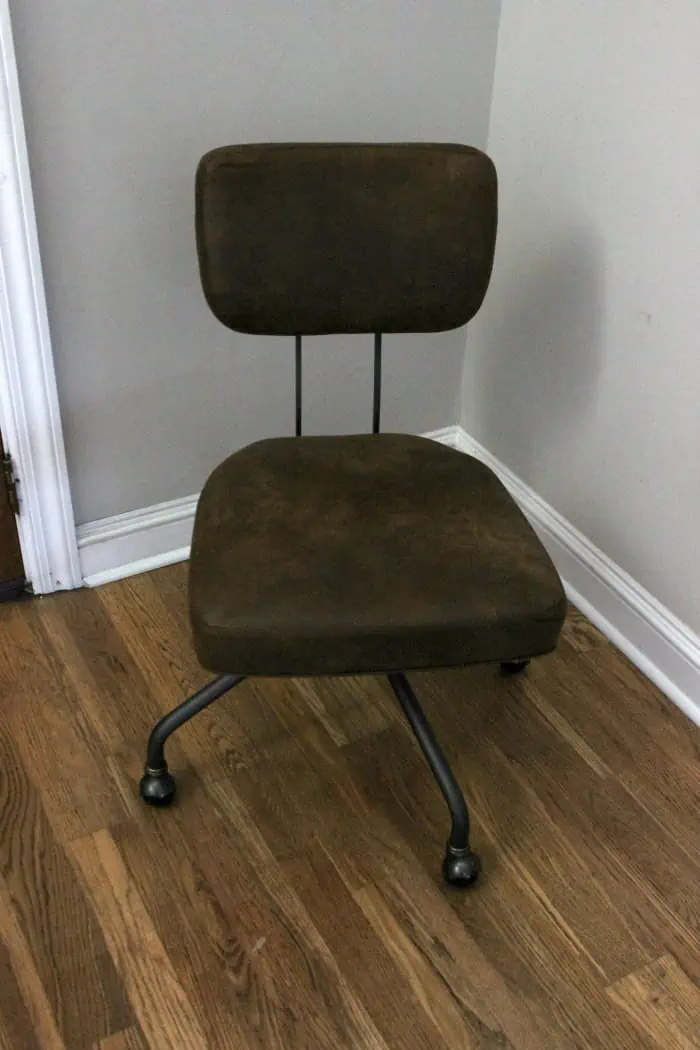 When it arrived I was surprised to see the leather was more of a suede material. I hope it can live up to some heavy usage because my kiddos aren't exactly gentle with things.
Above his desk, I'm planning on installing these three restored barn wood shelves. I found them on Etsy and immediately fell in love! I love the rustic wood and industrial shelf holders. What will go on them is still kind of up in the air, but I'm sure I'll find something. Homegoods, here I come!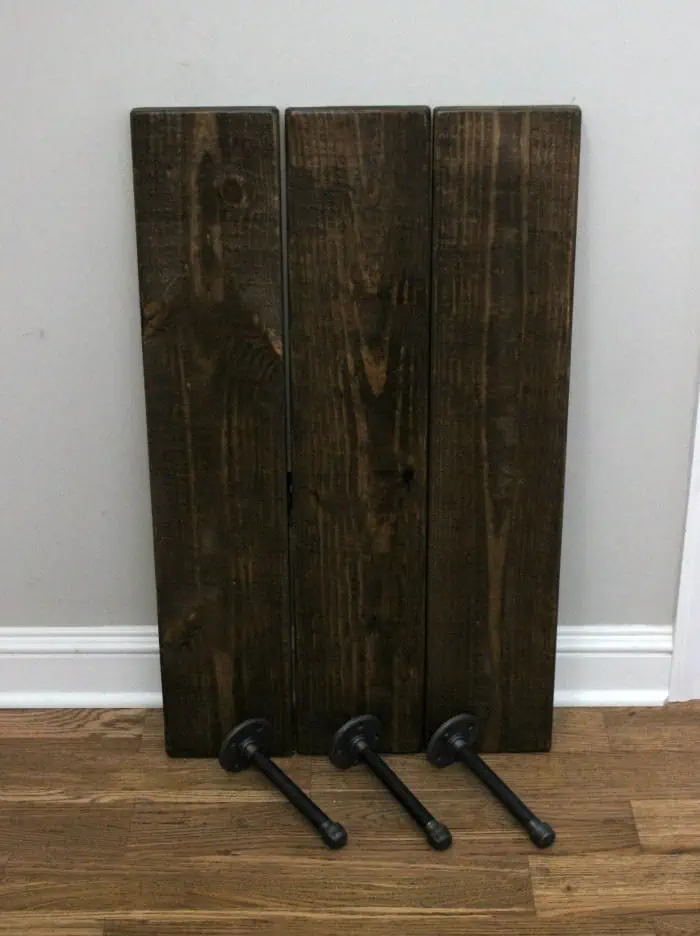 I'd also like to change the blue dresser he has in the corner of his room (it has the T-Rex on it in the pictures above). It was my husband's when he was growing up, and it's starting to show its age (unlike my husband!). 😉 I'm not sure if we'll just paint it and reinforce some drawers or replace it, but either way, this area needs some serious tlc.
Window Treatments
 When we moved into this house, this room had shades above the window that worked pretty well. Unfortunately, it didn't take too long before one was pulled off the roll so we replaced it with sheer blue curtains. They're pretty but not very good at blocking out light.
To make both windows match, I've purchased new blackout curtains that are mainly white with navy blue trim, but they won't be shipped until mid-August. Bummer! I guess the good news is that I'm sure that'll be here before I know it, but I am disappointed that the room won't be 100% complete when he gets home. Oh well. He's going to be shocked anyway.
All right, I now have less than 24 hours until he comes home, and I still have to: paint around the ceiling, wash his new linens, make his bed, assemble his desk, hang his shelves, and put everything back in place. My husband can't get home from work soon enough!
Wish me luck! Hopefully, I'll have an almost finished room reveal to share next week.