I'm playing catch up again today and finally sharing my March 2016 income report! 
This post contains affiliate links. For more information, please see my disclosures page.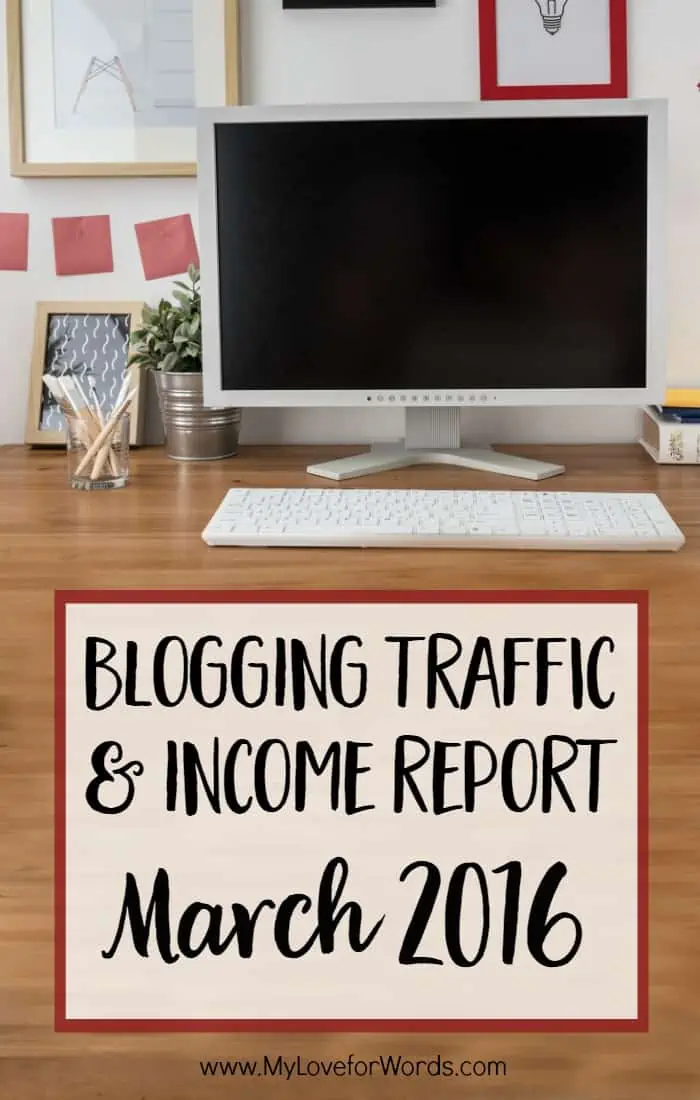 If you've never been to my blog before, and you're wondering why I would share such personal information the answer is simply that I hope these reports will help others.
Over the years, I've learned a lot from reading the income reports of other bloggers. I've gotten a glimpse at the programs they're using and how their blogs are growing, which have been extremely helpful to me in all stages of my blogging journey.
Reading the reports of others has also kept me motivated and inspired. since before I started making money when blogging sometimes felt discouraging and like a waste of time.
If blogging is something you've been thinking about, there's no better time to get started than now. I highly recommend starting with a self-hosted wordpress blog (wordpress.org, not .com) and hosting from Bluehost, which is only $3.95/month. For more info, be sure to check out my How to Start a Blog post.
March 2016 Blogging Traffic & Income Report
Income
Total Income: $3,486.96
Expenses
Synthesis hosting – $127 (paid quarterly)
ConvertKit – $199
BlogVault – $9
Etsy expenses – $41.99
PO Box – $0 (paid $62 for 12 months in February 2015)
PicMonkey – $0 (paid for annual upgrade in Dec. 2015)
Gumroad Transaction fees – $64.85
BoardBooster – $54.47
Rafflecopter – $13
Creative Market – $92
GoDaddy – $85.64
Misc. for some top secret upcoming projects! – $872
Total Expenses – $1,558.95
March 2016 Profit – $1,928.01
New Posts for March 2016
Traffic Overview
In March, I had 264,985 page views, which was another drop from the months before it. I wish I could say it was my lowest of the year, but things end up getting worse.
I think one of the hardest things about blogging is that there sometimes seems to be little rhyme or reason behind what happens. Pageviews, in particular, always seem to be a roller coaster ride. Some months are record breaking, others are severely depressing. All we can really do is stick with it, focus on the important parts of blogging (like creating great content and helping people), and eventually the pageviews follow. I won't lie though, the record breaking months are a lot more fun!
The blogging roller coaster is also why it's so important to choose to write about a topic you find inspiring and important. If I was writing about things that didn't interest me it would be really hard to get through the down months.
Email Subscribers
By the end of March, I had 22,187 newsletter subscribers. Not too shabby considering I only had a couple thousand last year at the same time. 
The biggest help in increasing my subscribers has definitely been to create and offer free printables that can only be accessed by signing up for my newsletter. Some printables are in my free printable library. Others are e-mailed directly to the subscriber, but both have worked extremely well in gaining subscribers, and I like that they're able to access freebies and special things that other readers can't. They are, after all, my VIPs. 🙂
---
It's rather strange to be writing these reports a few months after they took place. I can't wait to get caught up so I can provide more details and information about what happened during the month because the info will be fresh in my mind. Right now, mommy brain and pregnancy fog are barely allowing me to remember my blog's name! 🙂
I'd love to know about your experience blogging. Do you have a blog or want to start one? Are your pageviews like a roller coaster too? (You might have to lie to me about that one and just say, "Yes!" to make me feel better! lol) What are your biggest blogging struggles?
To see my other income reports, click here.