I'm excited to be back today to share my October 2015 income report.
If you're thinking, "Why in the world is she sharing such personal information?" Trust me, I'm right there with you. I'll be honest, it's uncomfortable to put this info out there. I know some people may be surprised that a blog can actually make money while others may be thinking, "That's all she makes?!" Sharing these definitely opens me up to criticism and questions, but my hope is that they'll ultimately be helpful.
I did my first income report last month, and I explained my reasons then too, but just in case this is your first time stopping by or viewing an income report, my reason for sharing is simply that I want to help others who are interested in earning a living through blogging. I have been so inspired by the income reports that I've read. They've shown me exactly what's possible in blogging, and given me ideas on how to improve, and I'd be thrilled to help someone else build and grow their own blog with a little glimpse behind the scenes of mine.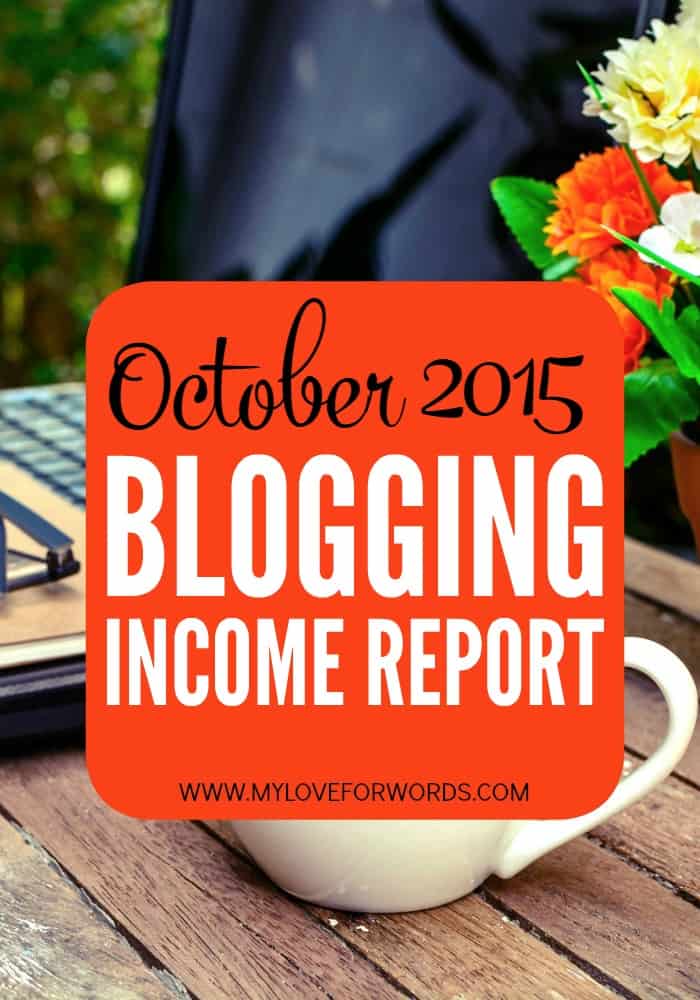 October 2015 Blog & Income Report
This post contains affiliate links. For more information, please see my disclosures page.
Income
Total Income: $3,260.61
Expenses
Total Expenses – $245.05
September 2015 Profit – $3,015.56 (plus $375 in free product)
Top Posts for September 2015
Traffic Overview
In September 2015 I had 239,628 pageviews, which was my best month to date. Very exciting. 🙂 Then in October, I reached a new milestone and had 300,163 pageviews!
Now I can already tell you that November won't be nearly as high because I took some time off and scaled back (a lot!) on promoting. We even took a little (much needed) family vacation! To tell you the truth, I think I burned myself out a bit by posting every day in October, but it's exciting to see my pageviews for all that work. As I shared in my last report, I only broke 100,000 pageviews for the first time five or six months ago so I'm still kind of pinching myself.
Email Subscribers
New subscribers: 2,481
Total subscribers: 12,631
I started transferring all of my subscribers from MailChimp to ConvertKit at the end of October/early November, and so far I've been pretty happy. I really haven't used it as much as I should've because I've taken a lot of time off this month, but I have no complaints.
Alright, just a couple days, and it'll be time to get November's report ready! I can't believe it's already the holiday season, and 2016 is just around the corner. #kindoffreakingout
Thanks so much for reading, and for all your kind comments after my first report. If you have any questions about anything I've written, please let me know.
I hope you all have a very Happy Thanksgiving tomorrow. I'm going to close up my computer and run to the kitchen to get some things prepped for my favorite meal of the year!