I'm doing something on the blog today that I wasn't sure I'd ever actually do… I'm sharing a little peek behind the scenes of my blog including how much I make!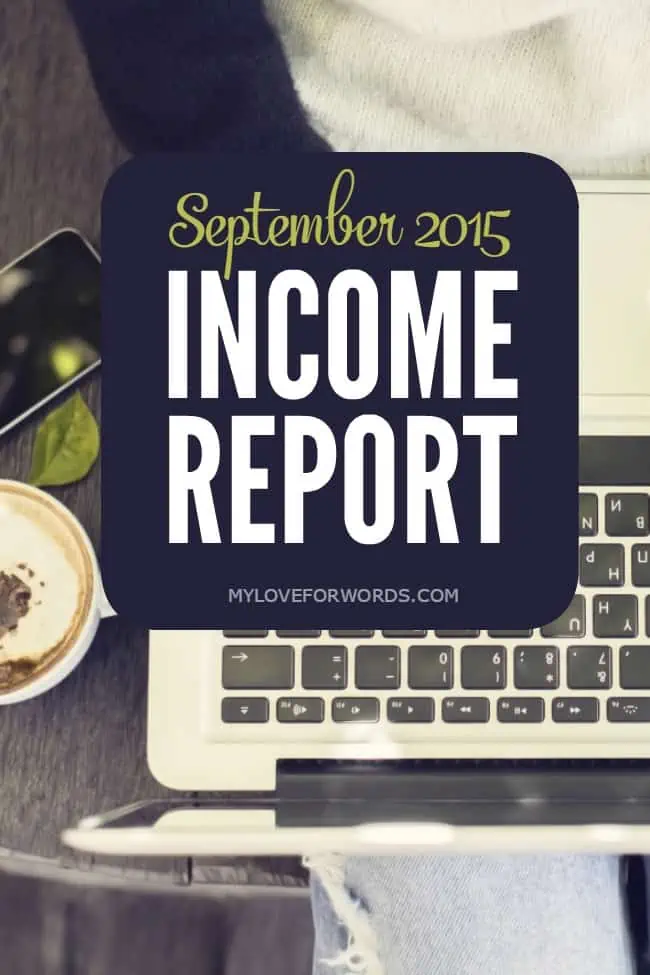 If you're thinking, "Why would she share this?!" I'm kind of wondering the same thing myself! I was raised to believe that there are certain things you just don't talk about publicly, and one of them is how much money you make. However, reading the income reports of other bloggers has been one of the things that has most helped me improve and grow my blog.
My hope in sharing this information is to show anyone who is interesting in blogging that it is a possible way to earn money from home, and to help you get there faster than it's taken me.
September 2015 Blog & Income Report
This post contains affiliate links. For more information, please see my disclosures page.
Income
Total Income: $2,879.40
Expenses
Total Expenses – $723.58
September 2015 Profit – $2,155.82
Top Posts for September 2015
Traffic Overview
This was my best month of traffic in the history of My Love for Words! I had 239,628 pageviews and 161,078 unique users visit my site.

Now compare that to last year, September 2014…
I included the chart for September 2014 so you could see that only the first half of the month was recorded. I can't remember what happened to my analytics, but something obviously went haywire.
However, even if I doubled my pageviews to account for the missing days, I'd only have around 34,000 pageviews, which doesn't even compare to what I'm seeing today.
To keep all of this in perspective, here's a chart for the entire life of my blog.
Can you tell when I started to figure this blogging this out? 🙂
For the first almost two years of my blog (from February 2013 – November 2014) I averaged about 6,954 pageviews a month. Some months were really high, while others barely made it into the hundreds, and I frequently felt confused and frustrated. I'd see blogs that were similar to mine take off, and I didn't understand why they were so successful while I was seeing very little growth at all. That disappointment was why I wrote this post to discouraged bloggers. Once I started to see growth, I wanted other bloggers who were where I'd been for most of my blogging career to know they weren't alone.
It wasn't until I made some big changes and started treating my blog like a business that I started to see real growth. I've averaged 153,394 pageviews since January 2015, and 224,264 pageviews a month since June.
Email Subscribers
New subscribers: 1,165
Total subscribers: 10,150
I'm happy with the growth of my list so far, but I'm excited to see if/how these numbers change when I start using ConvertKit completely and making some changes that have been on my to do list for way too long.
---
And that's a wrap! Publishing this wasn't quite as scary as I thought haha, and I hope this first income report has been at least somewhat helpful and interesting. I'll be sharing October's report very soon since it's already November! (How did that happen?)
Most importantly, I want to say THANK YOU to you. Without your support, comments, and friendship throughout the years, I probably would've given up on blogging years ago.