No one likes to admit their faults, especially when it comes to parenting. I wish I could say the biggest mistake I've made as a mom is something silly like, "Oh, I just love them too much," but that would be a lie.  I love my kids to pieces, of course, but I've also made some big mistakes along the way.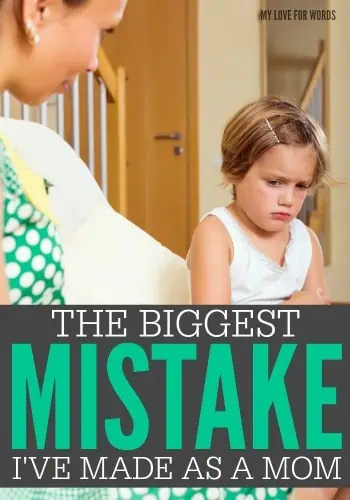 In the past I probably would've said the biggest mistakes I've made are not being patient enough and raising my voice. Those are definitely not moments I'm proud of, but I realized they're just symptoms of a bigger mistake I was making.
The biggest mistake I've made as a mom is teaching my kids that they don't have to listen to me. It wasn't intentional, of course, but that's exactly what I've done.
With every reminder and second, third, fourth, or fifth chance I've given them, I've taught my kids that I'm not really serious when I speak, and that they don't really have to listen when I say something.
My desire to not see them upset and to give them another chance has taught them that they basically only have to listen to me when I raise my voice, which gets old pretty fast with four kids in the house.
I don't want to have a home that has a lot of yelling or repeating. I want to know that my kids will listen when I tell them to do something, and they'll do it well so there are going to be some changes around here. From now on, when I say something I'm going to mean it… the first time. No more endless chances. I'm going to get better about teaching my kids that they have the power to choose their consequences, both good and bad.
Listening, doing what they're told, and keeping things tidy and organized will all result in good consequences and more fun. Disobeying, doing a poor job, and pretending to do what they've been told will result in the delay or loss of fun activities. They choose with their behavior.
I think this will probably be difficult at first, as all new habits are to establish, but ultimately I think it'll help to reduce the stress and mess in our home. I can't even count the number of times I've told my oldest to clean up only to later find his room still a complete mess or things shoved where they don't belong. I feel like we've been having these battles for years, and that's my fault. I've given way too many chances and haven't followed through enough when things aren't done as they're supposed to be.
So kids, get ready for a new mom. I'm going to be calm, say things once, and deliver the consequences you choose (both good and bad) through your behavior. Here's to a calmer, more put together, happier home. I'm looking forward to it.