Well I've been feeling like a bit of a fraud lately. Fraud may be a little too strong, but I've definitely felt like I've let people down.
When I started the Declutterathon in January I did so not from a place of authority (obviously!) but out of necessity. My house feels constantly messy and cluttered, and I'm sick of it. After thinking about it carefully I've figured out that these are my biggest decluttering challenges.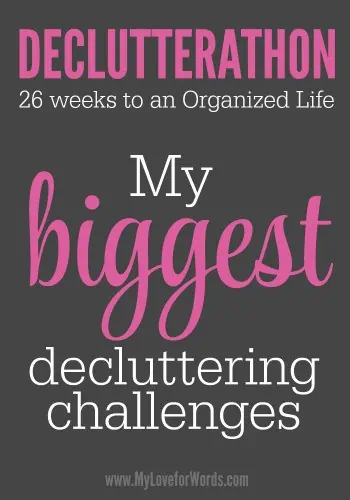 This post contains affiliate links. For more info, please see my disclosures page.
I enthusiastically jumped in and announced my new challenge without having any posts prewritten, which I deeply regret because I've found it hard to keep up with everything. Blogging takes a surprisingly large amount of time so usually by the time I'm finished either blogging or decluttering I'm too tired to focus on the other.
I feel like I've let my fellow declutterers down, but I hope you find some comfort in the fact that I was totally honest when I said we're in this together. I wish I could suffer from phony clutter, just throwing things around the room to get a good before picture and then going back to my immaculately clean ways, but that's not the case. My before pictures are brutal and very hard to share as someone who likes to appear to have it all together, though I rarely (if ever) do.
Despite already covering multiple rooms in the challenge, the only rooms I've really successfully completed are my entryway and bedroom. Unfortunately, both have once again become a mess as I've tried to work on other areas so I feel like I'm back to square one.
I've been thinking a lot about why I struggle so much with not only decluttering but then keeping things decluttered, and I've identified a few issues:
1. I'm trying to organize clutter.
In early April, my husband and I attended the annual homeschooling convention where I was able to see the FlyLady! That was very exciting, and during the Q&A a woman said she was always fighting clutter in her home and didn't know why. She said she would clean the same space over and over and over again only for it to end up a cluttered mess again in no time. (Story of my life!)
The FlyLady responded with, "You're trying to organize clutter, and you can't. Clutter can't be organized," and I realized that's exactly what I have been doing. I've be purging here and there, but I still have way too much stuff. I've kept most of it out of guilt, "Well, I spent money on it so I should use it" or "I don't want to hurt (insert name here)'s feelings by getting rid of this," but the truth is, I have a ton of stuff that I could and should get rid of. Worst of all, I probably wouldn't even remember most of it once it's gone.
A lot of people are talking about the Konmari method of decluttering right now, and I've decided that I not only want to read it, but I want to be able to read it with all of you!
I've started the My Love for Words book club, and The Life-Changing Magic of Tidying Up: The Japanese Art of Decluttering and Organizing

will be our first book.
Be sure to join the virtual book club for all the info and discussions. Formal discussions will start the second week of June so be sure to buy

or borrow your book asap. 🙂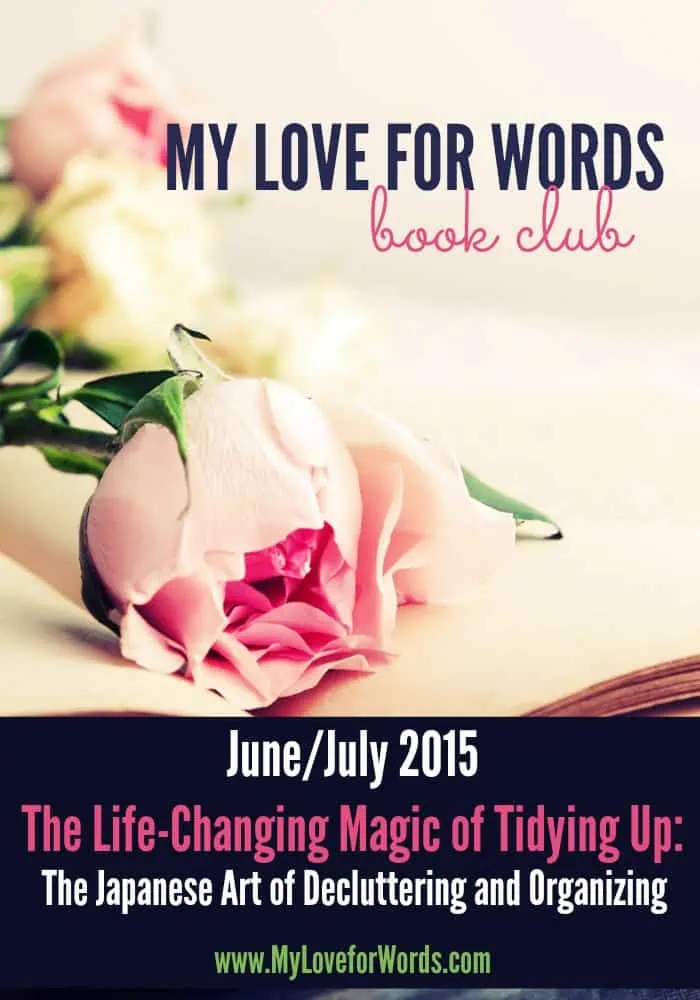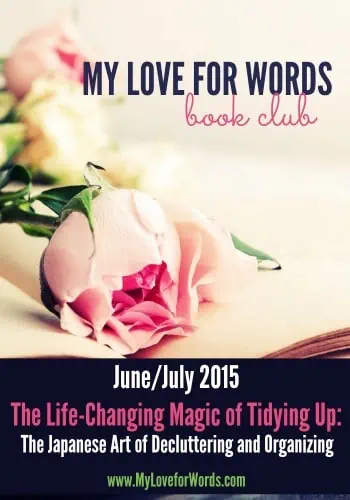 2. I seriously lack discipline.
I wish discipline came to me easily. I do. If someone has a magic wand or a genie's wish they're willing to spare, please allow me to ask for discipline. My lack of discipline has no doubt added to my messy house and ever expanding waistline (I just had a doctor's appointment so I'm somewhat traumatized by having just been weighed).
I desperately need to establish some sort of routine and actually follow it through. I'm great at coming up with ideas. It's implementing those ideas where I tend to fall flat. I end up distracted and starting a new, more exciting project instead.
3. I become overwhelmed.
I usually start projects with a lot of enthusiasm and end up overwhelmed and disappointed, especially when trying to tackle a large task like decluttering. I tend to feel like if I can't do it perfectly, why bother doing it at all, which completely works against achieving my goals.
I also end up feeling like if I can't get my entire house organized at once, what's the point? "Oh great, one small space in your home is organized, and the rest is a complete disaster. Why are you bothering?" The task feels insurmountable, but I know that if I just focus on baby steps I will make progress. My house didn't get this way overnight, after all.
So, what am I going to do about these problems? I'm going to come up with a plan and stick to it, but it's going to be a plan that doesn't drastically change my life or days. I know I won't be able to stick with a plan that makes drastic changes to my days, but maybe if I start small (like making my bed, which I <truth alert> was supposed to do for at least a week and only did like once or twice!) I'll be able to stick with these new habits.
I'm also going to get rid of a lot more stuff, and set small, reasonable goals. It may not be realistic to think I'm going to get my entire bedroom (because it's in even worse shape than my before pics, if you can believe it) in one day. It may not even be realistic to do it in one week, but I'm going to start setting small goals and then if I have time for more I can do more. Hmm… I feel a new printable coming on. Afterall, all good things start with cute printables, right? Look for that soon. 🙂
Finally, I'm going to read The Life-Changing Magic of Tidying Up: The Japanese Art of Decluttering and Organizing
 and hope that it truly is life-changing. I'm sick of living in a messy house, and I want to set a better example for my kids so they develop good habits and don't struggle with this same issue when they're adults.
I (selfishly) hope you can relate to this is some way, and that I don't just sound like a rambling crazy person. You all have been extremely helpful and motivating both in your comments here and in the Declutterathon facebook group, and I'm sure the book club will be great too. I'm looking forward to it and getting back to making progress!