I can't help myself. I have to preface this post with, "Please, no judging!"
I wouldn't start a series called the declutterathon if I didn't have a clutter issue so pictures of a cluttered home shouldn't really be a surprise, but posting these pictures online does feel about as horrible as I imagine standing naked in public would, and I may end up crying in fetal position in the corner before this post is finished.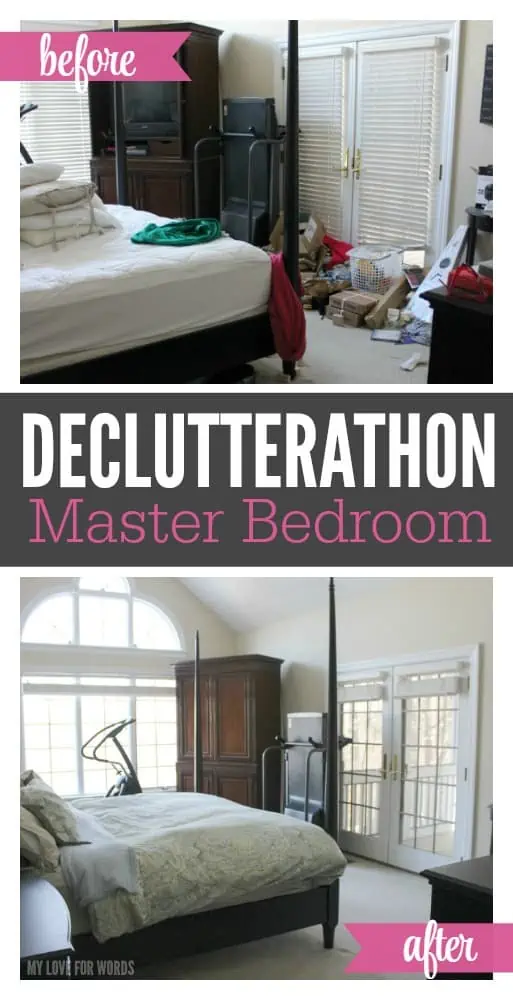 Okay, last week our goal was to declutter our master bedrooms so here it is. These are pictures of my bedroom… the good, bad, and the cluttered.
This is what you'd see as you entered the room. I did take this picture after I stripped the bed and the linens were in the wash, but everything else is as we'd been living for a while. An empty suitcase waiting to be taken downstairs, empty delivery boxes, clothes, and homeless gifts from Christmas.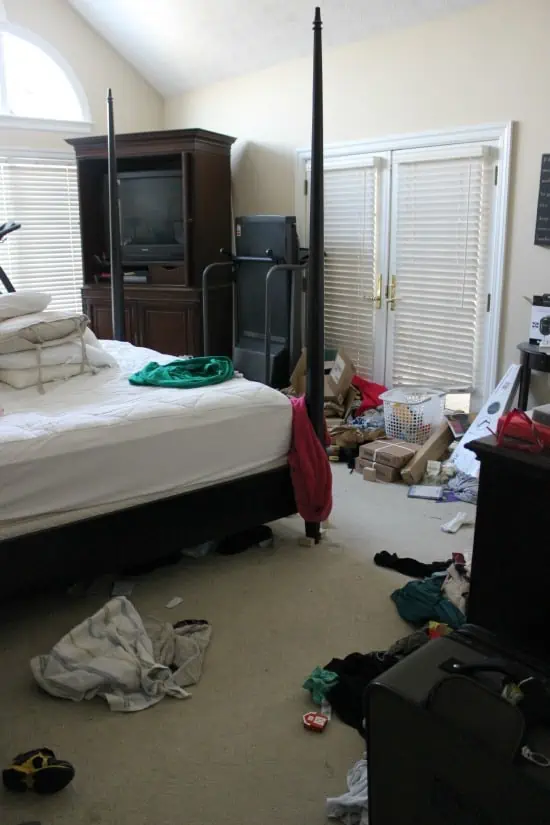 This is my dresser. (My husband uses the drawers in our closet so I can't blame him for any of this mess.)
It's covered in clothing and random items that haven't been returned to wherever they belong. My daughter's sunglasses, a project life kit, wrapping paper, two pairs of scissors, and powder for the cat box. That definitely doesn't belong in our bedroom.
From here, you can also see a sneak peek of our master bathroom, which I've lovingly nicknamed Montezuma's Revenge.
Green floors and countertops, brown walls, and peach bath and shower surrounds. I'm telling you, it's a thing of beauty. I'm keeping my fingers crossed that a renovation will be in the not-too-distant future.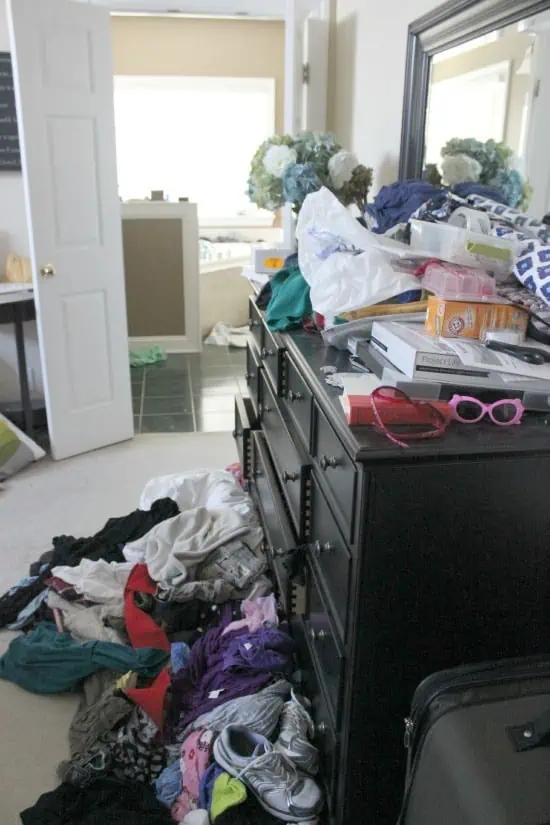 We have a small screened-in porch off our bedroom, but the doors are usually blocked by a pile of junk.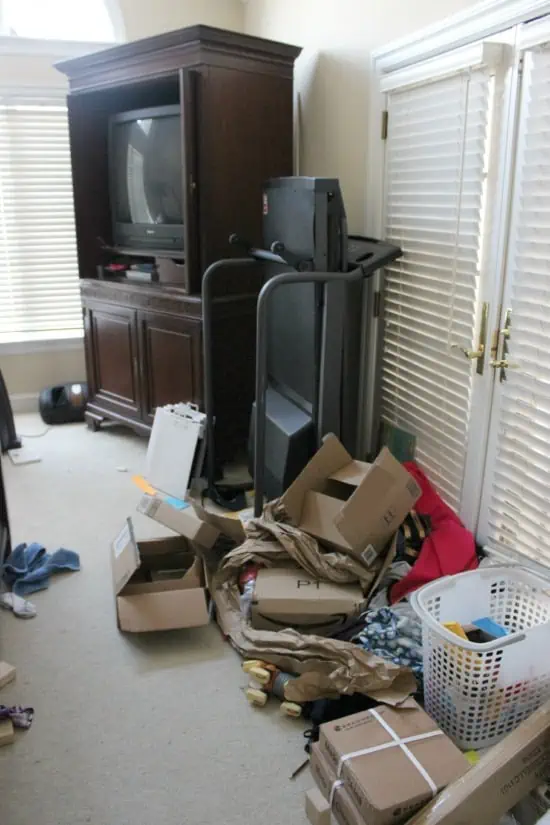 This is my side of the bed. I love to read and usually have multiple books going at once so my nightstand is covered in books, journals, and random objects. We also have a lot of pillows for our bed so they're typically thrown in the corner since it's usually not made.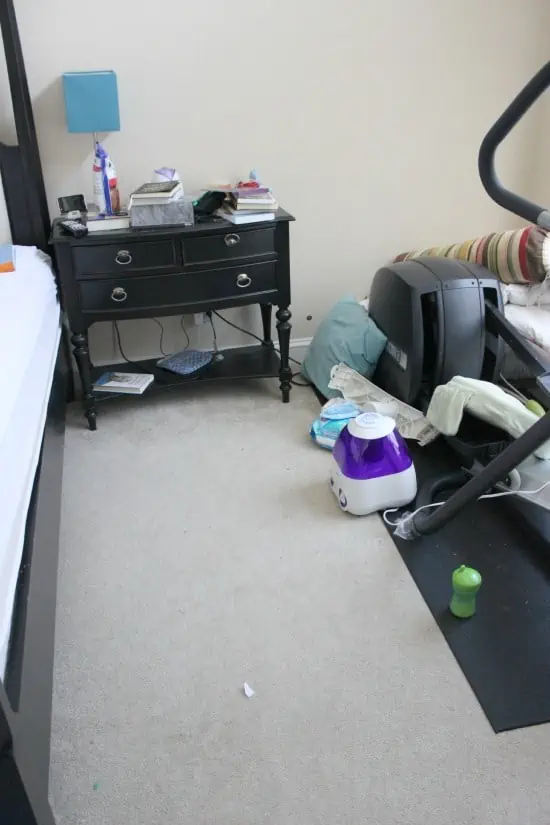 After
This is what we see when we enter our bedroom now.
Who knew my dresser actually had a top?! The only item out of place was my lens cap. Progress!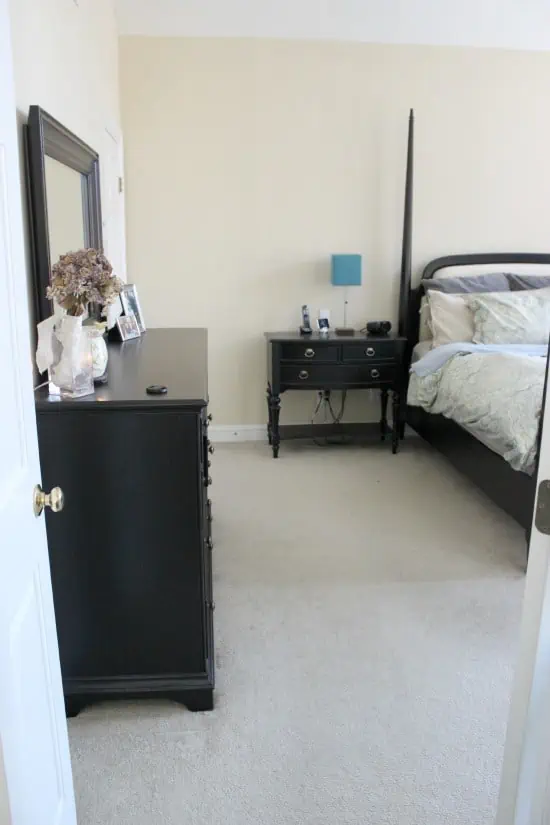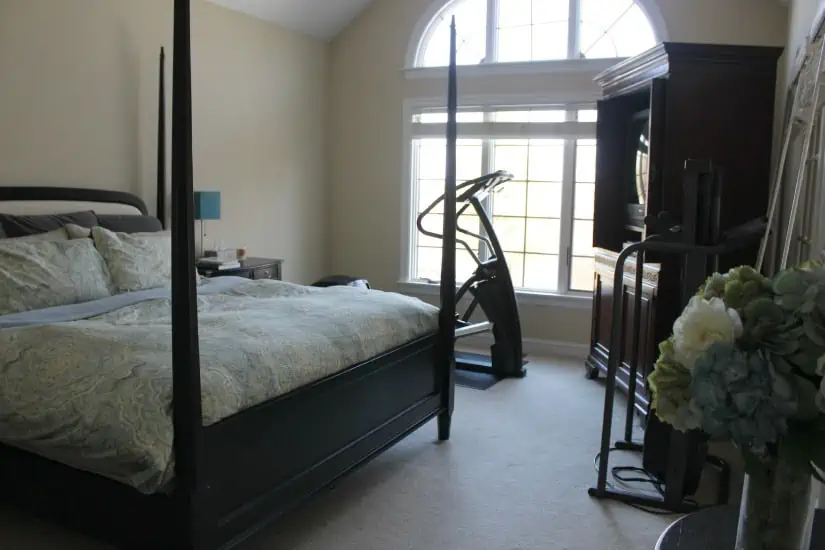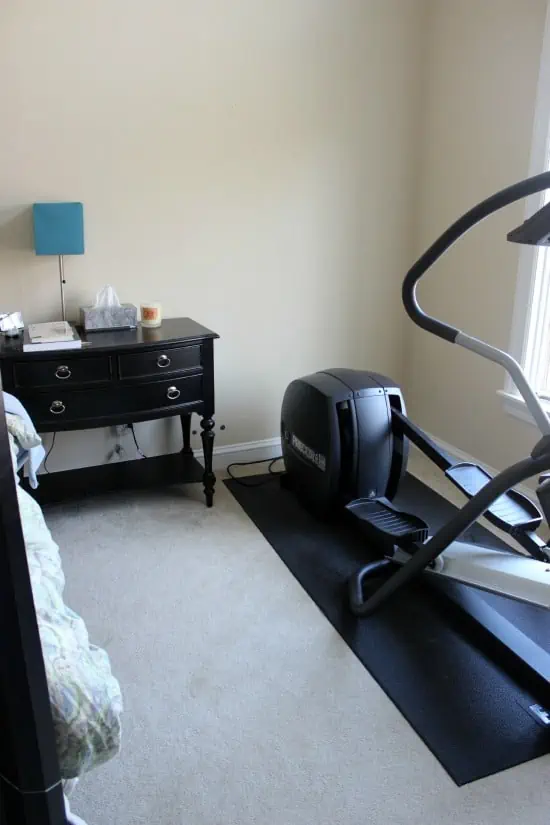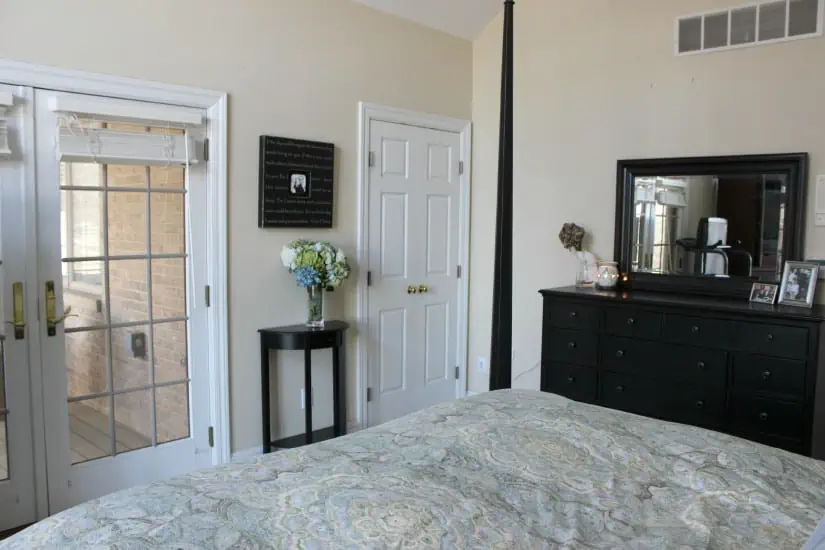 The only thing on the floor now is furniture, which is amazing.
When I enter my bedroom, I feel like I'm in a hotel. Everything's in its place, and it feels welcoming and peaceful.
Instead of seeing a bunch of junk I have to deal with, I see a place to unwind and relax.
My initial plan was to do a couple little tasks every day of the week. Unfortunately, I was derailed and my plans fell to the wayside, but knowing I had this series going on and you all would be expecting some sort of update really helped me get back in gear.
I'm notorious for underestimating how long a task will take so I was surprised to finish my room in only one day and in less time than I'd expected. I'd guessed it would take around six hours, but it probably only took 3 or so including dusting and vacuuming.
I filled a black trash bag with the items I no longer needed or wanted and everything else went to its new home either in this room or in another. Later this week, I'll post about how I did this without running around the house like a chicken with my head cut off.
My bedroom is not completely finished. I do hope to eventually paint and add some more artwork and personal touches, but simply clearing the clutter has made me love the space more.
We'll be slowing down a bit this week so if you haven't finished your bedroom or whatever space you were focused on for this past week you'll have another week to work on it. I'll be back tomorrow with this week's tasks, but I'd love to know, how did this past week go for you?
For more declutterathon posts, click here.