A couple months ago I decided to start sharing my income reports here on the blog , and I was nervous! (You can see September and October's reports here.) It's uncomfortable to talk about money, and especially in such an open and transparent way with so many people.
But… I did it anyway, and the reason is simple. I'm trying to pay it forward. Reading income reports has been one of the most helpful tools in growing my blog, and my hope is that this report will help those who are wanting to earn money from home and either aren't sure how to do so or if it's even possible.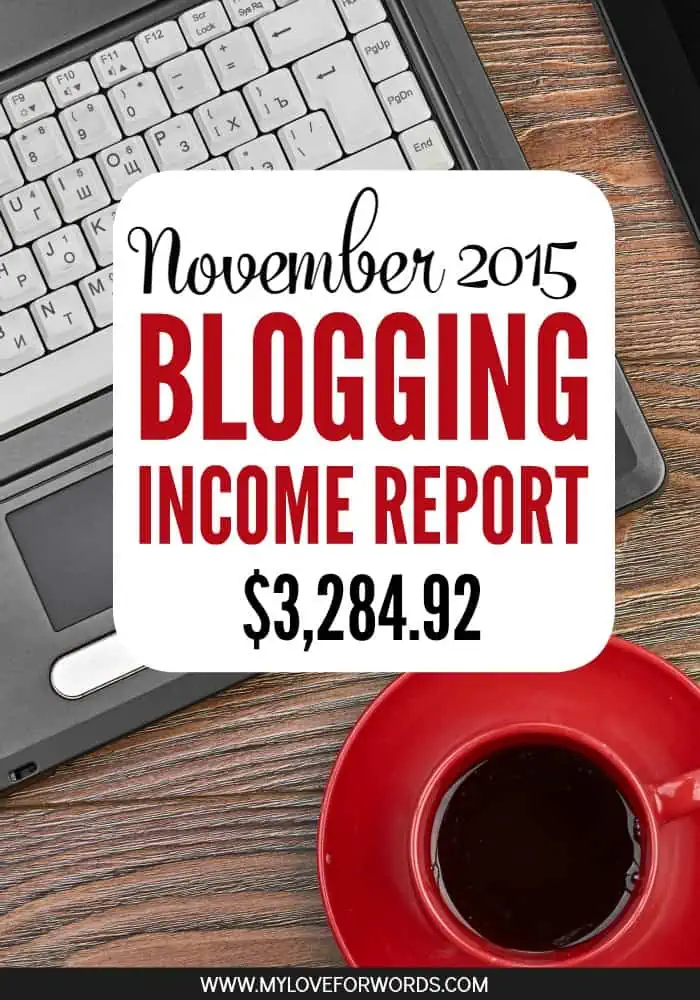 November 2015 Blog & Income Report
This post contains affiliate links. For more information, please see my disclosures page.
Income
Total Income: $3,551.89
Expenses
Synthesis hosting – $0 ($127 for next three months paid in Sept. 2015)
Mailchimp – $0 (I have paused my account since I'm now using ConvertKit)
ConvertKit – $119
Virtual Assistant – $45
Co-schedule – $0 (paid $108 for the year in February)
Tailwind – $0 (paid $120 for the year in June)
BlogVault – $9
Instapage – $0 (paid in Sept for 12 months)
Etsy expenses – $51.27
PO Box – $0 (paid $62 for 12 months in February)
PicMonkey – $5
Gumroad Transaction fees – $32.70
BoardBooster – $5
Total Expenses – $266.97
September 2015 Profit – $3.284.92
Last month I was asked why I don't break down my single payment expenses (like Co-schedule, Tailwind, and Instapage above) and divide the payments out over 12 months of the year. That would mean that instead of saying I paid $0 in November, since I paid everything at once in February, I'd say I paid $9 each month. I don't do that for the simple reason that I didn't pay for it in November. Some may think this makes my numbers look artificially high, but I actually disagree. My goal in sharing these is to be as transparent as possible so I want to be honest about what is paid and earned when. Furthermore, there will be months that look usually low when I pay large, yearly payments all at once. Ultimately, everything evens out, and it's probably really just a personal preference, but I want to as honest and transparent as possible and, for me, that means being straightforward about exactly when payments are made.
Top Posts for November 2015
Traffic Overview
My pageviews went down a bit in November to 233,900, but I completely expected that. I blogged every single day of October for my 31 Days of Decluttering challenge so by November 1st I was burned out. I went almost two weeks without publishing a single post, and I was doing practically no social media promotion so I was actually pretty happy to have pageviews as high as they were.
Email Subscribers
New subscribers: around 2,500
Total subscribers: over 14,000
I hate that I don't have exact numbers for you this month, but I'm not sure how to find this data within ConvertKit yet… unless I want to add every list and day individually, which I just didn't feel like doing. This is a little peek at the ConvertKit dashboard and exactly what I'm talking about. Those columns are my sign ups for each day, and each different colored block represents a different sign up form. I love being able to see exactly which forms are receiving the most sign ups. That's invaluable information!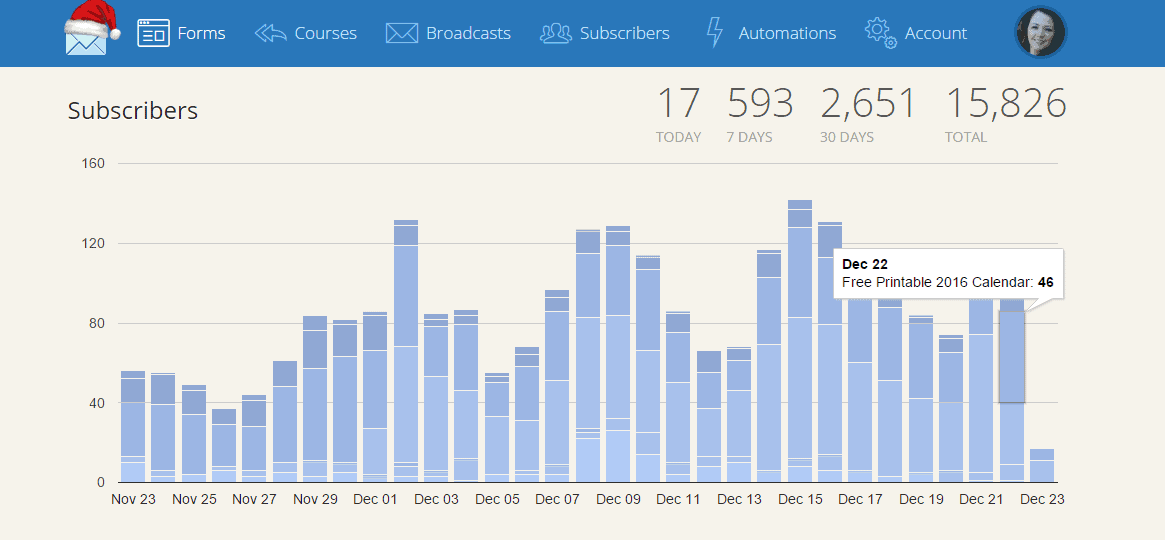 November marked my first month using ConvertKit exclusively. I didn't send out many newsletters because I was taking a little time off, but one of my goals for 2016 is to improve my e-mail marketing and consistency. Fingers crossed that happens.
---
Most importantly, I want to thank you for visiting My Love for Words! Without your support and encouragement I would've quit years ago (and once upon a time I actually did!). Blogging has become a huge passion of mine, and I love being able to connect with some many people from all over the world. It's really a dream job for me! If you've ever thought about having your own blog, be sure to check out my post about how to get started. I wish I'd had a post like that when I was starting out! 🙂
I hope you all have a very Merry Christmas, Happy Holidays, or wonderful whatever you celebrate and enjoy the last days of 2016!