Hey there, I know you probably feel like you've had it. You're just don't feel cut out for this blogging thing. It sounded like a fun adventure when you started, but the more you do it the more you realize how little you know. SEO, social media, plugins, updates, malware, pageviews, editing pictures, website design… there's a lot more involved than you ever dreamed, and it's a lot to juggle.
It seems so effortless for other bloggers. That one's making $30,000 a month, and you barely have two adsense pennies to rub together. Another blogger started when you did (or after!), and her blog has skyrocketed in popularity. You wonder what she has that you don't. You think people must not like what you're sharing, you're wasting your time, you'll never make any money, and you should move on to something else.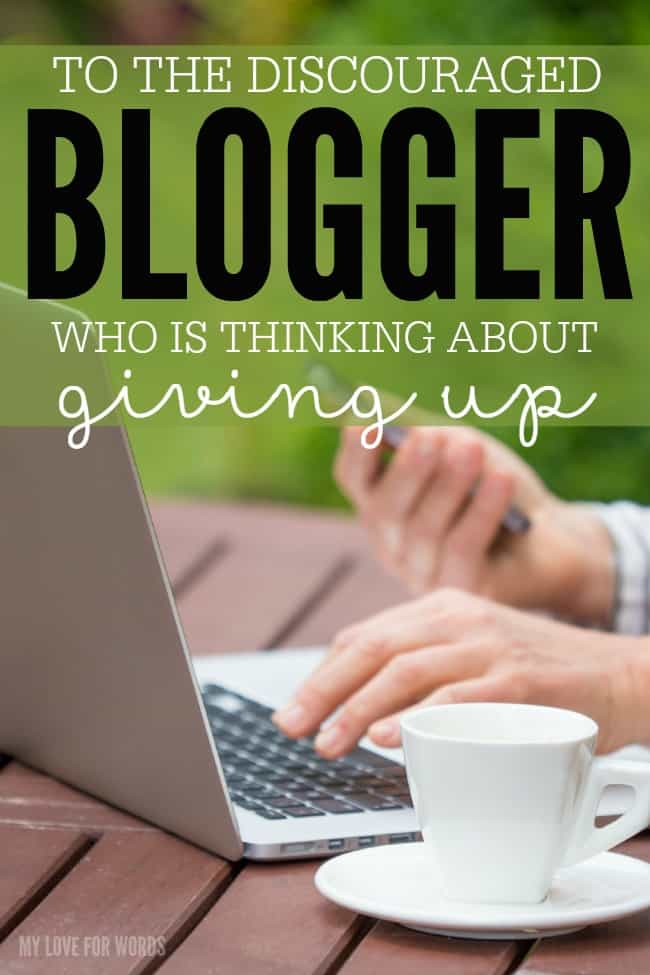 I can totally relate. I've had these same thoughts too (sometimes on a daily basis!). There's so much more to blogging than I ever anticipated, and it can be overwhelming, but I have a secret for you… you know that blogger who seems to have it all together? The one who started her facebook page and immediately had a ton of followers? The one who gets comments on every post and seems to be a natural? I bet she's had these thoughts too.
It's completely normal (and almost unavoidable) to have these thoughts when we're feeling overwhelmed and our blogs aren't growing like we thought they would so I wanted to share some of the things I do to help myself when I'm feeling discouraged:
1. Stop obsessing over stats
Constantly checking your stats will drive you crazy. It's really no different than deciding to lose weight and then hopping on the scale 20 times a day. It will make your progress feel slow and small, and you'll probably end up discouraged that you aren't getting where you want to be faster. This is easier said than done sometimes, I know. Stats feel like immediate gratification, but ultimately this is an aspect of blogging that we can't really control so focusing on tasks we can control is a better use of our time.
2. Stop comparing
If following another blogger leaves you feeling discouraged and inadequate, stop reading them for a while. Give yourself a break from the comparison trap. Your time is too valuable to do things that make you feel bad about yourself or your progress.
3. Education
If there's an area where you're feeling particularly inadequate, learn more about it. Increasing your knowledge will help to alleviate your insecurities and will only improve your blog. If it's a topic you don't really want to waste time learning about…
4. Get help
If there's a certain part of blogging that you hate, and you don't have the interest or time to learn how to do it yourself, please don't hesitate to get some help.
I don't know anything about coding or creating a blog design. I can envision what I'd like, but turning that vision into something a computer can understand is not in my current skill set. I tried designing my own blog for the first 15 months, but I never loved what I came up with. Eventually, I accepted that it would be best to pay someone else to do it for me. My designer was able to create what I had in mind much faster than I ever could have, and I was able to focus on other things that helped to move my business forward.
I guess what I ultimately want to say is that if I can do this, you can too. No two bloggers will have the exact same experience, and that's okay. Honestly, that's one of the great things about blogging! We can craft our own journeys and still be successful.
I promise you that you can reach your goals, and I'd love to help you do so. Blogging isn't just a "job" for me; It's grown into a huge passion, and I want to help others learn how to do it too.
I'm going to start sharing some of the tips and tricks I've learned over the last five years here on the blog so if you'd like to learn more (including how I doubled my pageviews in just four days without a viral post!), be sure to subscribe to my blogging newsletter.

Most of all, what I hope you'll walk away from this post knowing is that you can do this too. It's not always easy, but I promise it's worth it.