"Play is often talked about as if it were a relief from serious learning, but for children, play is serious learning."
-Mr. Fred Rogers
I'll be honest, I never used to think much about the toys I gave to kids. As long as a toy didn't have something obviously offensive, obnoxious, or inappropriate it seemed good enough to me.
However, now that I'm a parent I know some toys and games are much more valuable to my kids than others. I've heard that the more active the toy (the more lights, bells, and whistles it has), the more passive the child becomes, and I've definitely seen this happen in my own home. I'm not necessarily against toys that have lots of lights and make lots of sounds, but I do try to balance them out with other toys that will enable my kids to be more active either physically, mentally, or creatively.
This post contains affiliate links. For more information, please see my disclosures page.
With Christmas right around the corner, I thought today would be a great day to share some of the best educational and interactive toys for kids. My family has many of these toys and games already, and others just might be arriving under a certain decorated tree very soon.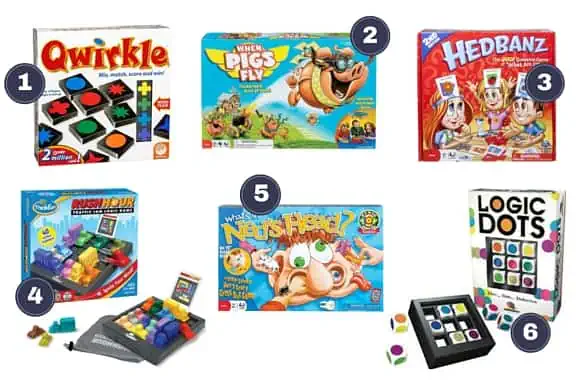 Qwirkle
| When Pigs Fly
| HedBanz

Rush Hour
 | What's In Ned's Head
 | Logic Dots
Qwirkle, HedBanz, and Rush Hour are already in our family game collection. Qwirkle and HedBanz are great group games. Rush Hour is a challenging game that exercises those logic and problem solving skills.
We haven't tried When Pigs Fly, What's in Ned's Head, or Logic Dots yet, but I think they're going to be added to our collection very soon.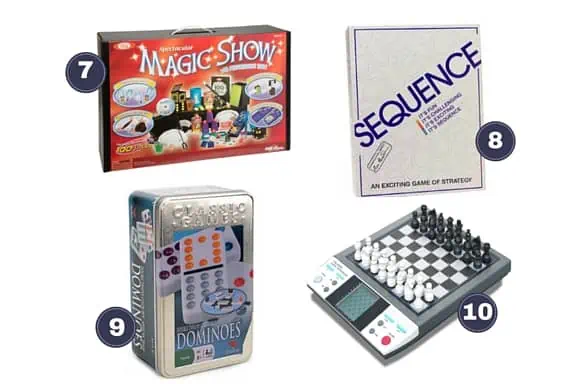 100-Trick Spectacular Magic Show
 | Sequence
 | Dominoes

Chess Voice Master 8 in 1 fun games
I have a soft spot in my heart for Sequence and Dominoes because I grew up playing them with my mom and grandpa. You can play a bunch of different games with a box of dominoes including something my four-year-old son would love… stacking them upright just to knock them all down.
 I would love to learn how to play chess so this talking instructor just may be in my future, and I know my kids would love to put on a magic show.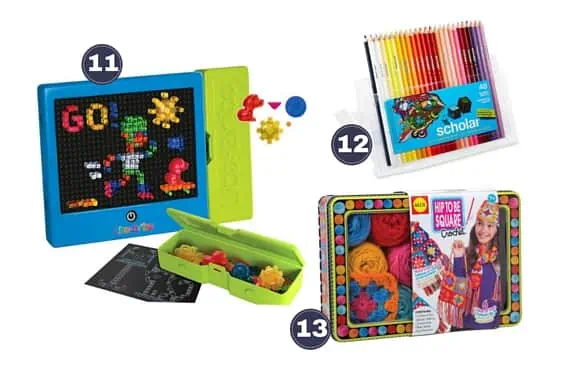 Lite Brite
 | Prismacolor Colored Pencils
 | Crochet Away Kit
My family recently went to Pigeon Forge and my kids were enamored with the gigantic Lite Brite at WonderWorks. I have no doubt the small version would also provide tons of entertainment.
I'm a big believer in giving kids great tools, which is why I LOVE Prismacolor colored pencils. They are truly wonderful to draw with, and they have larger and smaller packages based on your needs.
Last year I finally learned how to crochet! I made a couple different hats (you can see my Elsa from Frozen hat here) and amigurumi, and my daughter has caught the crocheting bug too. We don't have this kit in particular, but it looks like it would be great for a budding crocheter.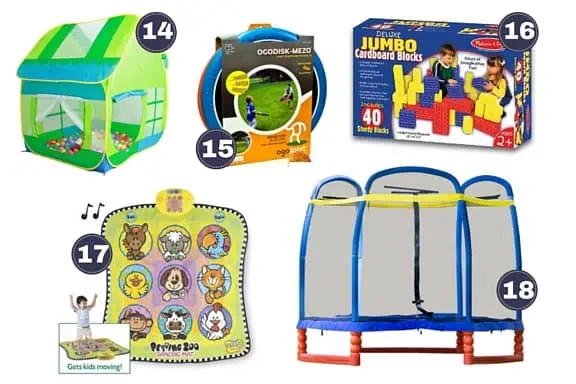 Outdoor Indoor Big Tent Playhouse
| OgoDisk Set
| Melissa & Doug Deluxe Jumbo Cardboard Blocks

Electronic Dance Playmat
 | SkyBound Indoor/Outdoor Trampoline
Keeping kids active is always important, but it can be especially challenging during the winter months. We have a ton of pop up tents and plastic balls for the kids to play with to help keep them active and moving (tiring them out is a much appreciated bonus!).
I bought two packages of the big blocks from Melissa and Doug for my kiddos for Christmas last year, and they've been a huge hit! One of my sons is obsessed with construction equipment and building towers so he enjoys making large structures he can then knock down.
The indoor trampoline may end up in our basement before too long. I'd love to have  way for the kids to burn energy when they're getting a little stir crazy.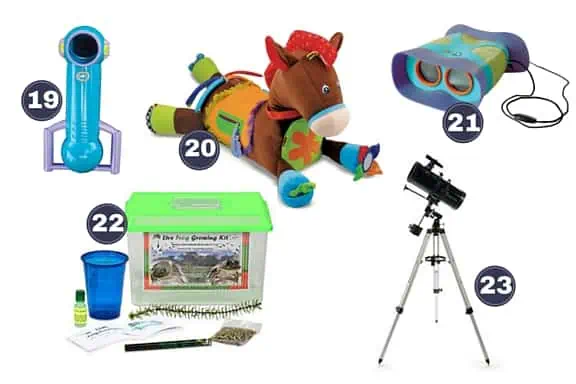 Geosafari Jr. Sneak & Peek Periscope
 | Melissa & Doug Giddy-Up and Play Activity Toy

Educational Insights GeoSafari Jr. Kidnoculars
 | LIVE Frog Growing Kit
| Celestron 70mm Travel Scope
Periscopes, binoculars, and telescopes are all very popular around our house. My kids actually play with a periscope I had when I was a kid (that I may or may not have used to spy on my mom while she was wrapping my Christmas presents when I was 4 or so years old). They're great for letting kids explore the world around them.
I wish I'd had something like this giddy-up pony a couple years ago when my kids were younger. They would've loved playing on this, and it has great ratings online.
I purchased this Grow a Frog kit a month ago, and it really does come with two living tadpoles! You have to check your local weather when ordering because the tadpoles can't withstand extremely high or low temperatures, but the kids are enjoying watching them swim around. I'm not gonna lie, kittens are cuter, but I consider this a good science lesson and homeschool pet.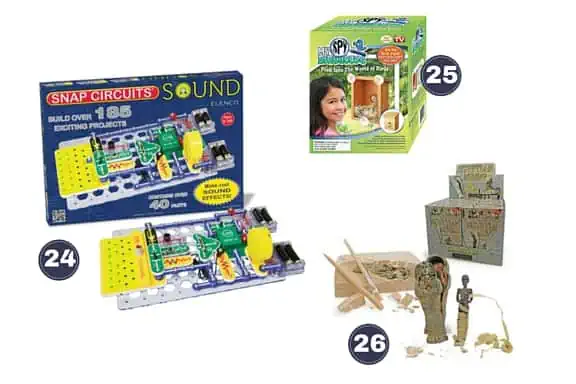 Snap Circuits Sound Electronics Discovery Kit
 | My Spy Birdhouse

Egyptian Mummy Excavation Kit
These snap circuits look really interesting to me. There are other variations  too like Snap Circuits lights and Snap Circuits Motion.
The My Spy Birdhouse is a neat way to see how birds make their nests, hatch their eggs, and feed their young. It has two-way mirror film so we can see the birds, but the birds can't see us.
Quite possibly the best gift I've ever given my kiddos is this Eqyptian Mummy Excavation Kit. Earlier this year we were learning about ancient Egypt, and my four-year-old is now obsessed with all things mummy related. I was a little afraid that this gift would be a little too realistic and gruesome for him, but he loved it. We haven't completely excavated the mummy yet (my six year old daughter showed the most patience in digging him out), but that's only because we were out of town and then celebrated the holidays. My only note would be to put the block in a rimmed cookie sheet or casserole dish to collect as much of the dust and chunks that fly off as possible.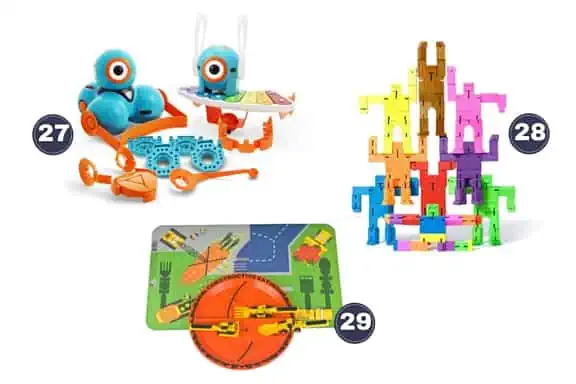 Wonder Workshop Dash & Dot Robot Wonder Pack
 | Cubebot Brain Teaser Puzzle

 Construction Plate, Placemat, and Utensils
My biggest splurge this Christmas will probably be this Dash & Dot Robot Wonder Pack. I've been toying with the idea of buying it for months because it teaches kids how to code! How cool is that?! I know next to nothing about computer coding, but I want my kids to so this seems like a fun way to have them learn.
I'm all about puzzles and logic games for my kiddos, and the fact that these cubebot puzzles look like big robots or transformers will be a huge selling point, I'm sure.
My construction loving son adores this construction plate and utensils. Unfortunately, ours didn't come with the cool place mat so I'm thinking it might be the perfect stocking stuffer.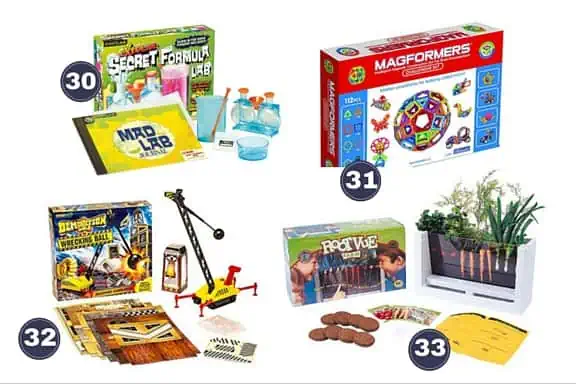 Extreme Secret Formula
 | Magformers

Demolition Lab Wrecking Ball Building Kit
| Root-Vue Farm
I bought a small pack of Magformers a few months ago, and I instantly regretted not springing for the larger box. The kids enjoyed making shapes, but 30 pieces don't go very far with four kids. I'll be adding to our collection this year for sure.
We don't have the secret formula lab, demolition wrecking ball kit, or root-vue farm, but they're all on my list of things to eventually get. I love that they give kids hands on experience while learning the hows and whys behind why certain things happen.
---
Whew, that was quite a list! I know my biggest struggle is going to be choosing between them because they're all great for different reasons. I guess it's a good thing we already own some of them.
 Do you have any favorite educational and interactive toys? What would you add to this list?