Anyone with a lot of clutter knows that the process of decluttering can be overwhelming, but the good news is that it can also be lucrative.
If you have a house that's full of stuff that you're ready to get rid of, you could be sitting on hundreds, or if you're really lucky thousands, of dollars! Decluttering isn't always easy, but knowing there's some cash at the end of the tunnel can make it a little less painful.
So you may be thinking, "That sounds great, Emily, but who's actually going to want to buy my clutter?" Here are a few ideas on how to turn your clutter into cash.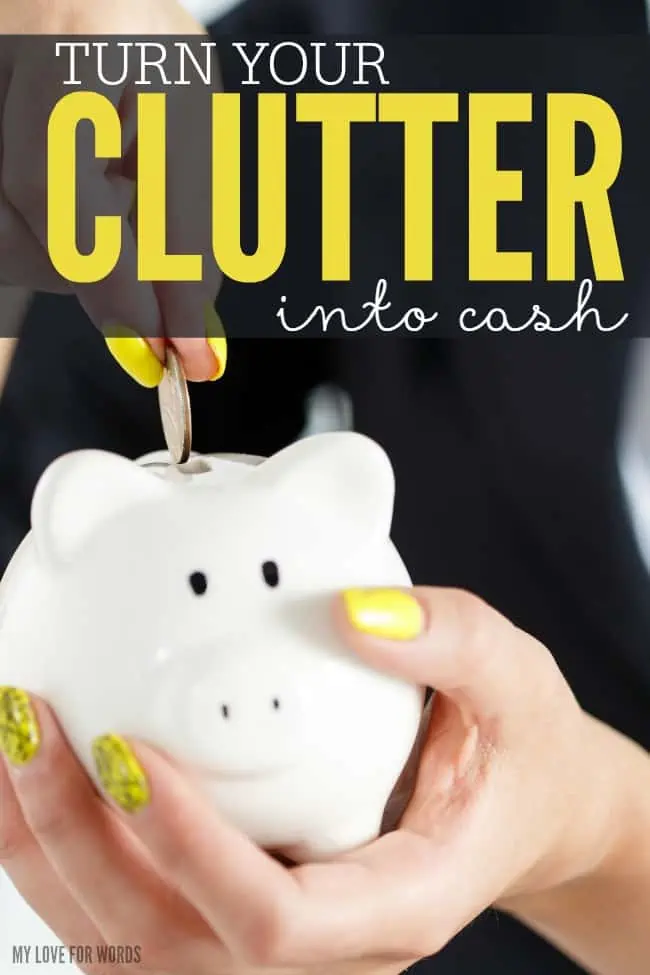 1. Facebook groups
One of my favorite places to sell items is in local facebook groups. It feels safer to me than craigslist because you can usually see who you're dealing with (if they have an honest profile), and you can handle transactions publicly.
I never invite people I don't know to my home. I would much rather drag items to a neutral, very public location and handle the sale in a parking lot than have strangers come to my house, but this is just my preference. Many people don't mind strangers coming to their homes so they post items as "pick up only," which can definitely make things a lot easier for the seller.
I also like facebook groups because there's usually some accountability that goes along with a sale. If someone reveals him or herself to be an unreliable or untrustworthy seller, the buyer usually lets everyone else in the group know. Dishonest sellers can be banned from these groups so people do have an interest in being honest and conducting themselves well.
Another great advantage of selling locally is that you don't have to worry about shipping costs or giving a cut of your sales to a middleman.
2. Online site (like Ebay or Etsy)
Online sales sites can be a great way to reach a large audience for items you want to get rid of. If you have an item that's really rare and unique, you may want to list it on a site like Ebay or Etsy to reach the greatest number of people possible. If there's enough interest or demand for your item you may be able to get more than you ever imagined for it.
Unfortunately, some sales can end up eating a good portion of your profits. You usually have a pay a listing fee and a percentage of the sales price, which could eat up some or all of your profits if you're not careful. You'll also have to ship the item and worry about if it will arrive in good condition… or end up lost in the mail!
If you decide to sell online and ship items, it's important to track your packages. You want to protect yourself against those dishonest buyers who will happily keep your item while pretending it was lost in the mail and demand a refund. Unfortunately, those people are out there.
3. Consignment shops
Visiting local consignments shops can be an easy way to make some quick cash. You usually drop off your items, the shop evaluates them, and then they tell you the items they'd like to purchase and how much they're willing to pay for them.
The amount you can get at a consignment shop is usually much less than if you were to sell an item directly to an individual because the shop has to be able to turn around and sell that same piece for a profit. They also have to pay for all of the costs and expenses associated with running a business like wages, rent, electricity, insurance, etc.
An important thing to remember when taking items to a consignment or pawn shop is to not take their appraisals personally. They are almost guaranteed to offer less than you think the item is worth. It's in their best interests to give you as little as you're willing to take so they can make as much as possible when they sell it, but just because they offer something doesn't mean you have to take it.
4. Donation Pick Up
Wait, donation? I thought we were trying to make money here. Well, believe it or not, donating may sometimes be a better option than selling.
To tell you the truth, the first time I took a bunch of toys and baby clothes to a consignment shop, they offered me $5 for a ton of stuff. I happily gathered all my junk up and took it directly to a donation center. I'd rather feel good about a donation (thinking that it's going to be used and appreciated by someone who may not have been able to afford it otherwise) than irritated that I'd basically given away a bunch of stuff for only a few dollars.
Donations are also tax deductible, and their value can sometimes be greater than what you would've been able to get by selling it. I like to dot my I's and cross my T's so I not only save receipts and keep itemized lists of everything I donate, but I also take pictures of each drop off. I do it mainly because sometimes I think I'm donating so much stuff no one will actually believe I had that much junk to give away! (I think my husband thinks it's overkill, but he very sweetly goes along with it to make me feel better.)
If you're getting ready to get rid of a large item, you may want to consult your accountant before deciding whether or not to sell or donate it.
5. Garage Sales
Honestly, I'm not a big fan of hosting garage sales. They can be a lot of work for not a lot of pay off, but this will also greatly depend on where you live. If you live in a high traffic area or your neighborhood is having a huge, community-wide garage sale, throw some tables outside, prices on your junk, and see what happens. Worst case scenario, you don't sell anything, and you've wasted an afternoon. Best case scenario, you have less clutter and more money in your wallet.
A garage sale probably isn't a great idea if you live in the country or in a more isolated location. You'll have to pay to advertise that you're having a sale, and unless you have something really unique or interesting to offer, a lot of people probably won't bother showing up. In this case, a garage sale probably wouldn't be worth the time or trouble required to host it.
If you're sitting in a cluttered house, feeling guilty that you've wasted money or overwhelmed with what to do with it all, I hope you're feeling a little better now. Believe it or not, there really are a lot of people out there ready to buy the stuff you want to get rid of and help you turn your clutter into cash. All you have to do is find them.
Have you ever tried selling something you no longer wanted to keep? How did it go?