I have a very special treat for you today! My sweet friend, Brittany is here to help us with decluttering and organizing books with the Konmari Method. She's a librarian so she knows what she's talking about! So, without further ado, here's Brittany!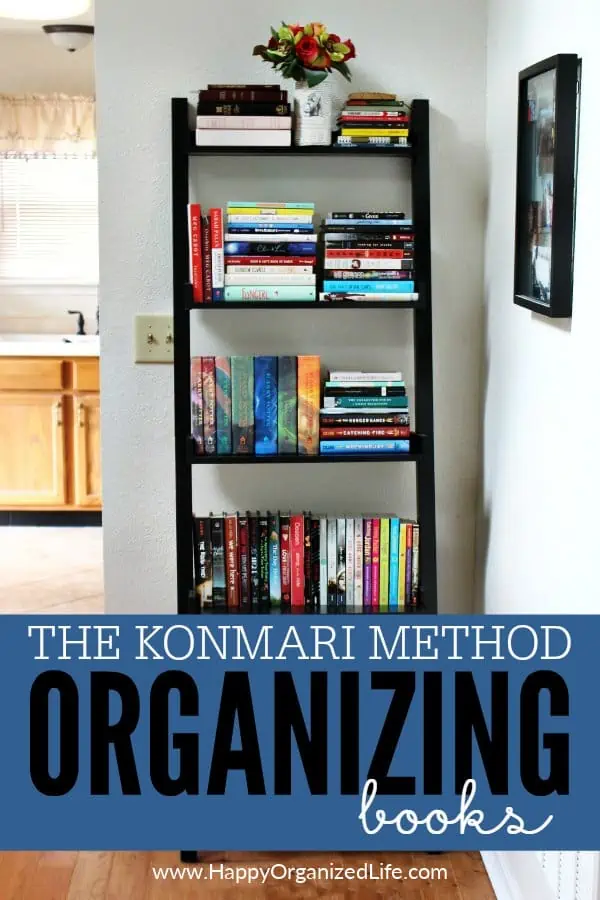 One of the summer organization and decluttering projects I wanted to tackle this year was my book collection. I have always been an avid reader and lover of books. As a child, I actually had a window seat in my bedroom with a closets on each side. One closet held my wardrobe, while the other had shelves which housed my book collection. I have fond memories of packing up a backpack full of paperbacks, walking to my childhood best friend's house, and playing "library" with her. So I guess it comes as no surprise that I grew up to become a librarian!
Over the years, my book collection continued to grow, and I was always adding new books to my home library. It's hard to resist a good bargain on a used book! Plus, I received a ton of free review copies as a librarian and book award committee member, and people often gave me gift cards to my favorite bookstores for the holidays. It wasn't long before my collection grew to an overwhelming size.
I knew it was time to consider downsizing my book collection when it stopped bringing me joy and started becoming a source of stress. I was acquiring new books at a rate faster than I could realistically read them. I wasn't happy with how cluttered my shelves looked and I was constantly rearranging them to try to make everything fit.
As a librarian, I am constantly reevaluating our library collection and discarding books that are damaged, outdated, or no longer getting checked out (we call this process "weeding" the collection). So I thought it would be a good idea to start "weeding" my home library as well.
If you're ready to declutter your book collection, it may be helpful to break the task into several subcategories so that it's not so overwhelming.
textbooks

reference books

manuals

cookbooks

coffee table books

travel guides

fiction books

nonfiction books

children's books

magazines
Ask yourself the following questions to help with the decluttering process.
Do I love this book?

Will I read it again? (Be honest!)

Is it in good condition?

Will I refer to it often, or could I find the same information elsewhere?

Could I borrow it from the library?

Do I have multiple copies?

It is available as an eBook or audiobook?

It the information outdated?

Am I still interested in the topic?

Would it be more useful to someone else?
Or, if you are following the KonMari Method, you only need to ask yourself one question: Does this book spark joy? If so, keep it! If not, discard it.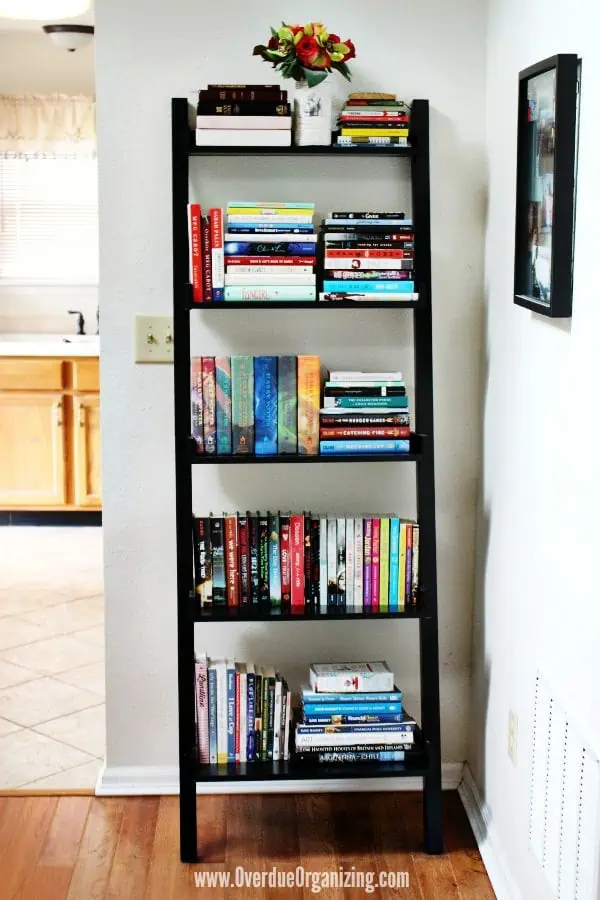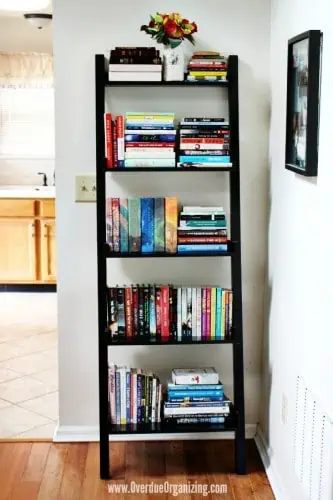 10 Things to Do with the Books You've Discarded
Donate them to your local library (They may be able to add them to the collection, sell them in their book sale to raise money for library programming, or keep them as prizes for the Summer Reading program!).

Donate them to a women's shelter.

Donate them to a prison library.

Donate them to a teacher for their classroom library.

Donate them to Better World Books.

Donate them to a thrift shop.

Sell them online.

Sell them to a used bookstore.

Sell them in a yard sale.

Recycle them.
Once you've downsized your book collection, I encourage you to make good use of your library card! Not only will it cut down on the clutter, but it will also save you money. Most libraries now offer downloadable eBooks and audiobooks as well, so you can carry a ton of books on your smartphone, eReader, or tablet (which is a convenient and clutter free to read!).
Happy reading and decluttering!

---
Hi, it's Emily again. Aren't those great tips! I am a total book hoarder so I'll definitely be using these tips and asking myself these questions when I start tackling my mountain of books.