So many people want to declutter and get organized but cannot afford a professional organizer.
Professional organizers can be immensely helpful, but also expensive, and when it feels like your entire house is filled with clutter, it's not hard to imagine the hours (and cost) adding up pretty quickly.
Since hiring help isn't always a possibility, I decided to create the next best thing because no one should feel hopeless about clearing their clutter.
A few months ago, I reached out to my most favorite professional organizers and industry experts, and asked if they'd be willing to share their wisdom, experience, tips, and tricks in The Happy Organized Life Bundle, and what better way to celebrate this amazing collection than to give one away for free!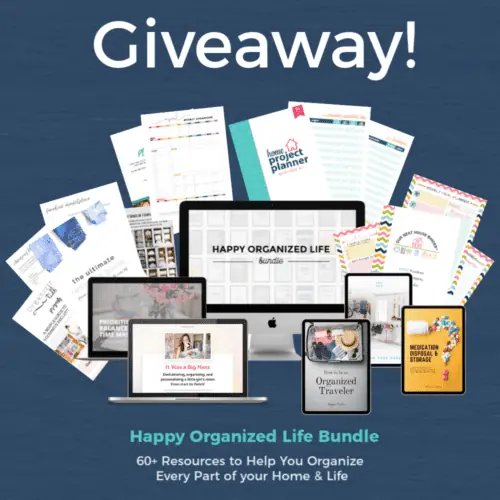 The bundle is a collection of more than 60 different resources to help you organize every part of your home. We talk about everything including:
Mindset
Decluttering
Goals & Productivity
Time Management
As well as specific tips and tricks for organizing your:
Bedroom
Bathroom
Closets & Clothing
Kitchen
Meal Planning
Kids
Maintaining Organization
Finances and more!
We wanted to create the ultimate collection of resources and give you access to 50+ professional organizers and industry experts for just $49.97… less than it would cost to hire one for just an hour.
Best of all, we are so confident that you're doing to LOVE this bundle as much as we do, that we're backing it with a 30 day, no questions asked money back guarantee!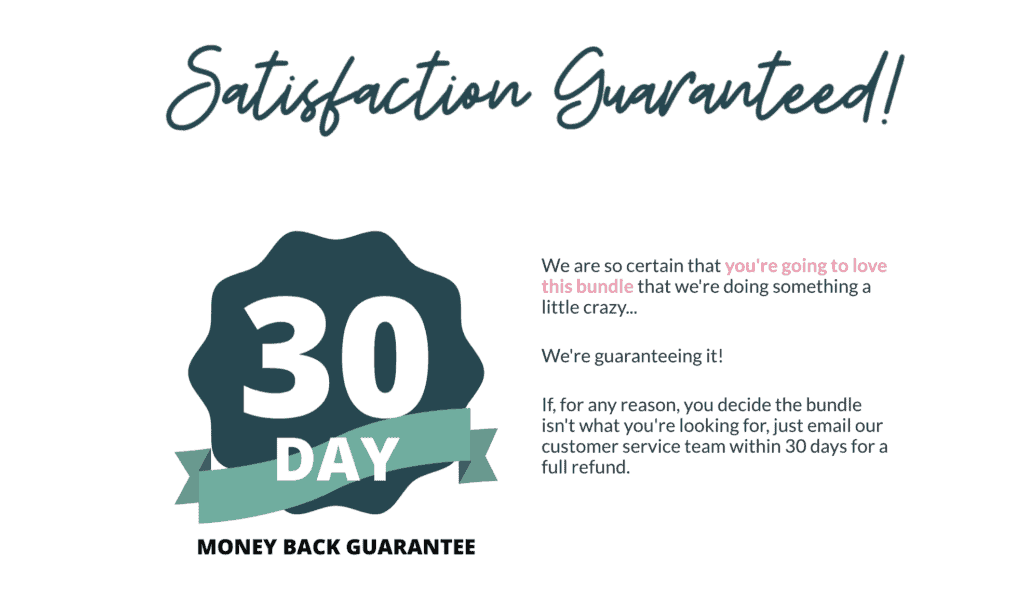 You can learn all about the bundle and its amazing contributors by clicking here –> take me to the bundle
I even recorded a sneak peek if you'd like to see more of what's inside, and I share all about the one tip that will literally give me 100+ hours of my life back this year! Just that tip alone was worth more to me than the cost of the bundle!
Happy Organized Life Bundle Giveaway
If you'd like to enter the giveaway, you can do so by leaving a comment below this post about which area of your house you'd most like to get organized!
If you'd like to enter multiple times, you can do so by visiting:
I will be announcing the winner of the giveaway Sunday, April 5th, 2020 so get those entries in, and I can't wait to see who wins!
Introductory Pricing Ends Soon
Introductory pricing will end Monday, April 6th.
After that, the bundle will still be available for sale, but the price will be increasing to $97. It'll still be a steal of a deal, and less that it would cost for even one of these 50 amazing contributors to come to your home, but I didn't want anyone to be surprised by the price increase if they chose to wait.
I'd love to know what area of your home or life you'd most like to get organized! Let me know in the comments below, and I'll be in touch soon with the winner's name!
Happy Organizing,
Emily