[tps_header]
It's true… one question could be keeping your house cluttered! In this post, I'll share what that question is and how simply rewording it could make all the difference. 
Okay, on with the question! One of the most popular posts I've ever written on this blog is about the biggest decluttering mistake you don't know you're making. It's received a lot of comments and support, and I still stand by every word I wrote, but if I'm being honest, I think I've discovered an even bigger mistake people make while decluttering. It starts with a simple question, and this question is keeping your home cluttered!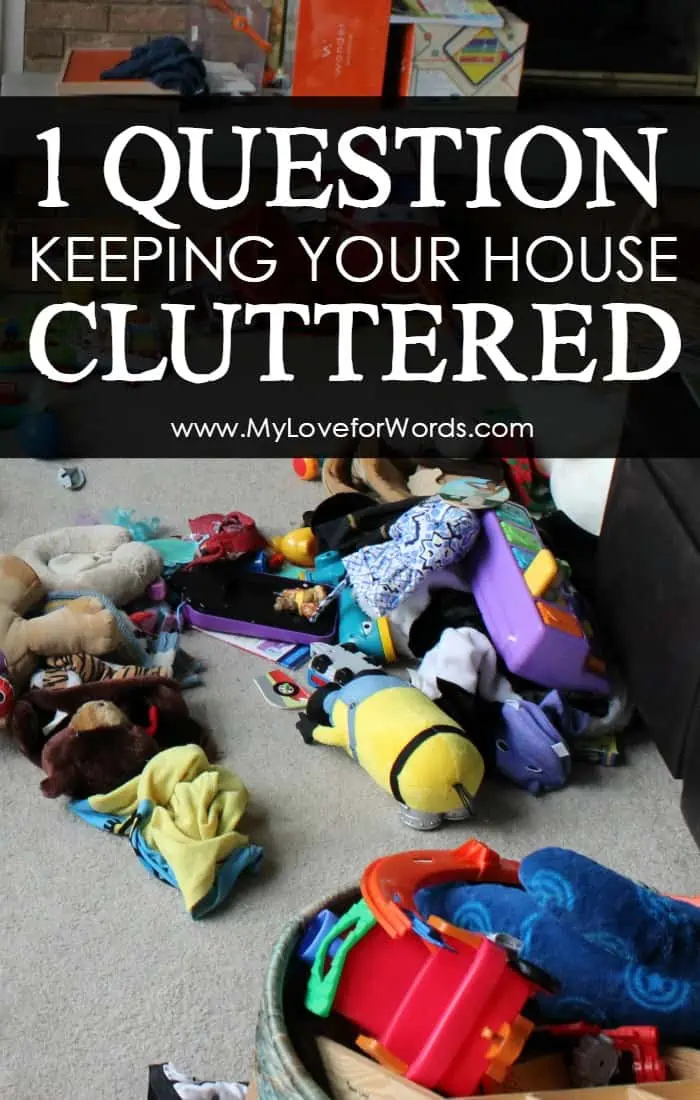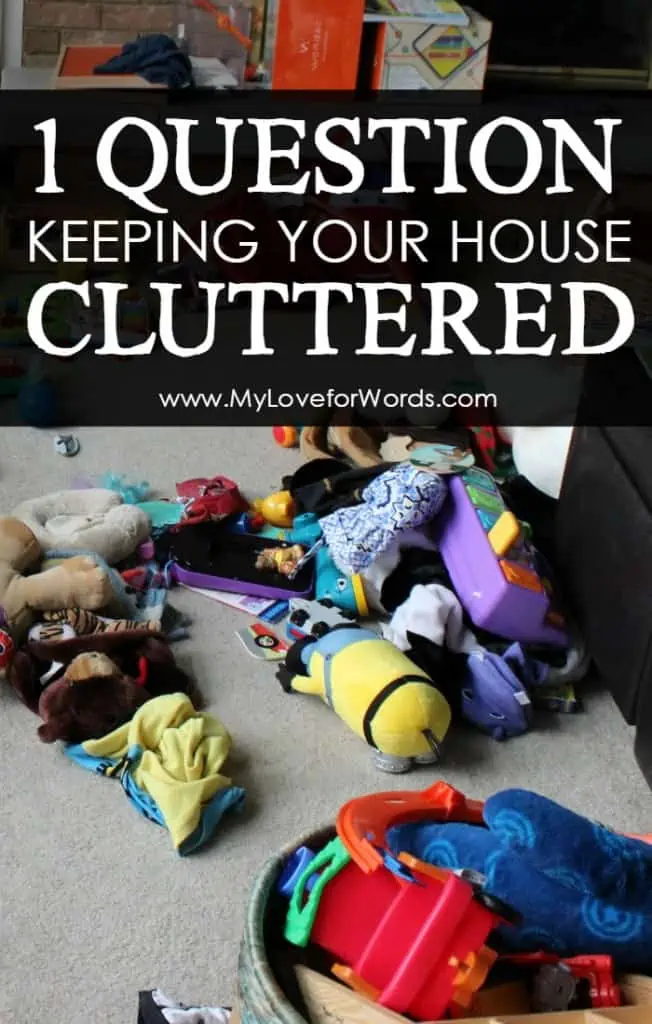 Let's see if this scenario sounds familiar. You look around your house and feel overwhelmed by clutter and junk. (That's a picture of my family room above so I can totally relate!) You want an clean and organized home so you ask yourself what you want to get rid of, but you have a hard time parting with anything. The more you try to get rid of things the harder it seems to get. Why?!
Well, I think it all starts with what we say to ourselves, and many of us are asking ourselves the wrong question.
People who like to accumulate things don't typically also enjoy getting rid of things. That seems rather obvious since if we did enjoy getting rid of things our houses wouldn't be in the state they're currently in, cluttered.
For people with pack-rat or hoarding tendencies, it can be really hard to let things go. When it comes to the question, "What do I want to get rid of?" the answers can sometimes be few and far between. Just looking at an item with the thought of, "Should I get rid of this" can make broken or unused items suddenly feel like things we have to keep.
But what if we changed our perspective? What if, instead of asking what we want to get rid of (which makes us immediately want to scream, "Nothing!"), we asked ourselves, "What do we want to keep?"
I figured out how powerful this simple switch in wording and perspective can be while trying to declutter with my kids. Every time I held up an item and asked, "Do you want to get rid of this?" one (or more!) of my kids would freak out, say they couldn't possibly part with it, and yet another toy would be added to the keep pile. It didn't matter that the toy hadn't been played with in over a year or was beyond repair, the idea of getting rid of it was too painful to handle.
Eventually, I was tired of our decluttering battles and decided to try to frame the same question in a positive way. I asked them to go through their toys and make a pile of what they wanted to keep. Suddenly, they were able to pick out their favorite things with no problem all while leaving a heaping pile of toys on the floor to be gotten rid of.
I was so impressed with how much smoother our toy decluttering went that I decided to ask myself the same question, and I was happy to find that it helped me too.
If I'm feeling twinges of guilt about getting rid of something that's still in good shape, never used, or was expensive I simply ask myself these five questions for decluttering. If an item fails to answer one of those questions, it goes out the door because even though it can be painful and difficult to get rid of something in the moment, those decisions are getting me one step closer to my goal of a clean, organized, and uncluttered home, and that's my ultimate goal.
Have you tried switching your perspective while decluttering or tackling a difficult project? Did reframing your thoughts of questions help make it easier?