A laundry basket is a declutterer's best friend. It's a great tool for piling everything in one place and hiding it in a closet. Done!
Just kidding. I've never done that. Nope, not even one <insert nervous laughter> Please stay away from my closets.
In all seriousness though, a laundry basket really can be your best friend while decluttering. It's saved my sanity in a few different ways.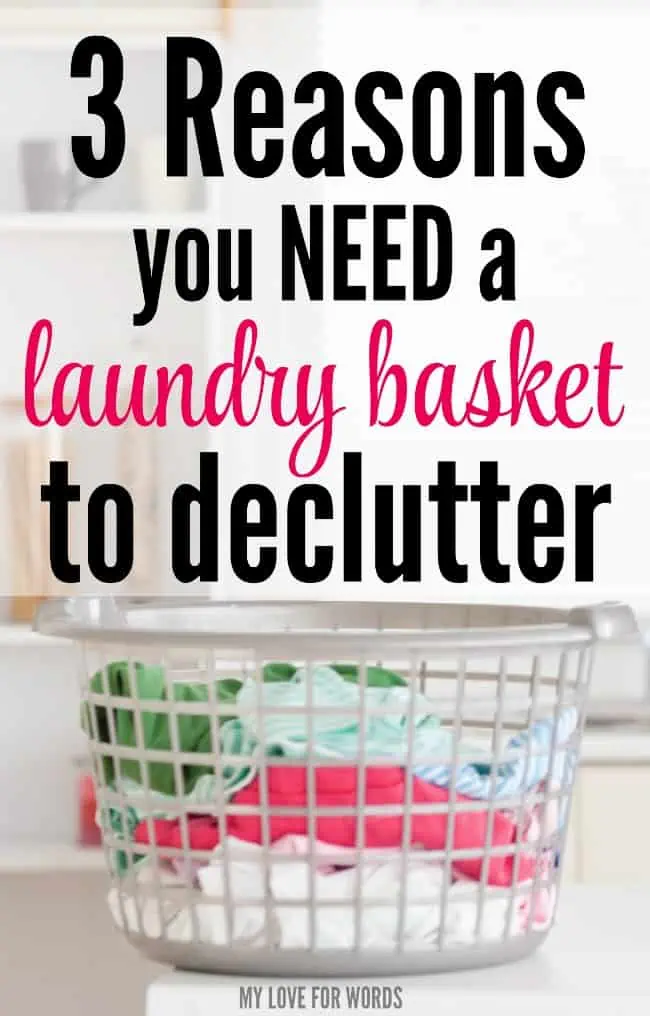 Decluttering
Laundry baskets are a great tool to use when sorting through and decluttering a room.
If you're anything like me, working on a space can sometimes lead to running all over the house. My mind seems to think that decluttering is a fun chance to perfect my running around like a chicken with her head cut off imitation, and at this point, I've got it mastered.
Organizing the kitchen used to mean I'd be running to my bedroom, to the office, then up to one of the kids' rooms, and pretty much all over my house putting items where they belonged. Before too long, I'd be exhausted, completely sick of the process, and feel like I had little to show for all of my hard work because the kitchen looked pretty much the same. That's completely demoralizing!
When I decluttered my bedroom a couple weeks ago, I used laundry baskets, and they saved the day.
Instead of running all over the house with different items (or piles!), I filled a basket with things that didn't belong in my bedroom. You can use one basket for all move to another room items or you can use a separate basket for each room. It really depends on how much stuff you have. Using multiple baskets, however, will get the sorting done at once, whereas using only one may require you to sort through that basket again at a later time.
Having a basket to put all out of place items allowed me to stay in my bedroom and sort through it quickly. I didn't have to run through the house and end up overwhelmed because every room is disorganized. I could focus just on the task at hand, which was already overwhelming enough!
Once we're done working, we'll take the basket(s) to their correct rooms.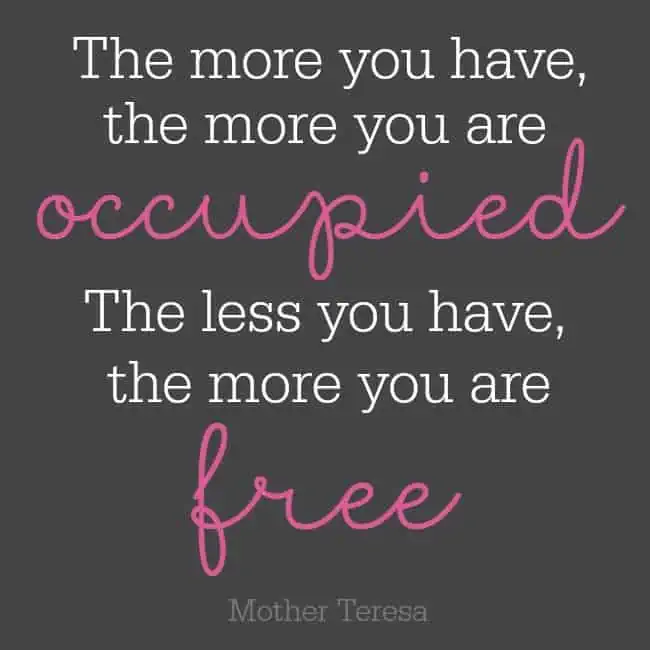 Sorting
Another great way to use baskets is to label them with either keep, trash, sell, or donate. (I shared these free labels earlier in the week.)
Decluttering means some things just have to go, and having a place to put items that will soon be exiting our lives is extremely helpful. It contains them and prevents them from getting mixed in with the keep pile.
Supermarket House Sweep
When I was younger, I used to watch a show called Supermarket Sweep. It's rather ironic given that I hate to grocery shop, but maybe that's why. The real thing was never as exciting!
In the show, contestants run through a grocery store as quickly as possible filling their carts with various items, and this is what we should be doing in our homes.
I'm not going to lie, clutter is creeping back into my newly cleaned spaces, and I know why. I haven't yet come up with a plan for maintenance. I can see my recently cleared dresser slowly growing a new pile, and it's all because I haven't yet adopted new habits for keeping the space clean. It's too easy for me to change in front of my dresser and throw my clothes on top. Mt. Emily is almost reborn, but laundry basket's going to swoop in like Superman to save the day. (Henry Cavill Superman. He's my favorite.)
The Super House Sweep is when we dash through a room as quickly as possible, grabbing everything that's out of place, and throw it in our baskets. If you can do this is a cluttered room, more power to you! I'm going to use this to maintain areas I've already decluttered. This will prevent those piles from regrowing and getting out of hand.
I'm sure there are many more uses for laundry baskets, but these are the three that have been really helpful in the decluttering process so far. What's your favorite way (other than laundry!) to use laundry baskets?