Confession: I've been slacking in my decluttering.
After a week, my toy room's still a mess, and my dresser is quickly becoming recluttered so I'm excited to start this new "decluttering together" plan. I need encouragement, motivation, and people to keep me accountable so I think working together on the same space at the same time will really be helpful.
This week, we'll be focusing on decluttering our purses, wallets, entryways, and entryway closets. My hope (time permitting) is to post tips and about my progress throughout the week.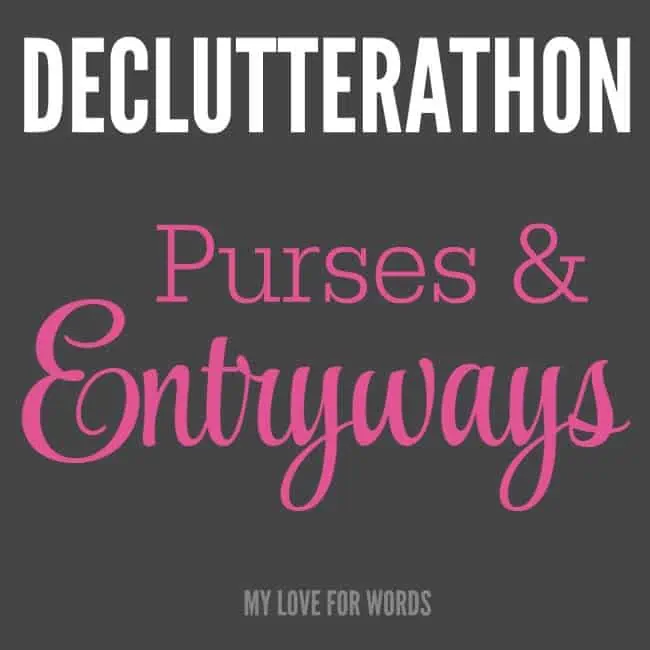 I'll be decluttering my purse and wallet Monday (sharing progress Tuesday), my entryway Tuesday (sharing progress Wednesday), and the closets Wednesday and Thursday (sharing progress Friday).
I almost hate to say when I'll be posting for fear that something will come up, and I won't be able to follow through, but I'll do my best. For this procrastinator, it's a little scary to feel like it's set in stone and I'm actually going to be held accountable.
I've made two checklists to help us work through these spaces. One has some tasks already listed, and the other is blank so you can make a completely customized list.
 Click here to get your copy.
I'll also be sharing my progress on facebook in the Declutterathon group, and on Instagram (#Declutterathon) so feel free to follow along and share with me too. I'd love to see what you all are up to.
I'd love to write more, but I'm totally procrastinating so I guess there's nothing left to do but get started. Let's go!