Have you ever sat down in your car, looked around, and just wanted to get right back out? I've been there…I totally get it. This is why you need these simple ideas to declutter your car.
Since we live in a world where we're always on the go, it just makes sense that our car takes the brunt of us going to and fro. That also means is that somehow the trash, dirty clothes, overdue library books that you swore you returned, and the food hiding under the car seat suddenly start to take over and make you feel like the only way to get your car cleaned is to just trade it in and start over.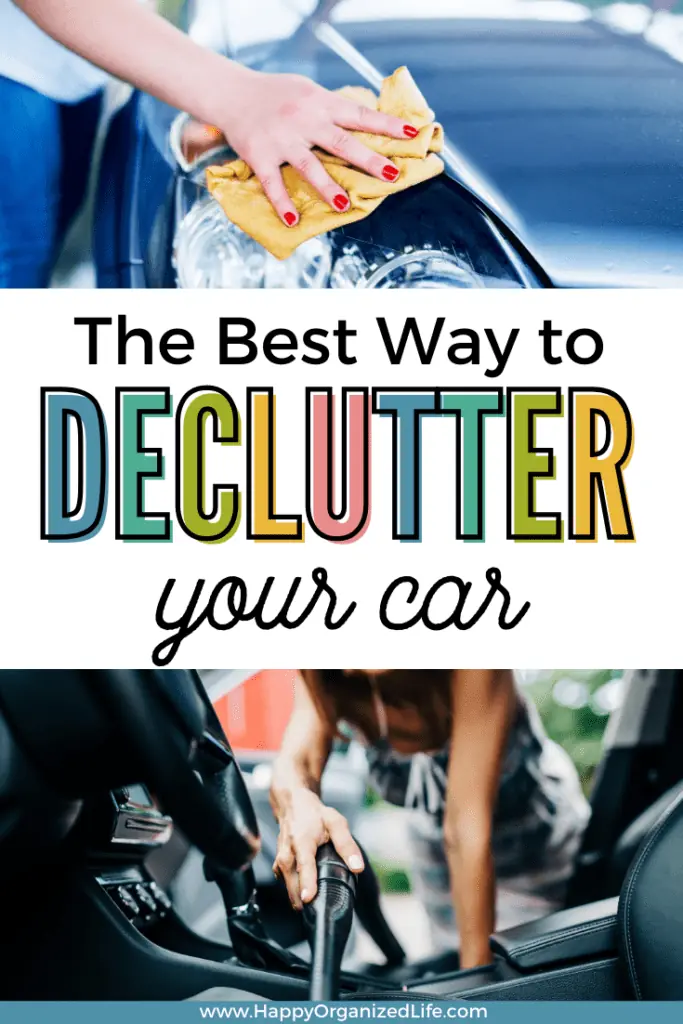 But guess what? Your new car will be just as dirty as your old car…and fast. If you're serious about getting your car in tip-top shape, you can easily organize it with a few simple tips.
Simple Ideas To Declutter Your Car
The good news is that your car is a small space to clean. The bad news is that your car holds your daily life for the past few years all jumbled together in one big mess.
But if you're ready to buckle down and figure out how to organize and clean your car, I think you'll find that these logical steps are simple and really easy to implement asap.
Purge everything out of your car
All of it needs to go…all of it. There should be nothing in your car except for the physical interior of your car. Remove every piece of clothing, paper, trash, books, makeup, and anything else you find and get rid of it asap.
Don't just take these things into your house and let them pile up there, either. You need to purge them and get rid of them so that they're out of your life.
Make a list of what you actually need in your car to function
Believe it or not, you probably don't need to keep a pair of heels in the trunk… but maybe you do need an extra pair of workout shoes for when you stop at the gym on the way home from work?
Even though your car shouldn't be a space to hold a bunch of junk, you can actually have a few items in it that if you're actually going to use them. Using a small amount of space for daily items and necessities can actually HELP you limit shoving other items in your car.
To make life a little easier and your car less cluttered, make a reasonable list of what you need to keep in your car on a daily basis and regularly remove everything else.
Give your car a nice spring cleaning
Make the interior and exterior of your car shine! The cleaner your car is and the better it smells, the more pride you're going to take in it. Shine the steering wheel, vacuum the floorboards, invest in an essential oil air freshener that will have your car smelling amazing…and just give that car a scrubbing like it's never had before.
Make the puppy shine, inside and out! 
The cleaner it is, the less likely you're going to want to dirty it back up!
Upcycle items in your home to help organize your car
I'm all about saving money any way that I can so it just makes sense to reuse items that I have in my house to help organize in other areas of my life.
If you have any small plastic containers that can fit on the floorboards, those are great for holding books or other items for transport.
Small cylinder containers that fit into cupholders can be a great way to hold change or money needed to pay daily for a toll. It also makes your change easy to find so you're not digging around in your purse when you need it.
Last but not least, consider using some sort of small container as small trash can for your car. I know it may not be the most glamorous addition to your car, about but it's much better than having a car full of trash for people to see!
See how easy it can be to organize your car? With these super simple ideas, your car can be clutter-free, clean as a whistle, and smelling great in no time at all!
Do you have any other ideas on ways to declutter your car?
More Decluttering Ideas: