Bad haircuts. We've all had them, but depending on just how bad they are, and how old we are when we get them, some can be more traumatizing than others. Unfortunately, I was sufficiently traumatized by bad hair because my worst haircut happened at six.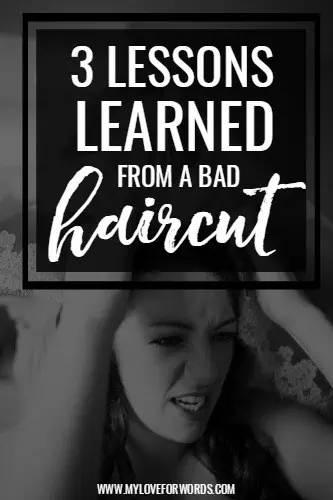 My mom took me in for a simple trim, but the stylist had a different idea. As she walked me to her chair, she told me over and over again how pretty I'd be with layered hair. I, of course, had no idea what "layered hair" meant or what she envisioned. All I had to hear was, "You'll be so pretty!" and I was in.
My mom asked a few times if I was sure I wanted to try this new style, and I said yes, of course, because… PRETTY! I'm sure visions of princesses were dancing through my head as I sat in the chair and she started to cut away. I don't know how much time passed, but by the time we were done I was pretty upset and disappointed. The cut was horrible!! and that's being generous.
Looking back through, I can see that I learned some really valuable lessons from that experience. Little did my mom and I know when we walked into that salon that we were walking into some big life lessons. These are the thing I learned from a bad haircut.
Decisions have consequences
One of the things I most admire about my mother and how she raised me was her ability to stand back and let me make my own decisions. There were times when I was thankful for this trust and freedom, and others when I wish she'd just tell me what to do, but ultimately it taught me that my decisions have consequences. At a young age, I learned that good or bad things would happen as a result of what I chose to do.
Time heals all wounds
Or at least with enough time hair will grow again. Sometimes little things that happen to us can feel devastating in the moment, but all we really need is a little time and distance to feel better. My hair didn't grow back overnight. Truth be told, I have years worth of bad school pictures to remember that horrible haircut by, but it's over and done with now, and that taught me yet another lesson: how important it is to…
Know what you're getting into
I have grown into a person who likes to gather a lot of information before making a decision. I can still be impulsive and spontaneous, but if I make a decision I usually have a very clear idea of what's going to transpire or at least the reasons for doing so.
Now for a little trip down Emily's memory lane of hair…
My first picture should be of this horrible cut because trust me, no matter how horrible you think it looked it was actually 10, no… 100 times worse! Unfortunately, the pictures are at my mom's house so I'll have to save those for a future update. I honestly can't wait to share them (and more pics from childhood) because I had some rough hair days. For now, we'll have to settle for young adulthood…
In my early twenties, I had a bit of bang trauma going on. I loved those cute, side swooping bangs, but I could never really pull them off. Unfortunately, that led to months spent in limbo. You know that awkward growing out phase when you're left with no other choice than to just push them to the side and pretend they don't exist? Yep, here's some of that (this is me with Chris, the lead singer of Dashboard Confessional!).
This was my hair a year or so later. Ah… the good old days, when I was dating my husband and actually had time to invest in how I looked haha! I do, occasionally, curl my hair these days, but it's few and far between. Ain't no mama got time for dat! (at least not this mama)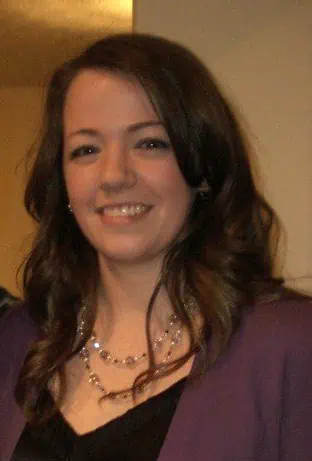 A year and a half later, there's wedding hair. I really didn't love the way my hair looked at my wedding. I wasn't going for ringlets, which is basically what I got, but I loved my veil so I wore it throughout the ceremony, reception, and even out to a bar with my friends afterwards. Sidenote: Yes, we went out to a pub after our wedding. Our DJ took it upon himself to end the reception an hour early, which still to this day annoys me haha! Let it go, Emily.
I'm happy to say that my bad haircut ended up being a blessing in disguise. Now the most traumatic thing about my hair is watching it slowly turn gray! Thankfully, my stylist helps me take care of that.
I also care for my hair by being extra choosy about what I use on it.  Next time you are at Target, grab the new Dove Regenerative Nourishment Shampoo, Conditioner and Serum in Oil.  Your hair will thank you! It smells great and is specifically for damaged and over-processed hair, which is perfect for a girl who loves her curling iron and has to use a blow dryer. (Seriously, does anyone else's hair take for.ev.er to air dry?!)
I'd love to hear about your worst haircut. How old were you and what did you have done? Did you learn any big lessons… or dare to return to the same stylist? Please share in the comments below.
This post is part of a social shopper marketing insight campaign with Pollinate Media Group® and Dove Hair, but all my opinions are my own. #pmedia #MyHairStory #DovePartner  http://my-disclosur.es/OBsstV