Today's post could easily be described as my biggest DIY project of 2016. It was 40 weeks in the making, took all of my energy at times, and I'm so excited to share it, or rather her, with you.
On December 10th, our family grew by two adorable little feet…
and into a party of seven!!
Sidenote: I love the picture above, but the little boys' hair reminds me of Jim Carrey in Dumb & Dumber! Hahaha! Whoops. Next time we'll try to remember to brush it to the side right before the pictures are taken! 🙂
Okay, back to the baby… we named our sweet little one Ella Jane after her grandmothers, and she's been getting lots of hugs and cuddles since she made her big arrival.
Our older daughter is over the moon excited to finally have a sister. She's said, multiple times, that this is all she ever wanted for Christmas, which is music to my ears.
My hope is that these little people will grow up to be the best of friends and a wonderful support system for one another.
And because I'm the proud new mama, here are a few more pictures!
This one was the kids' favorite, of course.
Adjusting to life with a new baby isn't necessarily anything new to us (we have done this a time or two before already), but I did forget just how brutal the sleep deprivation can be!
She's a very happy baby though and a great eater so I really don't have any complaints. I know all too soon she'll be moving out of the house, and I just get all weepy thinking about it. I may or may not have teared up on our way to Christmas mass thinking about how few Christmases we have with the kids under our roof. Needless to say, I'm trying to enjoy these moments, despite the exhaustion, when she's so sweet and tiny and just wants to cuddle all day long.
My husband has been with us since she was born, but he goes back to work next week, and I'm really not sure how we're going to get through the day without him. I know I feel this way after we bring each and every new baby home, and we always make it through fine, but it is so nice to have some adult company and an extra pair of hands around the house. He'll only be gone for a normal workday, but I'll miss him terribly. I hope, for all our sakes, I'm not too crazy or frazzled by the time he gets home.
So while things have been rather silent on the blog, they've been very busy behind the scenes! As much as I've enjoyed my time off and lots of cuddles, being on the brink of a new year is motivating me to get back to work.
I have so many goals I want to achieve and exciting things on the horizon for 2017 that I can't wait to get started. I just finished reading The 12 Week Year, which is all about setting and achieving goals, and I'll be back soon to share my plans.
Most importantly, I want to thank you all for your kindness, support, and patience over the last month. I, in my usual overly ambitious way, took on the huge project of resizing and updating This Organized Life  for 2017 right before giving birth, and I wasn't able to deliver the final files when I expected. I am happy to say that they are *finally* finished, and will be arriving in the inboxes of everyone who has already purchased later today. Woohoo!! (Click here to see my binder tour.)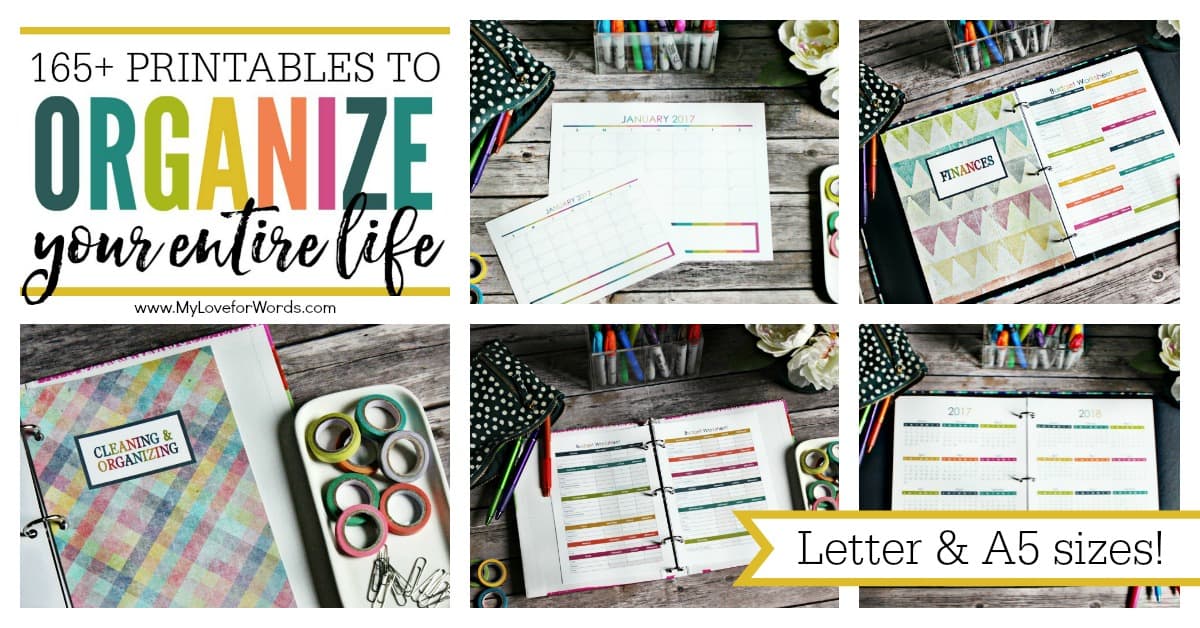 As a way to say thank you for all of your love, support, and again… patience, I'll be offering This Organized Life at the 2015 introductory price for a while longer. I figured it was the least I could do to thank you for so sweetly tolerating my overwhelmed new mommyhood. The price will go up for 2017 on Thursday, January 5th so grab it for less while you can. 🙂
That's my December in a nutshell! New baby, new printables, new goals for 2017, and a lot less sleep, but good things all around, ultimately.
I'd love to know what goals you'll be working towards in the new year. Are you repeating a resolution from years past (guilty here!) or will you be taking on new challenges? (<— guilty of that one too!) #neverenoughgoals haha!