My inner monologue for the last few months has been multiple variations of the same question, "How do I write this post?"
Since I started this blog four and a half years ago, I've always struggled with just how much I should share. One side of me wants to err on the side of caution since I know once something's out there I can't get it back, but another side of me wants to be an open book because I know how much simply sharing our experiences can help others.
To be honest, keeping such a huge part of my life a secret has been difficult. Sometimes the weight of keeping a secret makes the secret itself even harder to bear so with my son and husband's agreement, we've decided to share our story.
As I mentioned in my last post, our son's about to have brain surgery. A week from today to be exact.
Five and a half years ago, at the age of nine, Daniel was diagnosed with Parkinsonism. We always knew (based on family history) that he may develop the disease at an early age, but we were thinking he might have until his mid to late teens before he experienced any symptoms. Anyone familiar with Parkinson's knows it's a disease typically seen later in life (the average age of diagnosis is around 60) so a diagnosis around 16 or 18 already would have been rare and extremely early. Needless to say, we were really caught off guard when he started having symptoms and was confirmed to have it at only nine.
He's been taking medication for Parkinson's disease ever since. I can still remember the first time we filled his prescription. The pharmacy called us certain there had been some sort of mistake, "Children don't take these medications."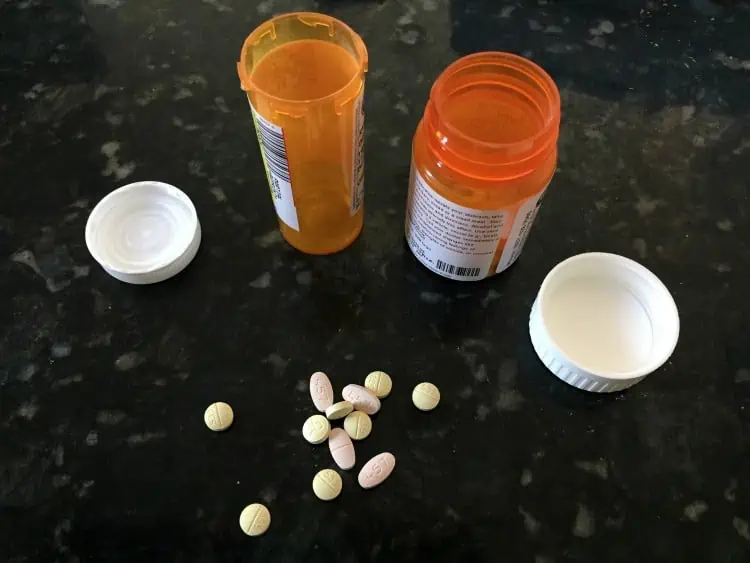 We were really fortunate that his meds worked well for as long as they did. In the beginning, they did make him nauseous and sometimes sick (we had to pull over to the side of the road so he could throw up on more than one occasion), but for almost four years we were able to pretty much predict and control his symptoms. We could go out in public, and no one would ever guess anything was wrong with him. We might have to plan ahead a little and make sure he had a dose 20-30 minutes before we needed to be somewhere, but overall they were extremely helpful.
Then in early 2016, we noticed his meds weren't working as well anymore. He started to need more medication in less time, his tremors could start seemingly out of the blue, and his symptoms were getting harder to control. He started spending more and more time alone in his room waiting for his pills to kick in, and he didn't want to leave the house often because he didn't want anyone to see him shaking. Unfortunately, anxiety can make the symptoms worse so sometimes he would be fine when we left the house and unable to walk by the time we got to our destination only fifteen or twenty minutes later.
This past January, his doctor agreed that it would be a good time to look into deep brain stimulation as a way to help alleviate his symptoms and hopefully improve his quality of life.
Unfortunately, everything with specialists takes forever, but after six months of driving to and from MRI and PET scan appointments, check ups, watching him get worse, and a lot of waiting, we finally got the good news. Daniel could have surgery, and we only had to wait six weeks!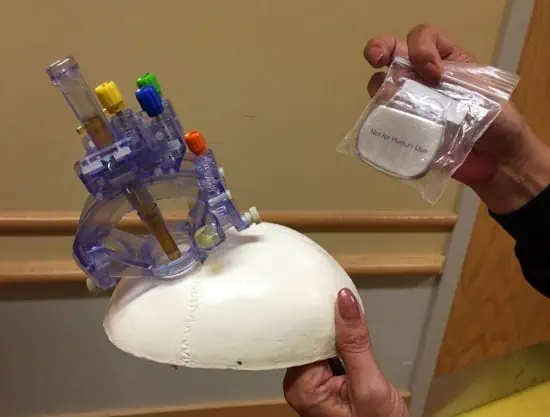 The surgeon will be using two of these "happy meal toys" (doctor's words) on Daniel during the surgery. The little metal battery packs will be implanted under his collarbone.
Daniel is ecstatic! He can't wait for the surgery and for his symptoms to be less severe. My husband and I are excited, but a little anxious too. Most of all, we're optimistic that this will greatly reduce his symptoms and improve his quality of life.
This is this first time I'm sharing anything about Daniel's condition because, for a long time, it was our family secret. Since he was so young when he was diagnosed, he didn't really understand what was going on. He knew he shook sometimes, and that his medication could make him better, but that was about it. We didn't want to burden him, our friends, or loved ones with information about his condition and the path we knew it would probably take since, at that time, he seemed fine. We figured everyone would know soon enough and there was no reason to worry them with "what-if" scenarios.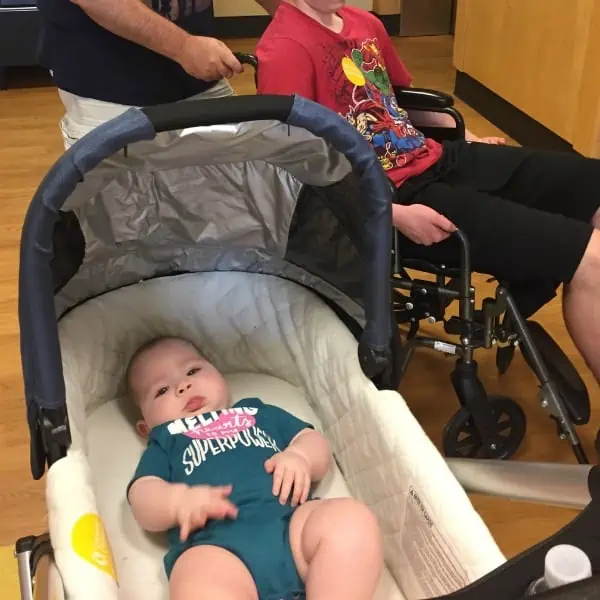 As he's grown, he's asked more questions, learned more about his condition, and his symptoms have become impossible to hide. Since he's now aware of and understands things, frequently has to use a wheelchair, and is going to be having brain surgery (there's no way to sneak that by him or anyone else!), we figured it was a good time to be open about everything. Trying to hide his diagnosis and pretend everything was okay felt necessary for a while for his sake, but there's really no point anymore. Honestly, it's a huge relief to just be able to talk about what he's going through.
I'm anxious for the next month and a half to be over. As much as I try to live in the moment, I'm also a planner so having big unknowns hanging over our heads makes me a little uneasy.
I'm trying to do everything I can to prepare in the mean time, which has meant making freezer meals and doing some serious decluttering, both of which I can't wait to share with you all soon. I'm hoping to have my first video recorded and ready for next week!
I know some people may be confused by my decision to jump back into blogging and even start a new youtube channel right now, but the truth is it helps to have things to distract me. I think I might go crazy if all I focus on is Daniel and what he's going through. I guess I cope with difficult situations in two ways: inappropriate humor and keeping myself busy! The good news is our house is in such a disastrous and disorganized state that I have months (if not YEARS) worth of blog and video content ahead of me. Silver linings!! 😉