I have a confession to make. I've been keeping a secret from you. If you subscribe to my newsletter, you've already gotten a sneak peek at a couple of the things I've been working on behind the scenes, but I'm going to share one of them with everyone today… I'm writing my first e-book!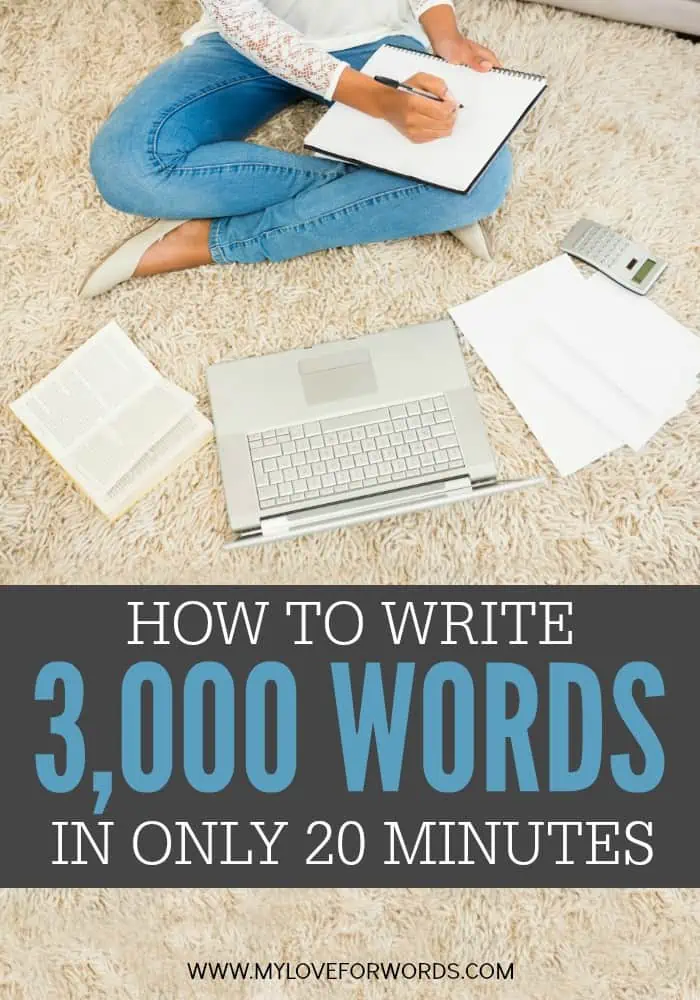 I've been blogging for three years now, and "write an ebook" has been right there at the top of my to do list for at least two of those years. Unfortunately, I've made very little progress in actually doing so because it takes so much time. I have four kids, homeschool, and have to keep up on my regular blogging so I had a hard time figuring out where to find that extra time to squeeze e-book writing into my daily life.
Having this big goal and making so little progress towards achieving it has been really frustrating and demoralizing, to be honest. The good news is that I have found a great solution to hacking an e-book. This little tip has enabled me to write 3,000 words in only 20 minutes. Now, I'm pretty fast on a keyboard, but there's no way I could type and compose 3,000 words in 20 minutes (especially with my kids interrupting me and every five seconds) without this trick.
Since I finally got sick of seeing "write an e-book" on my to do list, I decided that this was the year it was actually going to happen. I'm going to get this e-book written no matter what it takes so I made it my goal for the month of February to write 1,000 words a day.
Honestly, when I set this goal, it kind of freaked me out because I had no idea when I'd actually do it. I thought I'd probably use nap times, get up extra early, or stay up late to get the writing done. 1,000 words is around four to five pages of text so I knew it would probably take me an hour or two to work through my ideas and get the pages typed.
February 1st rolled around, and I, in my usual goal-setting fashion, had done little prep work or planning for how I'd successfully reach my goal. I was in the kitchen making breakfast for my kids thinking, "When am I going to have time to do this today?!"
I tend to talk to myself from time to time (I blame being an only child for that trait), so I started saying the beginning of my ebook out loud. Talking to myself may make me look crazy, but it helps me flesh out my ideas, and that's when I realized, "Wait a minute! My kids are playing in the other room… I should record this!" So… I recorded myself by talking into my phone, but that's only part of the time saving strategy. Now before I go any further, I have to say that this is not an idea I came up with on my own. I actually saw this couple months ago in a video by Pat Flynn from Smart Passive Income. I thought it was a great idea, but I had never tried it before.
I was only able to talk for six minutes before I was interrupted, of course, but I was able to go through a good portion of the beginning of my book. A few minutes later, after I got the kids breakfast and while they were quietly eating, I ran off to my bedroom and shut the door. I had 13 more minutes to just talk quickly and continue working.
After 13 minutes, the kids found me and started banging on the door, and that was the end of that. I looked down at these two recordings on my phone and considered transcribing them later myself, but the app I'm using, Rev, gives you the option of sending those recordings away to have them transcribed.
The transcription service costs $1 a minute, but they were offering $10 off the first order so I figured I'd submit the 13 minute recording, pay $4, and see what I received in return. I have to admit that I was a little worried about the quality of what I'd receive , which is why I wanted to submit a small test order first.
The app said it could take 48 hours to process, which wasn't ideal, but wasn't horrible either. However, just three hours later I was pleasantly surprised when the transcript arrived in my inbox as an editable word document, and it was perfect! They really did a wonderful job.
I could practically see the clouds parting and hear angels singing because I suddenly felt like, "Oh my gosh. This is totally possible. I'm actually going to be able to write an ebook!" I submitted the shorter six minute recording and got that one back in only 25-30 minutes, which totally blew my mind!
When I tallied up the words from both documents, I had 3,000 words written and ready to be edited, and all it took me was 20 minutes of talking into my phone and $10 (after the $10 discount). I was able to save myself at least three hours of work simply because someone else did the typing for me.
Using this hack doesn't leave me with a ready to publish book. It's definitely a rough draft and some of that text is not going to be usable. To be honest, some of it is just me mumbling along to myself and trying to figure things out, but for me it's so much easier to edit than it is to write. Sometimes staring at that blank page can be so intimidating and overwhelming that I just force myself to write anything because that at least gets the ball rolling. It's easier for me to go back to my writing and say, "I'm going to take out that whole section," than it is looking at a blank screen and thinking, "Okay, I'm going to write something absolutely brilliant on my first try." because that just doesn't happen.
Needless to say, the Rev app has been a huge time saver for me already. I even composed this post with it too! This is a form of writing that I can easily fit into my life. I can steal 5-10 minutes here and there through out the day, and I can get a lot of words out in that period of time. When I think about how much time this would have taken me to sit down at my computer and type up, it probably would've taken three or four hours, and that's a best case scenario of not getting distracted by the internet!
If writing a book or more blog posts is on your to do list, but you weren't sure how to actually make that happen, I hope this tip helps. It's already been a huge game changer for me and for what I feel I'm capable of accomplishing during the day. Just this morning, I spoke this post into my phone for about nine minutes, had breakfast with my kids, and by the time I was finished I had 1,363 words waiting in my inbox! So much time saved! I really feel like I can without a doubt get one, or more (fingers crossed) e-books and  many more posts written this year using this little trick.
Do you have a favorite blogging hack or trick for saving time? Please share! I'm always looking for ways to work smarter and not harder.