Looking to spice things up in the kitchen because everyone (including you) is tired of eating the same thing every night? Look no further! In this roundup, I've gathered a mouthwatering collection of 50 sausage dinner recipes that will bring you gastronomic bliss and leave your family asking for more. From savory pasta dishes to sizzling skillet creations, these recipes go well beyond plain old grilled sausages and are packed with bold flavors and ingredients and have got all of your cravings covered!
Simple Sausage Dinner Recipes
1. Cajun Sausage and Rice Skillet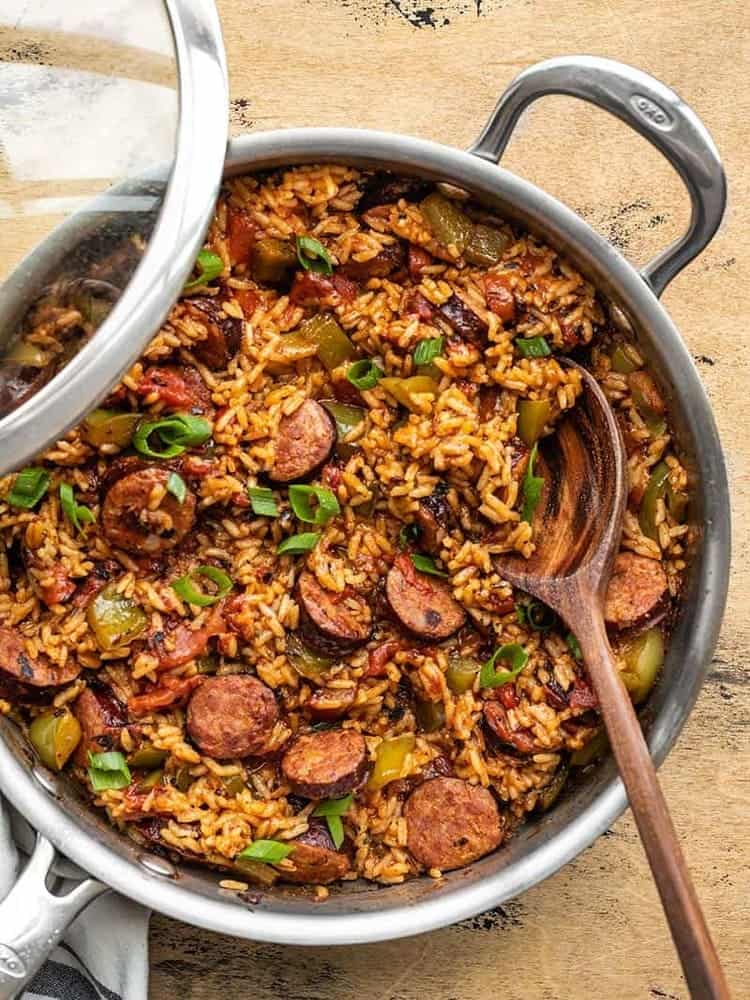 Get ready to transport your taste buds straight to the streets of New Orleans with our Cajun Sausage and Rice Skillet. This one-pan wonder is a breeze to prepare and bursts with zesty flavors.
2. Sheet Pan Chicken Sausage Dinner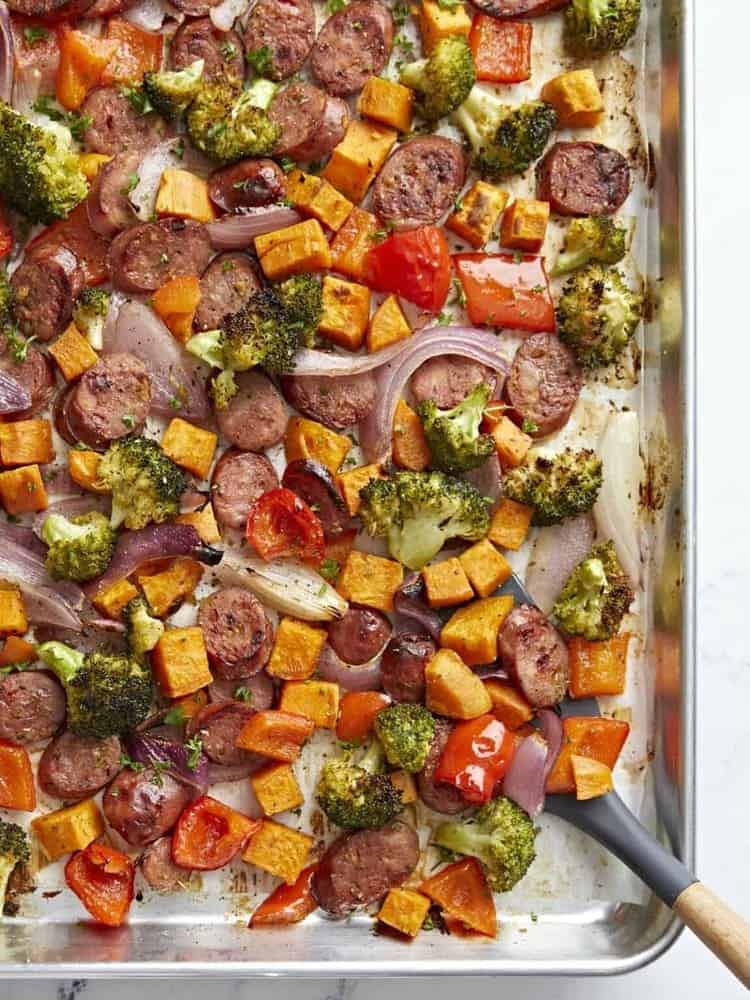 A sheet pan dinner can be a lifesaver on a busy night. It's an easy and fast way to get a healthy meal on the table without too much mess, fuss, or dirty dishes. A little garlic, olive oil, salt, and whatever veggies and protein are hanging out in your fridge, and you're all set. Simplify your dinner routine without sacrificing taste with this Sheet Pan Chicken Sausage Dinner.
3. Smoked Sausage and Rice – Quick One Pot Meal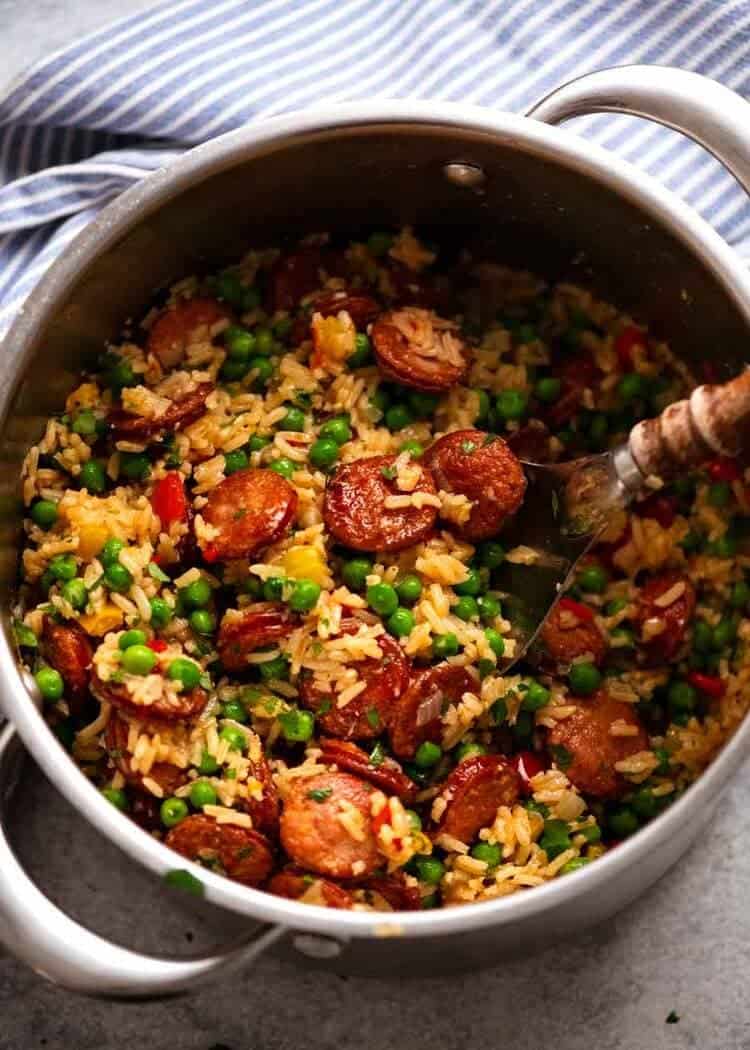 With smoked sausage taking center stage, this Smoked sausage and rice one-pot meal combines convenience and flavor in a single pot.
4. Sausage Dinner Recipes: Southern Fried Cabbage Recipe
Learn how to make the perfect fried cabbage with this delicious Southern fried cabbage and sausage recipe.
5. Spicy Sausage Pasta
Brace yourself for a hot and spicy flavor-packed experience that's anything but ordinary with this delicious spicy sausage pasta.
6. Best Homemade Sausage Sandwich
Sometimes, the perfect dinner could be the ideal homemade sausage sandwich!
7. Sausage Dinner Recipes: One-Pot Sausage and Rice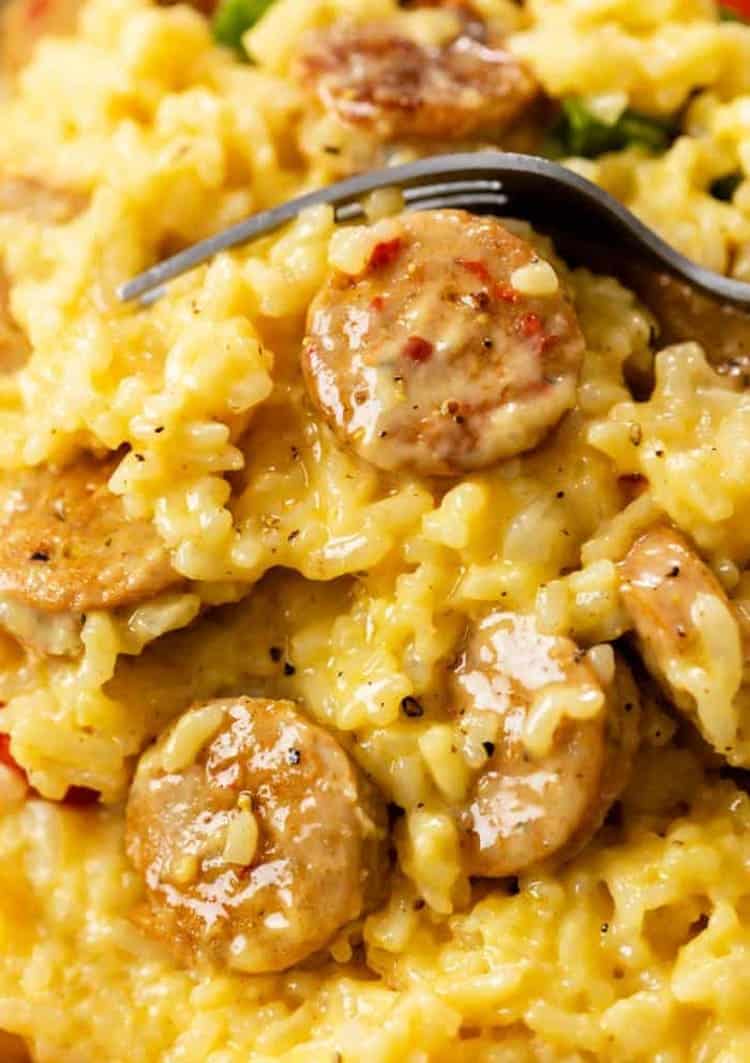 Want an idea for a cozy, hassle-free dinner? You can never go wrong with this sausage and rice – one-pot recipe.
8. One Pot Creamy Cajun Sausage Pasta
Dive into a delicious delight with this creamy Cajun sausage pasta and discover a pasta experience like no other before!
9. Slow Cooker Sausage and Potato Casserole
Simplify your dinner routine with a slow cooker sausage and potato casserole, where the humble sausage and potato duo transforms into a yummy meal that (literally) cooks itself!
10. Sausage & Vegetable Skillet Dinner
Discover the art of one-pan cooking with this yummy sausage & vegetable skillet dinner. Yum!
11. Chicken and Sausage Pasta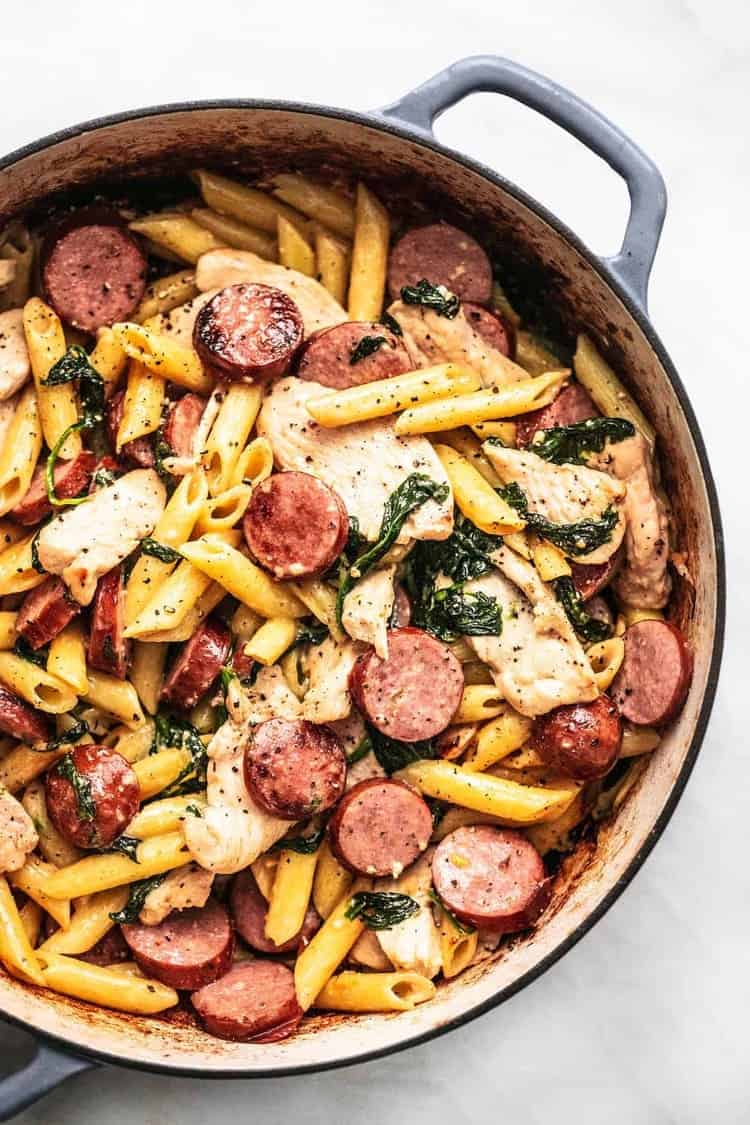 Share the joy of homemade goodness with your loved ones, one delicious bite at a time, with this incredible chicken and sausage pasta recipe.
Easy Sausage Recipes
12. Southern Fried Cabbage with Bacon and Sausage
Step into the world of Southern comfort with this Southern fried cabbage with bacon and sausage. Quick, easy, and so good!
13. Sausage Dinner Recipes: Creamy Tuscan Sausage Pasta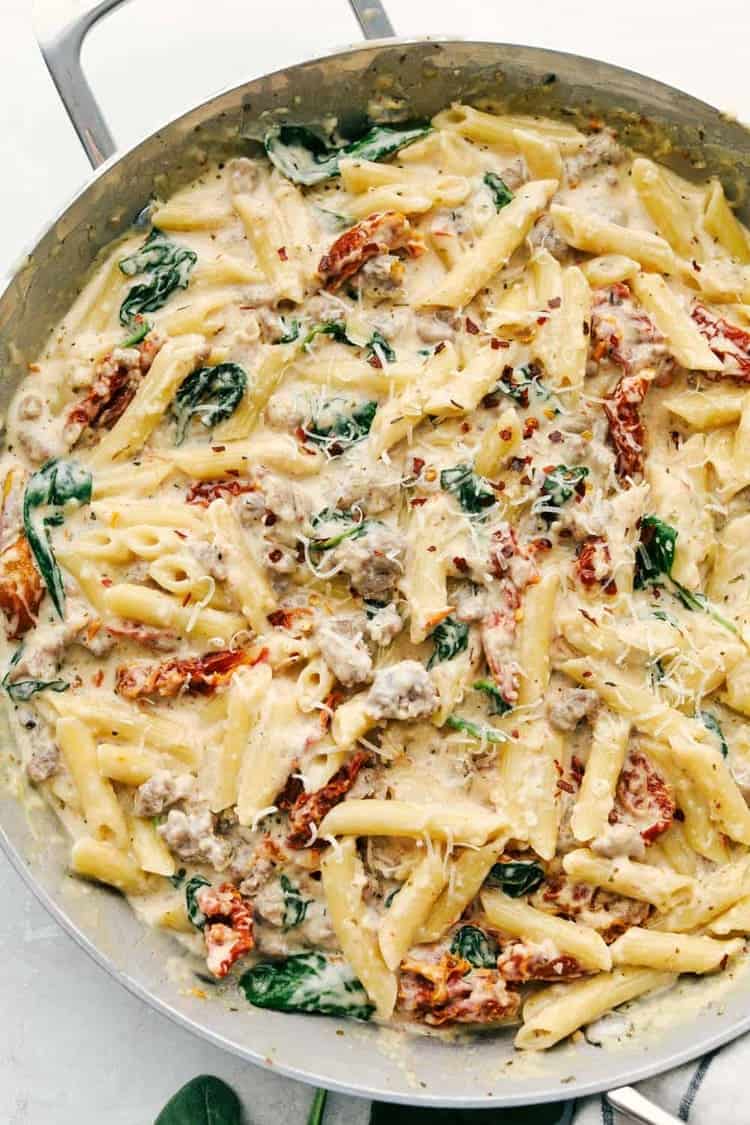 Imagine tender pasta twirling around smoky sausage, bathed in a luxurious Tuscan-inspired cream sauce. Sounds delicious, right? Here's the recipe for this goodness.
14. 30-Minute Sausage Dinner Recipe: Creamy Sausage and Potatoes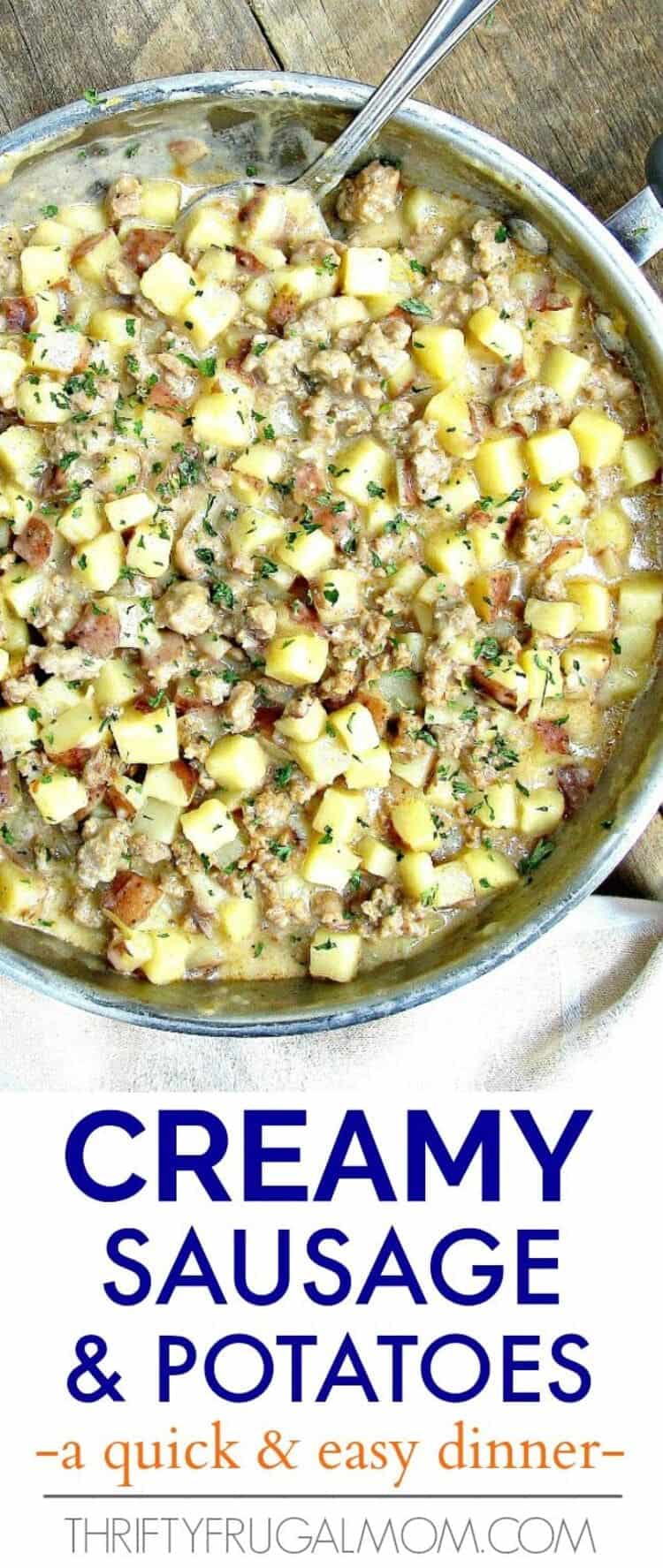 Need a delicious dinner in a hurry? This 30-minute sausage dinner recipe: creamy sausage and potatoes is here to save the day!
15. Easy One-Skillet Sausage and Peppers with Rice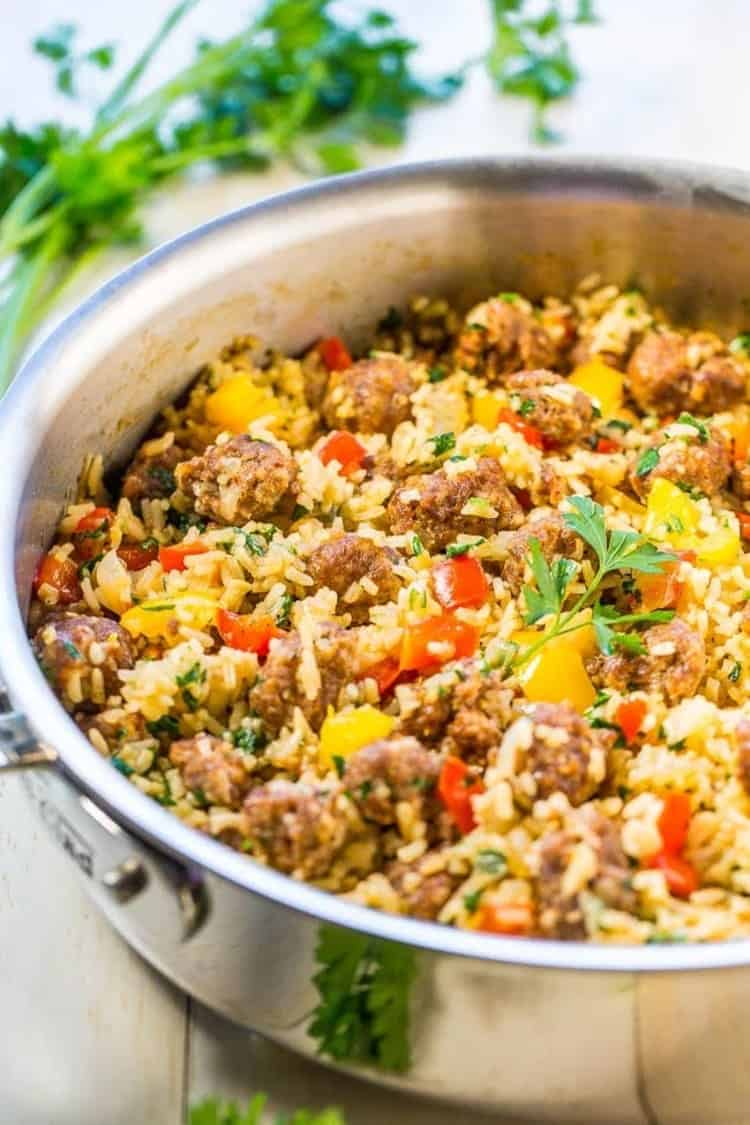 Say goodbye to multiple pots and pans and hello to the convenience and deliciousness of this easy one-skillet sausage and peppers with rice.
16. Chicken and Sausage Gumbo with Isaac Toups
Let the flavors of Louisiana come alive in your kitchen with a Chicken and sausage gumbo, a recipe by Chef Isaac Toups.
17. Easy Smoked Sausage Jambalaya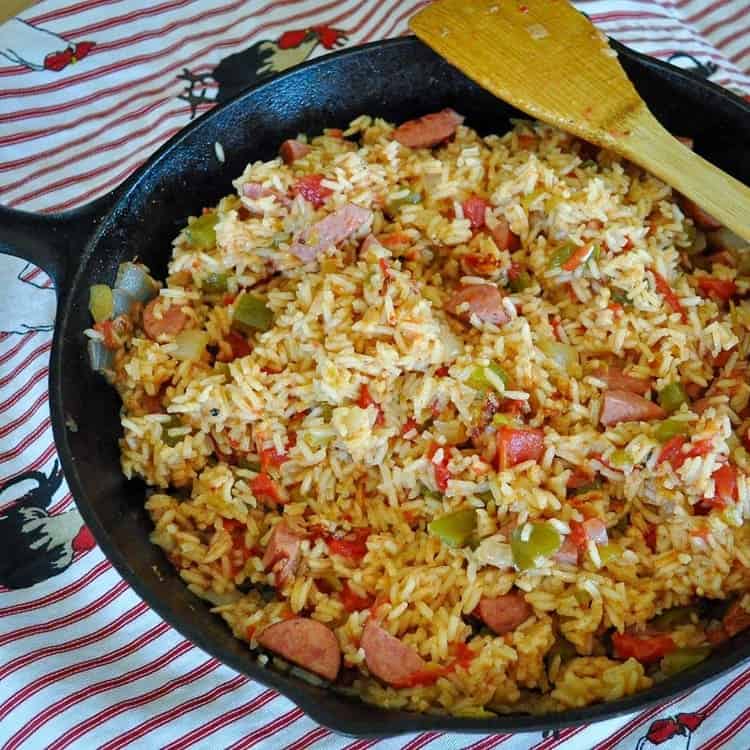 Picture this: smoky sausage, tender rice, and a mix of fresh herbs and spices coming together in a deliciously hearty dish – this easy smoked sausage Jambalaya. It's like a flavor party in your mouth, and guess what? You're invited!
18. Easy Sausage Dinner Recipes: One Pot Smoked Sausage Pasta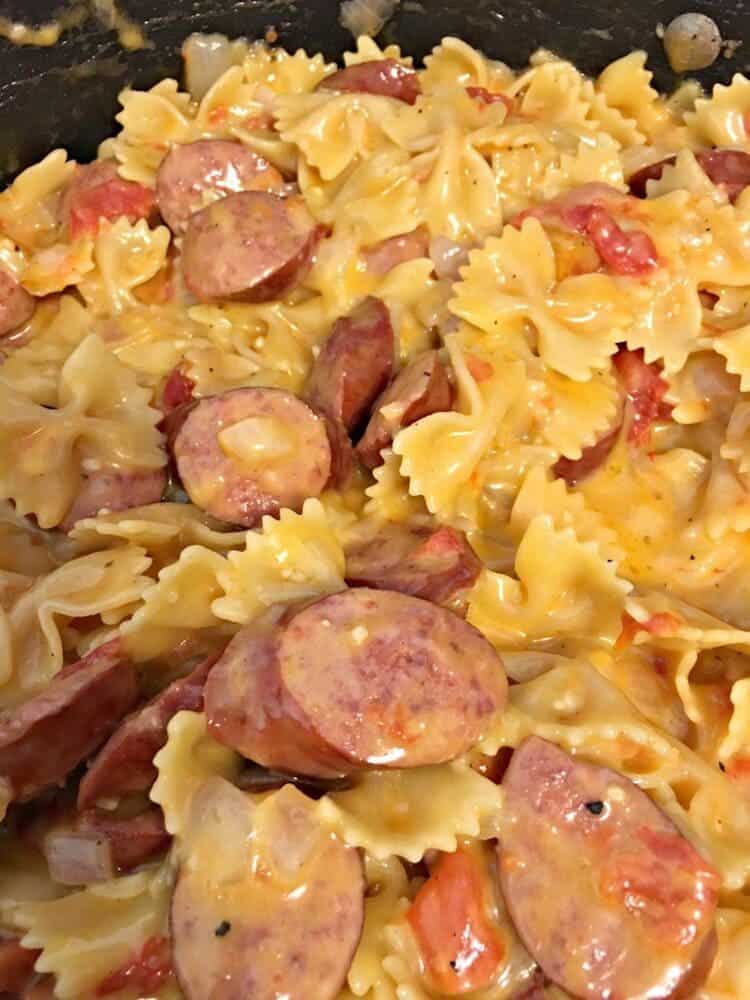 With minimal cleanup and maximum flavor, this One-pot smoked sausage pasta is bound to become a family favorite.
19. Sausage, Pepper, and Onion Sandwiches
Hungry for a taste of nostalgia? The delicious classic backyard barbeque sausage, pepper, and onion sandwiches will bring back favorite childhood memories with every bite!
20. Creamy Sausage Rigatoni (One-Pot, 30-Minute Meal)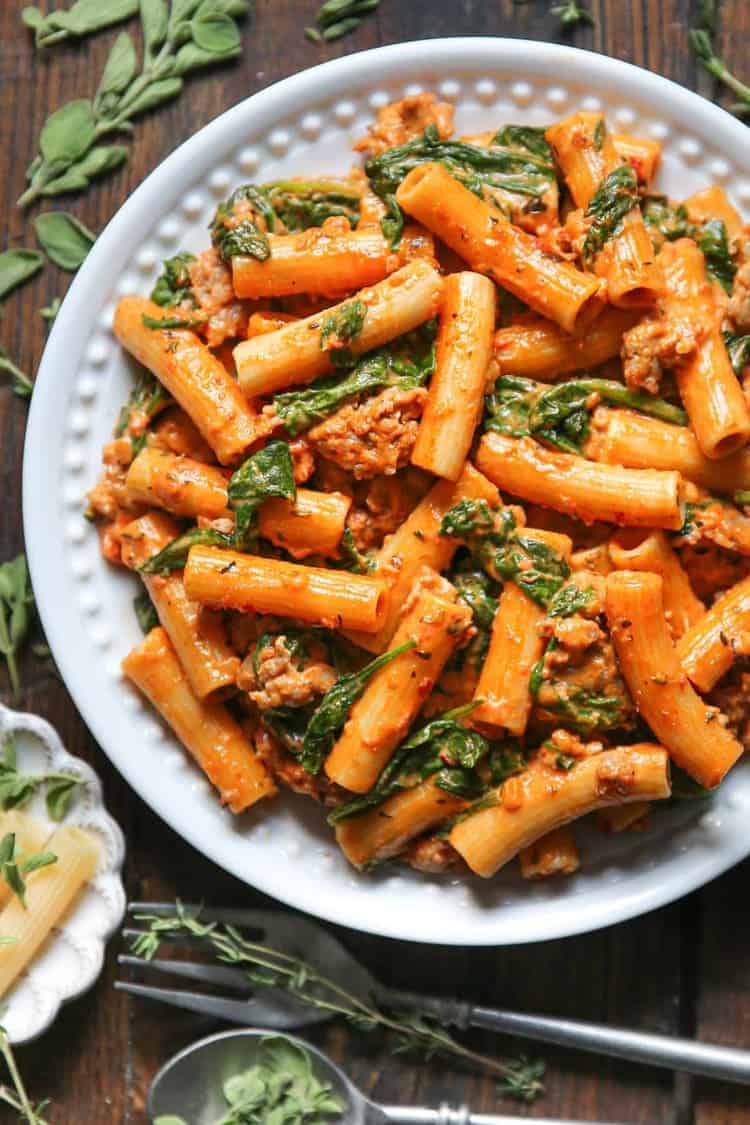 Craving comfort food without the fuss? This mouthwatering creamy sausage rigatoni is the answer to your weeknight dinner dreams, delivering a delicious meal in just 30 minutes.
21. Chef Jean-Pierre's Easiest Sausage and Peppers Recipe
Prepare to be your family's culinary hero with Chef Jean-Pierre's easiest Sausage and peppers recipe.
Family Dinner Ideas
22. Sausage Dinner Recipes: Penne Arrabiata with Smoked Sausage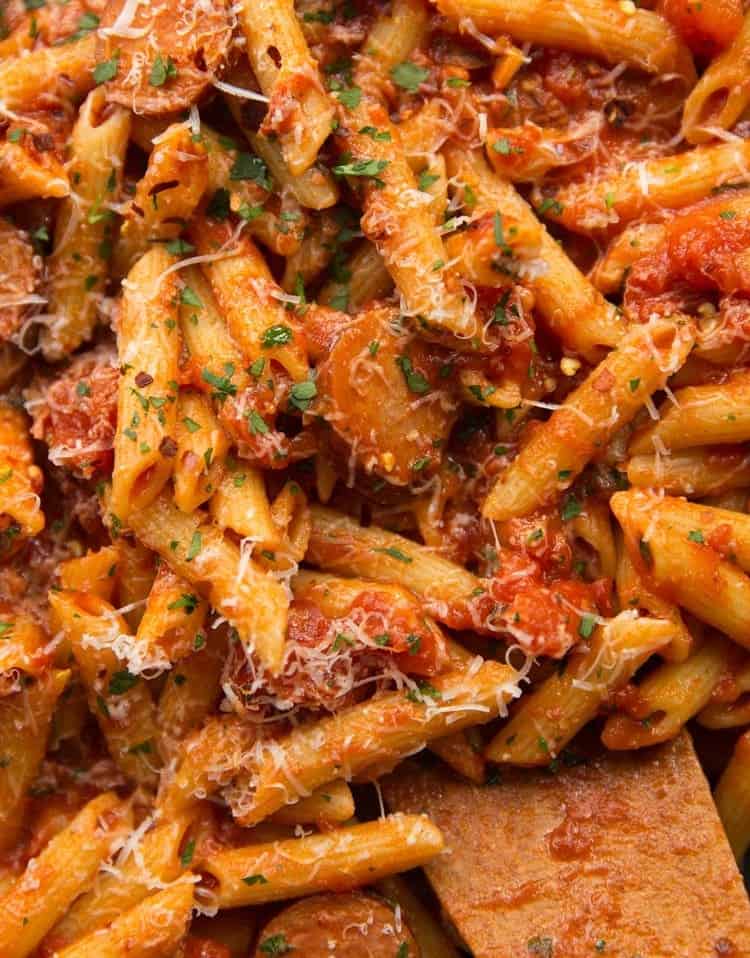 Ready to kick dinner up a notch? Our Penne Arrabiata with smoked sausage is here to add a fiery twist to your evening meal.
23. Sausage and Peppers Skillet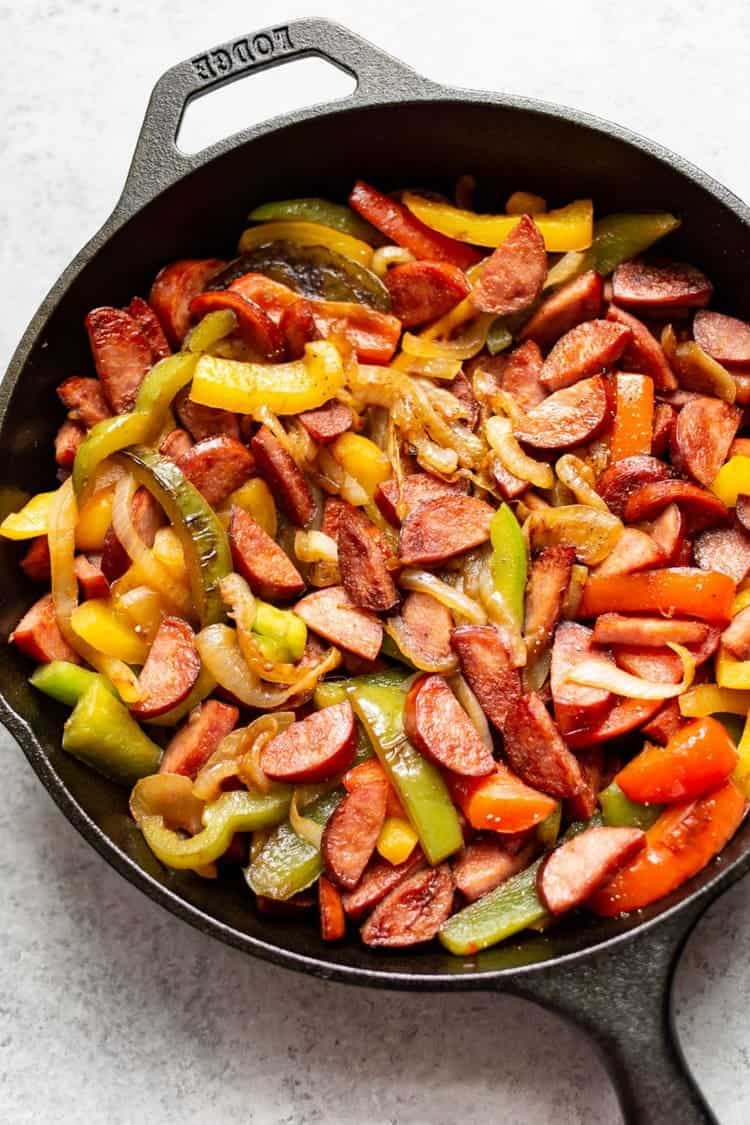 Dinner just got a whole lot easier with a tasty Sausage and peppers skillet recipe.
24. Italian Sausage, Pepper & Onion Skillet
Get ready to watch, cook, and enjoy the goodness of Italian sausage, pepper & onion skillet.
25. Cheesy Sausage Spaghetti Hoops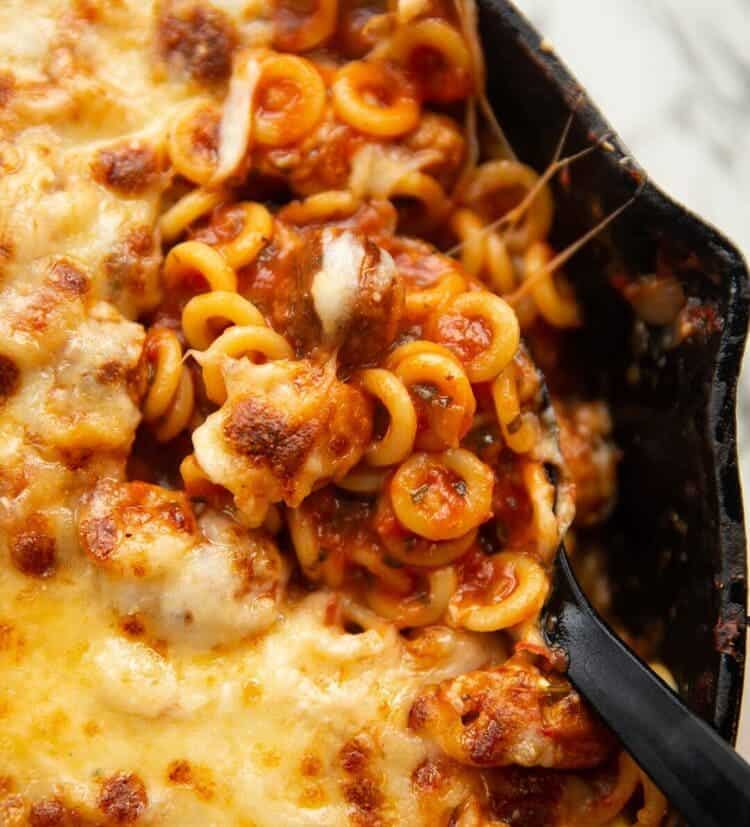 Say hello to the magic of Cheesy sausage spaghetti hoops and transport yourself back to childhood with a delicious twist on a classic dish.
26. Italian Chicken Sausage Pasta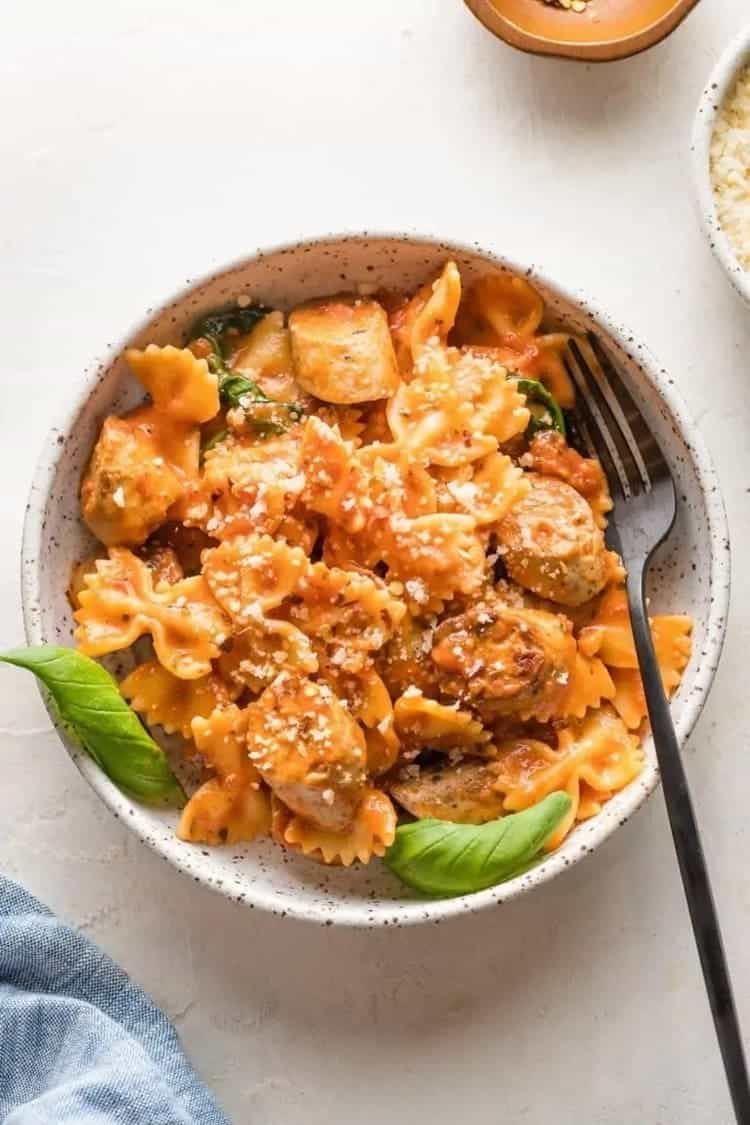 Travel on a culinary adventure to Italy with this Italian chicken sausage pasta. Your taste buds are going to thank you for this.
27. Jamie Oliver's Summer Sausage Pasta
Capture the very spirit of summer, and get transported through your taste buds to a warm, sunny day with Jamie Oliver's Summer sausage pasta recipe.
28. Sausage Dinner Recipes: One-Pot Chicken and Dirty Rice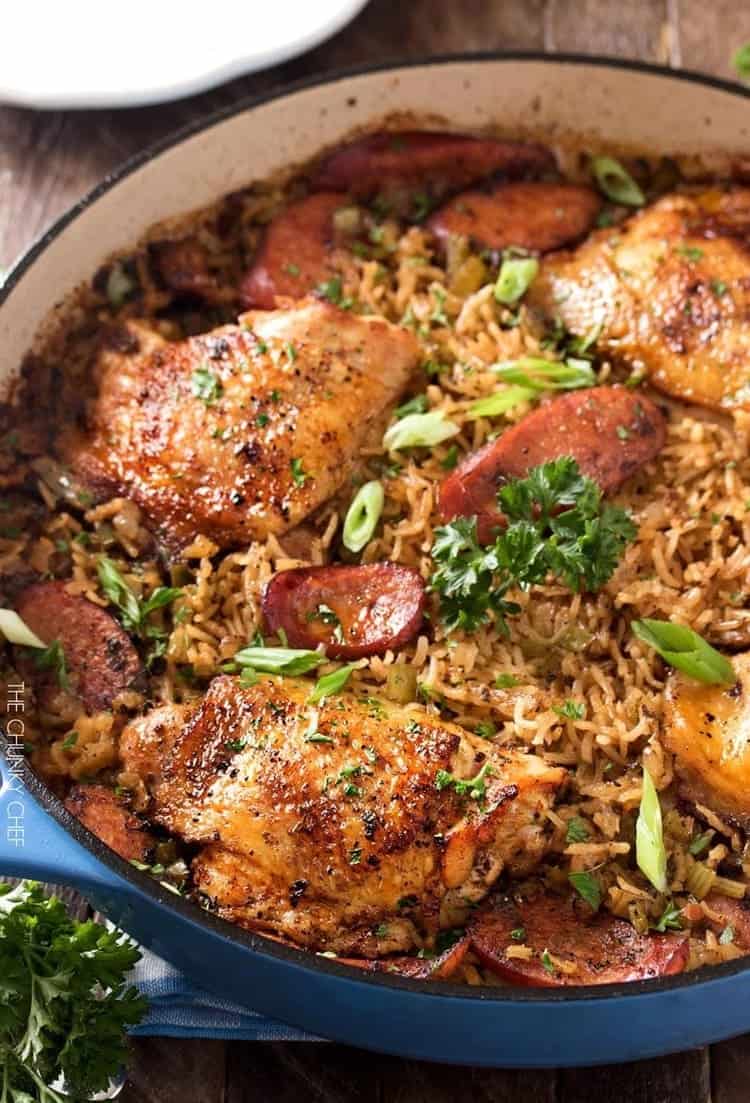 Tender chicken and flavorful rice cozy up in the same pot, creating a symphony of taste, that's anything but ordinary. That's right! You're going to want to add this one-pot chicken and dirty rice recipe to your meal rotation. So good!
29. Creamy Cajun Shrimp Pasta with Sausage
Whether you're a heat seeker or simply curious about the magic of Cajun cooking, this creamy Cajun shrimp pasta will introduce you to the irresistible flavors of the Big Easy.
30. Sausage-and-Mushroom Burgers with Broccoli Rabe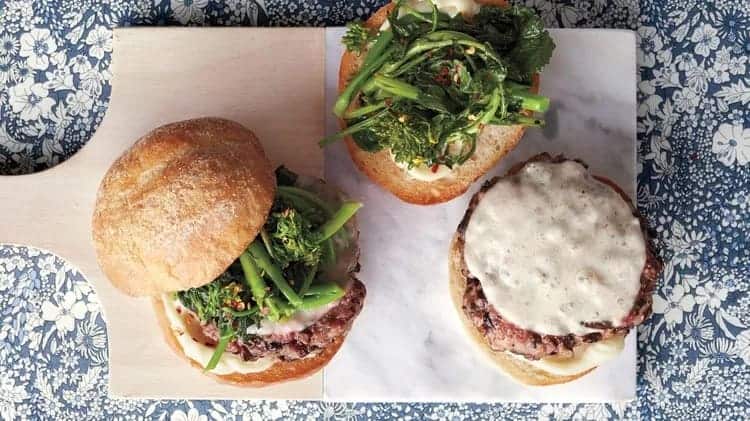 Take your burger game to the next level with Sausage-and-mushroom burgers with broccoli rabe, a culinary gem by the one and only Martha Stewart.
31. Curried Sausages
Dive into the aromatic wonders of this Curried sausage recipe, where the delightful flavors of curry and sausage come together in perfect harmony.
32. Sausage Dinner Recipes: Texas Cowboy Stew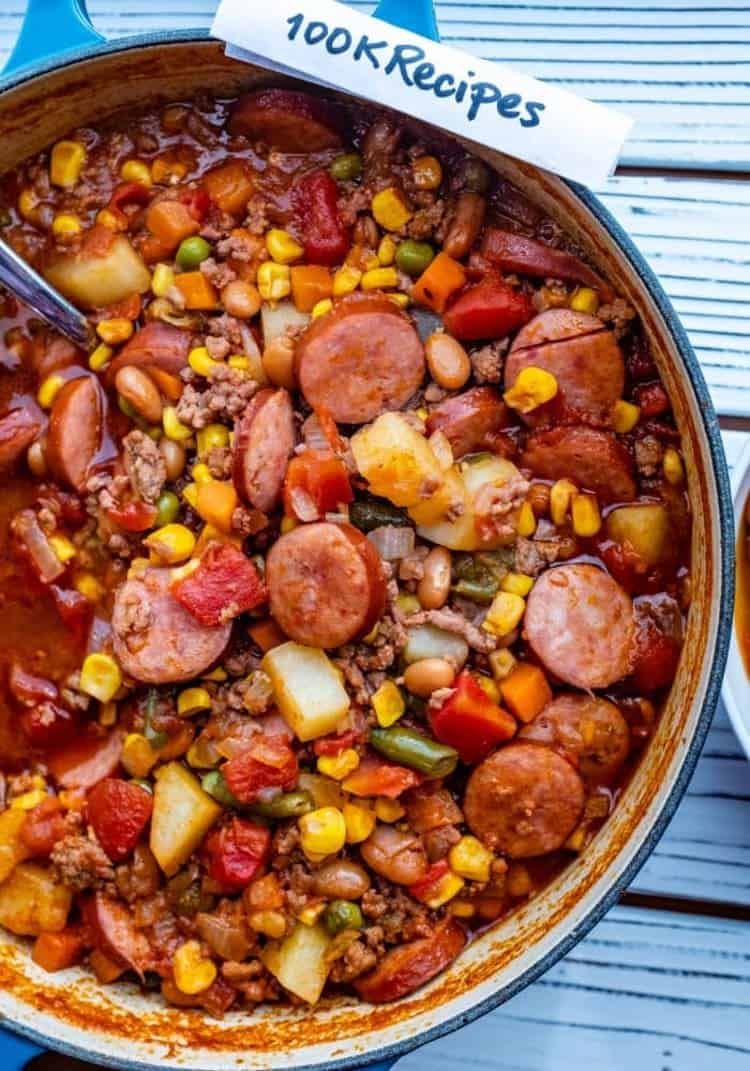 Saddle up for a taste of the Wild West with this Texas cowboy stew recipe.
33. Gordon Ramsay's Sausage Hotpot
With Gordon Ramsay's expertise as your guide, this Sausage hotpot transforms into a culinary adventure that's as impressive as it is delicious.
34. Sausage Bake with Potatoes and Gravy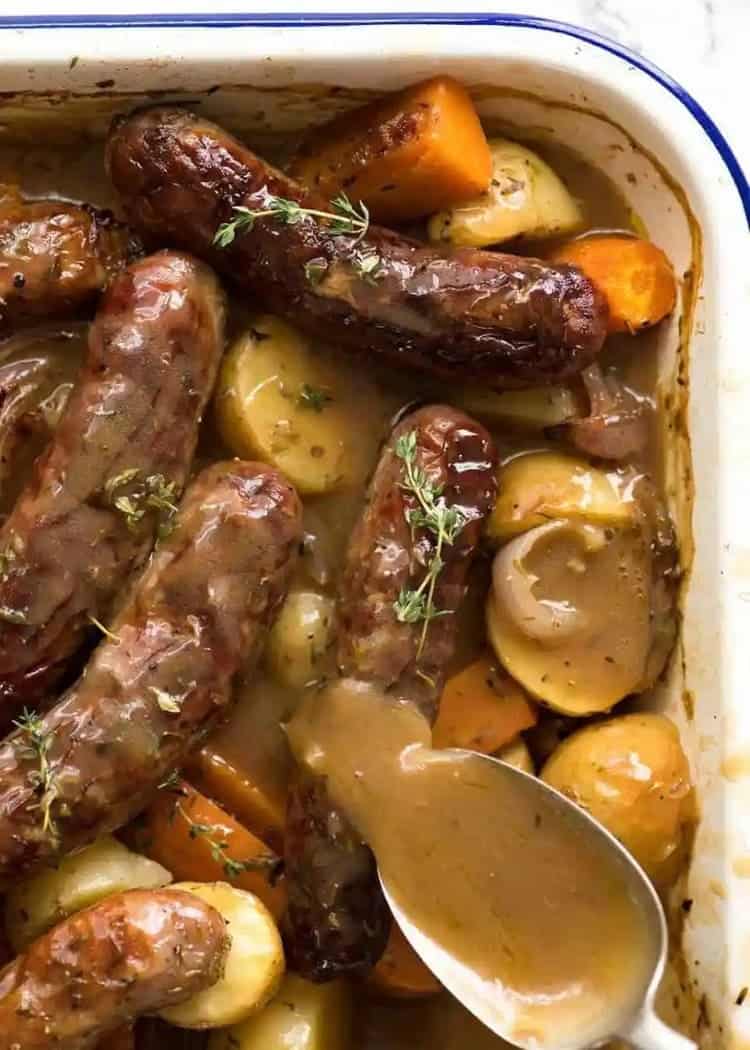 Get ready for a comforting culinary embrace with our Sausage bake with potatoes and gravy. Perfect for those chilly evenings.
Fast Dinner Recipes
35. Pasta with Smoked Sausage, Tomatoes, and Mushrooms
Smoky sausage, ripe tomatoes, and earthy mushrooms create a symphony of taste on your plate. Add a sprinkle of parmesan cheese on top… delish!
36. Quick Italian Sausage Sandwiches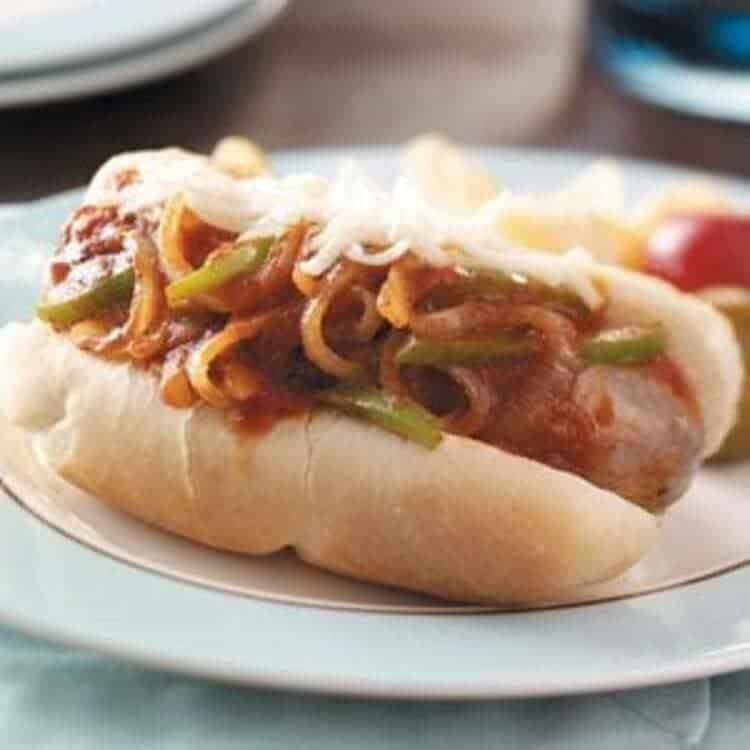 Whip up dinner in a flash with these mouthwatering Quick Italian sausage sandwiches.
37. 10-Minute Air Fryer Chicken Sausage and Veggies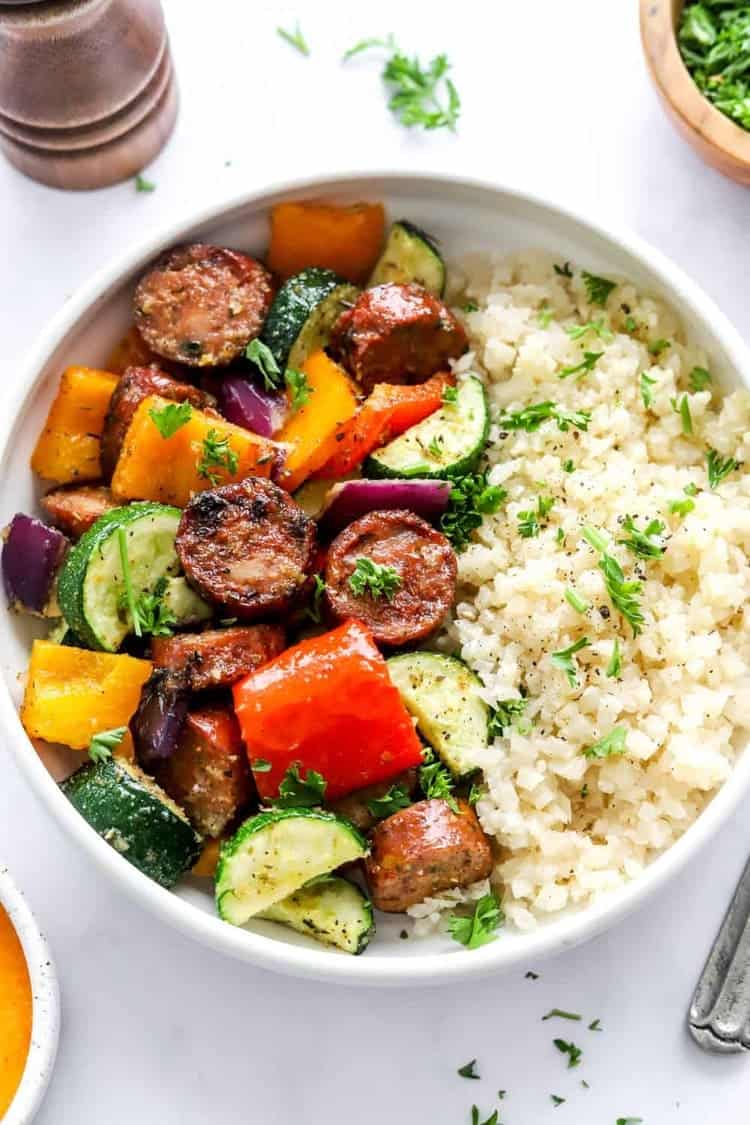 Revolutionize your dinner routine with a healthy 10-minute air fryer chicken sausage and veggies crisped to perfection. Yummy!
38. Smoked Sausage Cajun Alfredo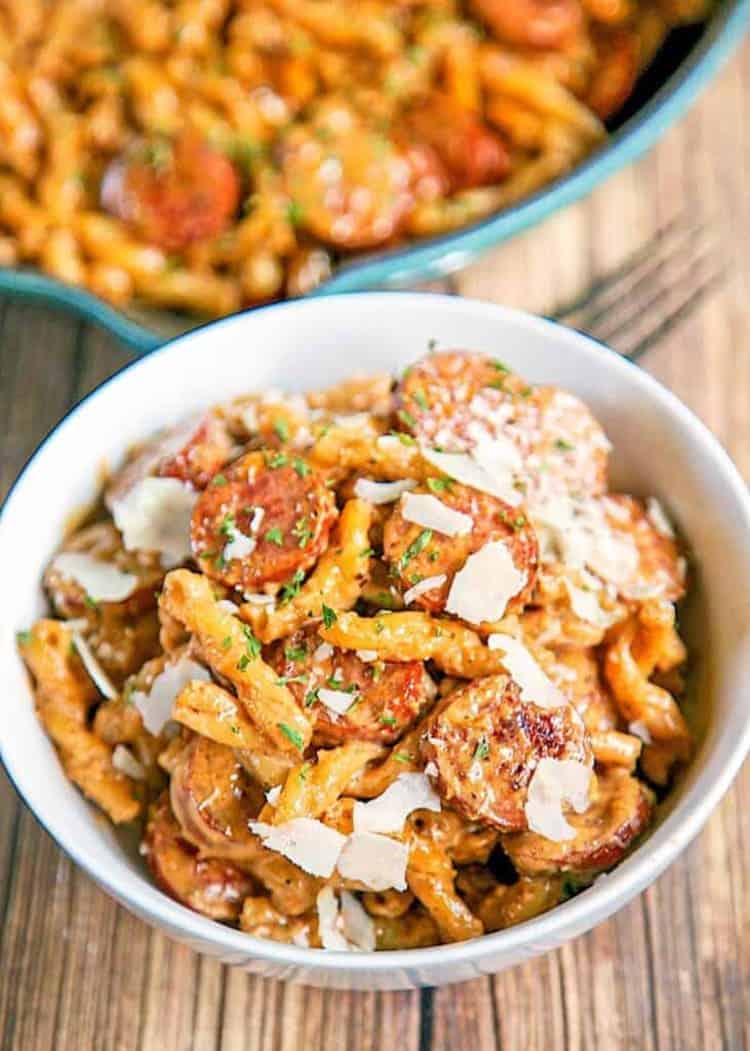 You know what you're eating for dinner? Tender smoked sausage slices bathed in a luscious Alfredo sauce, skillfully seasoned with zesty Cajun spices. You're going to love this recipe!
39. Easy & Quick, Hot & Spicy Chilli Sausage Recipe
Easy and quick with a fiery kick – you'll want to save this idea for later because this recipe for Hot and spicy chili sausage is SO good!
40. Sausage Dinner Recipes: 20-Minute Skillet Sausage and Zucchini
Short on time but craving a delicious and nutritious meal? Then, check out this healthy Skillet sausage and zucchini – a wonderful 20-minute recipe.
Healthy Dinner Recipes
41. Vegan Sausage and Peppers Sandwich
A plant-based delight that combines the savory goodness of vegan sausage with the vibrant sweetness of peppers, this Vegan sausage and peppers sandwich is one of my favorite go-to's on a busy night.
42. Healthy 20-Minute Sheet Pan Sausage and Veggies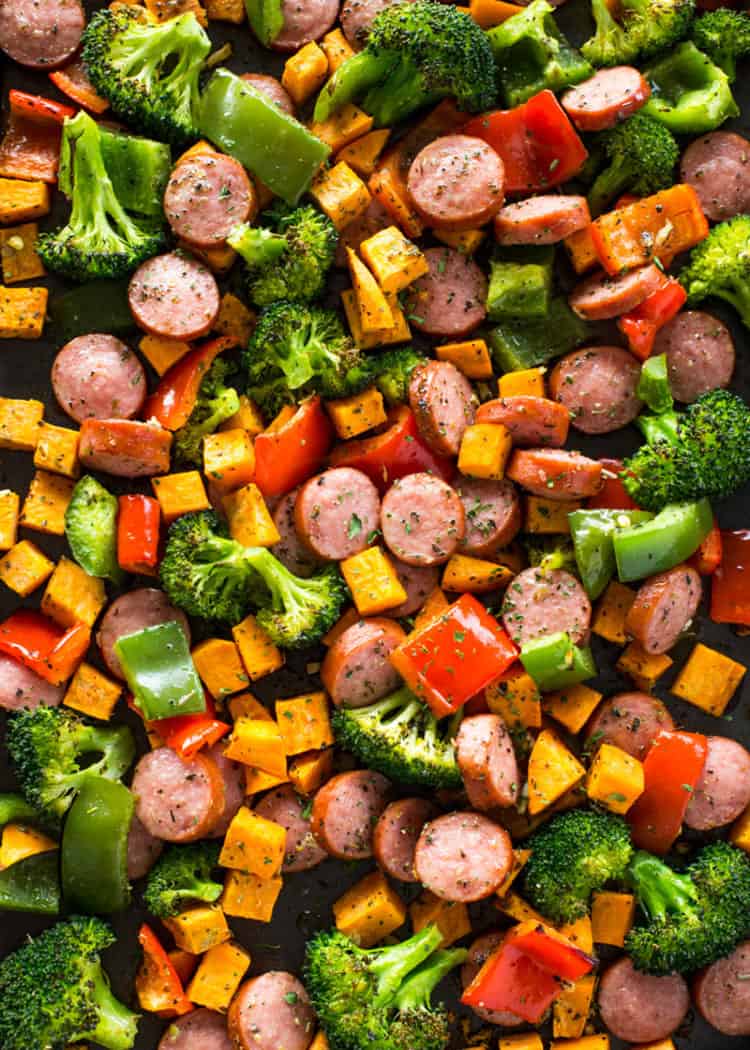 Say goodbye to dinner stress and hello to this healthy 20-minute sheet pan sausage and veggies. This recipe is among my favorite go-to's on hectic school and work days when you crave a wholesome meal without the lengthy meal prep.
43. Sausage Dinner Recipes: Loaded Italian Sausages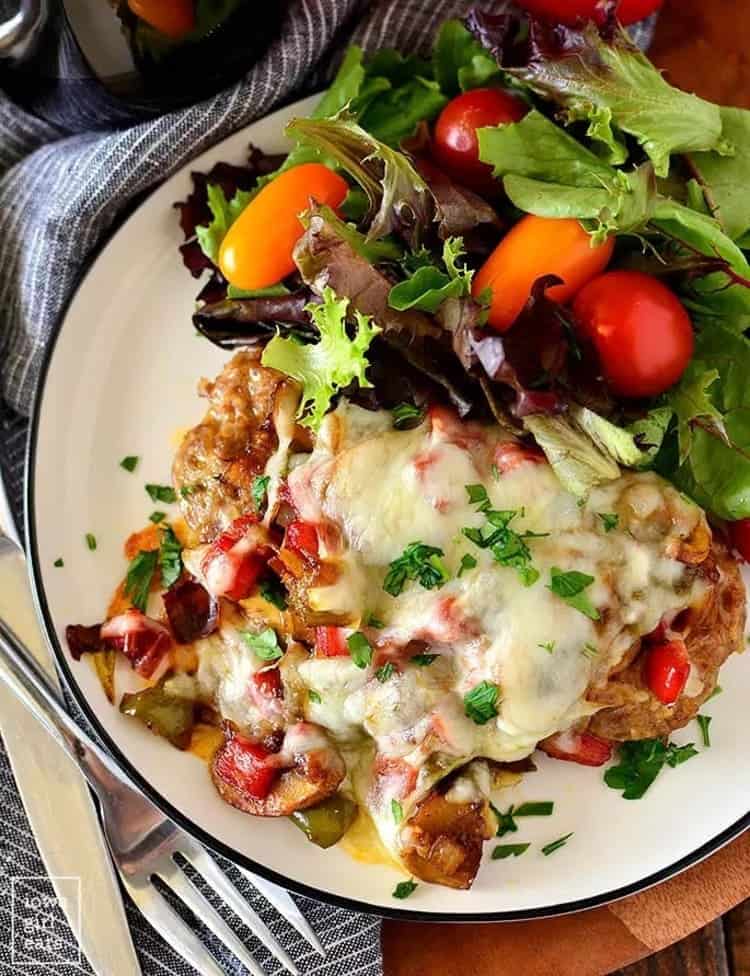 Get ready for a Mediterranean flavor explosion with these Loaded Italian sausages. This recipe is a culinary masterpiece that celebrates the bold and hearty flavors of Italy.
44. Low-carb and Whole30 Italian Sausage Peppers and Onions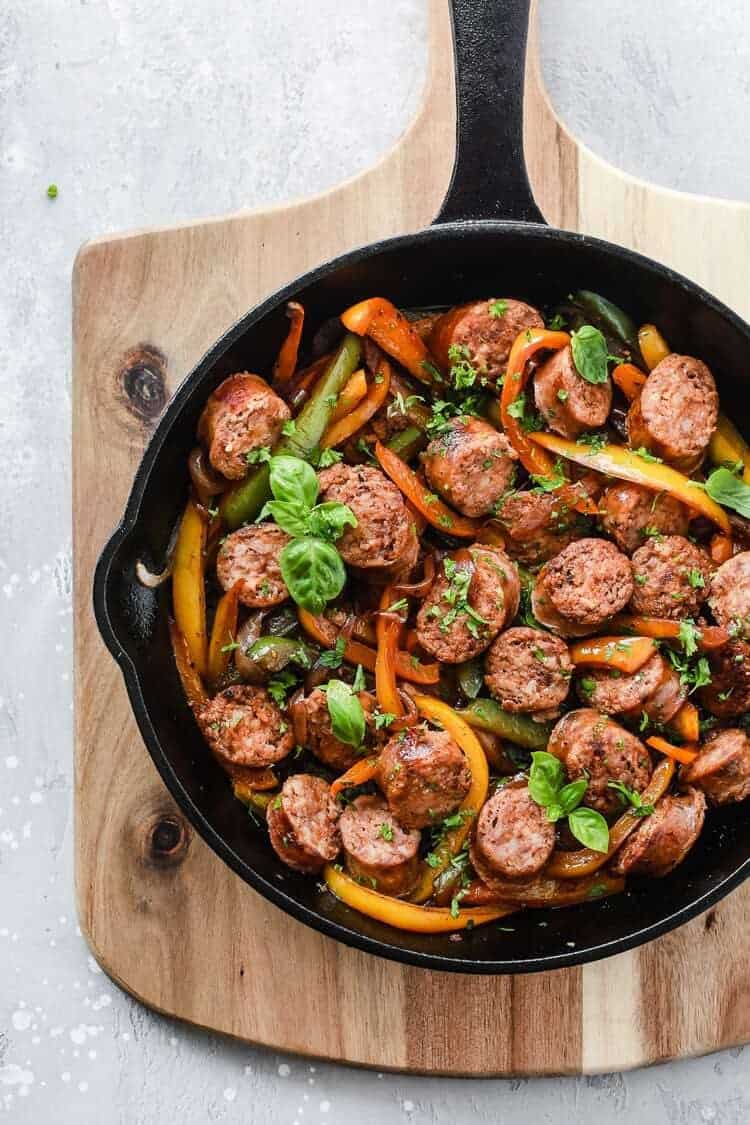 We all want to prioritize health without losing the taste, don't we? Then you really need to try this low-carb and Whole30 Italian sausage peppers and onions recipe! I'd love to hear what you think about it in the comments below, too!
45. Healthy Creamy Chicken Sausage Skillet
Enjoy a guilt-free and creamy delight with this healthy creamy chicken sausage skillet recipe.
46. Sausage Dinner Recipes: Chicken Sausage Stir-Fry with Vegetables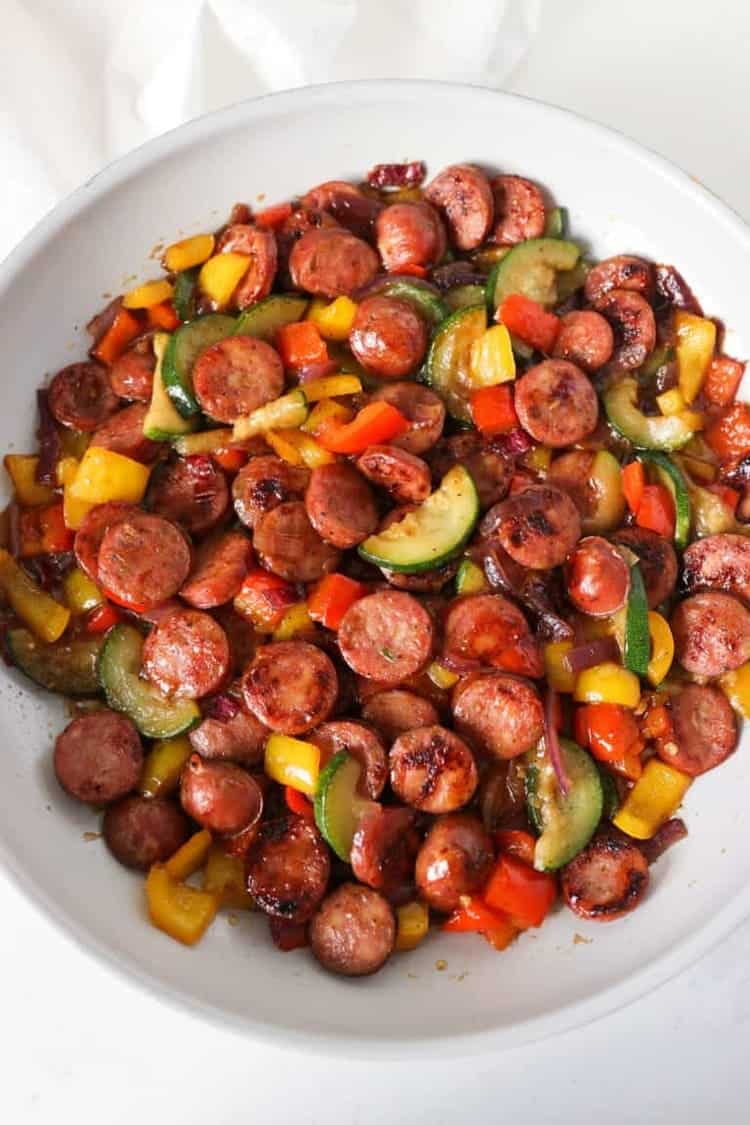 This Chicken sausage stir-fry with vegetable recipe is about the perfect union of savory chicken sausages and a variety of crisp, delicious vegetables. And it's good for the waistline, too!
47. Creamy Butternut Squash Gnocchi with Sausage, Thyme, and Sage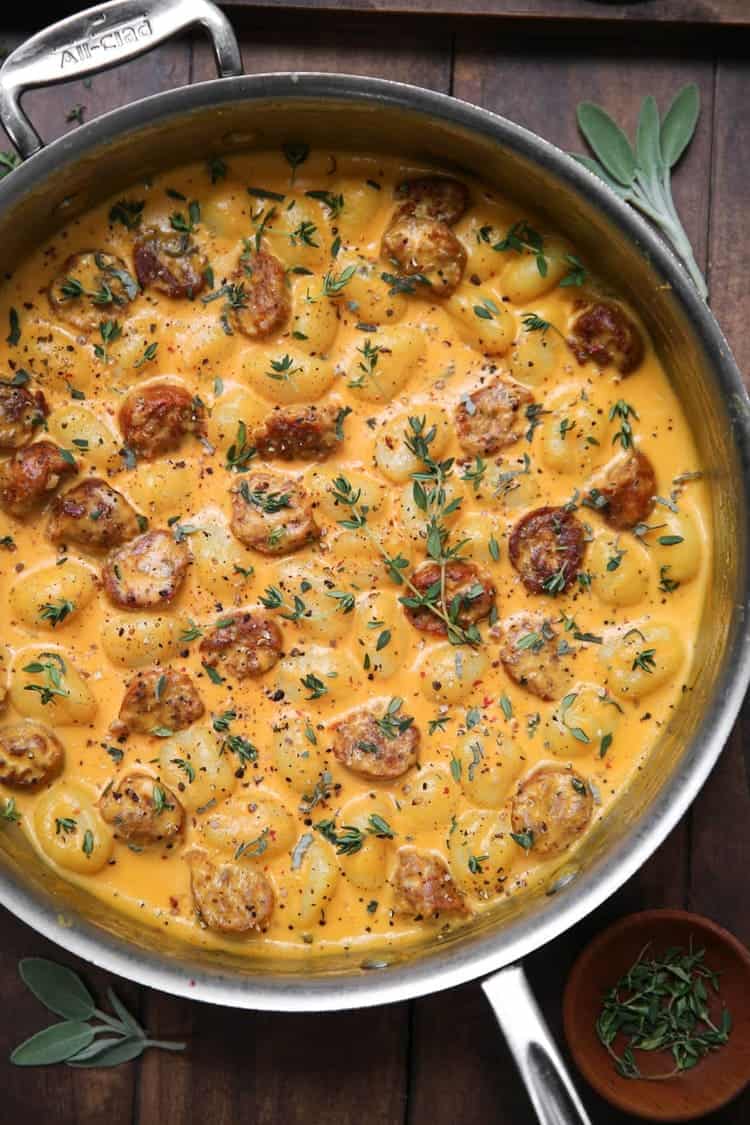 Bored of the same old dinner routine? Spice things up with something healthy and tasty, just like this creamy butternut squash gnocchi with sausage, thyme, and sage.
48. Smoked Sausage with Potatoes and Green Beans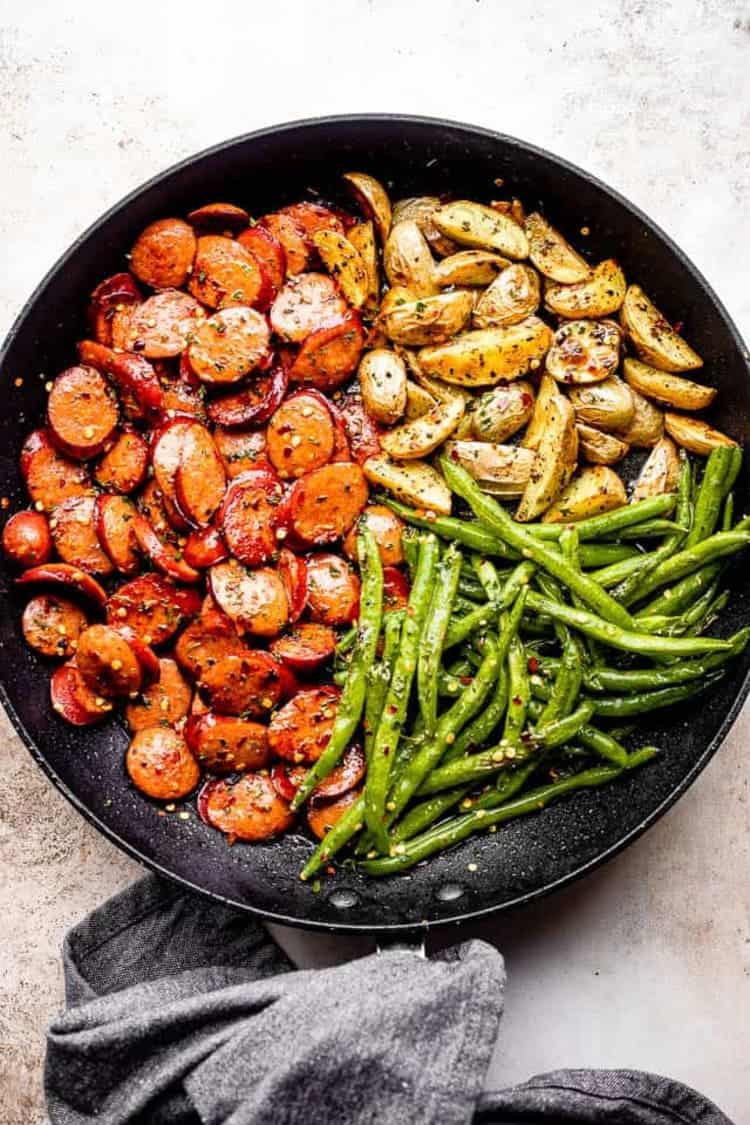 Craving an effortlessly awesome meal? Rev up your taste buds with a plate of pure satisfaction: Smoked sausage with potatoes and green beans.
49. Gluten-Free, Dairy-Free Cajun Sausage and Rice Skillet (One Pan Dinner!)
Delicious sausages, a medley of fiery Cajun spices, and fluffy rice – all come together in a sizzling one-pan wonder with this fabulous recipe.
50. Vegan Sheet Pan Sausage and Peppers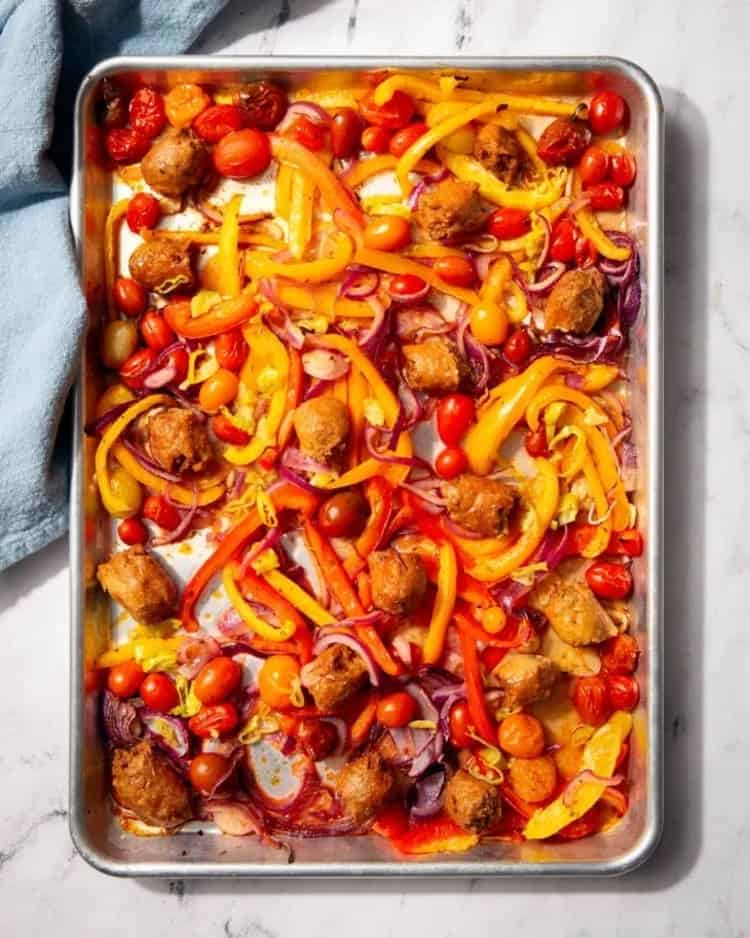 Let's turn up the flavor and feel-good vibes with our Vegan sheet pan sausage and peppers.
Sausage Dinner Recipes FAQs
What goes with sausages for dinner?
Feel free to mix and match veggies and side dishes to suit your taste, so get creative and enjoy the culinary adventure!
Pasta lovers can enjoy sausages with a flavorful tomato sauce or tossed in a creamy Alfredo pasta. Don't forget about the classic hot dog bun for a simple and satisfying sausage sandwich.
Here are some more suggestions:
Sauteed bell pepper and red onion
Mac & Cheese
Black, Green, or White beans
Coleslaw
Potato salad, puree, chips, or wedges
Leafy greens, like:

Kale
Spinach
Green salad
Arugula

Grilled vegetables, including:

Mushrooms
Tomatoes
Red, Green, and Bell peppers
Broccoli
Zucchini
Acorn squash
Parsnips
Carrots
Sweet potato
Corn

Apple sauce
Pasta
Rice
There's no one-size-fits-all solution for sausage sides but you can combine your favorite flavors and craft a tasty experiment for dinner.
What's the best thing to cook sausages in?
Cooking sausages to perfection is a matter of personal preference and the type of dish you're planning to create. Here are some popular methods:
Grilling
Grilling sausages on a barbecue gives them a delightful smoky flavor and those appealing grill marks. It's perfect for summer cookouts and lends a nice, crispy texture.
Baking
Baking sausages in the oven is a convenient and hassle-free option. The even heat ensures consistent cooking, and it's great for larger batches.
Sautéing
A hot skillet is ideal for achieving a beautiful sear on sausages, enhancing their flavor and texture. Plus, it's a quicker cooking method.
Simmering
Simmering is perfect if you're cooking a sausage soup or a stew. You also don't need to stand around the pot at all times, which makes it a perfect option for weeknight dinners.
Feel free to experiment with different methods until you find more delicious ways to enjoy a sausage for dinner!
Can you cook sausage in the oven?
Absolutely! You can cook sausage in the oven! It's actually one of my favorite convenient and hands-off methods that ensures even cooking and a tasty result every time.
Baking allows even cooking and a crispy outside for your sausages. Oven cooking is also perfect for preparing a large batch of sausages or if you want to free up stovetop space for other dishes. In the sausage dinner recipes listed above in this post, you can find quite a few ideas about baking dinner in the oven.
How to cook dinner sausage?
Cooking the perfect sausage dinner recipes is a culinary adventure with endless possibilities. You can:
They all work with any variety of sausage, and they will always taste great!
Here's a quick guide to follow to cook the perfect sausage dinner recipe:
1. Choose Your Sausage
What's your favorite sausage variety?
Italian
Chorizo
Andouille sausage
Spicy sausage
Kielbasa
Pork sausage
Beef sausage
Turkey sausage
2. Preheat
Whether you're cooking sausages in the oven, on a skillet, or in a pan, you'll need to preheat it first.
3. Prepare The Sausages
Depending on the recipe you're going with, you might brush the sausages with a bit of oil or marinade to improve the flavor, or you might want to break them and work with the ground beef.
3. Choose a Cooking Method
Follow the recipe you chose (I have 50 mouthwatering sausage dinner recipes above in this post), or choose a cooking method according to your personal taste.
4. Cook
The sausages are going to take different times to cook, depending on their type and the method you choose. Typically, oven cooking takes about 25-30 minutes, while grilling and skillet cooking are quicker.
5. Check for Doneness
Make sure your sausages reach an internal temperature of 160°F (71°C) for safe consumption. They should be nicely browned and cooked through.
6. Serve with Flair
Once your sausages are cooked to perfection, serve them with your favorite sides, sauces, or condiments, and enjoy your every bite!
With 50 sausage dinner recipes at your disposal, your culinary adventures are about to reach new heights. From zesty Cajun creations to hearty one-pot wonders, this roundup is your secret weapon against dinner monotony. Get ready to transform your kitchen into a culinary playground and satisfy your family's cravings with these delicious sausage dinner recipes!
Did you like these delicious sausage dinner recipes? Then, you're going to love these other blog posts, too: