Looking for quick and easy-to-cook mouthwatering recipes for busy nights? Look no further because these delicious slow cooker chicken shredded recipes are exactly what you need. No need to spend hours on meal prep and no fancy ingredients.
This post contains affiliate links.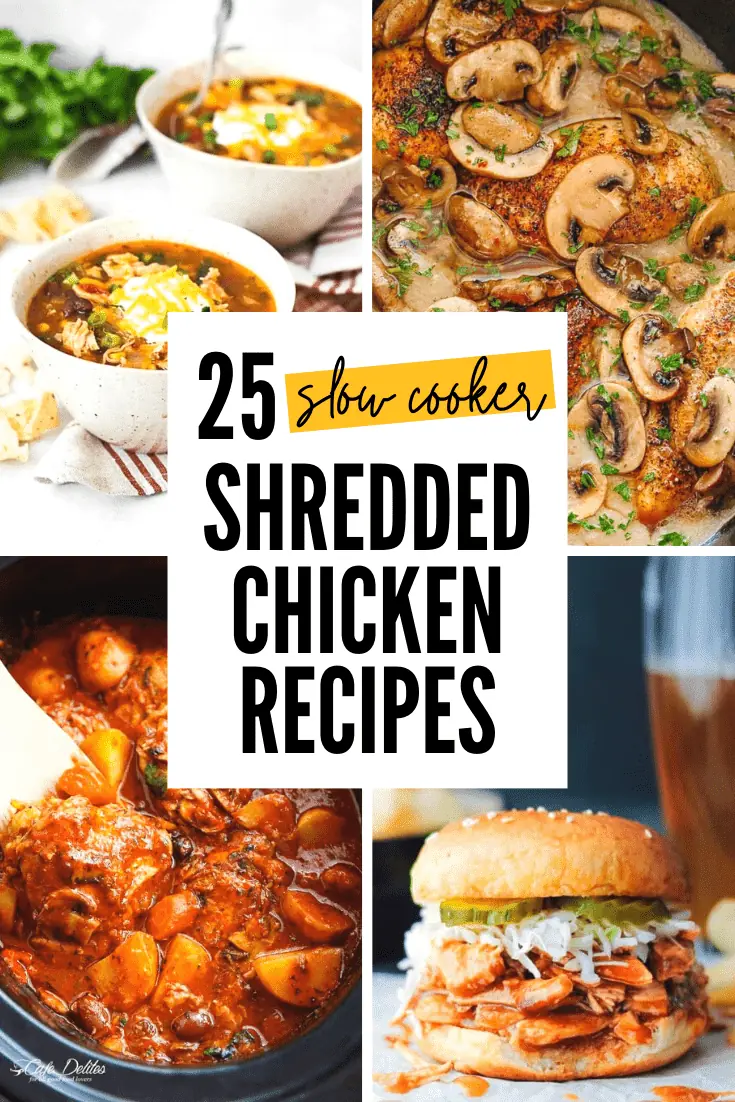 If you think that your slow cooker is one of the best things in your kitchen, you need to save this post for later because the recipes in it are SO GOOD!
The list of slow cooker chicken shredded recipes includes:
Chicken stews
Burritos
Soups
Tacos
And more!
I've also added some helpful info all about the health benefits of chicken, cooking times, the easiest way to shred it, and how long it lasts below.
Excited? Me too!
Best Everyday Slow Cooker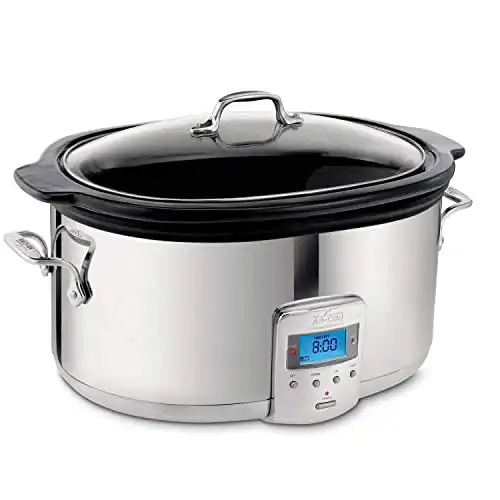 Slow Cooker Chicken Shredded Recipes Your Whole Family Is Going To Love
1. Creamy Crock Pot Chicken Marsala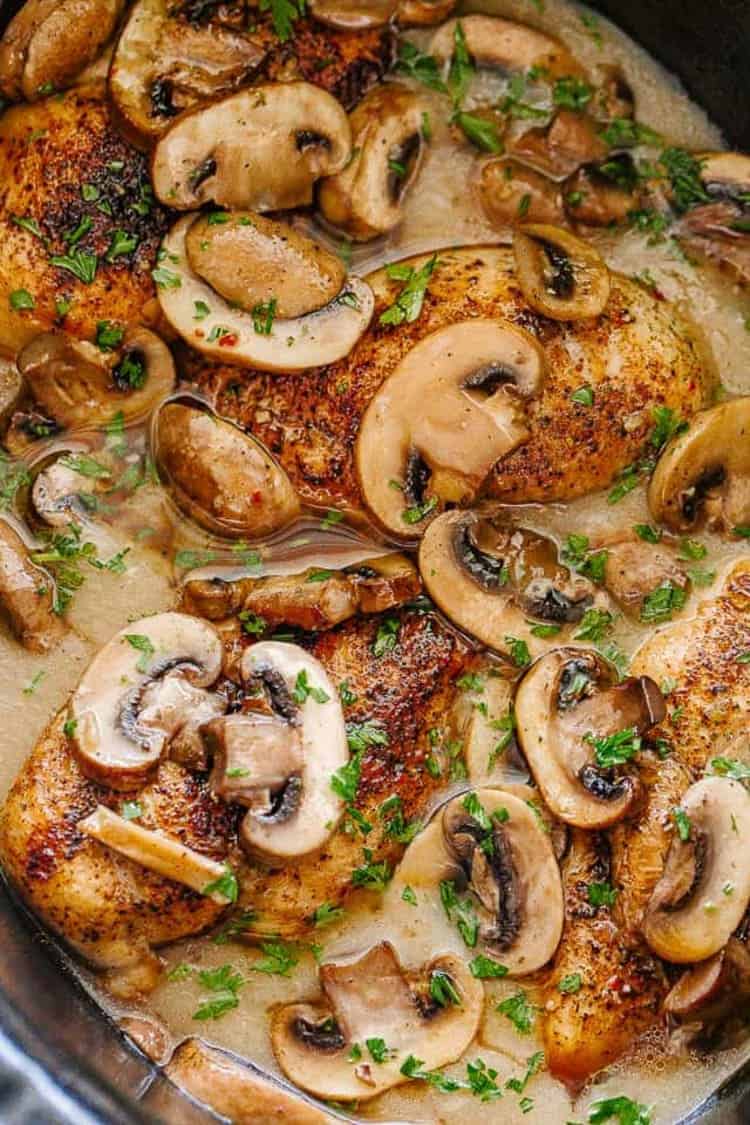 Sometimes chicken gets a bad rap, but don't worry, shredded chicken doesn't have to be bland or boring.
You can even make your favorite comfort foods like this yummy chicken marsala recipe in the slow cooker.
2. Slow Cooker Shredded Chicken Sandwiches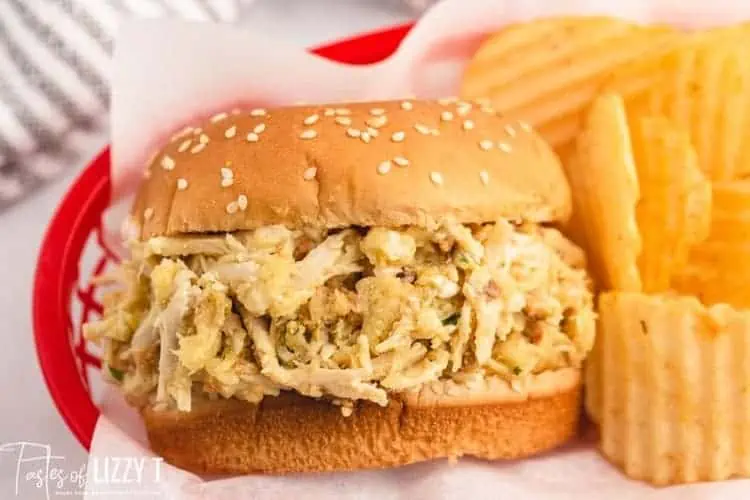 The slow cooker shredded chicken sandwiches are purely a blessing for your taste buds. The best part about it is that everyone can make this sandwich their own!
Whether you want a plain mayo shredded chicken sandwich or add a touch of creamy pesto combined with avocado, this recipe is definitely a must-try!
By the way, it goes very well with broccoli salad, too.
3. Shredded Buffalo Chicken In Slow Cooker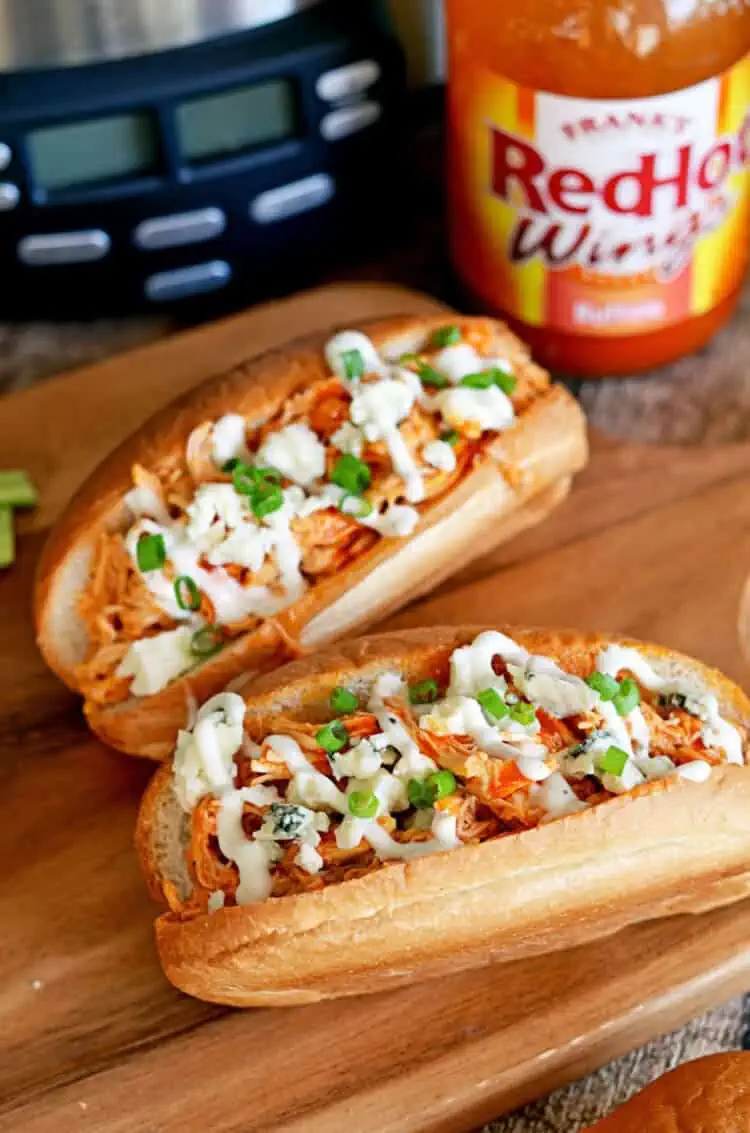 Buffalo shredded chicken is often a go-to in our house for busy work nights. Chicken, buffalo sauce, spices, and butter. You can never go wrong with that combination. Never.
4. Crock Pot BBQ Chicken Shredded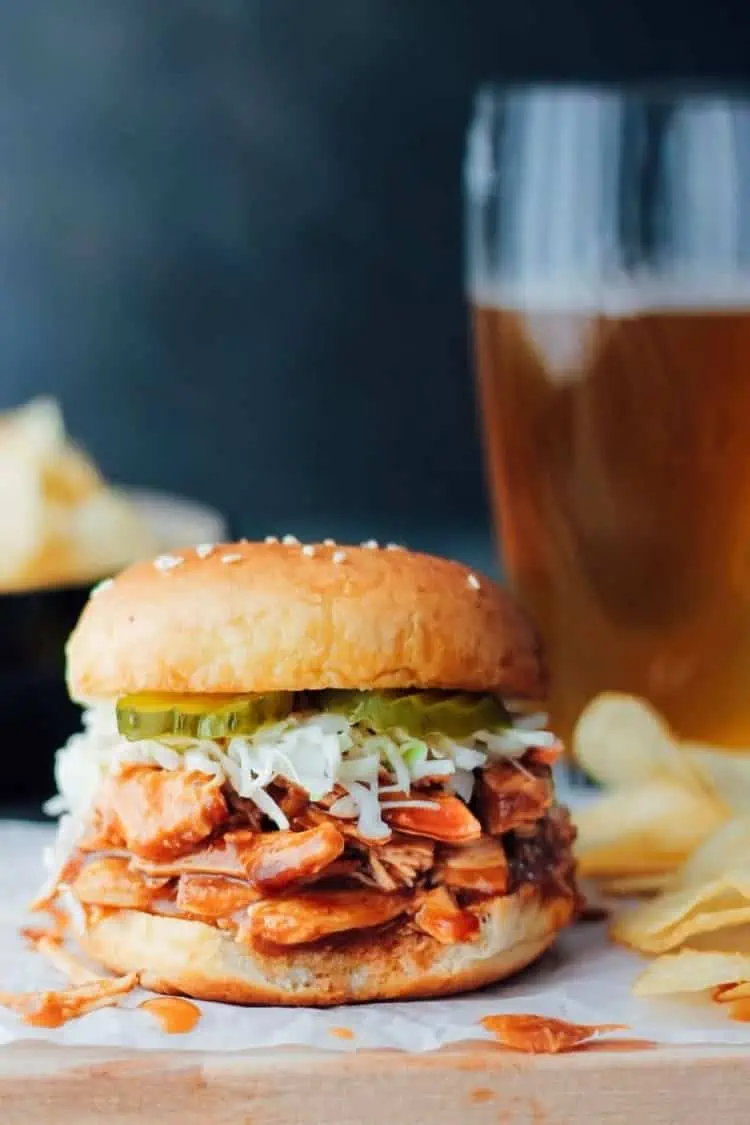 The crock pot BBQ chicken is a spicy and mouthwatering meal you can just dump in your slow cooker and have ready, waiting for you for dinner.
5. Buffalo Chicken Sweet Potatoes In The Slow Cooker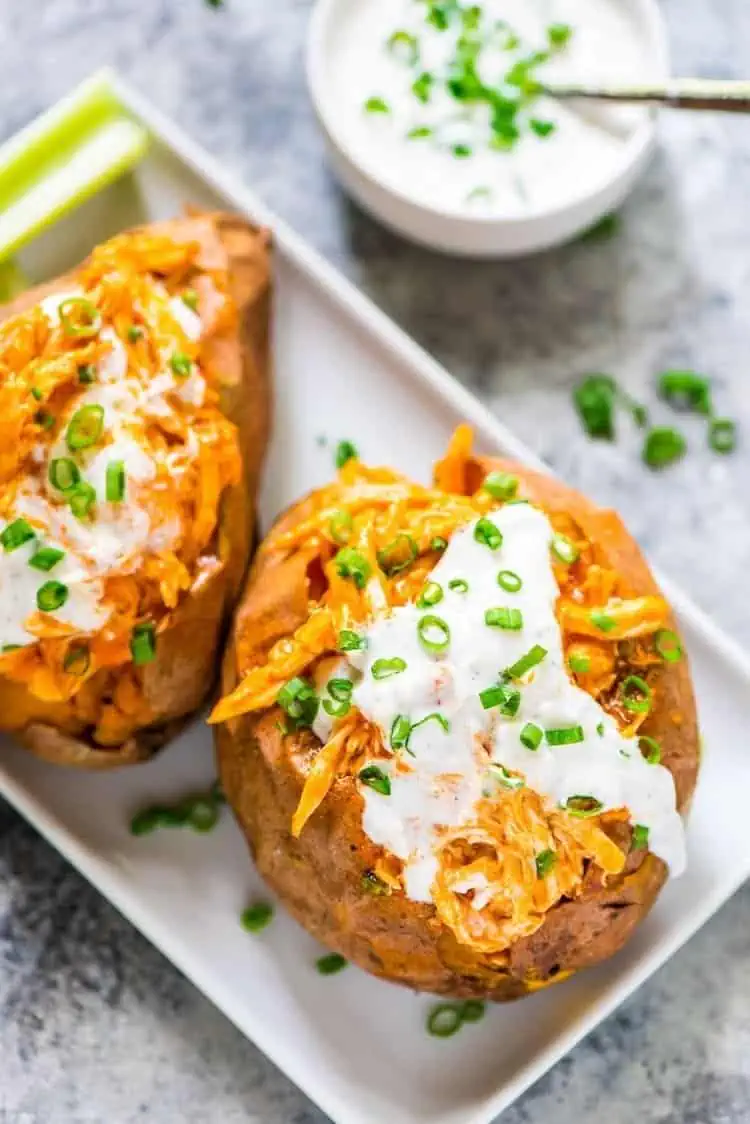 Sweet potatoes and chicken are among my favorite cooking combinations. The reason behind that is not only that it's so tasty, but because it's so easy to cook.
This recipe could be easily prepared in the Instant pot, too. This is a great option if you're in a hurry. Cook the stuffing in the Instant pot and bake the potatoes in the oven.
6. Slow Cooker Chicken Tacos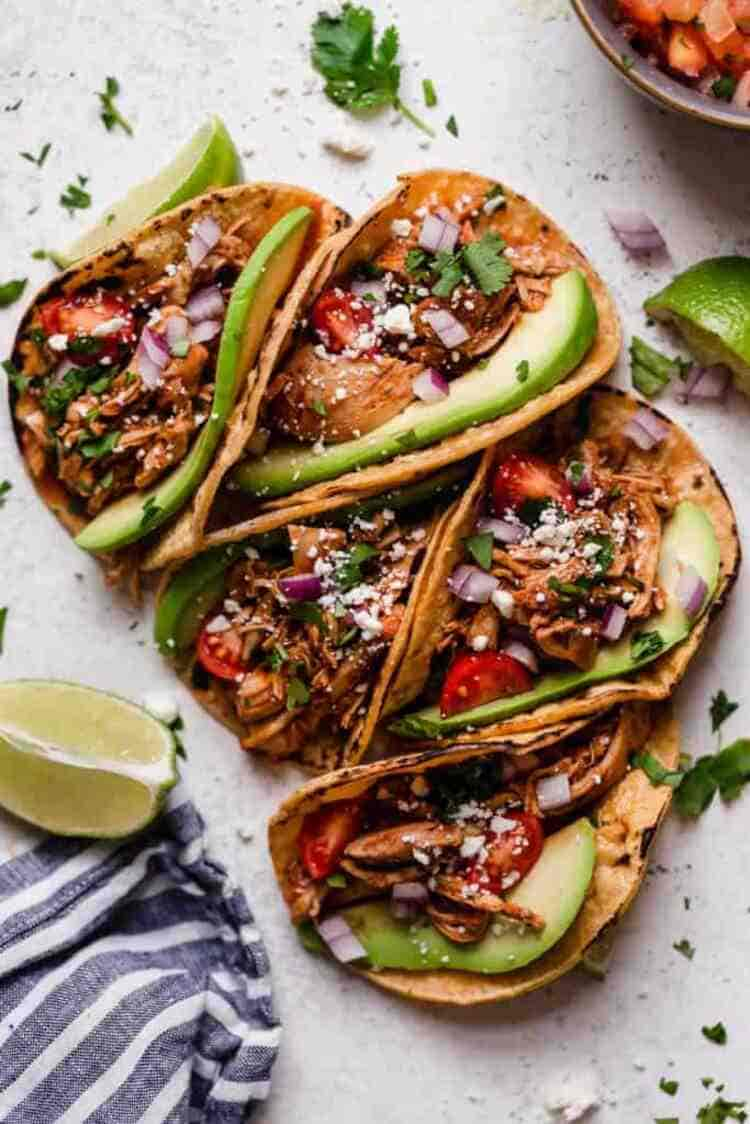 After taking out your boiled chicken from the slow cooker and shredding it, the best thing you can do to have a chicken taco so tasty, you'd lick your fingers!
Tell me I am not the only one who just can't resist the magic of taco seasoning put on chicken.
These delightful slow cooker chicken shredded tacos could be easily cooked in an Instant pot, too. This means you can still make this recipe, even if you forgot to turn on your slow cooker (guilty!).
7. Chicken Pot Pie Crescent Ring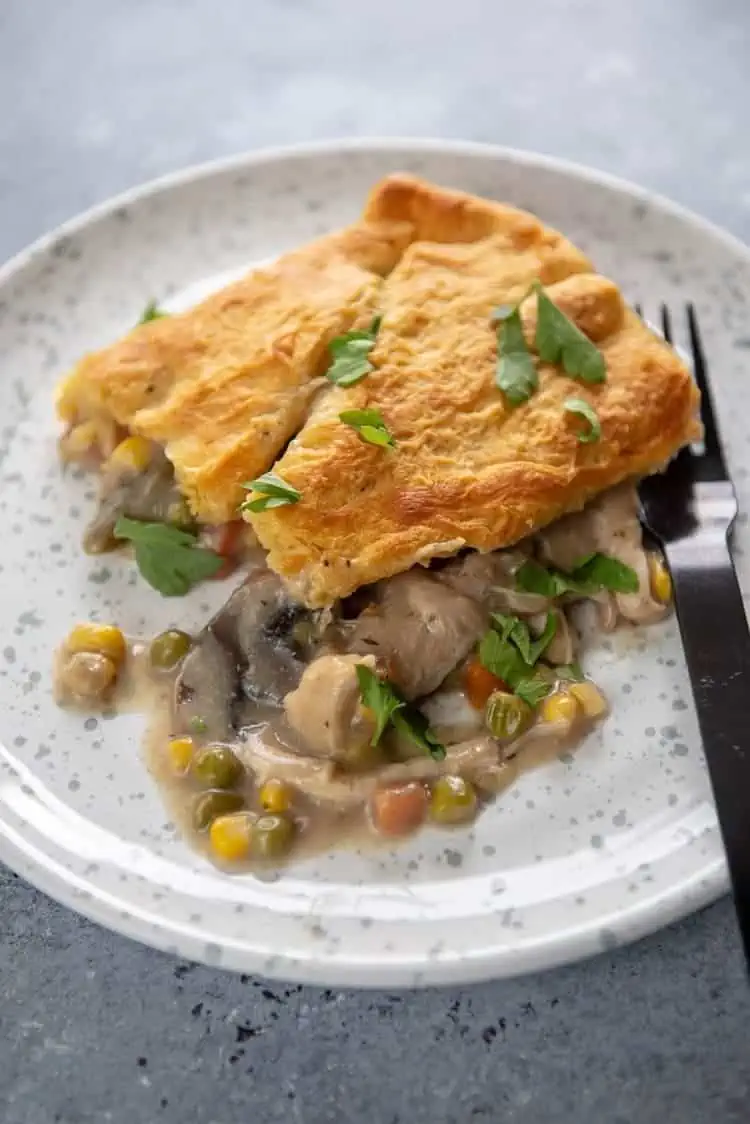 While thinking about what I could cook for dinner the other day, it hit me! I've been craving chicken pot pie crescent rings! Try it out, and you'll be craving it, too.
What do you need?
1 ½ pounds boneless skinless chicken thighs
16 oz frozen mixed veggies
8 oz mushrooms fresh or frozen, sliced
2 teaspoons herb and garlic seasoning
2 cups chicken broth
¼ cup heavy cream
cornstarch slurry (2 tablespoons corn starch whisked with 2 tablespoons water)
8 oz crescent roll dough refrigerated
The recipe cooks on:
High pressure for 3-4 hours or
Low pressure for 6-8 hours.
8. Pesto Slow Cooker Chicken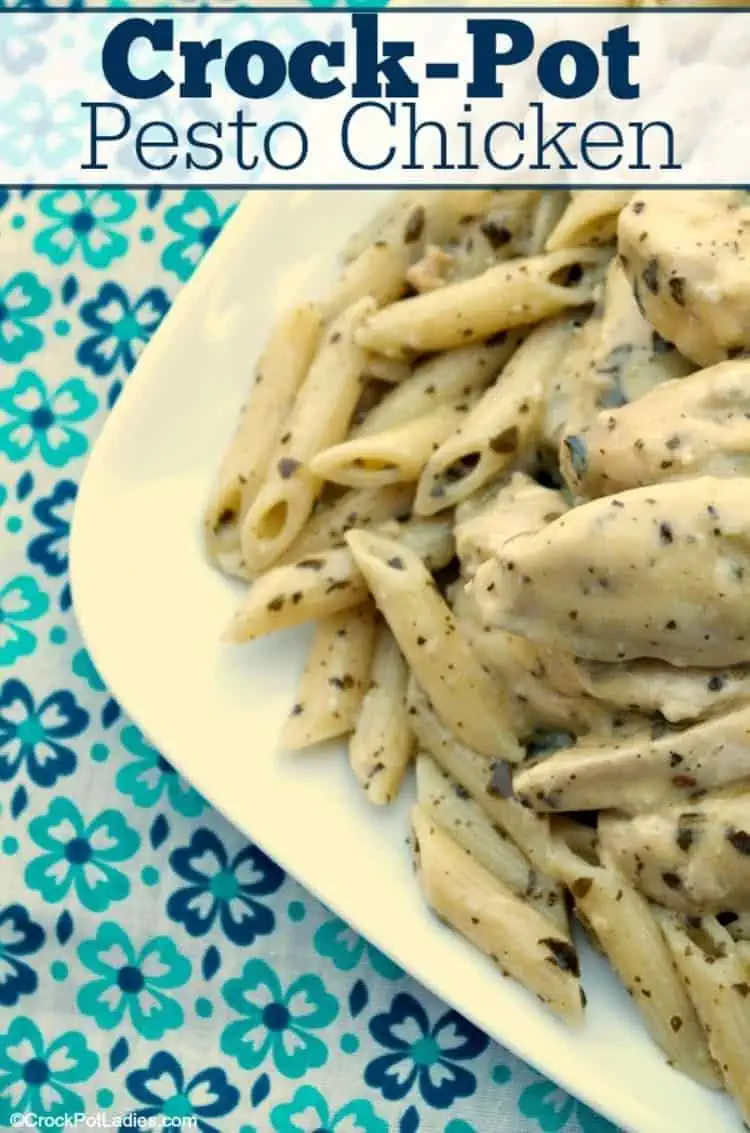 If your family answered the most difficult question for every woman (What would you like for dinner?) with their favorite "I don't know", I've got your back!
How about you cook this easy and tasty/delicious slow cooker shredded chicken with creamy pesto sauce?
That's right! It tastes as good as it sounds. And all it takes are 4 ingredients you probably already have in your pantry:
Cream of chicken soup
Pesto
Sour cream
Chicken
My family loves it!
9. Salsa Slow Cooker Chicken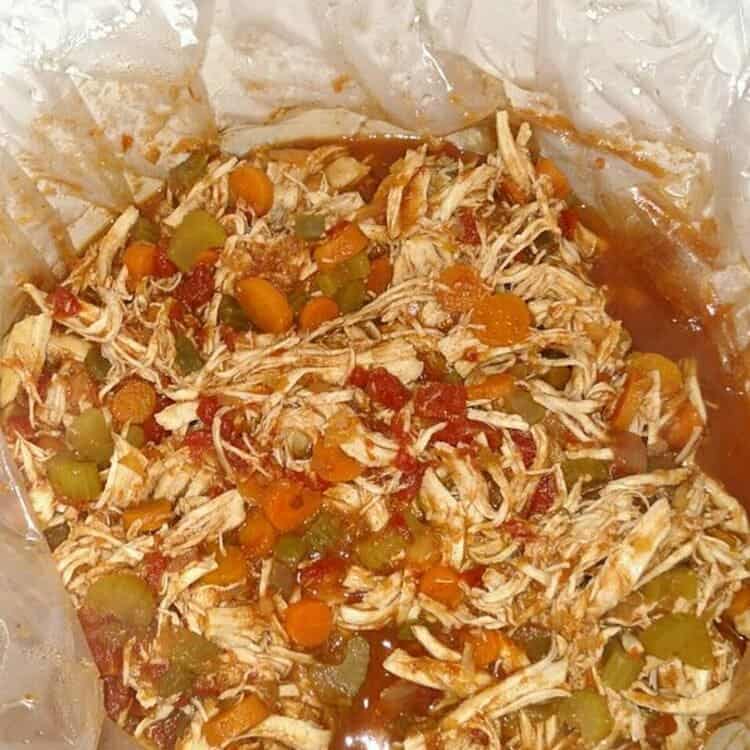 All you have to do is cover the chicken with salsa, add some taco seasoning and cook in the slow cooker for 6 to 8 hours on low pressure. A delicious dish to enjoy with the family.
By the way, you can make your own homemade salsa sauce. It's fairly simple and you can make a batch to store in the freezer, too! Here's a video with instructions:
Best Slow Cooker for Dips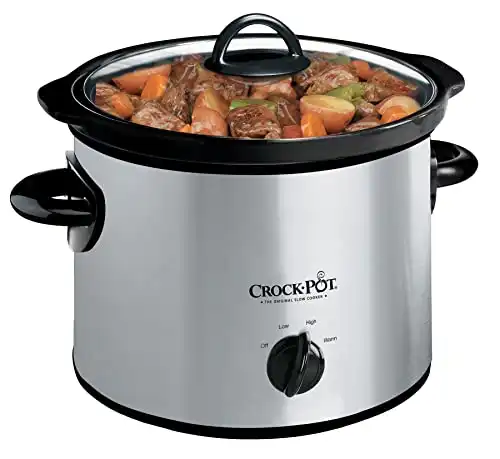 We earn a commission if you make a purchase, at no additional cost to you.
10. Cold Noodles With Shredded Chicken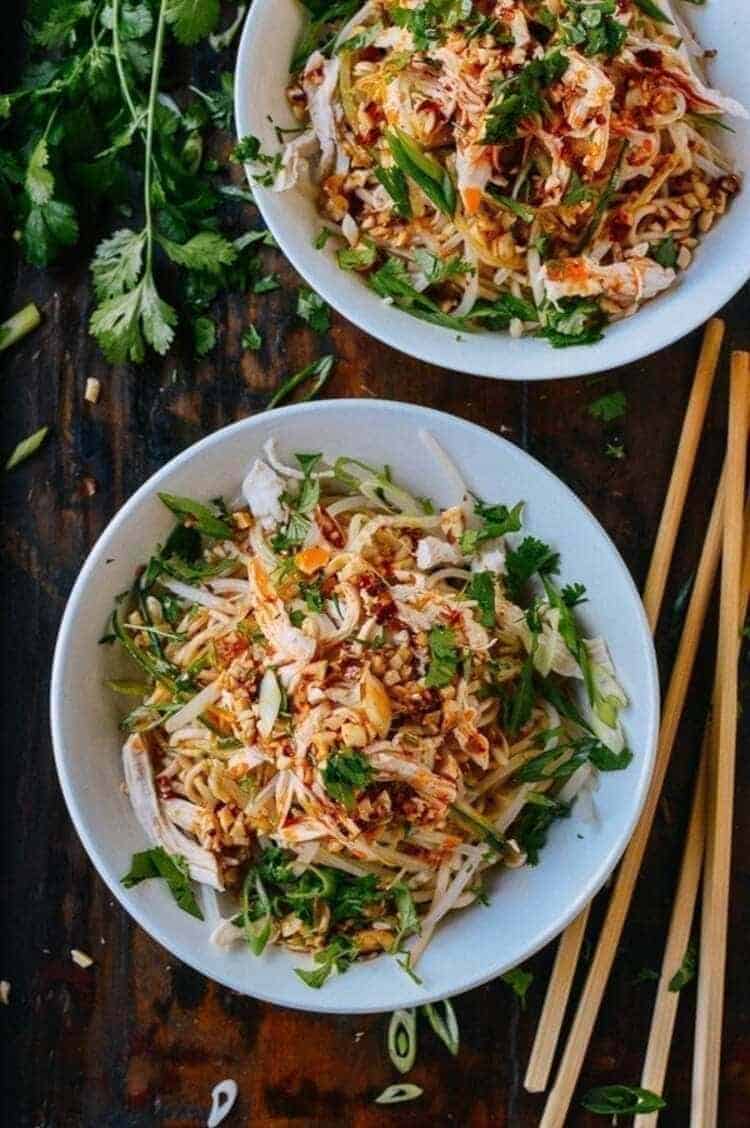 This recipe got me out of my comfort zone at first but it was worth it!
Cold noodles with shredded chicken, is a Szechuan dish that is widely known as wonderful and refreshing street food in China. It's extremely popular during the hot summer months.
Keeping an open mind for the idea of eating cold noodles is essential here. I promise that you're going to add it to your monthly meal rotation. 
11. Crockpot Chicken Enchilada Soup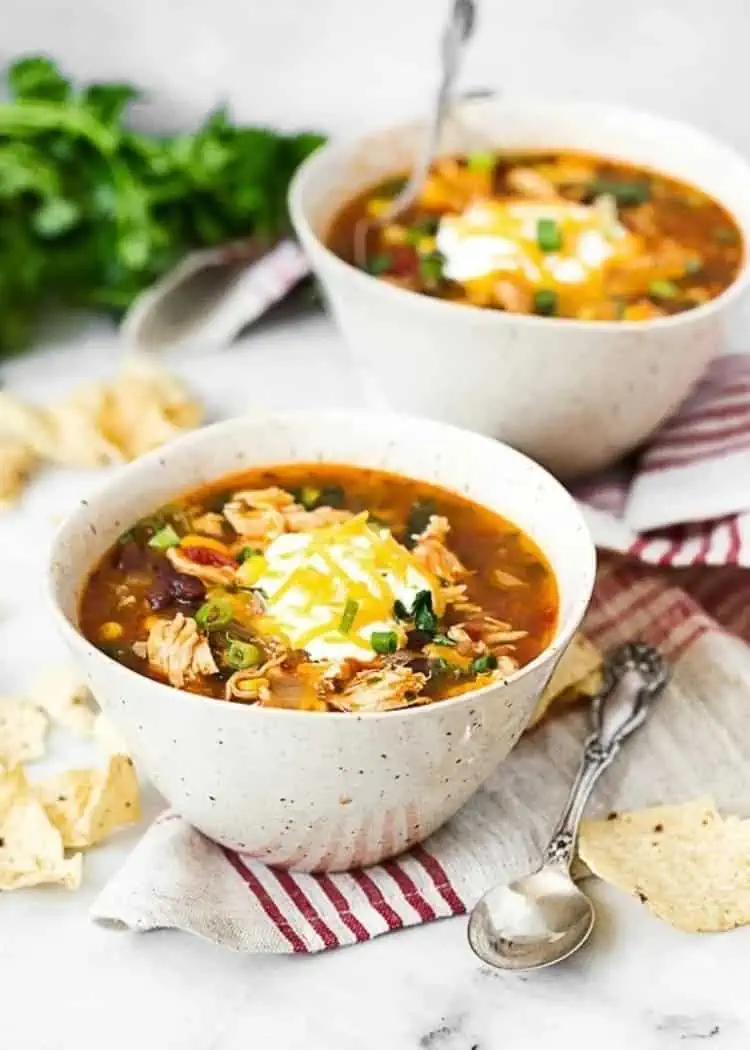 If you're like me, you probably have some shredded chicken in your freezer from the last batch you cooked in your crock pot or Instant Pot.
And if you're looking for ideas about what to cook with your frozen slow cooker chicken shredded, be prepared! Because you're going to love this chicken enchilada soup!
12. Slow Cooker Mexican Shredded Chicken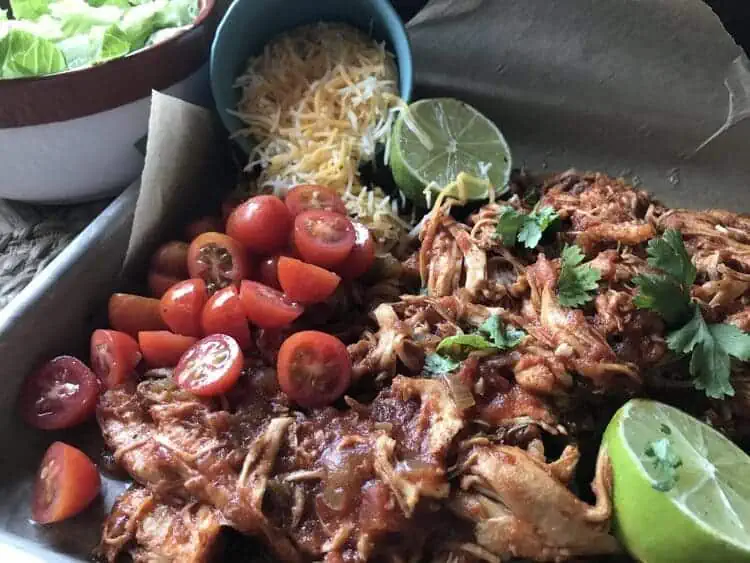 If you're into a bit more spicy food, you should not scroll through this slow cooker Mexican shredded chicken. After the cooking time is up, remove the boneless chicken breasts, shred them, then – put them back. And have the delicious meal served!
I just love the simplicity of cooking in a slow cooker. The chicken is so flavorful every time.
But the part I love the most is that you can just cook a big batch of chicken, shred it, fill up a few freezer bags or airtight containers, and store it for later. I love preparing meals in advance, and I always have something in the freezer to save the day.
So, if you're looking for high-quality freezer storage solutions, here're my favorites:
Reusable freezer bags
Set of airtight containers
Etc.
13. Slow Cooker Chicken Shredded 4 Ways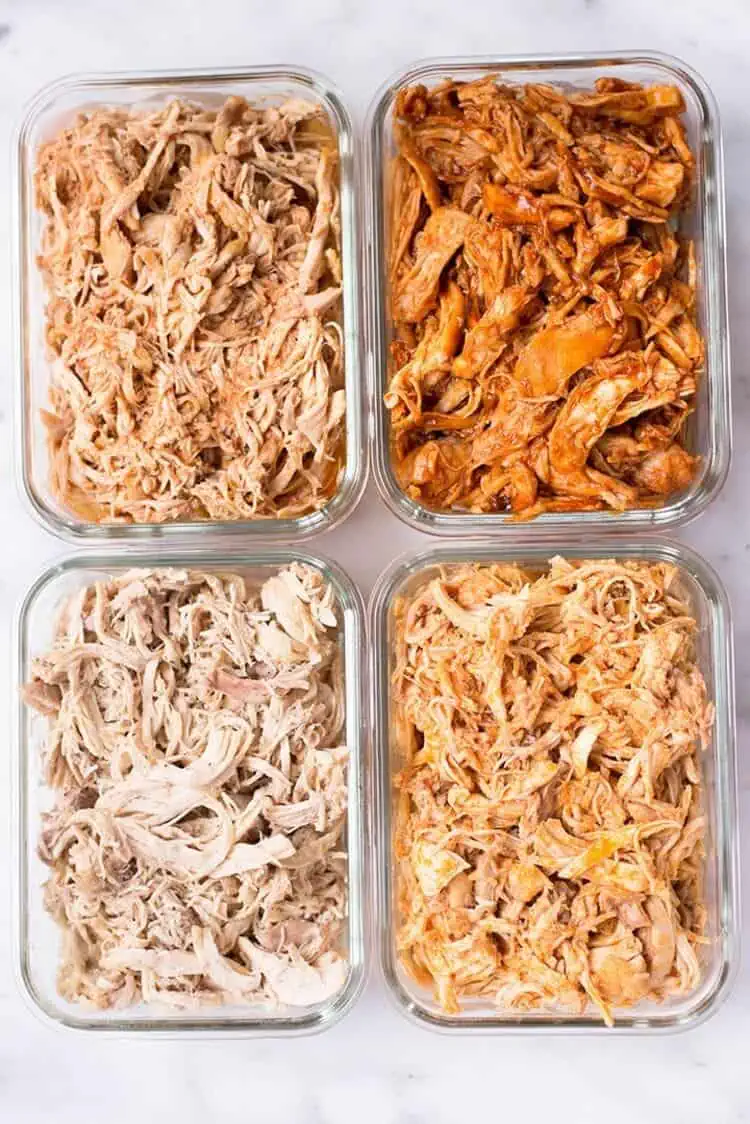 Cooking chicken in the slow cooker is probably my favorite cooking method. Are you curious why? Because the options are unlimited. And I mean it.
Here are just 4 ways to prepare simple but tasty slow cooker chicken shredded recipes.
14. Slow Cooker Shredded Chicken Burrito Bowls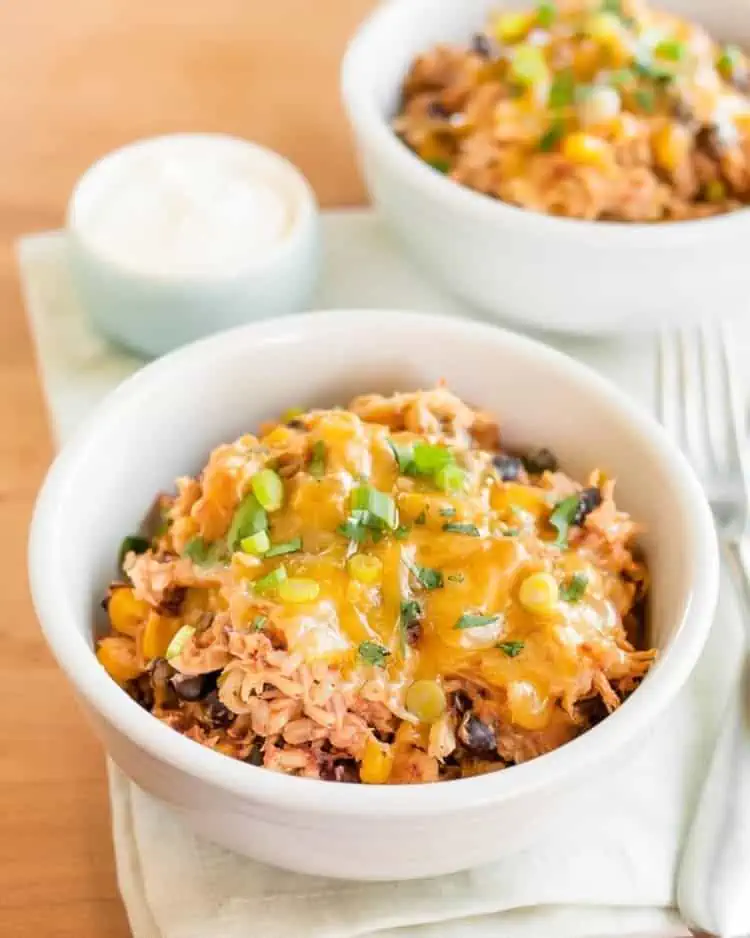 These slow cooker burrito bowls have to be one of the most delightful dishes I've ever cooked! It's also one of the simplest. It doesn't get any easier than this!
15. Easy Slow Cooker Pulled Chicken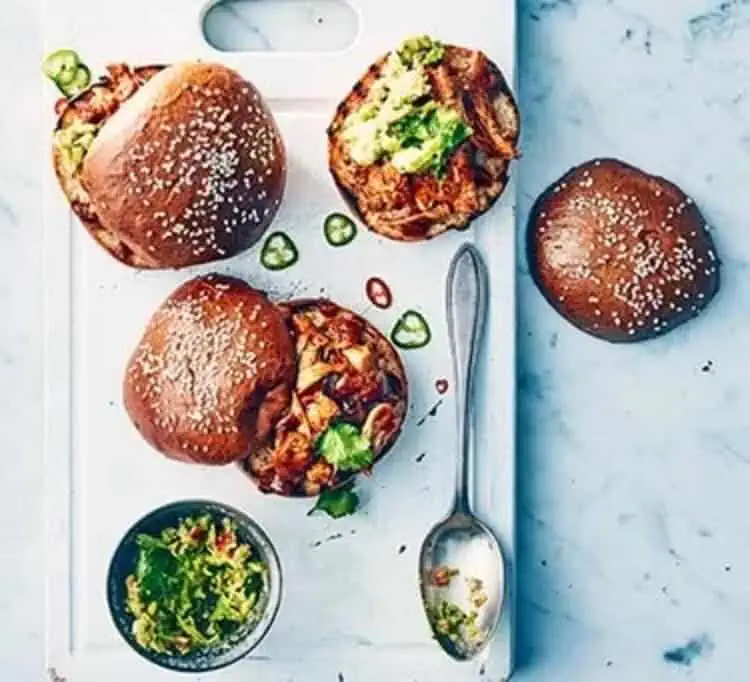 This pulled chicken recipe is very simple. Yet, I'm pretty sure that's the reason it tastes so good! Try serving your slow cooker chicken shredded meat with rice or on a bun. Easy and so good!
16. Slow Cooker Honey Garlic Chicken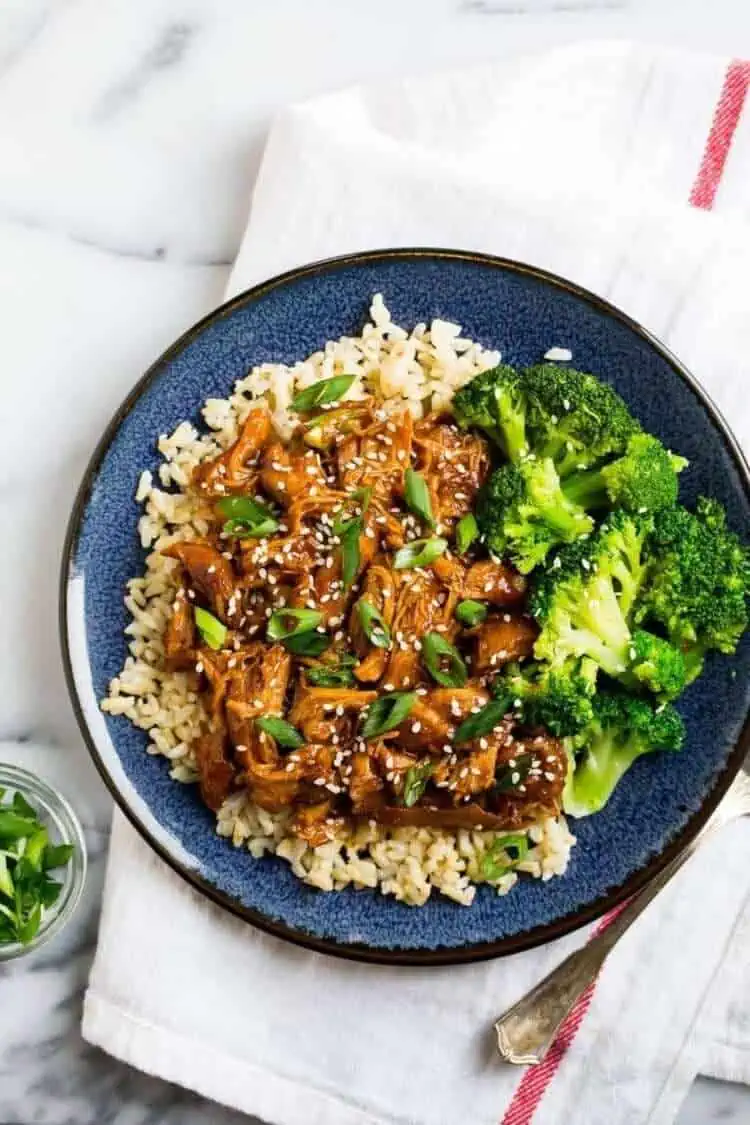 Just hear how delicious this sounds – slow cooker honey garlic chicken.
You just mix the sauce ingredients, pour them over the chicken, and turn your slow cooker. Cook on low pressure for 4-5 hours or on high pressure for 2-3 hours.
17. Slow Cooker Chicken Cacciatore With Potatoes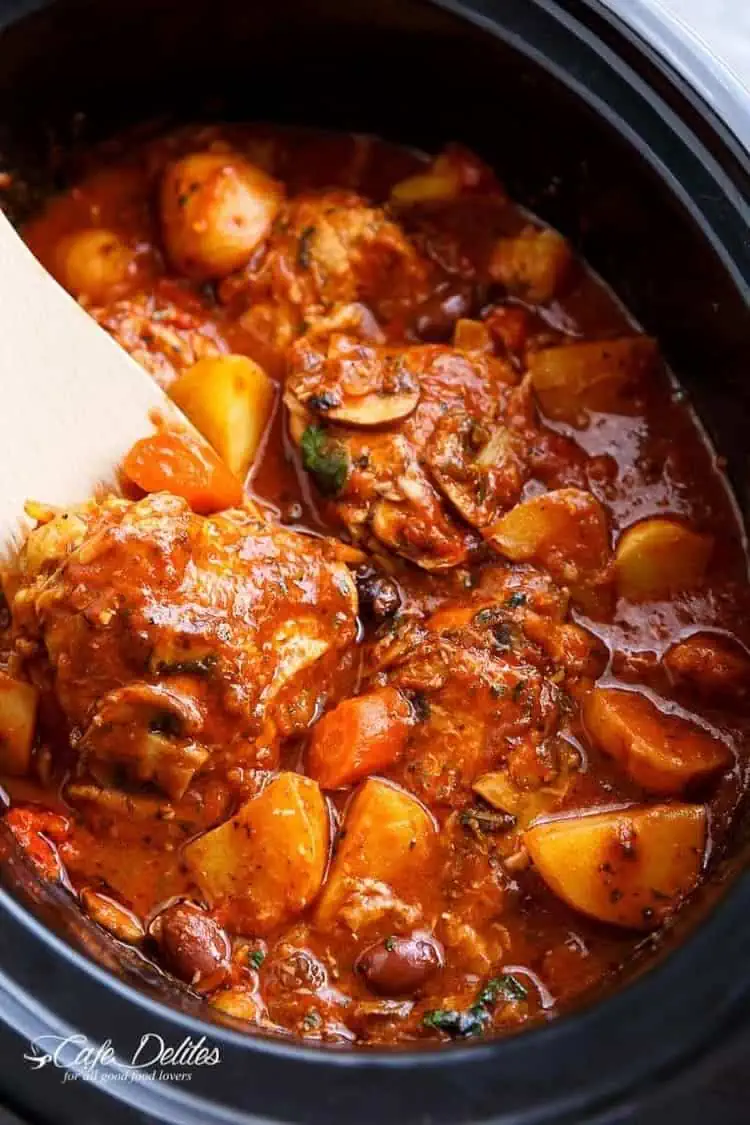 This Italian chicken dish is SO GOOD!
Did you know that "Cacciatore" translates to "hunter" in English and "Alla cacciatora" means "hunter-style" dinner or stew? Full of veggies and herbs, this crock-pot chicken recipe will quickly become a family favorite.
18. Crockpot Chicken And Gravy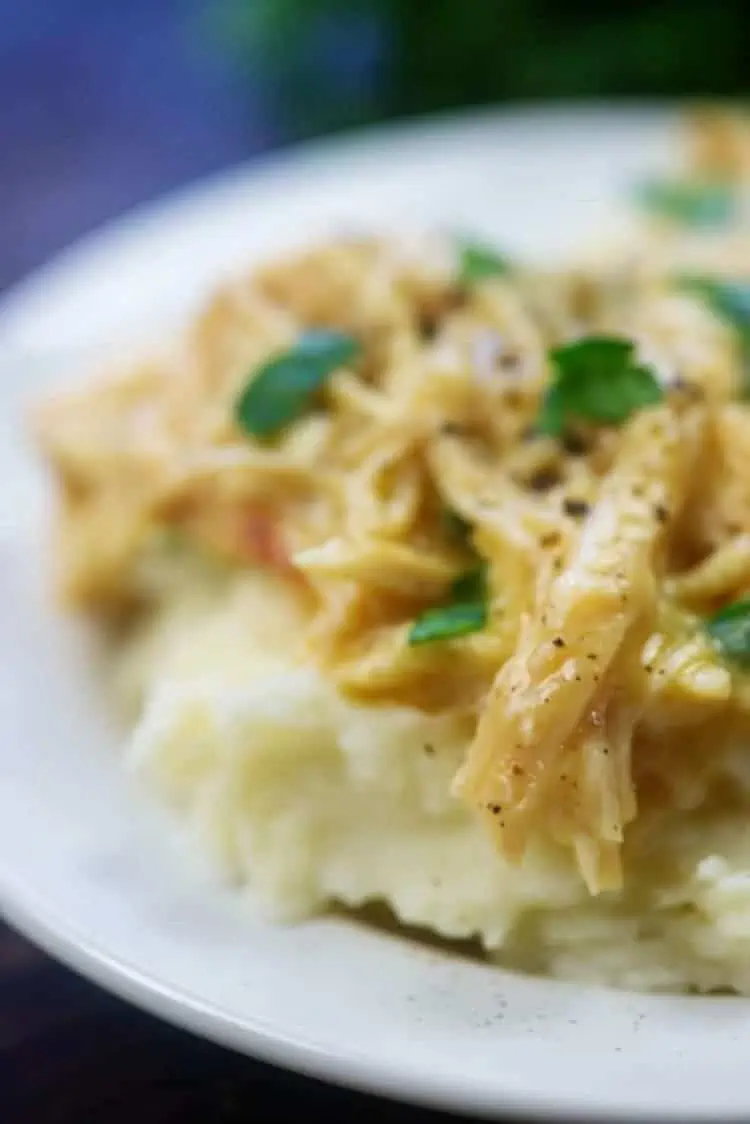 Talking about comfort food, you just can't miss the slow cooker chicken and gravy. It's creamy, it's tender, and it's exactly what you need to cook tonight.
More Healthy Slow Cooker Chicken Recipes 
Even though crockpot shredded chicken is always a good idea for a quick healthy meal, you might feel like you want to pass the shredding today. Well, I've got your back!
If you want more healthy slow cooker chicken recipes, you can try any of the following:
19. Lemon Garlic Slow Cooker Whole Chicken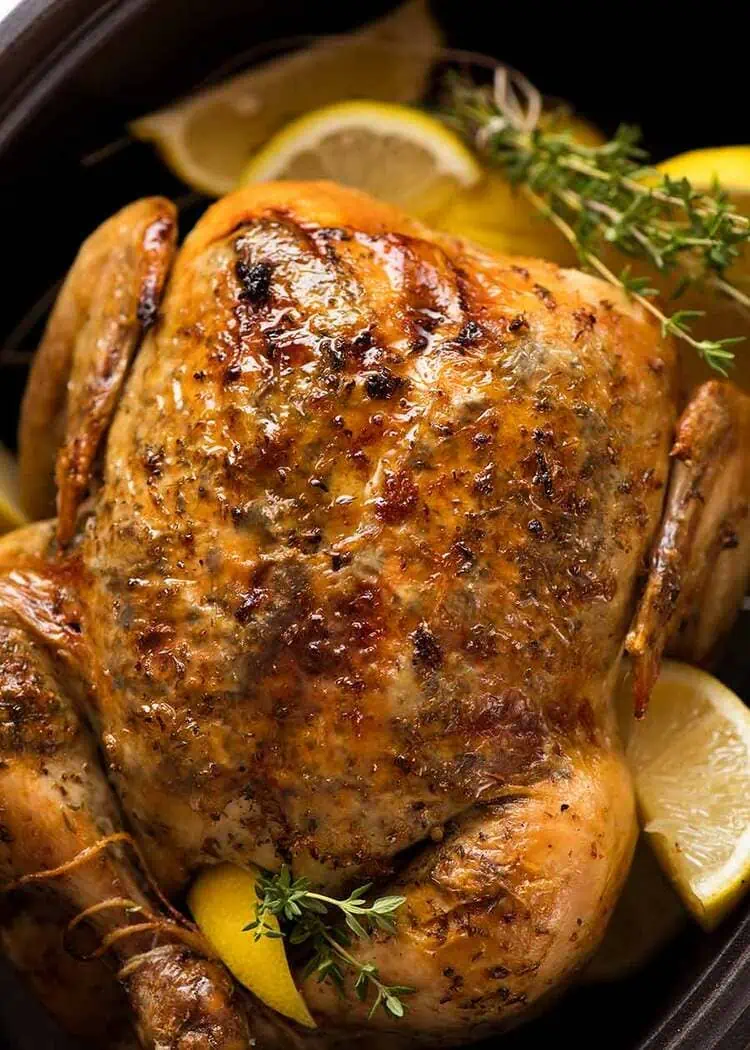 I don't enjoy cutting meat. That's probably one of the reasons why I rarely get a whole chicken. However, the crock-pot saves the day in cases like this.
If you're wondering what to cook with that whole chicken you just got from the grocery store, you can never go wrong with this Lemon garlic slow cooker chicken recipe. Yum!
20. Slow Cooker Chicken Mole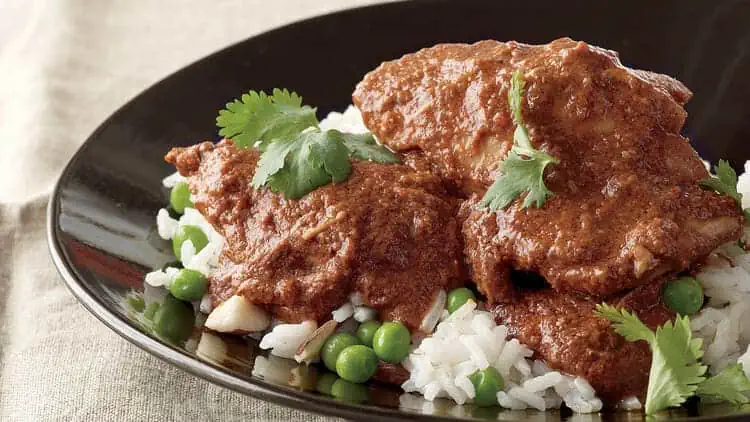 Two words: Mexican food! I think I've never met someone in my life who doesn't like Mexican food.
Also, chocolate plus spices plus chili seems to be a surprisingly good combination! This slow cooker chicken mole is marvelous!
21. Chicken Noodle Soup In Your Crockpot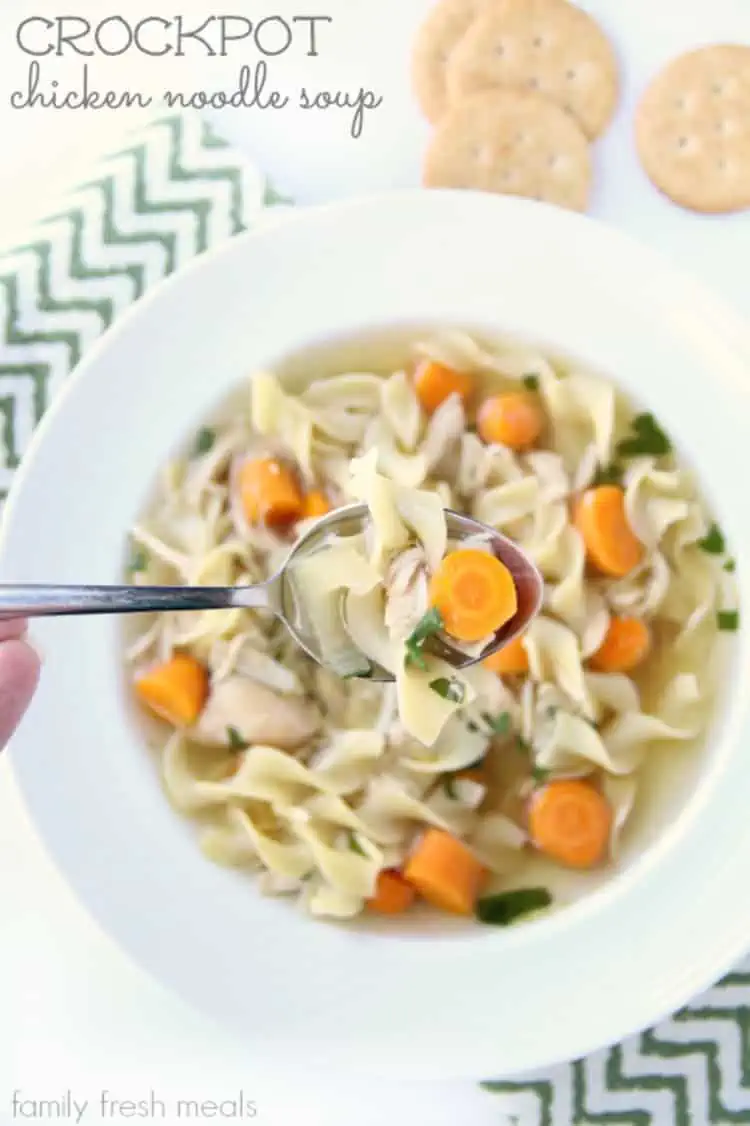 You know how there're a ton of recipes online claiming they're the best? Well, this one stands behind their statement 100%.
This is truly the best chicken noodle soup you can make in your slow cooker.
22. Slow Cooker Chicken Thighs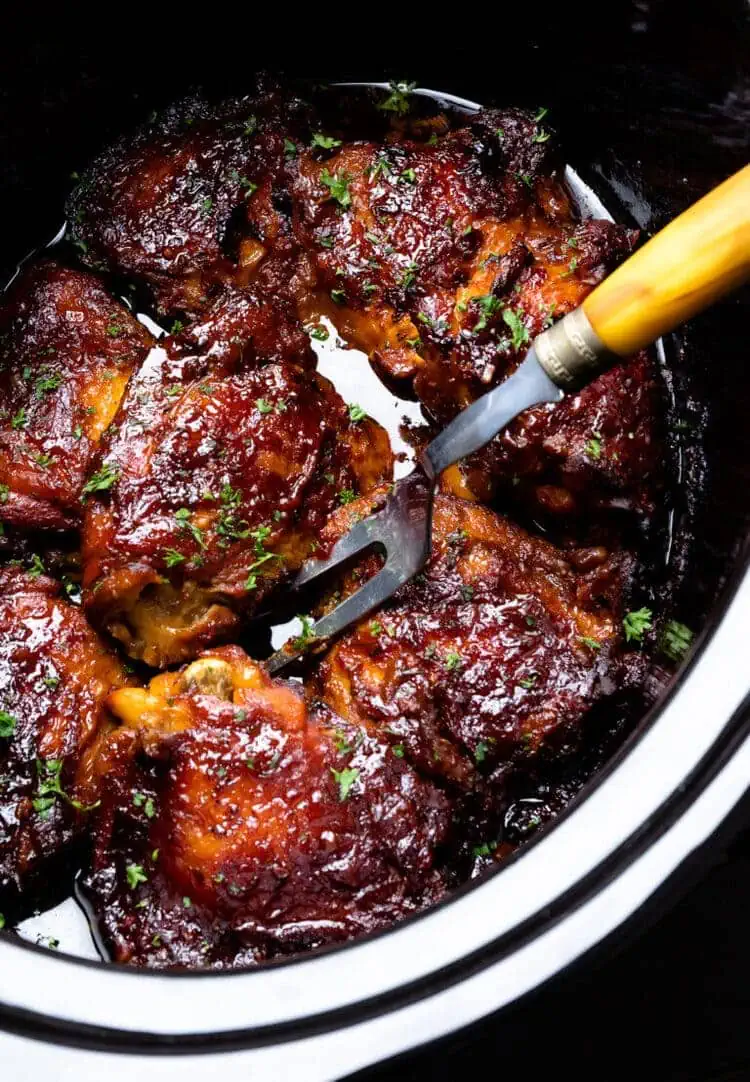 This slow cooker chicken thighs recipe offers a busy mom a breath of fresh air because it requires almost no work. But the result is chicken so tender, it melts in your mouth.
Best Slow Cooker for Casseroles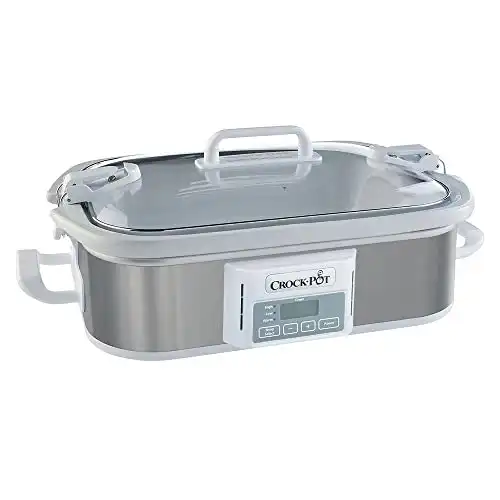 23. Slow Cooker Chicken Wings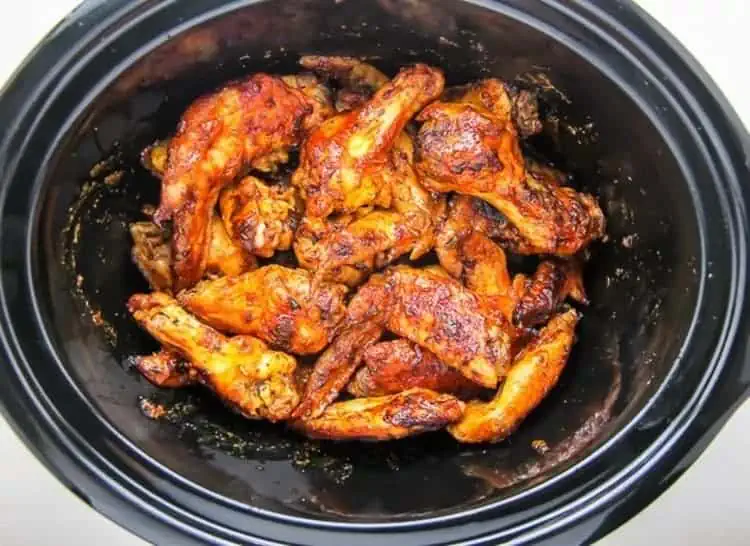 This may be the quickest chicken wing recipe you've ever tried.
All you have to do is put all of the ingredients in a crock pot, cook on high for an hour, and then bake the wings just before serving. The wings turn out incredibly tasty with lots of juices and practically fall off the bone.
24. Slow Cooker Chicken And Broccoli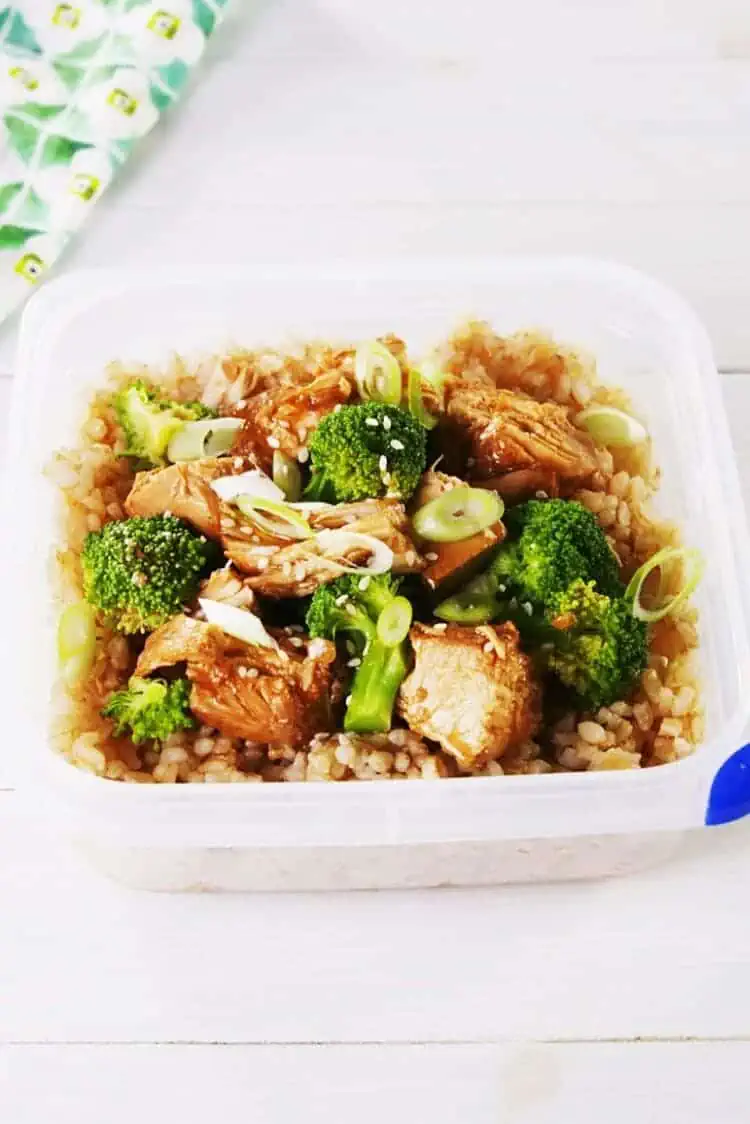 You're going to want to add this to your meal rotation, trust me. One of our absolute family favorite recipes is chicken and broccoli. Cooked in the slow cooker makes this dish an effortless success every single time.
25. Slow Cooker Asian Style Drumsticks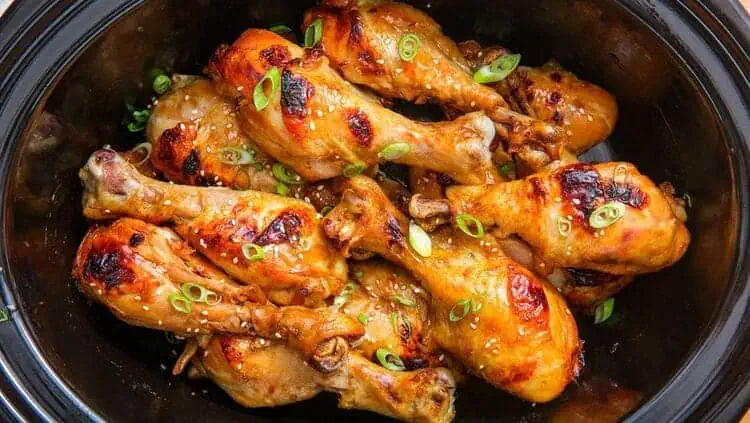 Yum-yum! These super tender, spicy, slow cooker chicken drumsticks are going to make you feel you're in Asia, even if it lasts just for one meal.
STARTBut first, I want to point a few important facts about eating and cooking chicken meat and why it is a must for your healthy meals and lifestyle.
Health Benefits Of Chicken 
Before we dive into the full list of slow cooker chicken shredded recipes, let's have a quick overview of why chicken is good source of nutrition.
Surely, you heard that chicken is a healthy diet option, but do you know exactly why that is?
Chicken meat is a low-fat protein. It is valuable for the human body because it helps to build muscle mass and keep healthy body weight.
Phosphorus is a vital mineral, present in chicken. Phosphorus determines our body's patterns of using carbs, as well as helps in repairing cells and tissues.
Another important mineral you can find in your portion of chicken meat is Selenium. Selenium is a powerful antioxidant. It helps in chronic diseases prevention (like heart disease and cancer).
Chicken meat is a valuable source of B-vitamins. Vitamin B6 supports the function of the white cells, and Vitamin B3 lowers cholesterol levels in the body.
What Type of Chicken is Best for Shredded Chicken?
When going for shredded chicken, the real question is:
Which type of chicken is best to use for
the tastiest slow cooker chicken shredded recipes?
And the answer is:
You can use both boneless skinless chicken breasts or boneless skinless chicken thighs. 
Although the thighs are usually moister (because they naturally contain more fat than chicken breasts), they both turn out delicious. Given that we'll shred the chicken meat after, you don't want any skin or bones.
How to Make Slow Cooker Shredded Chicken
When you're looking for chicken recipes online, you probably see quite a few ideas that include shredded chicken, but the recipes usually state you need to add 2 cups of chicken and no one tells you exactly how to cook a really delicious slow cooker shredded chicken.
Until now.
By the way, there's a hack you can use if you don't have any shredded chicken in the freezer or don't have time to cook it from scratch. You can get a rotisserie chicken from the grocery store and shred it with two forks.
It could be a life-saving tip at times.
How to Cook Chicken Breast in a Slow Cooker?
How to exactly do you cook the slow cooker shredded chicken breasts?
All you have to do is follow these steps.
Step 1: Add Chicken To Slow Cooker
Properly wash the chicken and add it to the slow cooker. Keep in mind that chicken breasts can get dry (they contain low amounts of fat), so adding a few boneless chicken thighs to your crockpot might be a good idea.
Step 2: Add Seasonings and Ingredients
Add your favorite spices to add some flavor or follow a recipe if you're using one. Some of our family's favorite spices to add are:
salt
pepper
taco seasoning
garlic powder
oregano
cumin
chili powder
onion powder
Step 3: Cook on HIGH or LOW Based on What Kind Of Chicken You're Cooking
Finally, it is time to set the timer on and let the chicken cook. The pressure level could be set on HIGH or on LOW but the cooking time depends on the type of chicken you're cooking.
How to Cook Chicken Thighs in a Slow Cooker?
The same way you cook boneless chicken breasts – follow the steps above. You'll end up with a delicious dinner your family is going to devour in minutes.
Chicken Breast Cooking Times

Boneless Chicken Breasts.

Cook on LOW for 1 1/2 to 2 1/2 hours. Always cook your boneless skinless chicken breasts on LOW for the best results.
I do not recommend cooking boneless chicken breast on HIGH, as it will become very dry, even if you check it early. On high, the chicken turns out drier; I consistently have the best results with low.
Based on a medium boneless chicken breast with a weight of 8 ounces. Be sure to add or subtract time if your piece of chicken is smaller or larger.
Check early! All crock pot models are different, so your chicken may take less or more time than listed.

Bone-in Chicken Breasts.

Cook on LOW for 2-3 hours or HIGH for 1-2 hours.
Bone-in chicken is less likely to dry out than boneless, so you have flexibility to cook the chicken on high.
Based on medium bone-in chicken breast with a weight of 11 ounces. Be sure to add or subtract time if your piece of chicken is smaller or larger.

Chicken Thigh Cooking Times

Boneless Chicken Thighs.

Cook on LOW for 3-4 hours or HIGH for 2-3 hours
Chicken thighs are less likely to dry out than chicken breasts, so you have flexibility to cook the chicken on high.
Based on medium boneless chicken thigh with a weight of 4.5 ounces.
Be sure to add or subtract time if your piece of chicken is smaller or larger.

Bone-in Chicken Thighs.

Cook on LOW for 5-6 hours or HIGH for 3-4 hours.
Based on medium bone-in chicken thigh with a weight of 5.5 ounces.
Be sure to add or subtract time if your piece of chicken is smaller or larger.

via WellPlated.com

Other Ways To Cook Shredded Chicken 
The slow cooker is not the only way to cook shredded chicken. You can also go for other options. Some of the most popular ways of cooking chicken are as follow:
Instant Pot
Stove Pot
Oven
The Easiest Way to Shred Chicken Quickly
Chicken that's cooked in a slow cooker is usually pretty tender and can usually be shredded with two forks, but that can be time-consuming too.
If you're looking for a fast and easy way to shred a lot of chicken, I think the best way has to be using an electric mixer.
Both a hand mixer and a stand mixer with a paddle attachment can do a great job, but be careful not to over mix. The chicken can quickly become pulverized.
How long does shredded chicken last in the fridge?
According to the USDA, it's best to use chicken that's been refrigerated (at 40 degrees or colder) within 3-4 days of it being cooked.
Any longer than that and you risk it going bad and getting sick.
Chicken may start to smell and look unappetizing when it's going bad too so definitely rely on your senses when trying to determine if it's still good.
Ultimately, if you're not sure, it's best to just play it safe and throw it out.
TIP: If you've cooked more chicken than you can consume in 3-4 days, throw some in a plastic bag and freeze it for later.
That's a great day to reduce food waste and save yourself from having to cook a future meal.
Did you like these tasty slow cooker chicken shredded recipes? Then, you need to check out these posts, too: