Looking for easy pork loin crock pot recipes? These 25 simple pork loin crock pot recipes are perfect for busy nights.
This post contains affiliate links.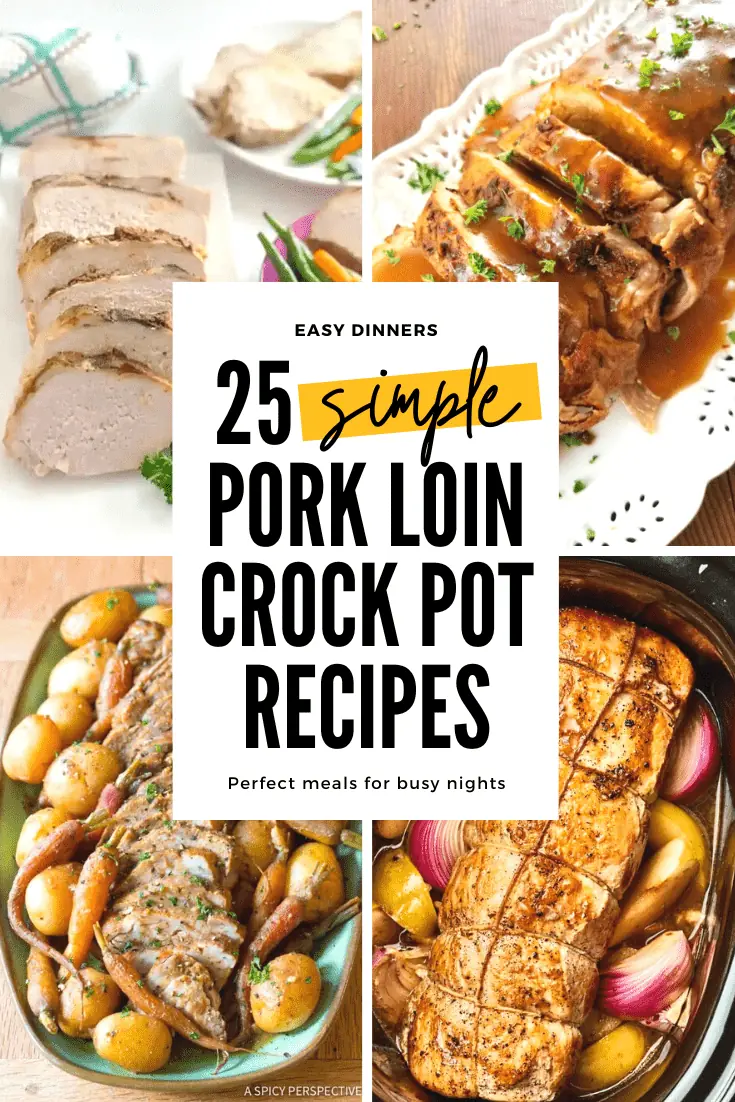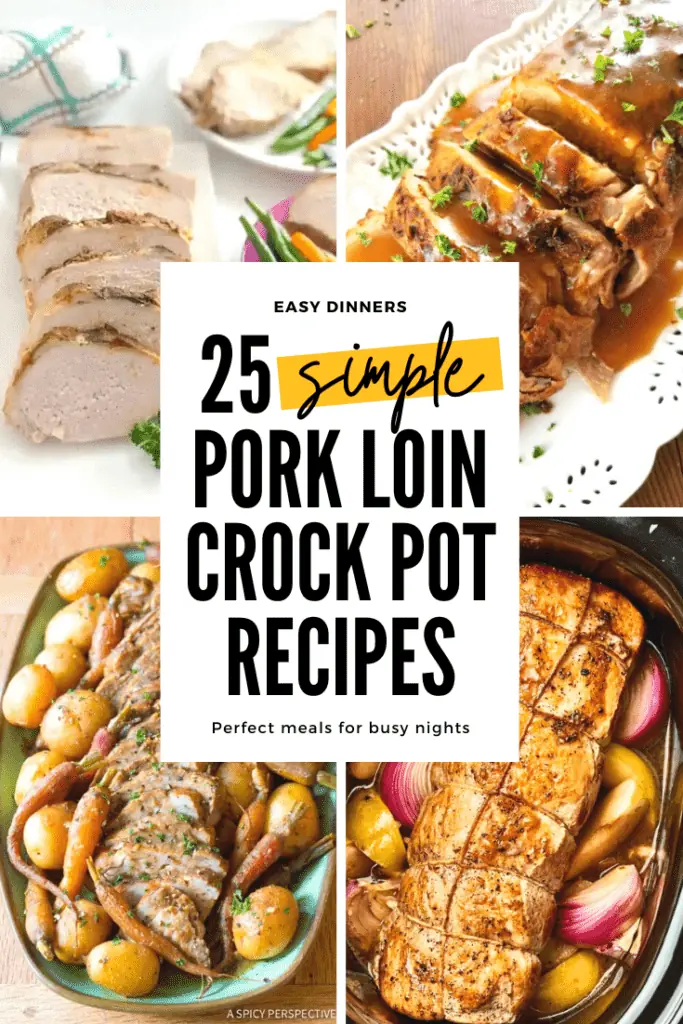 Work, commutes, school drop-offs, pick-ups, running around for different kids' activities, errands… tell me I'm not the only person who feels rushed all day long? Our everyday schedule can be so demanding that figuring out dinner is often the last thing on our minds. That's why meal prep is crucial for staying organized and saving your sanity as a parent.
This list of 25 simple pork recipes will take some stress off your shoulders because your warm dinner will be waiting for you when you get home. Be sure to read until the end because I will be sharing some tips, tricks, and leftover recipe ideas, too!
25 Simple Pork Loin Crock Pot Recipes Your Family Will Love
A crockpot is perfect for meat cuts like pork loin because it's an easy way to make them melt-in-your-mouth tender with minimal effort. How delicious do these recipes look?
1. Honey Apple Pork Loin Crock Pot Recipe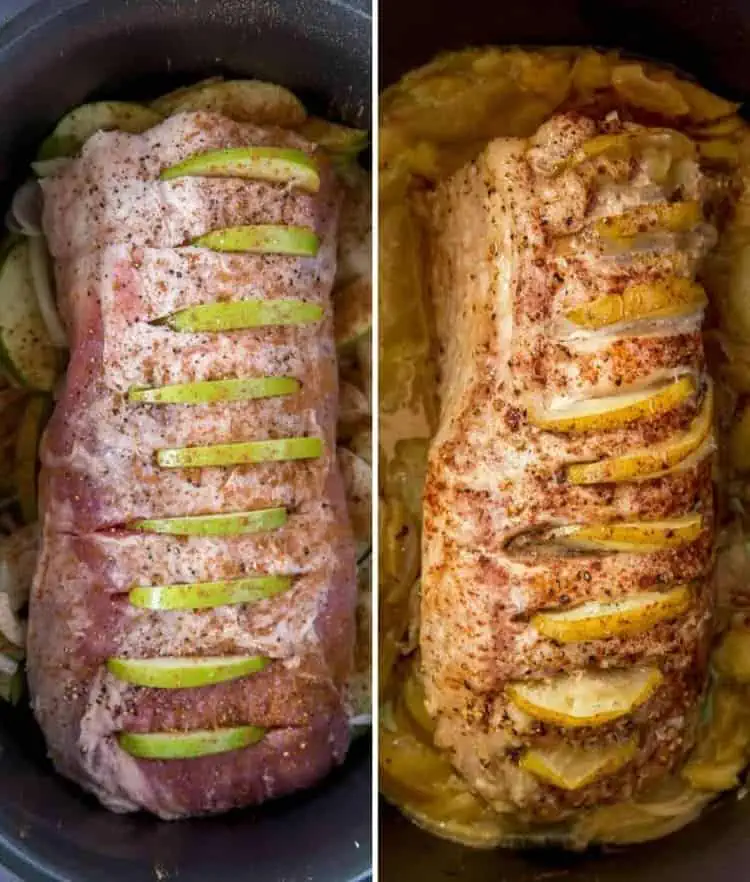 This recipe is a keeper. The tenderness of the honey apple pork loin crock pot meal was incredible. The flavor was perfect, and not only did my husband and I cleaned our plates, but the kids did too! It literally made our whole house smell divine!
2. BBQ Crock Pot Pork Loin & Sweet Potatoes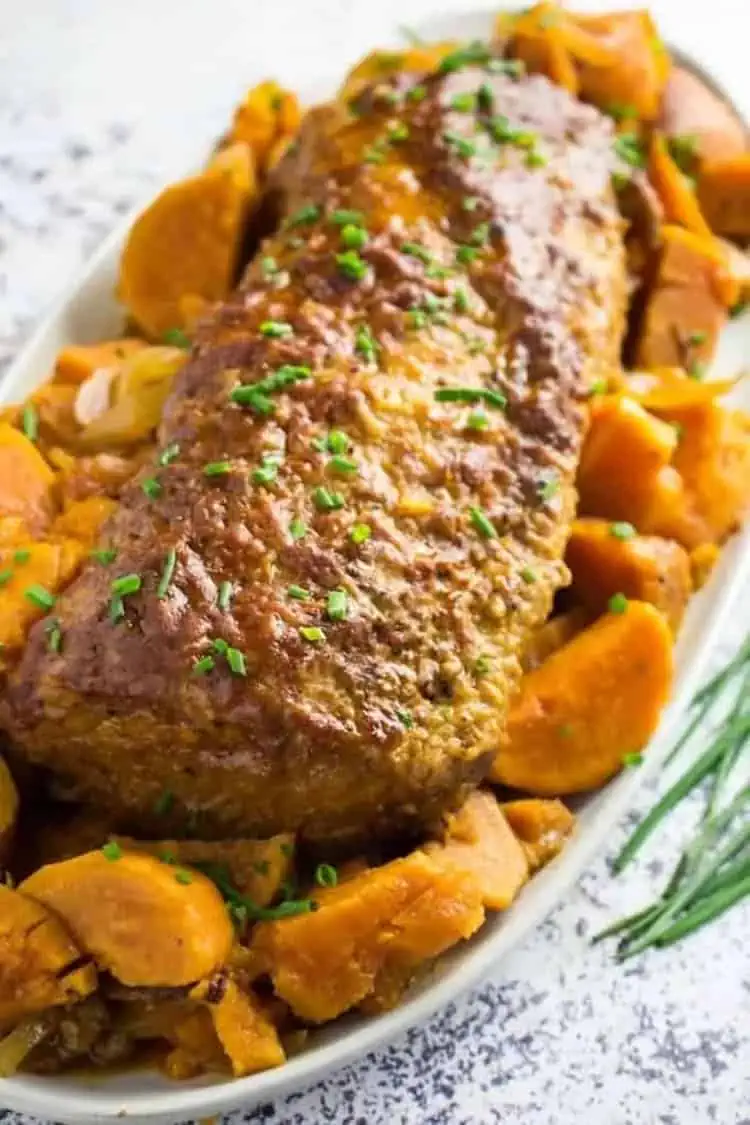 If you're looking for the perfect autumn recipe, look no further. This BBQ crock pot pork loin & sweet potatoes are among my favorite simple pork loin crock pot recipes. It is not only mouthwatering, but it's also very healthy. It contains a lot of fiber, which helps with digestion and keeps you full longer.
Sweet potatoes are also very healthy and have many benefits, such as:
reducing stress
boosting your immune system
improving your vision
and much more
3. Bacon-Wrapped Crock Pot Pork Loin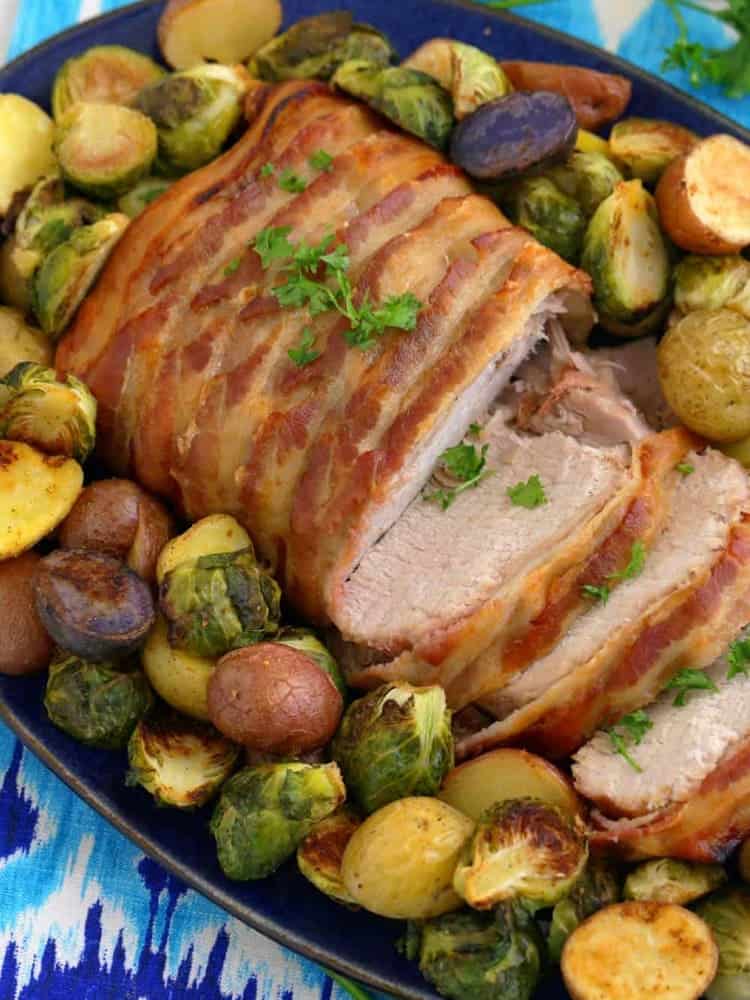 Who says bacon is only for breakfast? Adding bacon to any meal immediately takes it from good to amazing. This slow cooker pork loin recipe is perfect for anyone who wants to serve up something delicious but doesn't have a lot of time.
For a bold burst of flavor, wrap the pork loin in bacon before putting it in the slow cooker. The bacon will melt and form a delicious crust on the meat, and the fat will keep the pork moist and tender. End result? A quick and easy-to-make delicious main dish.
4. Simple Pork Loin Crock Pot Recipes: Cranberry Crock Pot Pork Loin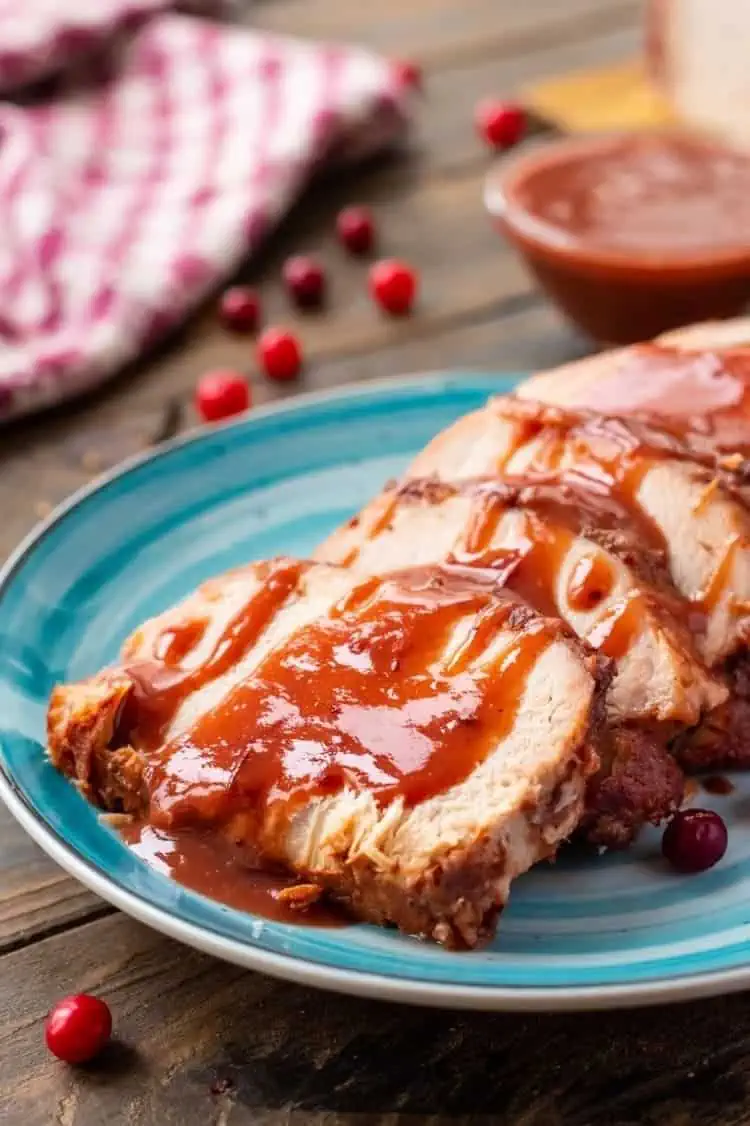 Cranberries are a great source of antioxidants and have a wonderful tart flavor that really comes out when cooked slowly in a crock pot. This cranberry crock pot pork loin dish is simple to make and especially well served with mashed potatoes or rice.
5. Pork Loin with Brown Sugar and Balsamic Glaze Recipe
You can't go wrong with this delicious, crowd-pleasing recipe. It's the perfect blend of sweet and salty and so simple to make. All you have to do is mix up a quick glaze, wrap it around the pork loin and add the bacon on top. Then you just set it and forget it for about 6 hours. It's that easy!
6. Juicy and Simple Crock Pot Pork Loin Recipe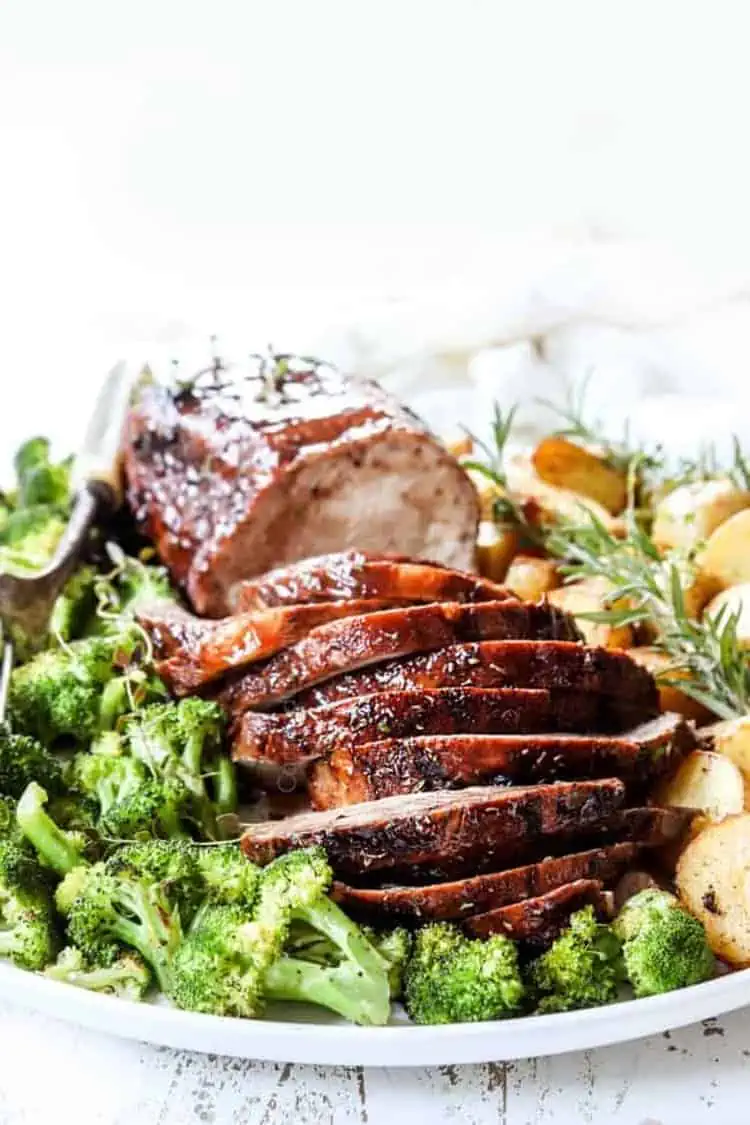 This recipe is one of the easiest ways to cook a pork loin in the crock pot, and it's so juicy that you won't even need gravy. You can add some potatoes and carrots to the slow cooker for a more substantial meal, but you can also enjoy the pork on its own.
7. Slow Cooker Honey Lime Ginger Pork Loin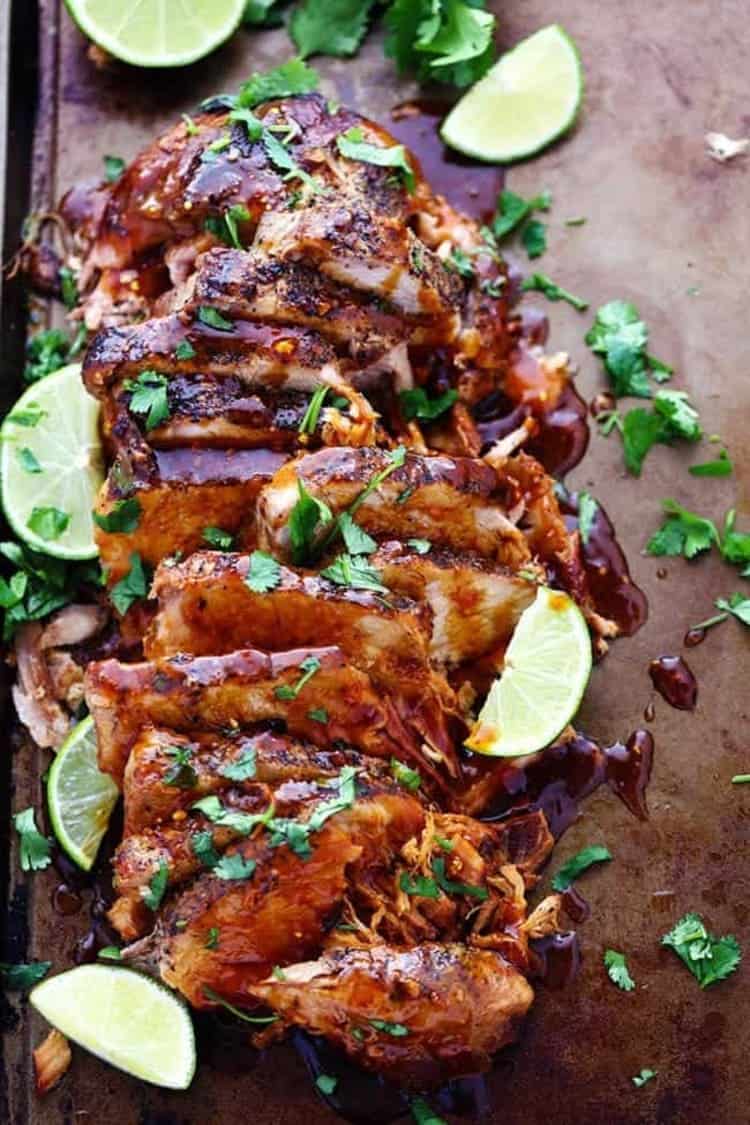 Honey, lime, and ginger are a favorite flavor combination in Asian cuisine, and they work perfectly with pork. This crock pot honey lime ginger pork loin recipe is fantastic for a busy weeknight when you want a simple meal that still tastes like something special.
8. Crock Pot Pork Loin with Potatoes and Carrots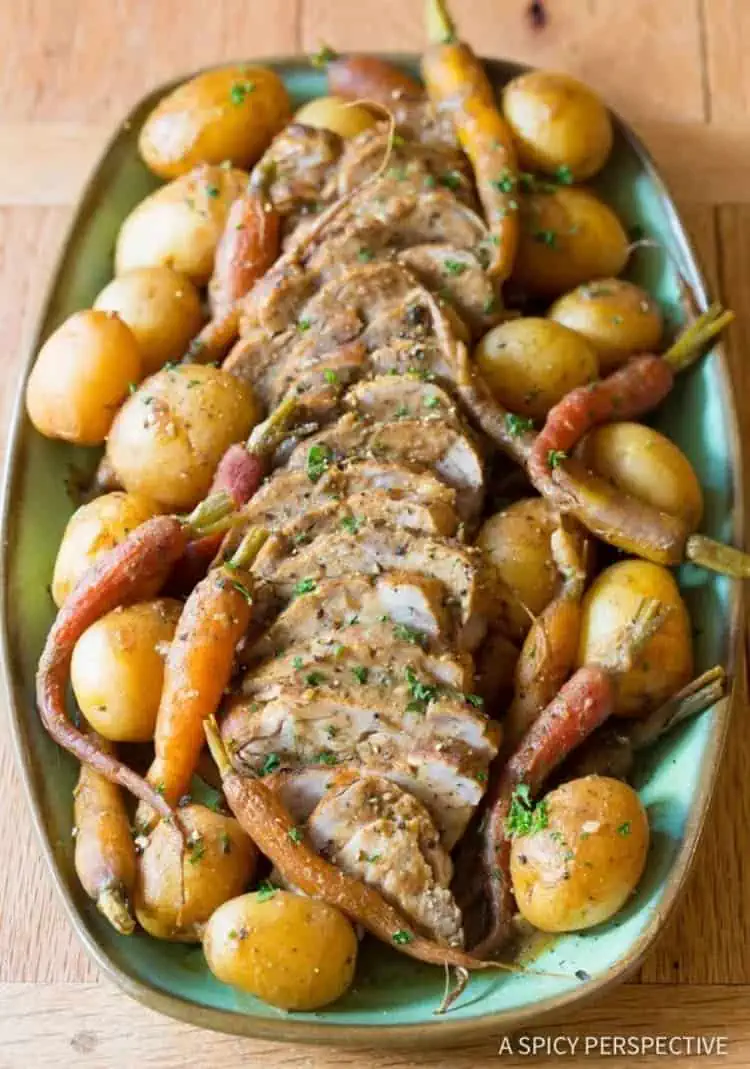 This recipe is great for those trying to eat a healthier diet. It is full of veggies, and it tastes incredible. It is an easy one-pot recipe that will feed your whole family.
This is one of those slow cooker pork recipes that can be frozen, which is a huge bonus. Right now is a great time to stock up on fresh produce to cook with.
9. Slow Cooker Pork Roast with Apples, Carrots, and Rosemary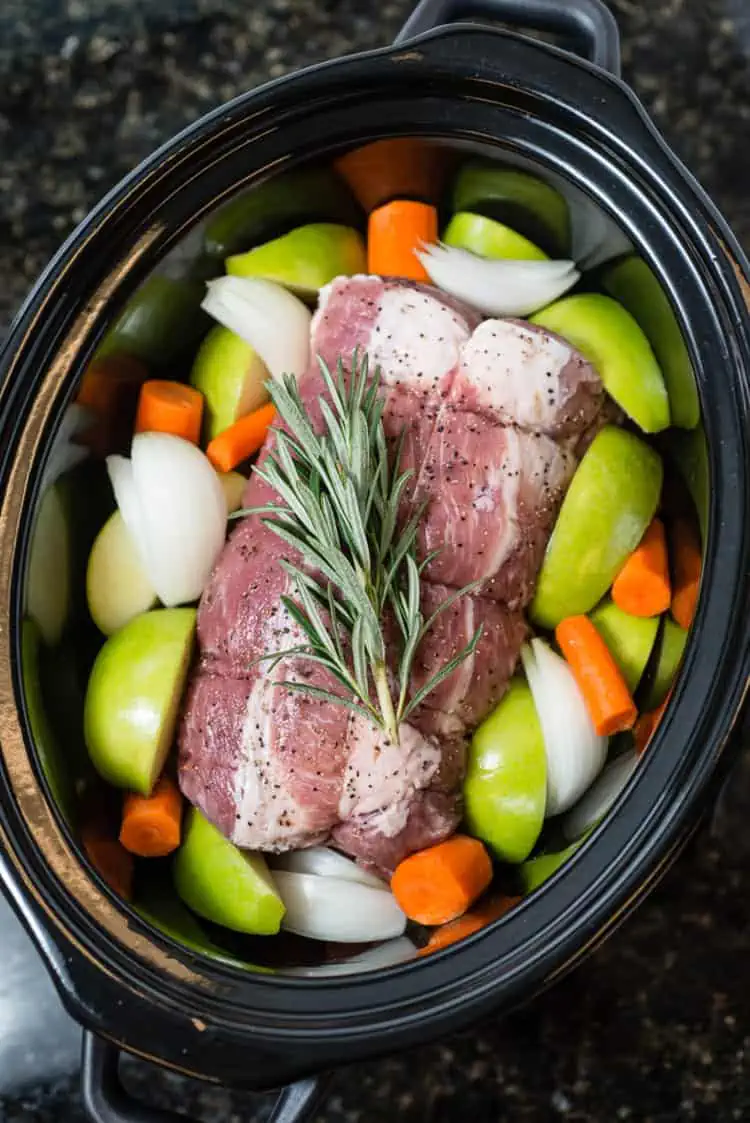 Sweet and tasty, this slow cooker pork roast with apples, carrots, and rosemary is a tasty family-friendly meal that is sure to please. The sweetness of the apples combined with the earthy flavor of the rosemary makes for a delicious and comforting dish that will warm you up on even the coldest of nights.
This is a great recipe to make on a Sunday and eat during the week.
10. Crock-Pot Pork Roast Loin with Apples and Onions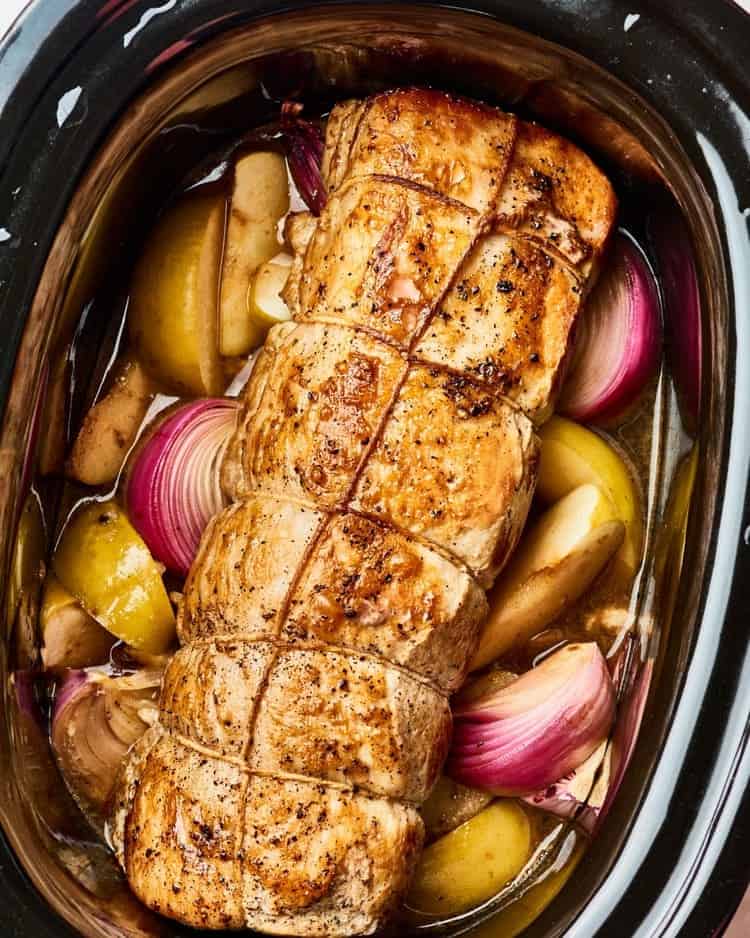 Looking for the perfect family-friendly meal? The pork gets incredibly tender, and the sweetness from the apples will make you save this recipe, so you can cook it again. This crock pot pork roast loin with apples and onions is a great way to get your kids to eat their veggies! You can also make this recipe with chicken breasts if your family prefers a chicken dish.
11. Simple Pork Loin Crock Pot Recipes: BBQ Pulled Pork
This BBQ pulled pork is perfect for a relaxed Sunday dinner or a holiday feast. The best thing about this recipe is that you can make it ahead of time, so there's no need to rush when you come home from work. It also keeps it really well, so you can enjoy it for a couple of days. It's a wholesome dinner that the whole family is sure to enjoy.
12. Crock Pot Garlic Balsamic Pork Loin Recipe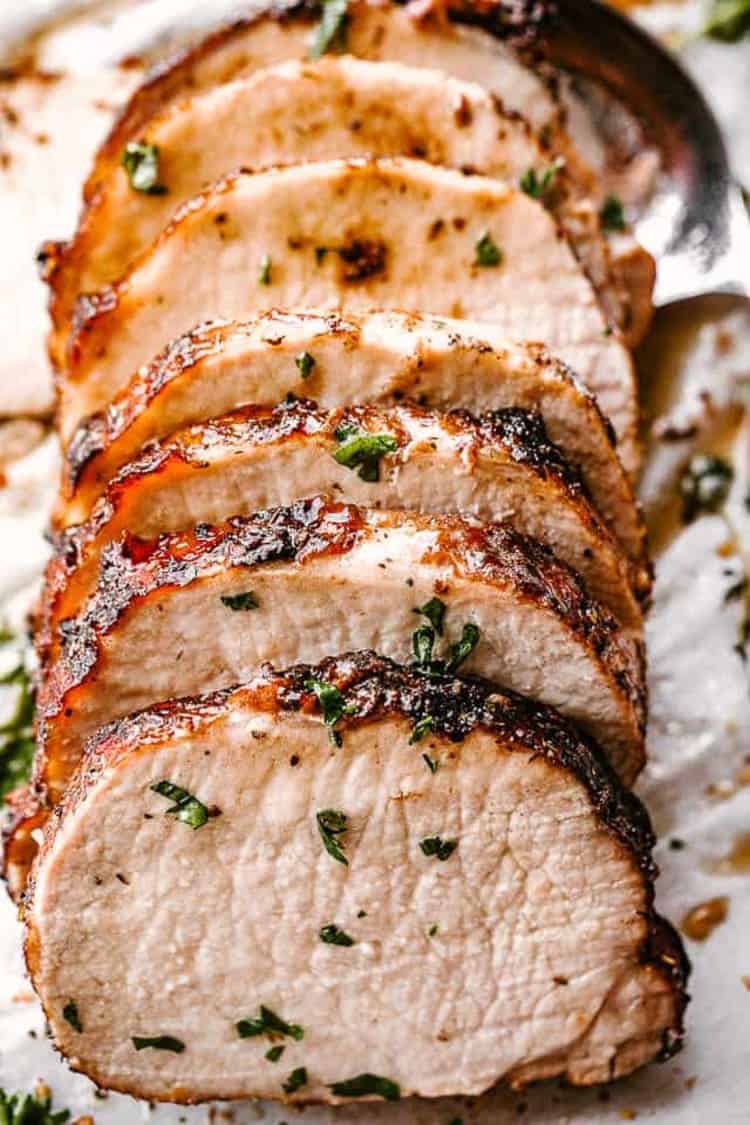 This crock pot garlic balsamic pork loin recipe is easy for a make-ahead meal. The flavors of garlic and balsamic vinegar come together to make a delicious and healthy meal that everyone will love. This is one of my favorite simple pork loin crock pot recipes, and it's also great for serving a crowd.
13. Crock-Pot Pork Loin Roast with Potatoes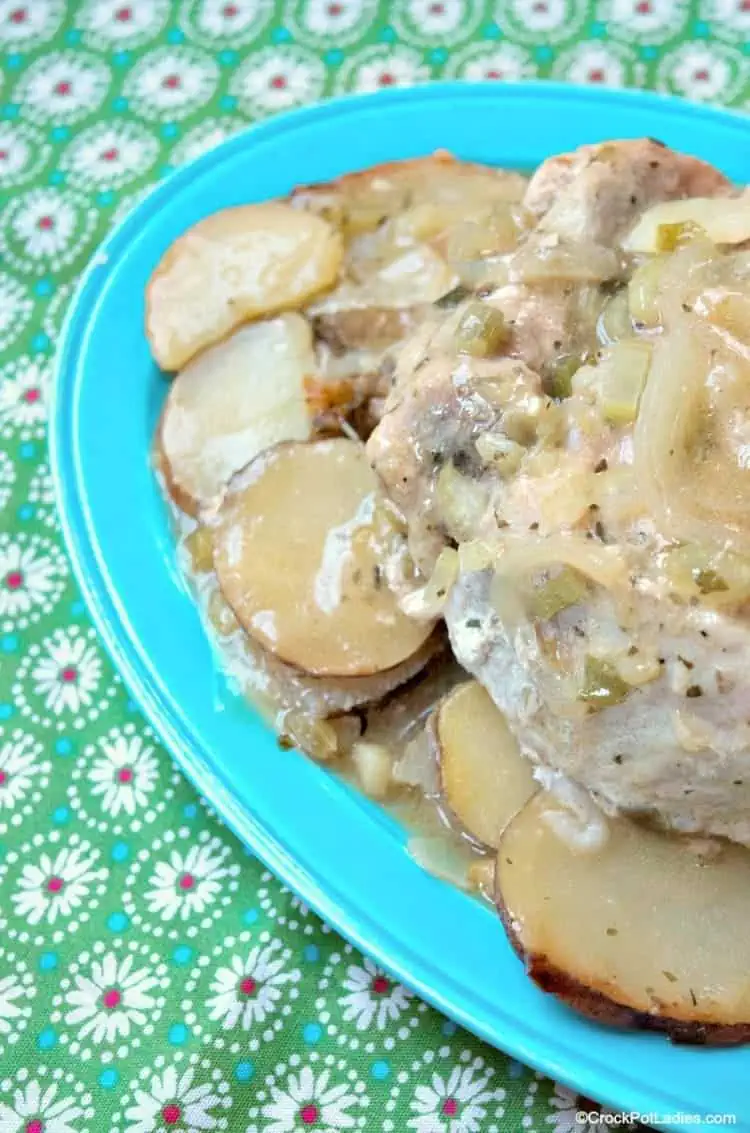 You really need to try this crock pot pork loin roast with potatoes. This one-pot dish is easy to make and loaded with healthy ingredients, so there's no need to feel guilty about indulging.
14. Butter-Braised Slow Cooker Pork Roast
This butter-braised slow cooker pork roast recipe is great for serving guests or just as a delicious family meal. Make sure you start with a high-quality lean cut of meat to ensure you get the best results. Slow cooking allows the pork loin to become incredibly tender and flavorful. And this recipe will become a family favorite.
15. Bacon Maple Garlic Crock-Pot Pork Loin
This delicious recipe will warm you up and fill your belly. It's packed with plenty of protein, iron, and other nutrients to keep you healthy. It also has a delicious smoky flavor, thanks to the bacon. It's easy to make and can be made ahead of time if you want to save time on busy work nights.
16. Pork Loin Gravy Dinner in a Crockpot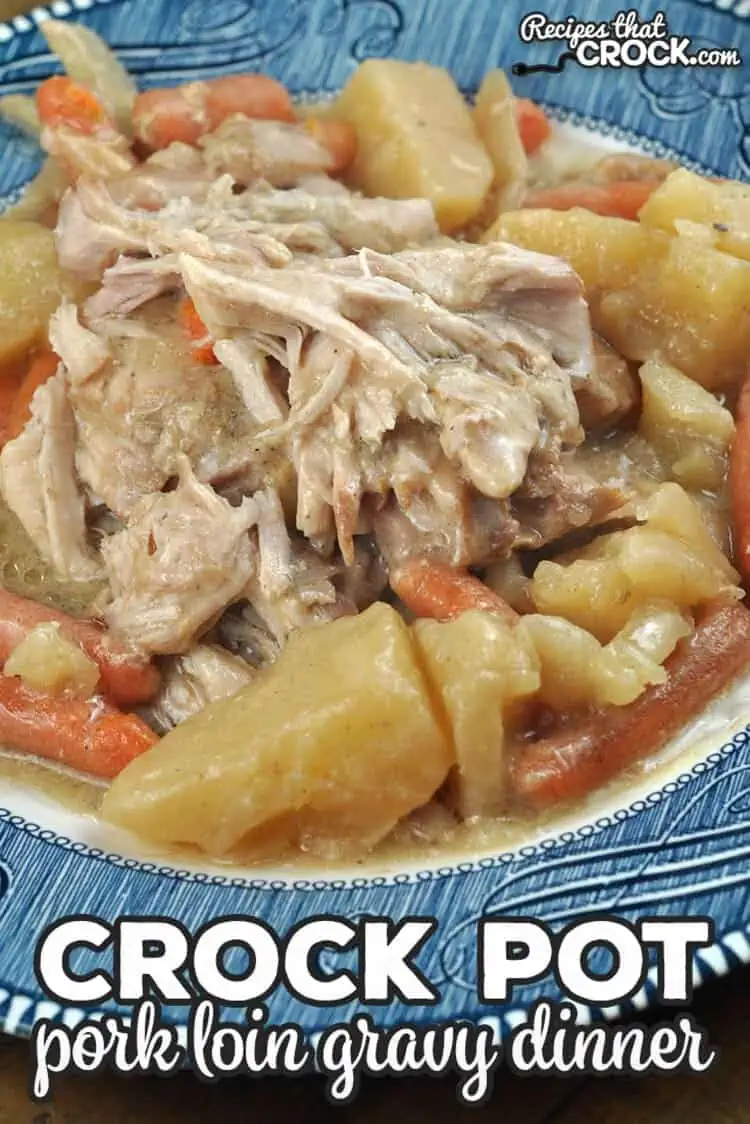 Crock pot pork loin is one of those meals that's easy to make on the weekend, and it's also perfect for a busy weeknight when you're tired after work. Prepare your bowls, too, because this recipe uses delicious gravy sauce for the pork. But you can also serve it with your favorite vegetable or even mashed potatoes if you'd like to have more of a complete meal.
17. Garlic Herb Butter Baked Pork Loin and Potatoes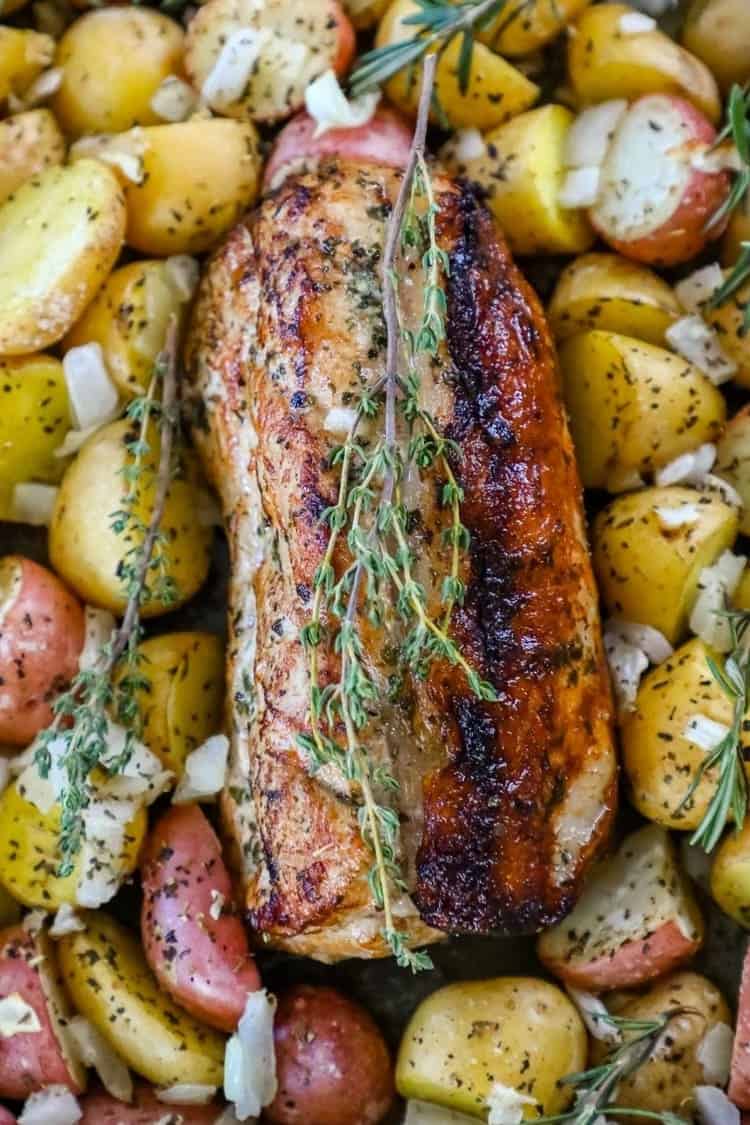 As with most slow cooker recipes, this garlic herb butter baked pork loin and potatoes are also very simple to make. You only need to put the pork loin in the slow cooker with a couple of other ingredients and let it cook for the required amount of time. After that, you just need to slice it up, and you have a delicious and healthy meal.
18. Simple Pork Loin Crock Pot Recipes with Honey Butter Sauce
This crock pot pork loin recipe with honey butter sauce is incredibly tender. The honey and the melted butter in the pot make the pork roast incredibly rich and flavorful.
19. Keto Pork Loin Crock Pot Recipe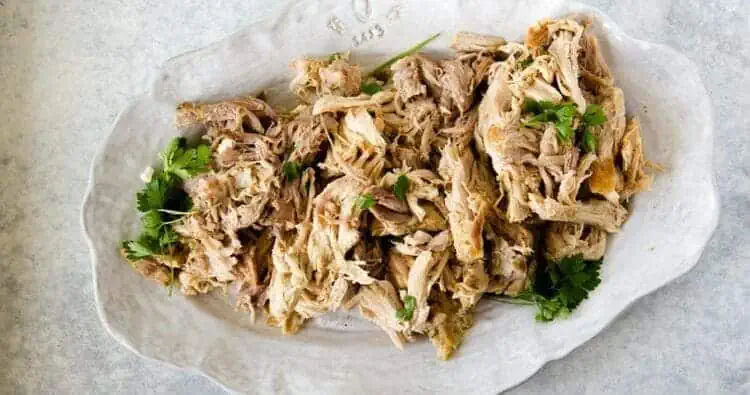 This keto pork loin crock pot recipe is an excellent choice if you want to try crock pot cooking but don't know where to start. This recipe is easy to make, and it will help you keep a healthy diet, leaving you feeling satisfied and full.
This is a great recipe to try if you want to start eating healthy but don't know where to start or are afraid it might be too difficult. It's simple to follow, and you can switch out the pork for another type of meat if you want to change it up.
20. Slow Cooker Teriyaki Pork Loin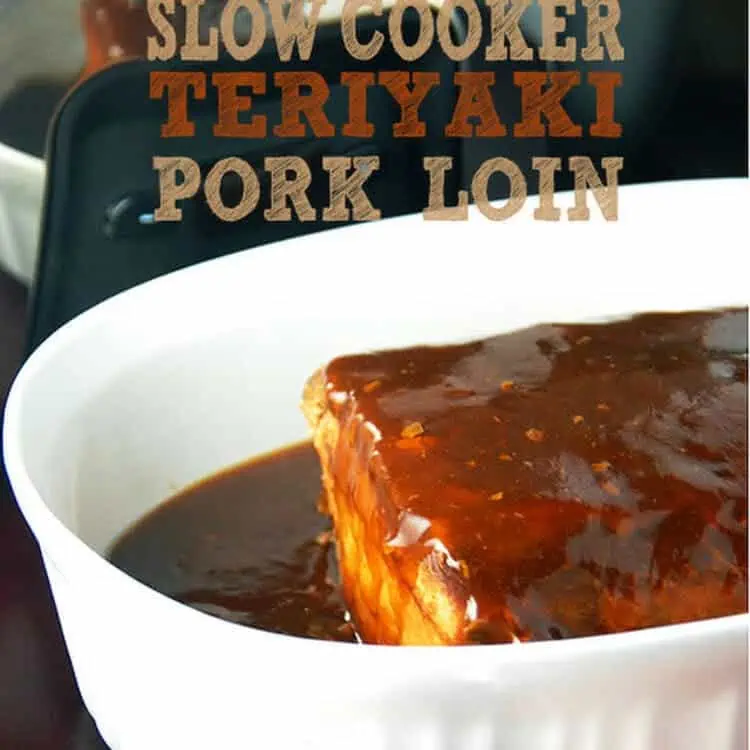 This pork loin recipe is packed with flavor thanks to the addition of the Teriyaki sauce. Freeze the leftovers for future meals or share with friends or neighbors. If there are any leftovers at all.
Have a picky eater? Here are some ideas to make pork loin a favorite for kids
21. How to Cook Pork Loin Roast in the Slow Cooker
This slow cooker pork loin roast is an easy recipe that can be made in the slow cooker or in the oven. You make it with a lovely mix of herbs and spicy flavors. It is perfectly served with a side of mashed potatoes and green beans or broccoli.
22. Super Simple Boneless Pork Loin In The Crockpot Recipe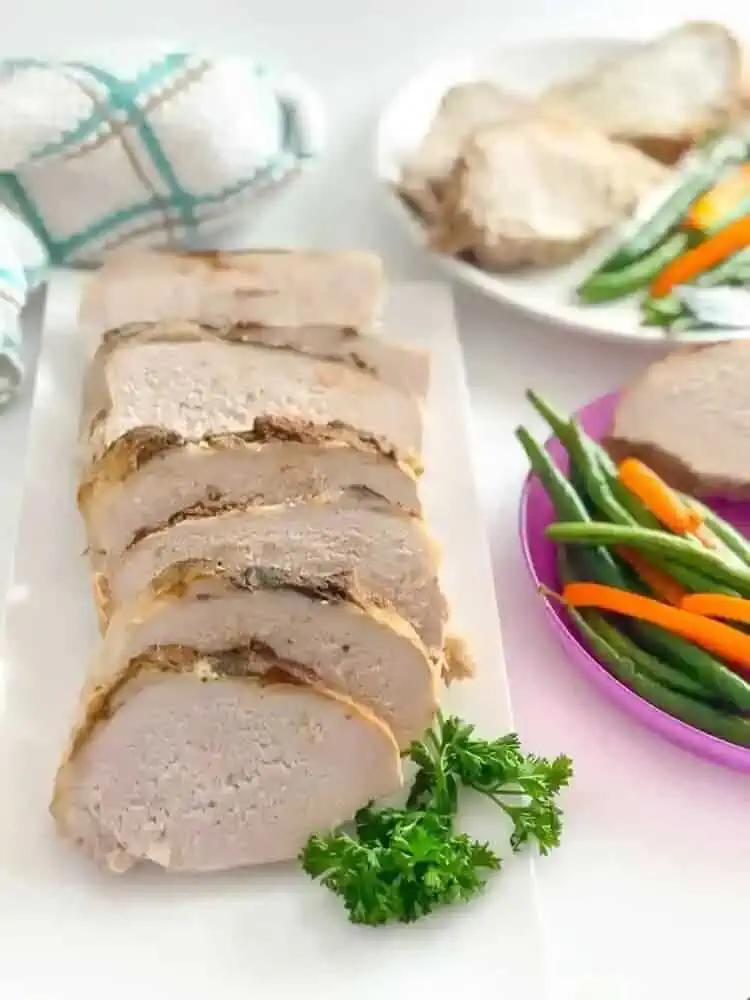 This super simple boneless pork loin in the crock-pot recipe is easy, healthy, and delicious. It's an easy way to get your picky eaters actually eat while at the table with your family. This also works well if you have picky kids.
23. Slow Cooker Pineapple Pork Loin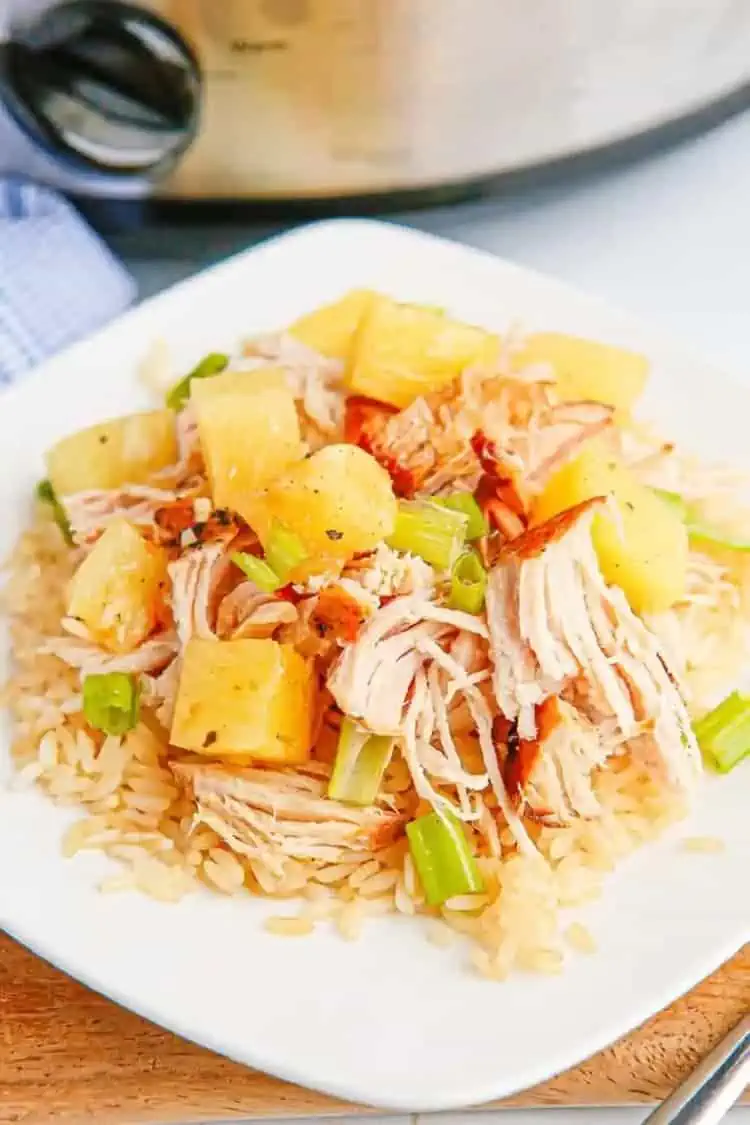 It's so easy to make and very delicious. The best part about the slow cooker pineapple pork loin recipe is that you can use any cut of meat to make it. It's very flexible that way. This recipe is great for family dinners or social gatherings, and the kiddos love it. You can also make it for a crowd by serving it with side dishes like mashed potatoes or roasted veggies.
24. 2-Ingredient Crock Pot Pork Loin Verde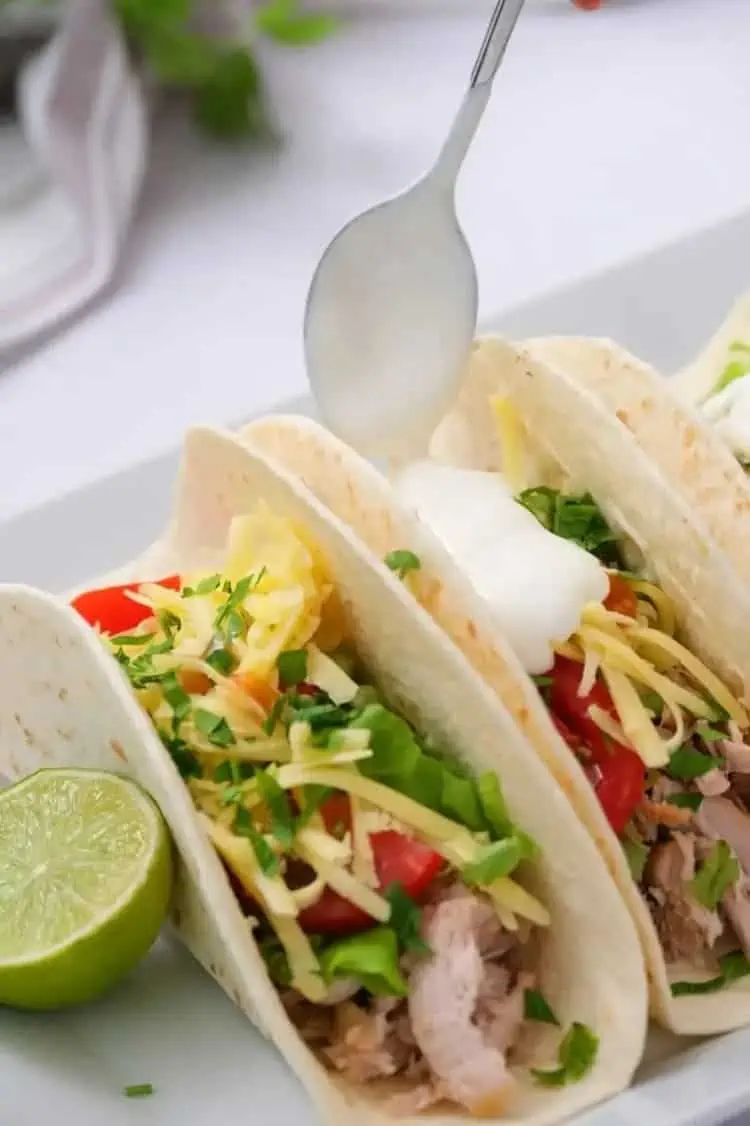 This is the best recipe to try out crock pot cooking for your picky kiddos, but don't know where to start. The ingredients are pretty simple, and you will probably have most of them in your kitchen already. The children devoured it in minutes.
25. Slow Cooker Pork Loin Roast with Apples and Veggies
You can't go wrong with a recipe like this. It's easy, sweet, and delicious, which is all you need in a recipe. The best part about this recipe is that the kids absolutely love it.
Tips for Cooking Amazing Pork Loin In The Crock Pot Every Single Time
1. Choose High-Quality Meat
As with any meat, the quality of your pork loin will make a big difference in the end result. Choose one that is fresh, with no signs of freezer burn, and has not been pre-marinated or injected with anything.
2. Defrost it Properly
I prefer to defrost meat before cooking it, and I do so in the refrigerator (not on your countertop). For best results, plan ahead and give yourself time to complete the process correctly.
Frozen foods cook well in a slow cooker, but you can't season well your pork loin with dry herbs, for example. But if you're in a hurry, just dump the pork with your favorite sauce in the slow cooker, and you'll end up with a tasty dinner when you get home at night.
3. Cook on Low for the Right Amount of Time
Cook on low for at least 8 hours (but 10 or 12 hours is better). This will ensure that the interior of the pork loin reaches at least 160°F without overcooking it on the outside.
4. Use an Instant-Read Thermometer
Always check internal temperatures before serving! You'll be surprised how often food safety issues occur because someone thought their food was done but didn't actually take its temperature first. Don't take chances with your family's health.
5. Let the Meat Rest Before Serving
After cooking, transfer the meat to a cutting board or platter and let it rest for at least 10 minutes before slicing. This helps redistribute the juices inside the pork loin and improves juiciness and tenderness.
Why Should You Cook Pork Loin in a Slow Cooker?
The pork loin roast is one of the most versatile cuts of meat available. It's incredibly lean and cooks up very tender. This makes it perfect for everything from sandwiches to soups to main dishes. If you're looking for a hands-off method, that results in fork-tender meat, look no further than the slow cooker!
1 . Requires Minimal Prep Work
The beauty of cooking in a slow cooker is that you can throw everything into the pot and go about your day without worrying about it. Perfect for those busy weeknights when you don't have time to spend over a stove all afternoon.
2 . Fantastic for Delicious Pulled Pork Sandwiches
If you're looking for a way to use your slow cooker beyond soups and stews, I have an idea. Try pulling the cooked pork apart with forks and throwing it into pitas with barbecue sauce or salsa verde (or both!). Yum!
3 . Tender Pork Chops Without Frying!
While frying pork chops is a quick way to cook them up to tender, fried foods aren't exactly ideal for healthy eating. If you'd rather skip the fryer and still enjoy juicy chops, try cooking yours in your slow cooker instead! You'll still get those deliciously tender chops without all of the extra calories and fat.
4 . Meat Infused with Flavor Every Time
Slow-cooked meat has a rich, delicious flavor because it's being cooked on low and slow. The longer you cook it, the more tender and flavorful it becomes. However, keep in mind that it can overcook. This will interfere with the flavor and tenderness of the meat so try to avoid overcooking.
5 . Serve with a Variety of Delicious Side Dishes
The great thing about slow-cooked meats is that they pair well with a wide variety of side dishes. Try serving up your pork chops with roasted vegetables, mashed potatoes, or even corn on the cob!
How to Choose a Great Pork Loin Roast
1. Look for a Thick Cut of Meat
Pork loin roasts come in all shapes and sizes. While some may be thin and long, others are short and thick. What to look for when you're choosing your pork loin is a thick, juicy piece of meat that will provide plenty of protein for your family.
2. Pick a Boneless Pork Loin Roast
When you're shopping for your pork loin roast, look for a boneless one. A bone-in roast will take longer to cook through than the boneless variety.
If you prefer the flavor of bone-in meat, simply ask your butcher to cut the bones out before packaging it for you!
3. Choose Fresh Pork Over Frozen
Fresh pork is always better than frozen any day of the week. The flavor is fresher, the texture is more tender, and it's easier to cook from scratch with fresh meat than with frozen food!
That being said, when possible, try shopping at your local farmers' market or buying directly from a local farm – that's where you'll find fresher cuts in excellent varieties (such as heritage breeds)!
4. Shop Around for Deals on Quality Cuts
While there are many great cuts of pork available year-round at the local grocery stores and supermarkets, you'll often find even better deals for quality cuts at warehouse stores (like Costco or Sam's Club).
5. Buy Pork From Farms You Trust
Buying from a local farmer is always a great idea! Not only do you support your local economy and help keep your community's agricultural heritage alive, but it also allows you to learn about the farmers who raise your food.
Ask questions about the feed they give their animals, how they treat them, and what else is in their fields that might affect the flavor of the meat. You'll find that knowing where your food comes from makes it taste even better!
6. Trim as Much Fat as Possible Before Cooking
Pork is often quite fatty and can be absolutely delicious when cooked with its fat intact. However, some cuts have more fat than others (such as pork belly or spare ribs), and if you don't like a lot of fat on your meat, you should trim it off before cooking!
A sharp knife works best for this job – just cut away any visible fat until you're satisfied with how lean it looks.
7. Use Fresh Herbs to Season Pork During Cooking
Fresh herbs are another great way to add flavor to otherwise bland cuts of meat like pork loin. You can never go wrong with:
Thyme
Rosemary
Sage
Oregano
Basil
Etc.
They all complement the pork loin well without overwhelming its natural sweetness. Simply sprinkle fresh herbs over your pork loin during the last few minutes of cooking for the best results!
Does Pork Loin Go by Any Other Names?
Pork loin is also called pork top loin and center loin. These names are all interchangeable and refer to the same cut of meat.
What's the Difference Between a Pork Tenderloin and a Pork Loin?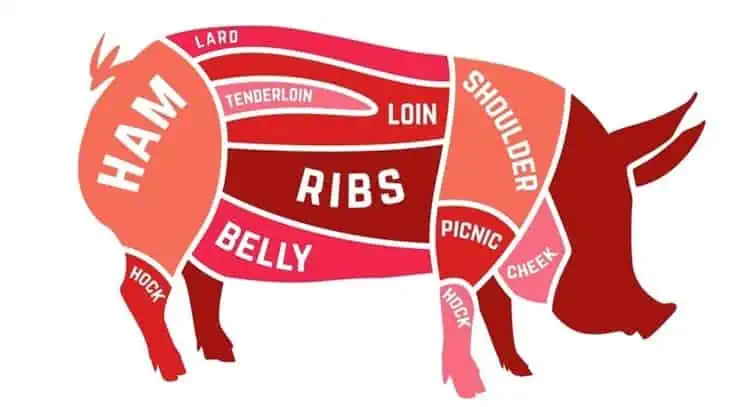 Pork tenderloin and pork loin are two different cuts of pork, even though they sound the same.
A pork loin is:
Large, tough meat cut
Usually cooks for a long time
A pork tenderloin is:
Long and slender
It is prepared quicker than a pork loin.
It's perfect for grilling!
However, it dries out quickly, so be careful not to overcook it
But one of the best things about cooking in a crock pot is that you can use both loin and tenderloin in most pork recipes with the same delicious result in the end.
What Size Slow Cooker Should I Use?
While many slow cookers come in "small", "medium", and "large" sizes, the real measure of a slow cooker is the number of quarts it can hold. 4 cups make one quart.
A "regular" slow cooker will hold about 6 quarts, which is equivalent to a round baking dish that is 8 inches in diameter and 2 inches deep.
A "large" slow cooker will hold about 7 quarts, which is equivalent to an 8 x 10-inch baking dish.
Can I Put Frozen or Raw Pork Loin In The Crock Pot?
Yes, you can put in, and cook frozen or raw pork loin in the crock pot.
Frozen pork loin (or any meat, for that matter) will have to cook longer in the crock pot, but the meat will still be just as yummy and tender.
Raw pork loin might be a little tougher or dry out if cooked too long, so keep an eye on it.
Should a Pork Loin be Cooked Fat Side Up Or Down?
Traditionally, the fat should be facing up. This allows the fat to melt and baste the meat as it cooks.
Most crock pot recipes for pork loin will tell you to put the pork loin in with the fat side up, but if you don't care about the appearance of the finished dish, you can put it in with the fat side down and just flip it over when it's done cooking.
Does a Pork Loin Need to be Prepared in Any Way Before Cooking?
Usually, no. Most pork loins are sold trimmed, so if you buy a boneless pork loin, there's no need to trim it.
Do You Need To Brown A Pork Loin Before Cooking It In The Crock Pot?
No. If you want to sear the pork loin in a little olive oil before putting it in the crock pot, that's fine, but it isn't necessary.
Do You Need to Add Liquid or Vegetables to the Crock Pot When Cooking Pork Loin?
You can add a little liquid to the crock pot if you want, but it's not always necessary. The pork loin will release fat and juices as it cooks. They could be enough to keep everything from drying out.
If you don't want to use a liquid, just put the pork loin in with the seasonings you want to cook it with. If you prefer to add vegetables, you can add them about 2 hours before taking the pork loin out of the crock pot or before serving.
Are you a gravy fan? If you like gravy with your pork loin, you can use the juices released by the meat and vegetables as a base for a homemade sauce.
Best Liquid(s) to Use
You can use any liquid you want with your pork loin in the crock pot. I've used it with good results:
Water
Beef broth
Chicken broth
Red or white wine
Beer
Vegetable Ideas
The possibilities are limited only by your imagination. You can use a single vegetable or several different ones. I've used:
Mushrooms
Carrots
Cabbage
Onions
Peas
Squash (butternut, acorn, and spaghetti)
Potatoes (white, sweet, and red)
Spaghetti squash (or other winter squash)
Turnips
Cauliflower
Green beans
Beets
Red cabbage
Parsnips
How Long Does it Take to Cook Pork Loin In a Crock Pot?
The pork loin will take 6-8 hours on high or 8-10 hours on low to cook in a crock pot. You can tell it is done when the meat is tender enough to cut easily with a fork.
You can also check the internal temperature of the meat with an instant-read thermometer. It's done when it reaches an internal temperature of 160 degrees F.
How Can You Tell When a Pork Loin is Fully Cooked?
Appearance
The top of the pork loin will be browned when it is done. The bottom will be browned but not as much. The meat should not have grey or pink spots and should feel very soft when pressed with a finger.
You can tell when a pork loin is fully cooked by its texture. It should be very tender and fall apart easily with a fork.
Internal Temperature
The USDA recommends cooking pork to an internal temperature of 160 degrees F. This is the temperature at which the harmful bacteria associated with foodborne illness are killed.
If you want to cook your pork loin to a higher internal temperature, that is fine, too, but it will be less juicy and tender than if you cooked it at 160 degrees F.
You need a meat thermometer to monitor the temperature. Here are a few options I love:
09/20/2023 08:21 am GMT
How to Add Even More Flavor to Your Pork Loin
Possible Rubs and Spices
A pork loin can be rubbed with a spice mixture before cooking it. This is an easy way to add flavor.
You can also make a paste of herbs and spices and rub it on the pork loin. This is a good option if you have leftovers as you can freeze the paste for later use.
Herbs and spices that go well with pork loin could be:
Mustard
Rosemary
Thyme
Sage
Lemon zest
Fresh ground pepper
Salt and pepper are always good as well.
Here's a video on how to make a rub for pork loin.
Rubs add flavor to your pork loin, but they do not tenderize it. You will still need to cook the meat to an internal temperature of 160 degrees F.
Gravies
You can serve the meat with gravy or make one to pour over it. The sauce can be made with:
Pan drippings
Demi-glace, or
A combination of the two.
Demi-glace is a concentrated sauce used to improve the flavor of other sauces and gravies. It can be found in the gourmet section of most grocery stores.
The recipe for gravy which I recently made and everyone at home loved, used the following ingredients:
1/3 cup or 5 tbsp all purpose flour (you can replace it with cornstarch)
2 tsp garlic powder
3 cups chicken broth or 1 Knorr cube + 3 cups water
2 tbsp butter
1-2 tbsp low sodium soy sauce
Black pepper
Here's a video about how to make the gravy:
Sauces
Pork loin is excellent with a sauce. A sauce will add more flavor to the meat and help keep it moist.
Here are some sauces that would go well with pork loin:
Apple cider (cider vinegar, apple juice, butter)
Barbecue sauce (homemade or bottled)
Brown gravy (pan drippings, demi-glace)
Peach chutney or fig preserves
Honey mustard dressing (honey, Dijon mustard, oil)
Soy sauce
Worchester sauce
This is not an extensive list, of course. Do you have your favorite pork loin sauce? I'd love to read about it in the comments below!
What are the Best Sides to Serve With Pork Loin?
Side dishes are a big part of the meal. They can take it from good to great. A lot of people ask me what sides go well with pork loin. I have some suggestions.
Potatoes
Baked, mashed, roasted, or French-fried potatoes are always a great side choice for any meal. The potatoes will soak up the flavor of the meat and gravy (if you're using it) and add to the dish.
Salad
A salad is also a good choice with pork loin. It adds color and freshness to your meal without adding to your waistline. A simple salad of greens and tomatoes would be perfect with this dish.
Vegetables
Any vegetable that you like will go well with pork loin. If you enjoy squash, try pairing squash with your meat dish. If you prefer bell peppers, try them out too! For best results, I'd recommend you use fresh vegetables.
How to Use Pork Loin Leftovers for Other Meals
Pork loin is a versatile type of meat because it can be used in a variety of meals. You can use the leftovers in many different ways, too.
Sandwiches
If you have leftover pork loin, you can make sandwiches. Use a bun or bread of your choice and add lettuce, tomato, onion, and any other toppings you like to your sandwiches.
Dishes
You can use pork loin leftovers to make other dishes too!
If you have some leftover gravy from the meal, you could use it to make scalloped potatoes or mashed potatoes for another dish.
You could also add the meat to soups or stews for extra protein.
Can Pork Loin Be Used For Pulled Pork?
Yes, you can use pork loin to make pulled pork! It's a great way to use leftovers, and it's a perfect meal for meat lovers like myself.
Pork Loin Leftover Ideas
1. Pulled Pork Burritos with Cheesy Sour Cream Sauce
Do you love burritos, too? Then, you should definitely try out these pulled pork burritos with cheesy sour cream sauce. Your pork loin leftovers will be gone in a blink.
2. Easy Garlic Ginger Glazed Sticky Pork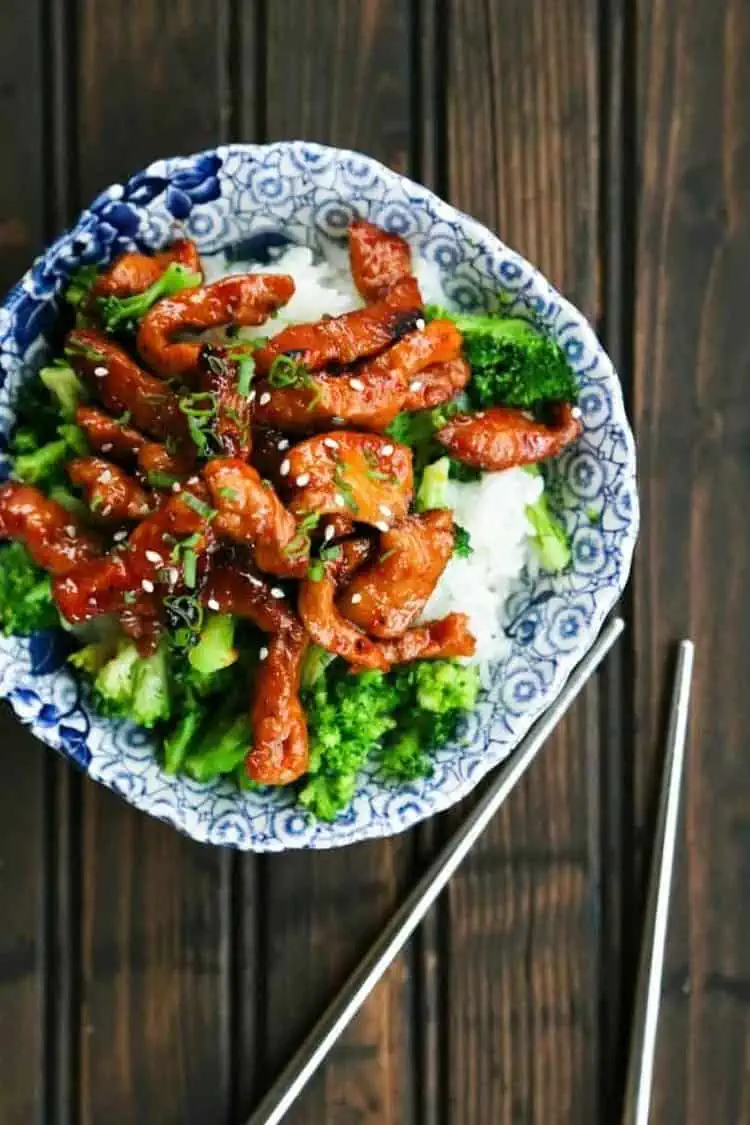 If you enjoy Asian flavors, you will love this easy garlic ginger glazed sticky pork. It's a quick and easy recipe that you can make any day of the week. This is one of our favorite ways to use up leftover pork loin as it's so tasty and great for eating on rice or noodles.
3. Easy Leftover Pork Fried Rice
Pork fried rice is one of the easiest recipes you can make with your leftover pork loin. The best thing about this recipe is that it is quick and easy! You can make this dish with fresh pork loin, too.
What Should I Do if the Meat Comes Out Dry or Tough?
What to Do if Dry
If your pork roast came out dry, there are a few things you can do to fix it.
Add water or chicken stock to the bottom of your crock pot to keep moisture in while cooking.

Add any additional ingredients to help keep moisture in, like:

Applesauce
BBQ sauce
Beef broth
Your own homemade gravy
What to Do if Tough
If your pork loin is tough, you can try the above tips for dry meat to fix it. However, to prevent it from ever happening to you again, you should:
Make sure you are using a tender cut of fresh pork

Use a slow cooker with an automatic shut-off feature so the meat doesn't overcook and become dry and tough.

Use a cooking bag in the slow cooker, allowing the juices to stay in the bag, and don't evaporate out of the crock pot while cooking.
How Long Does Leftover Pork Loin Last in the Fridge?
You can store leftover pork loin in an airtight container in the refrigerator for 3 days.
If you want to freeze it, I recommend wrapping it first in foil, then putting it inside a freezer bag.
If I'm Short on Time, Can I Make Pork Loin in an Instant Pot Instead?
Yes, you can! And it's a huge time-saver, too. If you don't own an Instant Pot, I highly recommend you consider getting one. They're available on Amazon, and they're very affordable options. I promise you'll wonder how you've ever lived without it before! I have THREE now myself!
Directions on How to Cook Pork Loin in an Instant Pot
Place the pork loin, onions, and garlic in the Instant Pot.
Pour in 1/2 cup of water and add the seasonings.
Close the lid and make sure to seal it properly.
Set vent to seal and cook on high pressure for 35 minutes (if pork is frozen) or 25 minutes (if pork is thawed).
Leave the pressure to release naturally for 15 min.
Release the remaining pressure manually by moving the vent to an open position. Open the lid after all the pressure is released and remove meat from the slow cooker with tongs or two forks.
Place on a cutting board to rest for 5 minutes before slicing into thin pieces with a sharp knife.
Tips for How to Cook Pork Loin in an Instant Pot
Use a trivet or steamer basket so your meat isn't sitting in the liquid as it cooks. The meat will cook more evenly if it's not sitting directly on the bottom of the pot.

I like to brown my pork loin before I put it in my Instant pot so that it gets nice and crispy on the outside (you can skip this step if you're short on time).

If you're in a hurry, place everything in your electric pressure cooker and set it to high pressure for 30 minutes (on manual setting) or use the default meat setting on high for 30 minutes. Allow natural pressure release before opening the lid.
Can Cooked Pork Loin Be Frozen for Future Meals?
Yes! Cooked pork loin freezes well and can be used in so many different recipes. I am sure you'll find something on the lists of simple pork loin crock pot recipes above!
The Best Way to Reheat Slow Cooker Pork Loin 
There are two equally great ways to reheat your slow cooker pork loin leftovers – in the microwave or in the oven.
Microwave
If you're using a microwave, be sure to place the pork loin on a microwave-safe plate and heat in 30 seconds increments until warm.
Oven
If you're using an oven, preheat your oven to medium-height heat (about 350 degrees F) and bake for 10-15 minutes or until heated through.
Did you like our list of 25 tasty and simple pork loin crock pot recipes? Then, you need to check out these posts, too: