Do you love fried chicken wings but hate the fact that they are bad for your health and high in calories? Do you want to enjoy them without feeling guilty? If yes, you're going to love this list of chicken wings air fryer recipes. These low-calorie recipes are as yummy as their fried counterparts but without all the fat and calories.
This post contains affiliate links.
The chicken wings air fryer meals are perfect for parties and get-togethers. They are easy to make ahead of time, simple to prepare, and make party food preparation stress-free. These recipes also require less oil and are healthier, so you can still enjoy your favorite fried chicken without feeling guilty.
Be sure to read til the end too because we're answering lots of frequently asked questions and sharing all our best tips for making the most delicious air fryer chicken wings.
17 Finger-Licking Chicken Wings Air Fryer Recipes
1. Super Crispy Air Fryer Chicken Wings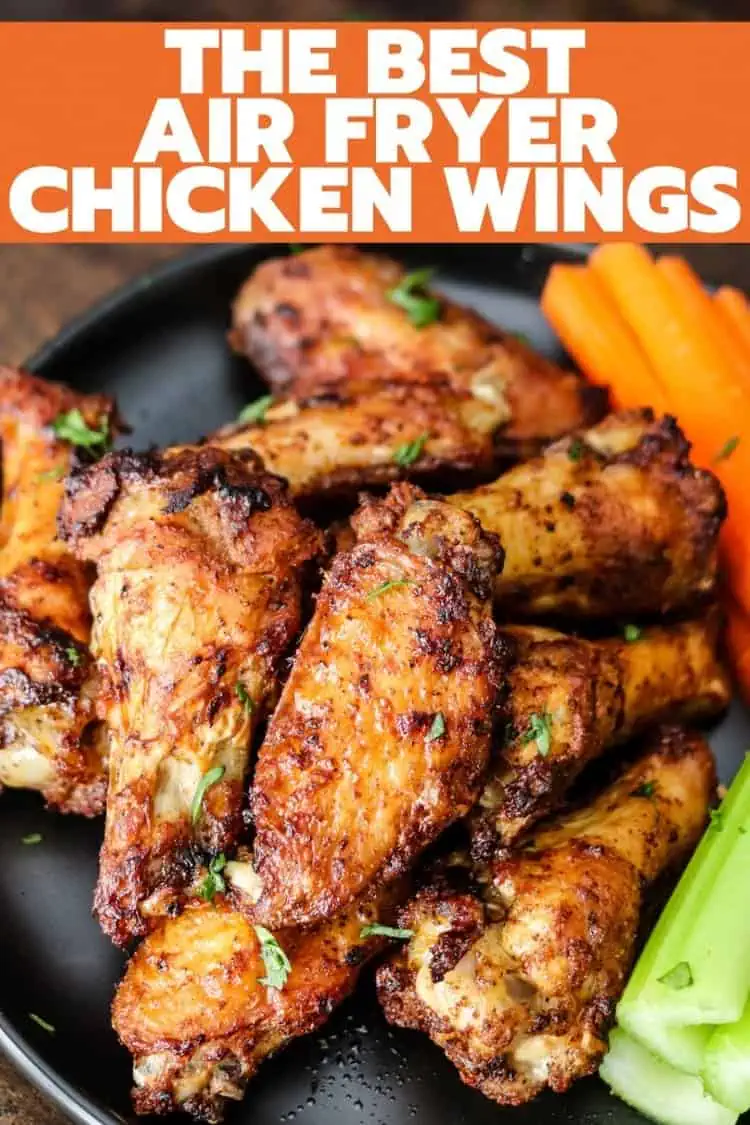 Ready in less than 20 min, these mouth-watering wings (and drumettes) are going to be your new family's favorite!
2. Salt and Vinegar Wings (Air Fryer or Oven Baked)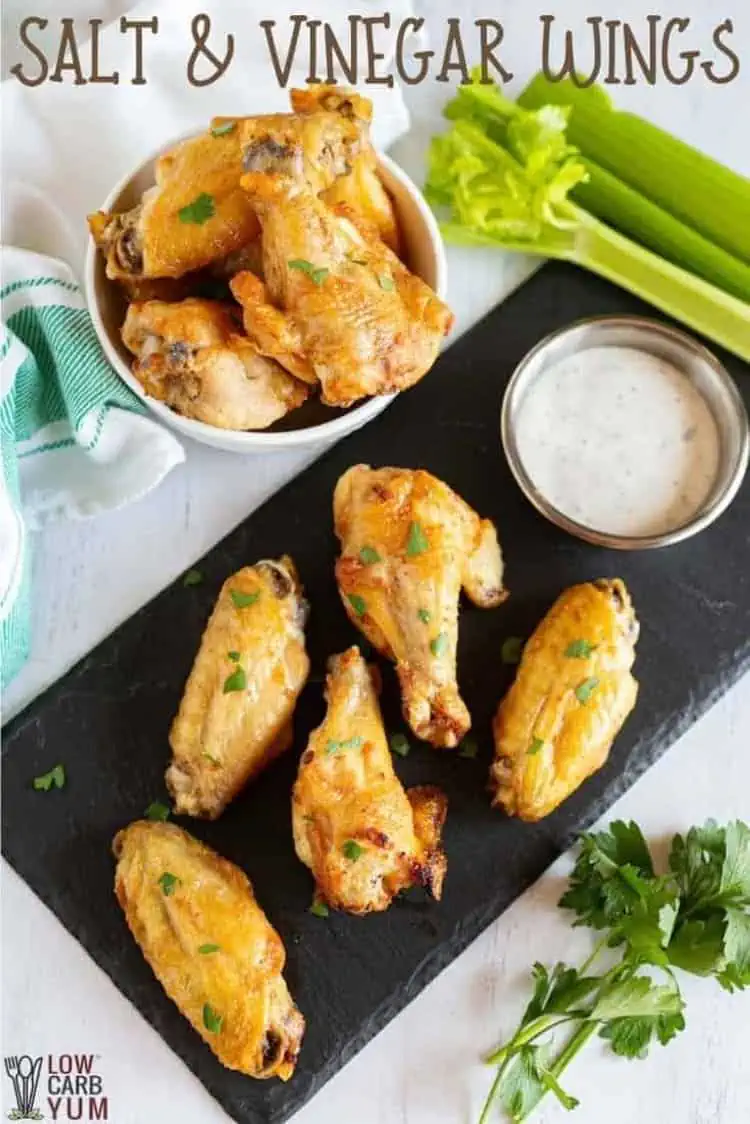 Have you ever used salt and vinegar as chicken meat marinade? If not, you're about to be surprised by how tasty they turn out! Serve with a dipping sauce on the side, and you're all set for dinner tonight!
3. How to Make Air Fryer Buffalo Chicken Wings?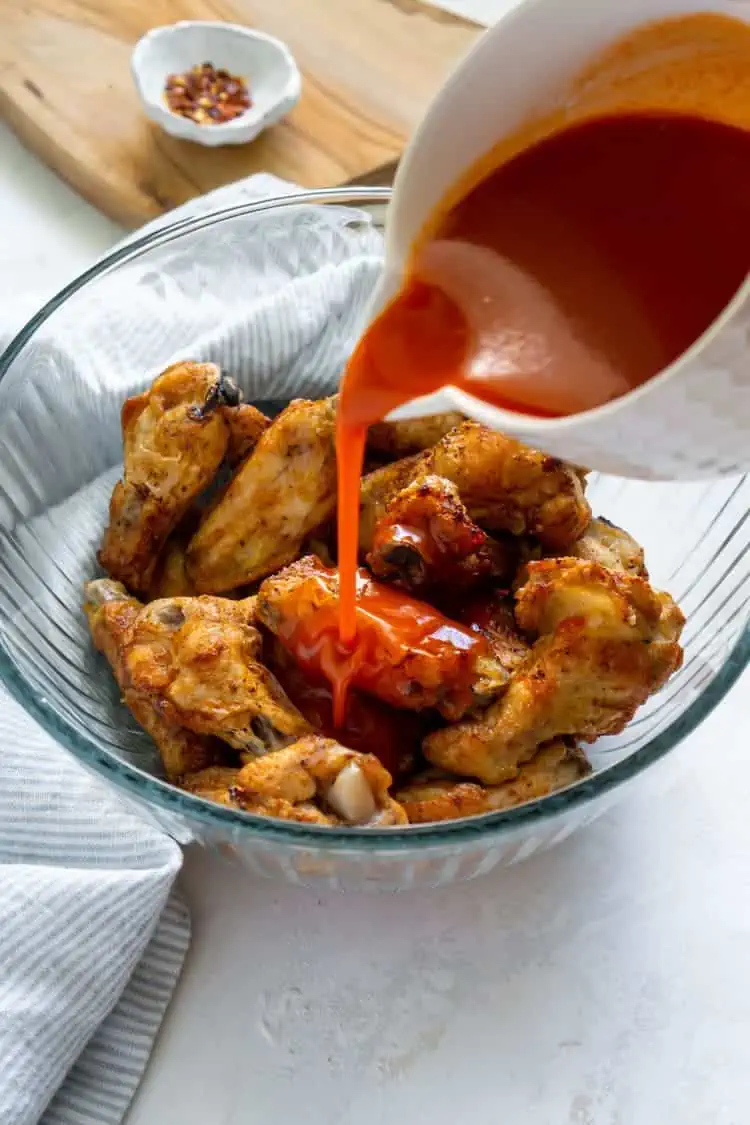 Full of flavor, great for a busy work night dinner, and absolutely delicious, these buffalo chicken wings will make it in your meal rotation. The recipe shows them cooked both in an air fryer and an oven, which is great if you don't have your fryer on hand.
4. Frozen Chicken Wings in the Air Fryer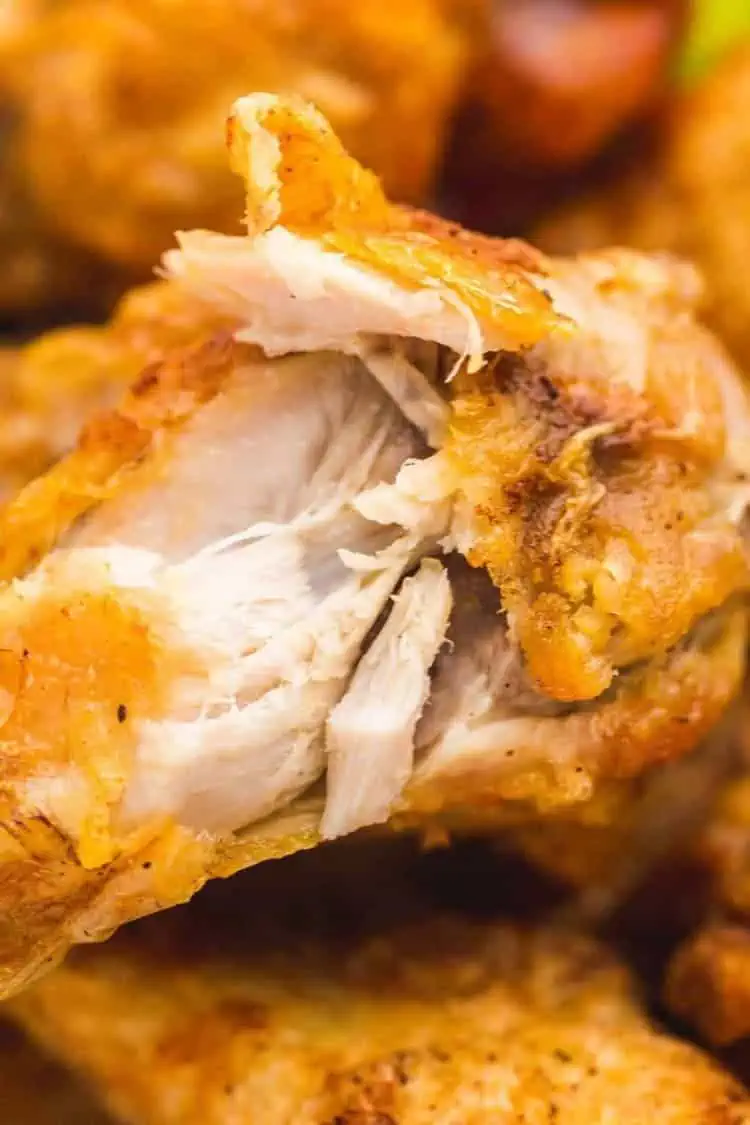 Let me paint the picture. You'll be having friends over, planning a great Saturday evening, hanging in the backyard, and devouring delicious BBQ. But… you forgot to take the wings out of the freezer!
But don't freak out because you can still have juicy and crispy chicken wings for your party because you can toss them frozen in the air fryer, too!
5. Air-Fried Chicken Wings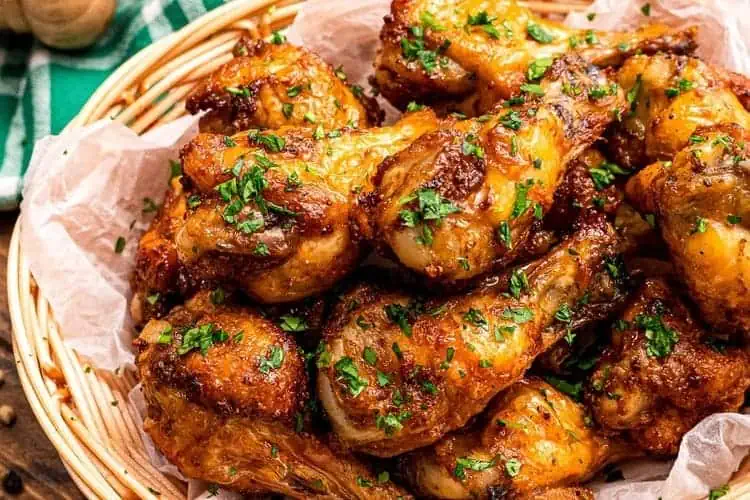 They're crispy and tasty, and they smell like heaven! These chicken wings are fantastic for a football game night in front of the TV. And healthy, too!
6. Air Fryer Hooter's Chicken Wings Copycat Recipe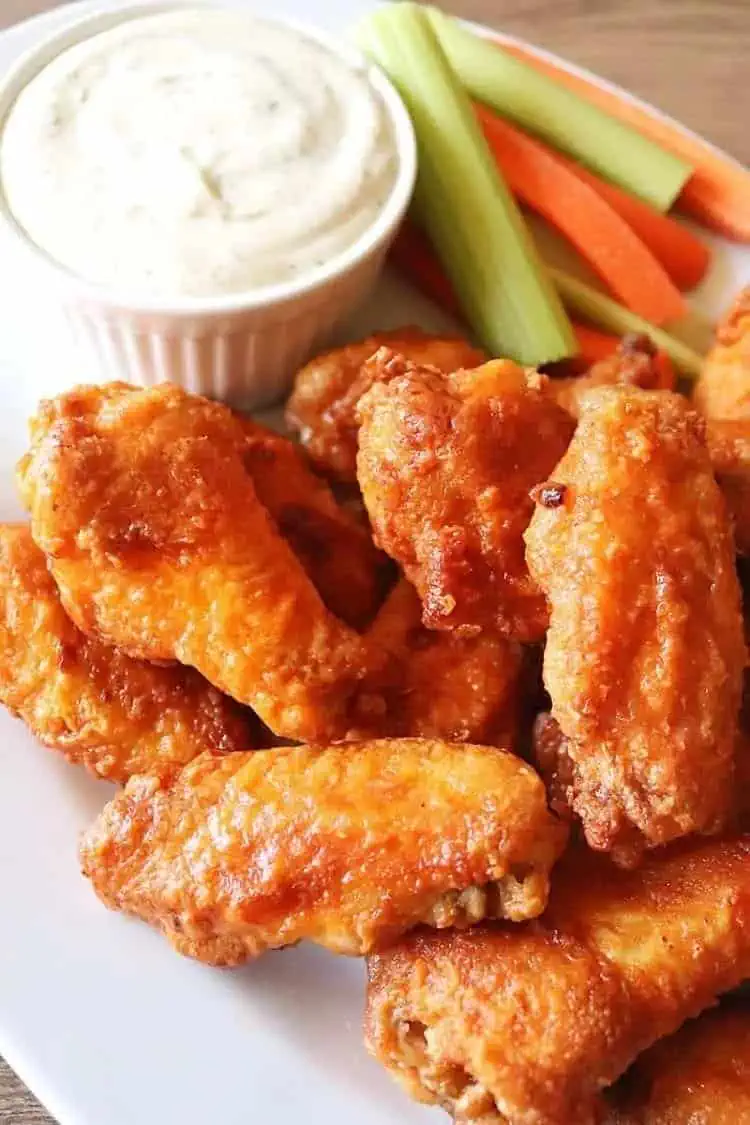 We can't miss the iconic Hooters chicken wings, right?? This copycat recipe is fantastic! Serve with your favorite sauce for even more delicious results.
7. Crispy Chicken Wings in the Fryer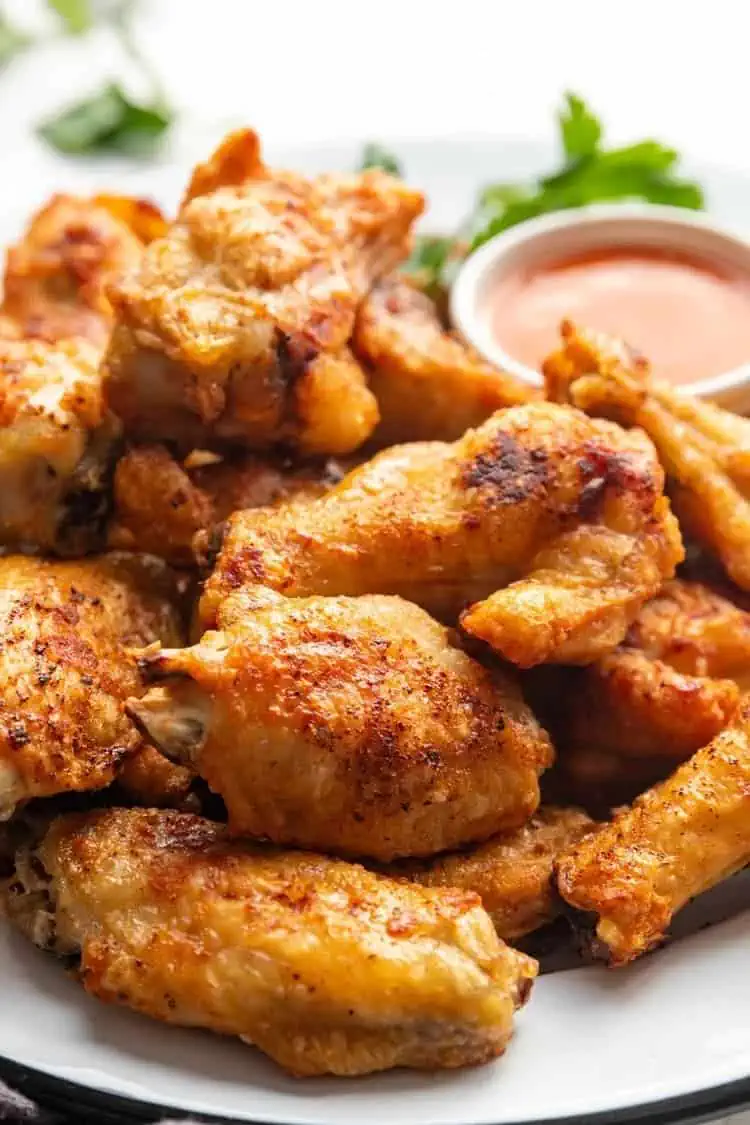 If you did your research, you're probably aware that air fryers use 70-80% less oil for cooking, which automatically makes them that much better for your heart, waistline, and pretty much everything else.
But what if I tell you that you can cook the crispiest wings you had in your life without any oil at all? Yep, it's true! And this recipe proves it!
8. Honey BBQ Chicken Wings in the Air Fryer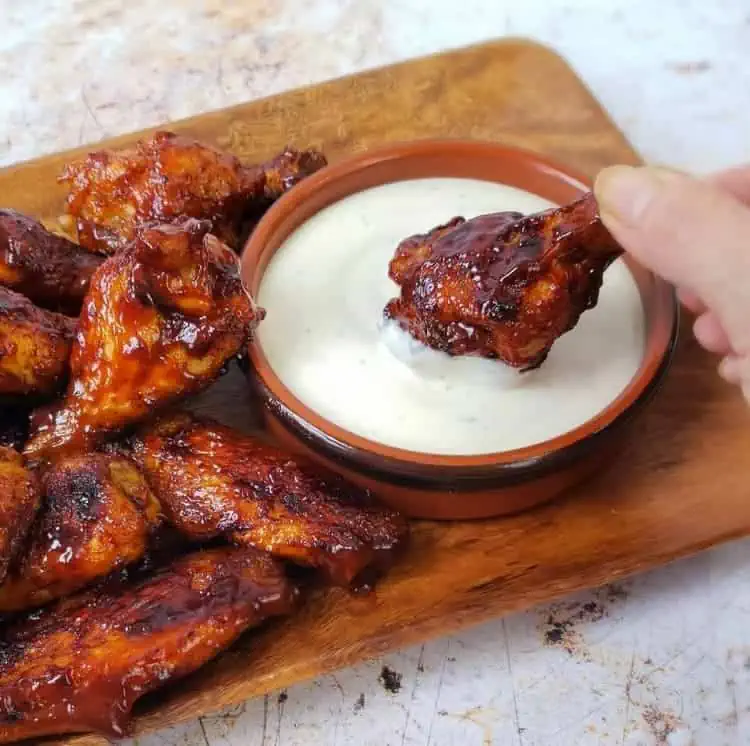 Want to leave everyone at your party talking about your chicken wings? Then, you should go with this mouth-watering honey BBQ chicken wings recipe! You can thank me later.
9. Air Fryer Chicken Wings with Buffalo Sauce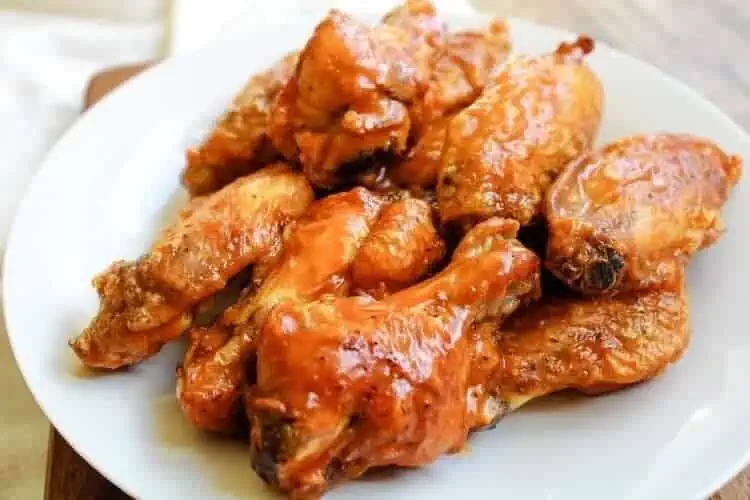 There's no way I am missing the good old Buffalo chicken wings on my list! And this recipe is just amazing! It's ready in less than 30 min, too.
If you end up with uneaten wings at dinner, store them in an airtight container in the refrigerator for a couple of days.
10. Air-Fried Chicken Wings (Extra Crispy!)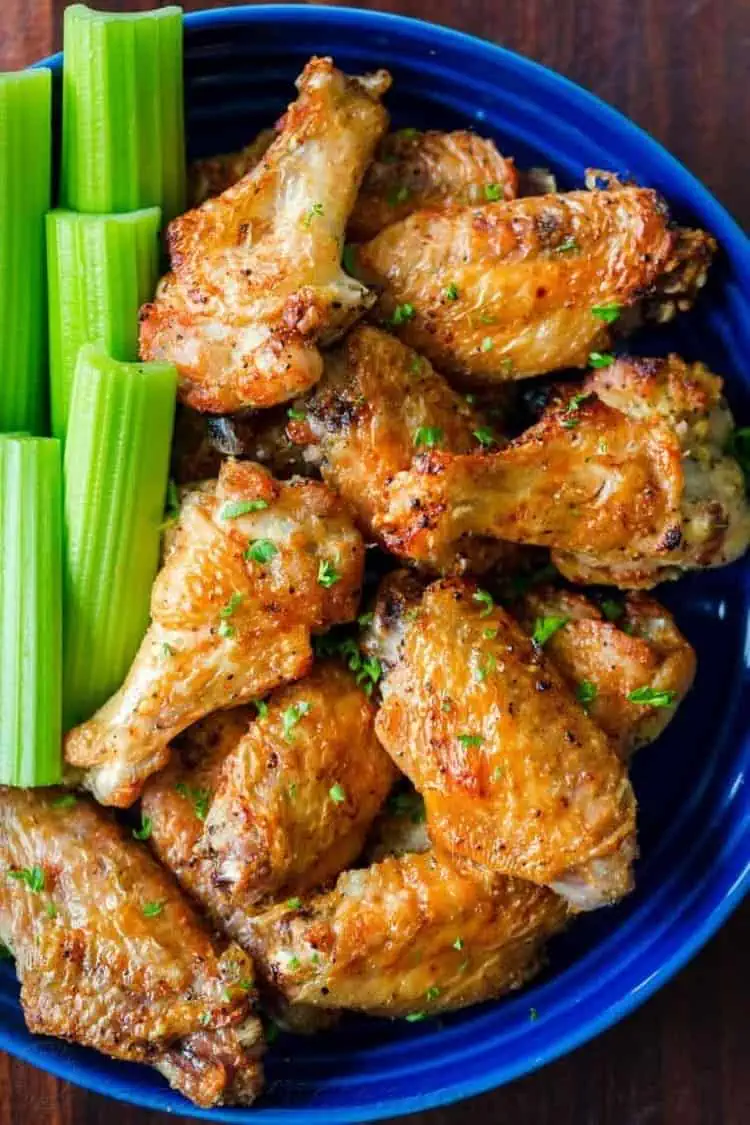 Craving chicken wings? Then, this is exactly the recipe you're looking for! Crispy and filled with flavors, including garlic and lemon pepper, these chicken wings (and drumettes) will become your favorite party food.
11. Dry Rub Air Fryer BBQ Chicken Wings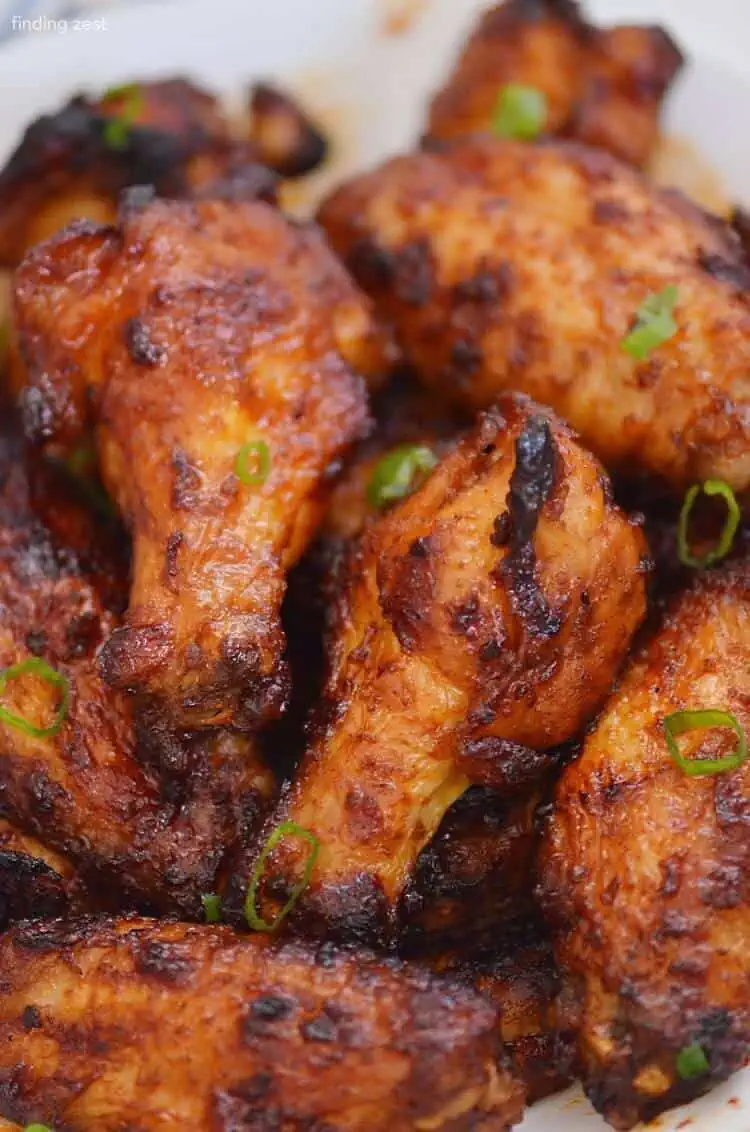 Knowing how to balance herbs in homemade dry rubs is an art, and you can't go wrong with this amazing BBQ chicken wings recipe with the best homemade dry rub I have made in ages!
12. Air Fryer Chinese Chicken Wings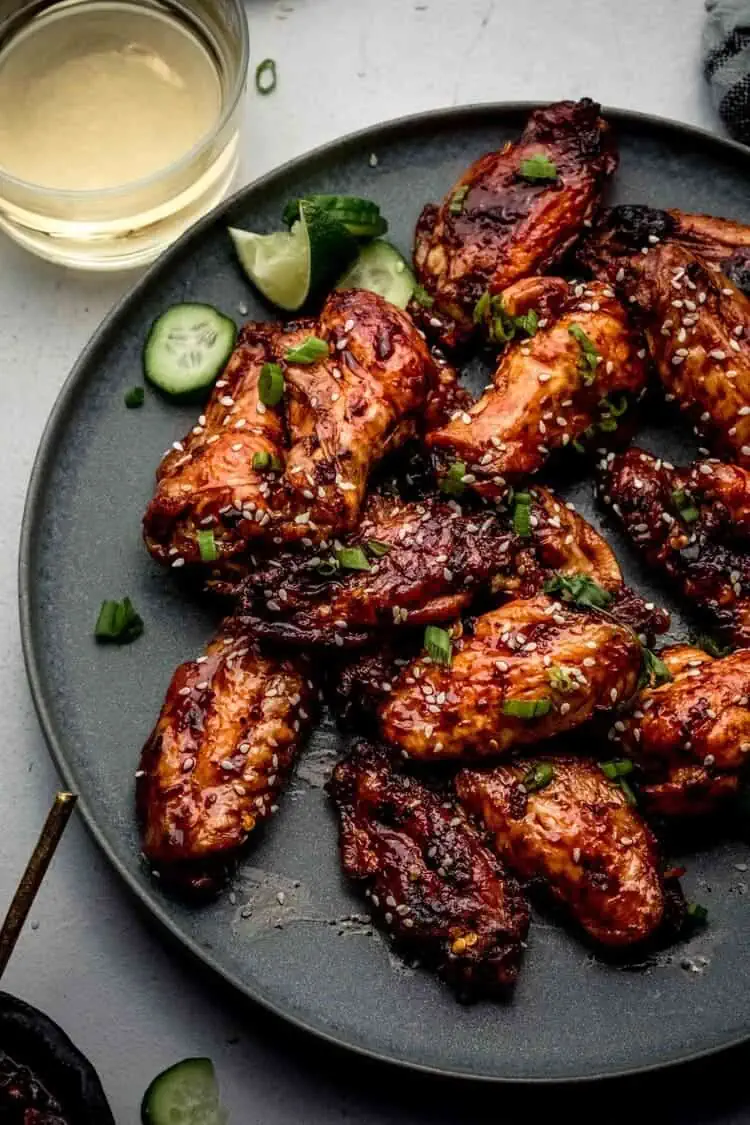 We are huge fans of Chinese food at home. Even my very picky kid has three (that's right – 3!!) favorite Chinese dishes. When I first saw this air fryer Chinese chicken wings recipe, I instantly knew what we were having for dinner. And it was a hit!
13. Korean Fried Chicken in the Air Fryer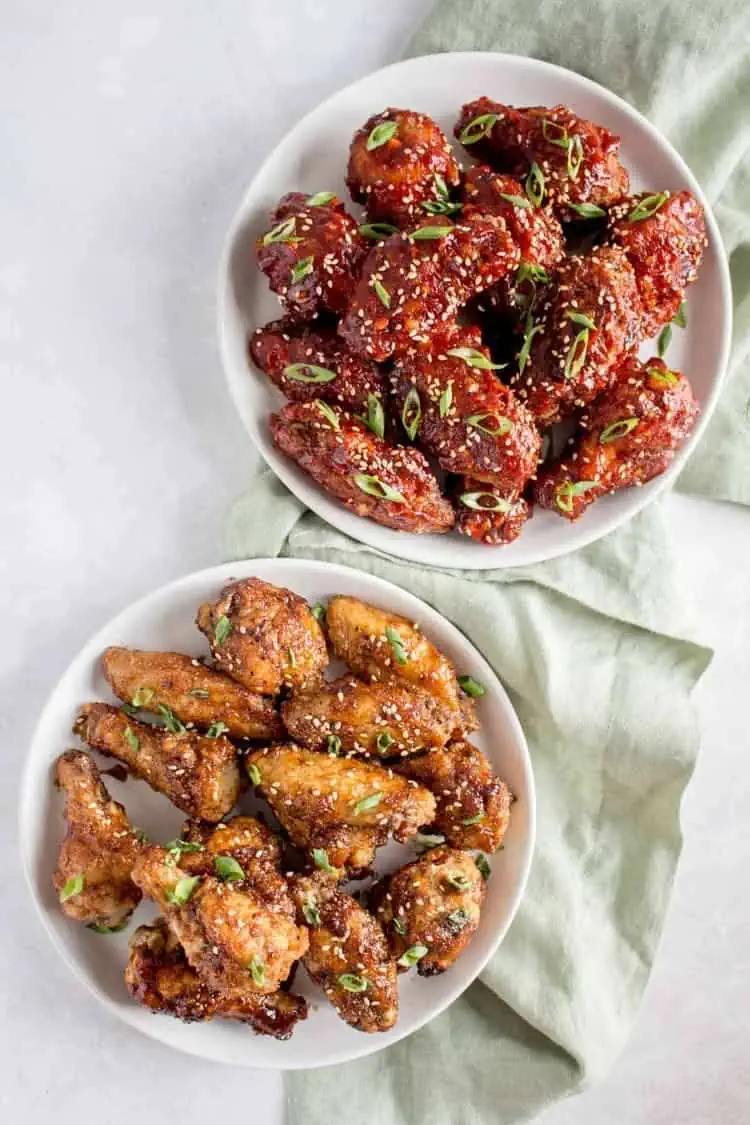 While we're still in Asia, here's another favorite of mine. This Korean fried chicken is spicy, crispy, and absolutely delicious!
14. Crispy Air Fryer Chicken Wings (Video)
These crispy air fryer chicken wings are so good that you won't even bother looking at other recipes.
15. Delicious Air-Fried Chicken Wings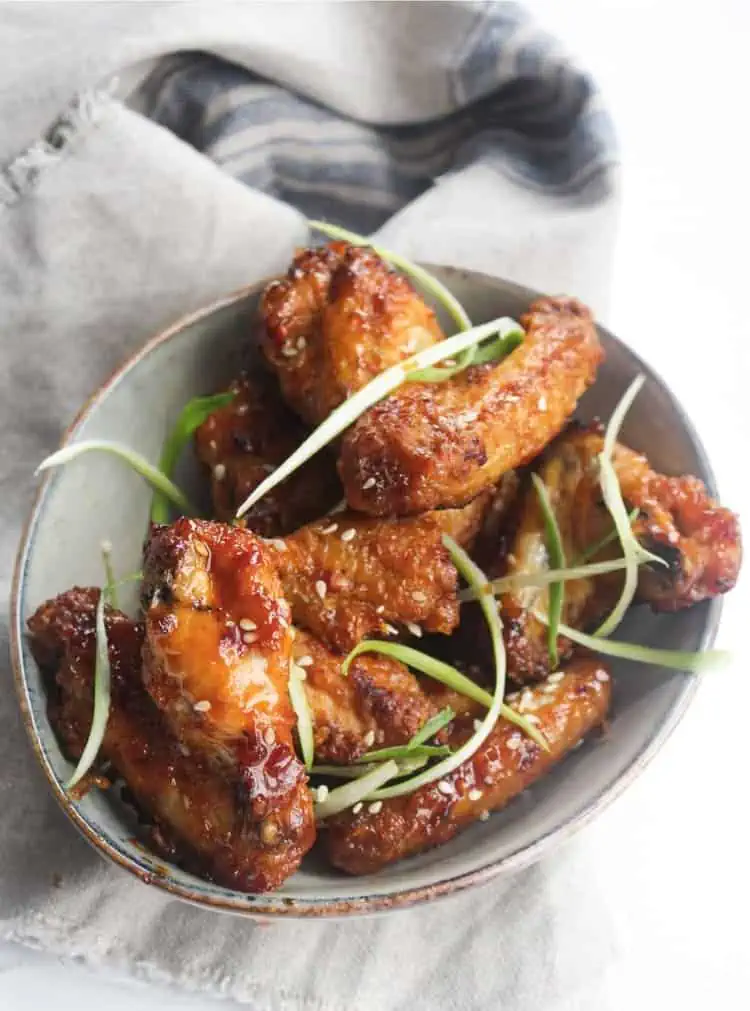 Every mom has her own air fryer chicken wings recipe, and this one is a must-try for every busy evening or lazy Sunday. They're great with zoodles on the side, too.
16. Low Carb Keto Air Fried BBQ Chicken Wings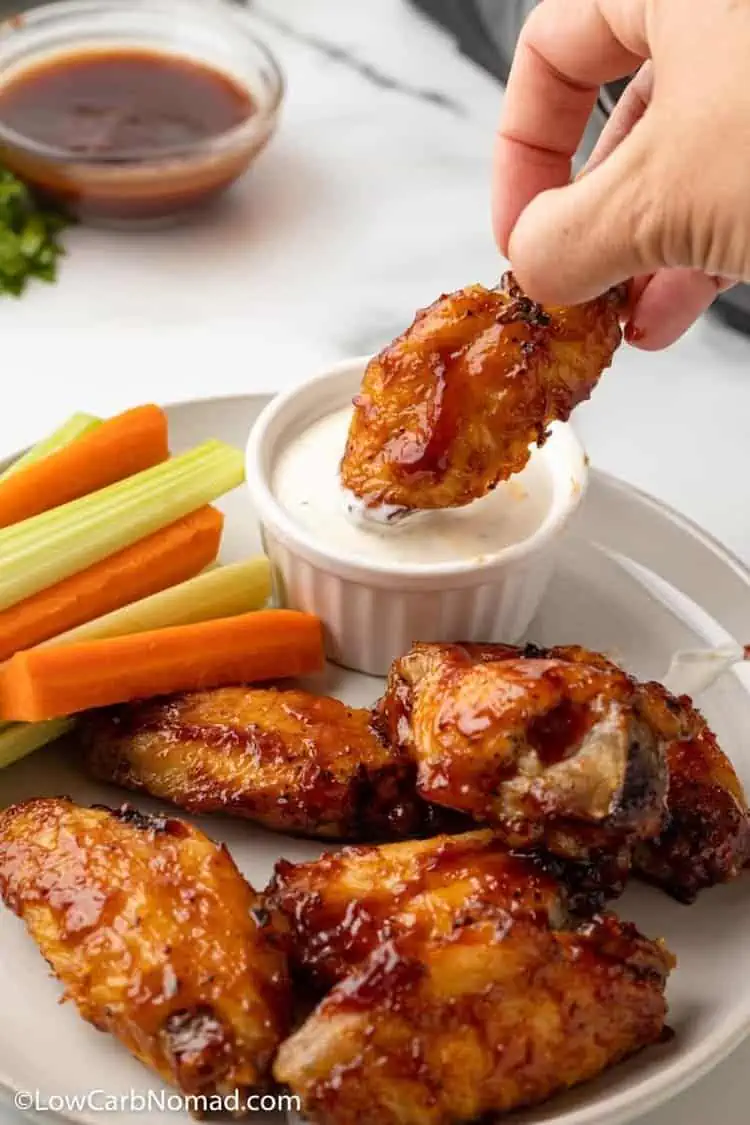 The best thing about cooking chicken wings is they're actually keto-friendly. These BBQ chicken wings are so good and will not have any negative impact on your waistline. Serve them with healthy appetizers, like carrots or celery sticks.  If that's not a win, I don't know what is!
17. Air Fryer Garlic Parmesan Wings
Do you smell garlic and parmesan? And chicken? These air-fried chicken wings will be a great conversation starter for your next block party!
Have Questions about Air Fryers? We've Got Answers!
How to Make Crispy Wings in the Air Fryer?
Where do you even begin when making a chicken wing air fryer recipe? Well, it's not a complicated process.
Step 1: Purchase a quality air fryer large enough for your household needs
Your needed size will depend on how big your family is. How many people do you usually cook for?
For example, if you're making chicken wings in the air fryer for two people, a smaller 4-quart capacity air fryer would be fine. However, if you're preparing wings for four or more people, consider investing in an 8-quart capacity air fryer.
Step 2: Prepare any ingredients, seasonings, or sauces you plan on using
If a recipe calls for marinating the chicken before cooking it in the air fryer, now would be a good time to do so. For example, you might want to use:
Dry rub
Barbecue sauce
Buffalo sauce
Honey butter
Ranch dressing
Blue cheese dressing
Preheat your air fryer per the manufacturer's instructions. Add the chicken wings, so they begin cooking immediately. After 30 minutes of cooking time has passed (or as specified by your recipe), remove the chicken from the air fryer and drain any excess grease.
Mix everything in a large bowl and make sure the wings are fully covered in seasoning or batter. Once the chicken wings are cooked and seasoned as desired, return them to the air fryer for additional 10-30 minutes of cooking time (or as specified by your recipe). After this final round of cooking, it's time to remove and serve them up!
Now that you know how to make crispy wings in the air fryer, it's time to get busy in your kitchen! There are 17 great recipes in this post waiting for you to give them a try! So, get started today and let me know what you think!
Can I Bake These in a Traditional Oven?
Absolutely! You can bake these chicken wings in traditional ovens if you prefer. The only thing to remember is that the cooking time will be longer and will vary depending on your cooker.
On average, you should plan to bake your wings for about 20 minutes at 400 degrees F and probably at least 10 min more on the other side. Some of the recipes from the list below have a recommended oven baking time included, so this could be of good use if you decide to use a traditional oven.
Once again, the timing is approximate and can vary depending on your:
Recipe
Chicken wings quantity
Oven
So, it's best to keep an eye on the wings and use a meat thermometer (like this one) to check their cooking progress, instead of relying on cooking time alone.
How long Does It Take to Cook Chicken Wings in an Air Fryer?
It depends on the size of the wings. If you follow the instructions above, it will take about 30 minutes to cook 8-10 wings at 400 degrees F.
Once again, this is approximate and can vary depending on your air fryer so, it's best to keep an eye on the wings to check their cooking progress instead of relying on cooking time alone.
What You'll Need to Make Chicken Wings in the Air Fryer
The best thing about cooking chicken wings in the air fryer is that even the simplest recipe turns downright delicious. For the most basic recipe, all you need are:
Chicken wings

Salt

Pepper

Olive oil
To add variety and different tastes to your chicken wings, you can use sauces or dry herbs. You probably have most of the ingredients on hand already. The ones you don't you can get from your local grocery store or supermarket.
Here's what you can add to your chicken wings to make them even more delicious:
Lemon juice

Honey

Cayenne pepper

Salt and pepper

Paprika

Olive oil (for the air fryer basket)

Lemon Pepper

Garlic powder
Onion powder

Mustard

Ketchup

Soy sauce

Ranch sauce
Dips

Whatever else your heart and tongue desire!
Of course, this is not a complete list of all of the fabulous tastes you can combine with chicken wings, and since you're cooking them in the air fryer, you'll barely use any oil. That makes the chicken wings healthier than deep-fried wings, and the best part is that they taste just as good if not better!
What is the Best Air Fryer?
What's your favorite way to cook chicken wings? For me, it's definitely in the air fryer! If you've finally decided to make cooking effortless and healthier, you need to know which is the best air fryer.
Air fryers are a great addition to any kitchen, but which one is the best?
There are quite a few models on the market, and if you're new to air frying it can be overwhelming to try and figure out which one is best for you and your family.
However, there's no one right answer to this question. Everyone has different needs and wants in an air fryer so you have to check what would work for you first before deciding what's the best air fryer for your household.
We'll go over all of the features of a few popular air fryers – so that you can compare them side by side, and then we'll talk about how to choose the best model for your family!
Cook with up to 85% less fat
9 cooking functions
Cooks enough food for 2-4 people, with compact design takes up little room on your countertop
Dishwasher safe
Cookbook of 30 original recipes
Low noise
Temperature Range: 170–450°F
Box contents:

1 x Pro LE 5.0-Quart Air Fryer
1 x Recipe Book
1 x User Manual
Get the COSORI 9-in-1 Air Fryer, 5 QT here.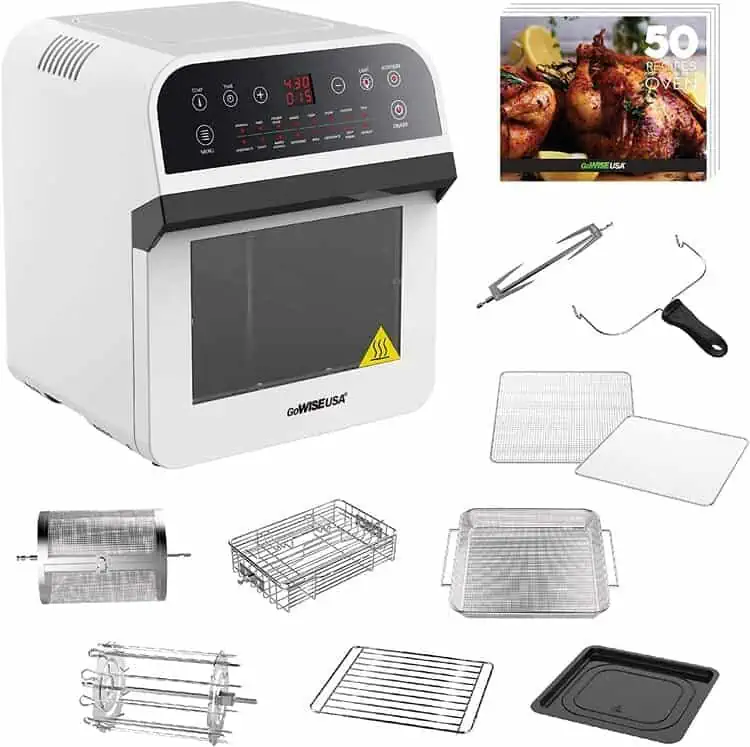 Family-sized & space saver: 12.7 or 14.7 quarts, one of the largest on the market.
3 rack levels allow you to prepare family-sized quantities and control how fast, and how crispy your food cooks.
Built-in rotisserie, so you can prepare:

Whole roasts
Tenderloins
Racks of Kababs
Even a whole chicken

Includes 10 accessories:

Rotisserie tong
Rotisserie rod
Oven rack
Drip pan
Skewer rotisserie
Rotisserie cage
Rotisserie steak cage
Shallow mesh basket
Two mesh trays.

Easy-to-use
The stainless-steel interior and removable, non-sticking drip pan are very easy to clean up
A recipe book with 50 recipes
Buy GoWISE GW44802-O Deluxe 15-in-1 here. 
6-IN-1 Functionality:

Air fry
Broil
Roast
Dehydrate
Bake
Reheat.

Customizable cooking programs.
Evencrisp technology: The crunch and tenderness of deep-frying with 95% less oil.
Touchscreen display
Easy to clean: Non-stick, dishwasher safe air fry basket and tray.
Fast preheating
Adjustable temperatures range from 120 to 400 degrees Fahrenheit (49 to 205 degrees Celsius)
4-Portion capacity
Compact designs & Stainless steel accents
Built-in safety features
Buy Instant Vortex Plus 6-in-1 4QT Air Fryer Oven Combo.
2 Independent baskets, which let you cook two foods, two ways, at the same time. Now in larger 5-quart baskets.
DualZone Technology allows you to choose between:

the Smart Finish feature, which unlocks cooking two foods two ways that finish at the same time, and
the Match Cook feature, which easily copies settings across zones for a full 10-qt. capacity meals.

6 cooking programs:

Air Fry
Air Broil
Roast
Bake
Reheat
Dehydrate.

XL Family-sized capacity
Separate heating zones: with their own cooking baskets, cyclonic fans, and rapid heaters.
Less fat: Up to 75% less fat than traditional air frying methods.
Faster cooking: up to 30% faster than a traditional oven. Frozen-to-crispy meals in 30 minutes.
Wide temperature range: 105°F–450°F
Easy-to-clean baskets and dishwasher-safe crisper plates.
What's in the box:

DualZone Air Fryer
2 x 5 Quart Baskets
2 x Nonstick Crisper Plates
15 Recipes
Additional Meal Options & Cooking Charts
Buy Ninja DZ401 Foodi 10 Quart 6-in-1 DualZone XL 2-Basket Air Fryer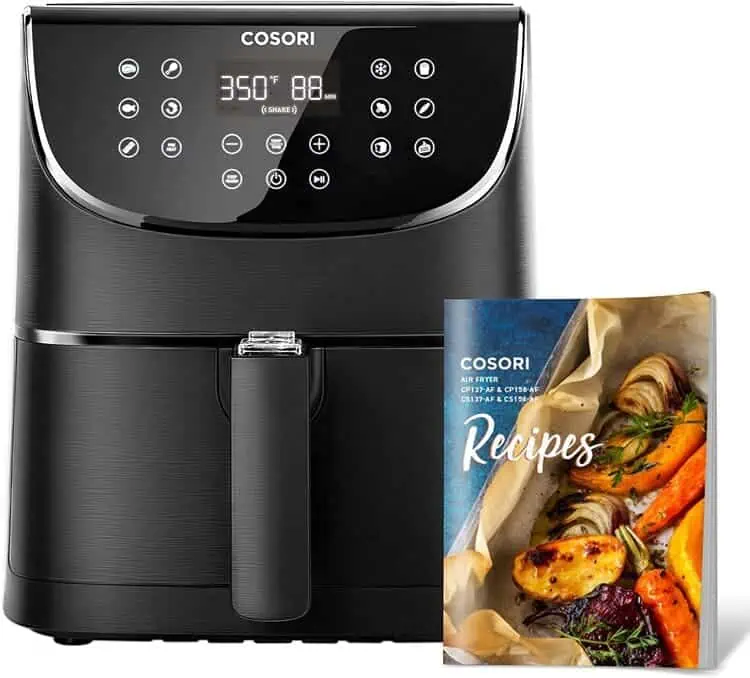 Large capacity: 5.8-quart square baskets can fit a whole 5-pound chicken
An NTC sensor sends accurate information to the air fryer, which automatically adjusts temperatures to keep fluctuations under 5°F for evenly cooked meals
13 cooking functions
Cooks the perfect amount of food for 3–5 people in one go
Cookbook book with 100 recipes
Cook food up to 50% faster than in a traditional oven
Reduce your food's oil content by up to 85%, compared to traditional deep-frying
Quick and easy cleanup
Temperature range of 170°–400°F
Get the COSORI Air Fryer Oven Combo 5.8QT Max XL 
11 cooking functions:

Air fry
Broil
Bake
Roast
Dehydrate
Reheat
Rotisserie
Toast
Warm
Convection oven.

2 interchangeable lids to transform the instant pot from pressure cooker to air fryer.
Perfect for larger families: cooks for up to 8 people
Customizable cooking programs:

Pressure cook
Sauté
Slow cook
Steam
Sous vide
Warm
Air fry
Roast
Bake
Broil
Dehydrate

Evencrisp technology: the included air fryer lid delivers all the crunch and tenderness of deep-frying with 95% less oil.
11+ proven safety features, including:

Overheat protection
Safe locking lid
Upgraded gentle steam release switch with diffusing cover to reduce noise and prevent splashing on the counter
And more.

Included accessories:

Stainless-steel multi-use steam rack
Non-stick multi-level air fryer basket with stainless-steel dehydrating/broiling tray
Heat-resistant protective pad
Storage cover.
Get the Instant Pot Pro Crisp XL 8Qt 11-in-1 Air Fryer & Electric Pressure Cooker Combo with Multicooker & Air Fryer here.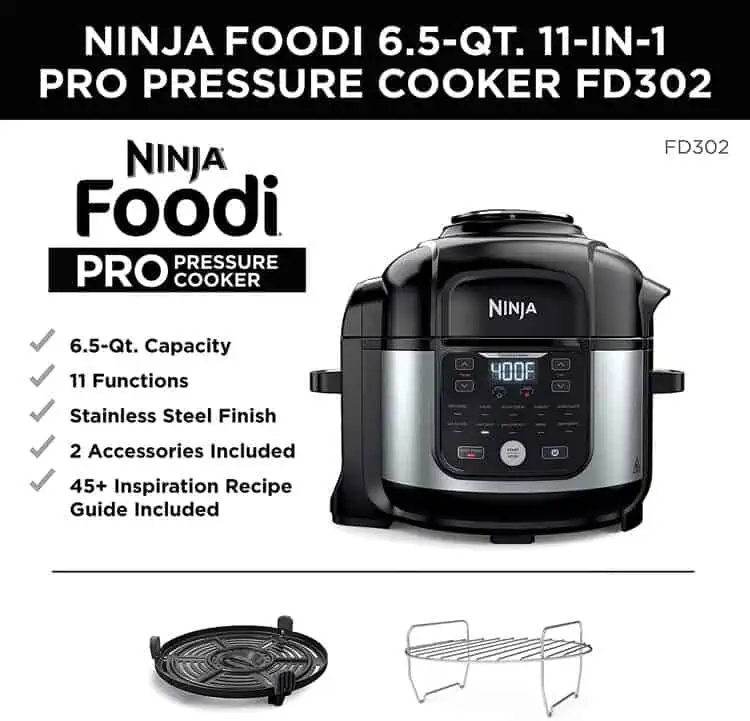 Tendercrisp technology: combines the best of pressure cooking and air frying all in one nonstick pot
Cook for large groups
Large air frying capacity
Use up to 75% less fat than traditional frying methods.
Nesting broil rack: the stainless-steel nesting broil rack provides the ability to:

Steam
Broil
Adds another layer for cooking
Stores easily inside the pot

11 programmable cooking functions:

Pressure cook
Air fry/air crisp
Steam
Slow cook
Yogurt
Sear/sauté
Bake/roast
Broil
Dehydrate
Sous vide
Keep warm

45-recipe cookbook and additional cooking charts for meal-making inspiration.
What's in the box:

Ninja foodi pressure cooker
Crisping lid, pressure lid
6.5 qt. nonstick cooking pot
4.6 qt. nonstick cook & crisp plate
Stainless steel nesting broil rack
45 recipe chef-inspired cookbook
Buy the Ninja FD302 Foodi 11-in-1 Pro 6.5 qt. Pressure Cooker & Air Fryer here.
If you don't own an air fryer yet, get one today! You can easily grab a good one for under $150, and its uses are endless!
Tips for the Best Air Fryer Chicken Wings
The first step to preparing the best chicken wings in the air fryer is to make sure that you have the right equipment. I am sure the tips above will help you choose the best air fryer for your household. After all, 40% of the American households have one now, and there must be a reason behind it.
Here're a few tips that will help you prepare the crispiest, tastiest chicken wings in your air fryer:
Before Cooking Your Chicken Wings
Pat the wings dry with paper towels before you toss them in the air fryer. It will help them get crispier!
You can cook frozen chicken wings in the air fryer. However, if you decide to thaw them before cooking, make sure your wings are completely thawed before putting them in an air fryer! You don't want any frozen spots!
Add baking powder to the coating. Baking powder will help the crust form quickly while keeping the juices inside.
Make sure the

air fryer basket

can hold all of your wings on a single layer and is big enough for you to shake them around a bit as they cook. It will help get all the wings crispy instead of just some getting crispy and some staying uncooked. It's better to make a few batches than to end up with wings cooked on the outside and raw on the inside.
You'll want to pat your wings dry again after they've been thawed and then pat dry again with paper towels before putting them in an air fryer – just like when you're baking them in the oven. The less excess moisture they have, the crispier they will become.
It's best to spray your air fryer basket with a nonstick cooking spray before putting the wings in it so that they won't stick to it while they're cooking.
While & After Cooking Your Chicken Wings
Shake your basket or stir your wings around as they cook, so they get cooked to perfection and get crispy on all sides.
You'll want to use tongs or a fork to remove the wings from the basket when they're fully cooked.
You may want to use a baking rack under your wings as they cook in the air fryer to allow any excess grease to drip off of them. You can also use a paper towel to soak up some of the excess greases.
Don't forget to brush your wings with your favorite wing sauce or dip them in one of your favorite wing sauces before serving! Nom!
Chicken Wings Air Fryer Recipes FAQs
How Long do Wings Take to Cook in the Air Fryer?
Depending on the size of the wings, they will take between 15 to 35 minutes to cook in the air fryer. But keep in mind that the cooking time will vary depending on:
How crispy do you like your wings?
How many wings do you have in the basket?
How big is your air fryer?
Can You Put Raw Chicken in an Air Fryer?
Yes, you can put raw chicken in the air fryer to cook it. Make sure you use an air fryer basket to keep the chicken from sitting in fat or juices.
Always check if your raw chicken is fully cooked when you're taking it out of the fryer. Even slightly undercooked chicken can infect you with salmonella, or campylobacter bacteria, or cause food poisoning.
Why Are My Wings Not Crispy in Air Fryer?
There are different reasons why your chicken wings air fryer recipe might not turn crispy:
You are using too much oil in the air fryer.
The wings aren't placed in a single layer in the air fryer basket.
The chicken wings are touching each other in the basket, which prevents the air from flowing between them freely. It also prevents them from getting crispy.
You are not preheating the fryer before putting the chicken wings in it to cook. It might be keeping them from getting crispy, as well. If your air fryer is not hot enough, it won't get crisp enough, even if you follow all of my tips above!


Make sure your air fryer has preheated before putting any food into it to cook (unless your recipe calls for a cold start).
How Do I Make My Air Fryer Wings Crispy?
The basic crispy chicken wings air fryer recipe is very easy to make.
To cook wings in an air fryer, preheat it and place the wings into a basket.
Brush them with oil and season with salt, pepper, and other herbs or spices of your choice.
Place the basket into the air fryer and set a timer for 20 to 35 minutes, depending on how crisp you like your wings.
How Many Chicken Wings Could You Put Into an Air Fryer?
You can cook 4 portions at a time in one layer in the standard size air fryer. If you want more, then you need a larger model. There are several large-capacity models we discussed in this post, which are worth considering if you're looking for a new fryer.
Can You Stack Chicken Wings in an Air Fryer?
Even though there are some exceptions, stacking anything in the air fryer is not a good idea. If you pile chicken wings in the basket, you risk ending up with unevenly cooked chicken.
How to Reheat Chicken Wings Air Fryer?
Wondering how to reheat crispy chicken wings, without turning them into a soggy mess? Stick them in the air fryer! That's right! 
How to Reheat Chicken Wings in the Air Fryer

First things first! Get the wings out of the fridge! They need to be warmed to room temperature before air frying them.
Whatever you do, do not skip this step. It's the key to getting that wonderful chicken crunch.
Leave refrigerated wings on the counter for about 30 minutes.
If your air fryer requires preheating, now's the time to do it. You'll air fry the wings at 350 degrees Fahrenheit.
What's the Better Choice, an Oven or an Air Fryer to Cook Tasty Crispy Chicken Wings?
There are many ways to cook chicken wings. The best way is to use an air fryer. An air fryer will give you a better result than in ovens. If you love crispy chicken wings, then choosing to cook them in the fryer, instead of the oven should be your way to go.
Cooking in an air fryer is:
Quick
Healthy
Absolutely delicious
So, if you have some extra space to store a new appliance – go for it! I promise it's a purchase you won't regret.
Can You Cook Batter Chicken Wings in an Air Fryer?
Yes, you can cook batter chicken wings in an air fryer.
Do Chicken Wings Taste Different in an Air Fryer vs. Deep Fried?
Air-fried chicken wings have a different texture than deep-fried chicken wings, but the taste is almost the same. If you love crispy chicken wings and you're looking for a healthier recipe, then cooking in an air fryer is the best choice.
What Temperature Should Air Fryer Wings Be Crispy?
Chicken wings should be crispy at 350-400 degrees F. The overall cooking time is about 30 min.
Did you like these chicken wings air fryer recipes? Then, you're going to love these other posts we have: