It's the end of the Declutterathon: Week 1, and we've accomplished a lot.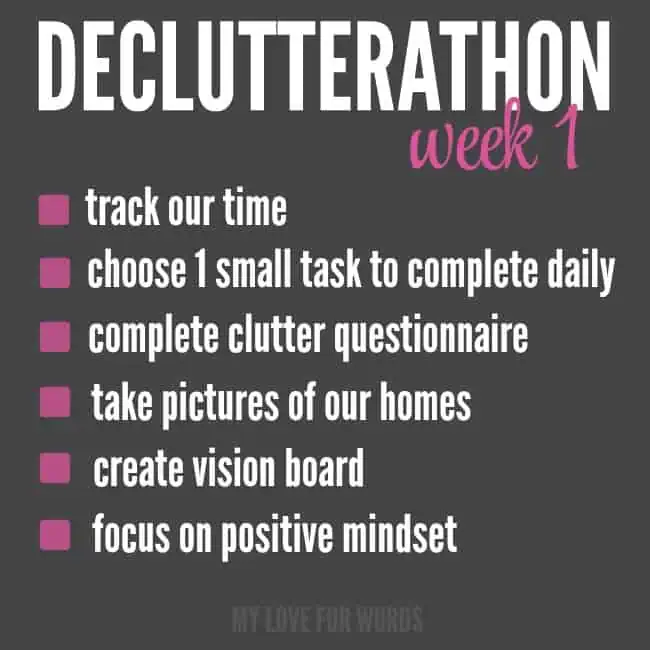 We:
Today, I'm sharing the answers to my questionnaire and my vision board.
Questionnaire
1. How do I define clutter? How will I identify it in my own life?
Clutter is anything that's placed where it doesn't belong, doesn't have a home, or is no longer used or needed in our home. I will identify it by asking when I last used an item. In most cases, if I haven't used something in 12 months, I will get rid of it. (That kind of scares me!)
2. In what ways do I have mental or emotional, physical, social, and digital clutter in my life?
Mental/Emotional: I still become embarrassed and beat myself up for things that happened a long time ago. I need to find the good in those situations, come to peace with them, and let them go.
Physical: We have stuff in every. single. room that doesn't belong there. Things are lacking permanent homes so they just get thrown in various places. We also have too much stuff. Definitely too many toys, and there are also a lot of clothes and books I can part with as well.
Social: None that come to mind. I am questioning one event we take part in once a week, but we've already decided we probably won't be continuing it for much longer.
Digital: I have a ton of pictures I should delete, and I should organize them differently so they're easier to find. I also have a ton of e-mails to delete and unsubscribe from.
3. What room or area of my life is most cluttered? Why?
This is a toss up between every room in my house! My kitchen's bad, but my bedroom may be the worse, probably because I don't really have to worry about others (besides my poor husband) seeing it.
4. How does clutter hurt me? (For example, wasted time, paying late fees, negative feelings of embarrassment, guilt, shame, etc)
We have paid an occassional late fee for misplaced a stack of mail, but the ways I'm most hurt are feeling guilt, shame, and embarrassment over our home. I'm not creating the home for my family deserves, and we waste time and money looking for or replacing things we already own, which just leads to more clutter!
5. How much of my time is consumed by clutter? (Acquiring and cleaning items, organizing, and trying to find things that are lost, etc)
A lot, I'm sure. I have to look for at least one thing every day.
6. How does clutter make me feel?
Embarrassed, guilty, ashamed, worthless, like a horrible mom, wife, and housekeeper.
7. Do I struggle with getting rid of things?
Yes!
8. What items are the hardest to get rid of?
I have a hard time getting rid of things has given to me by friends and family. I'm afraid they'll come to visit and eventually notice that something's gone. I also struggle to get rid of anything unused or that I think I can sell. I feel like if I've already wasted money buying something, I should try to get some of that money back.
9. What would an organized, uncluttered environment or life look like for me?
Everything would have its own place, always be put away, and be orderly and presentable. I also wouldn't have to worry about trying to find things because I'd always know where they were.
10. How would an organized, uncluttered environment or life make me feel?
Peaceful! I'd feel like my time, energy, and focus had been freed to truly enjoy other things because I wouldn't have a big black cloud of clutter, guilt, and regret following me around overshadowing everything.
11. What about my current lifestyle or habits would have to change in order to have the home I want?
I will need to become more disciplined. I'll have to do things even when I don't feel like doing them. I'll have to stop procrastinating and finish jobs instead of only doing half of it. I'll have to model better behavior and habits for my kids and come up with a schedule to maintain an orderly home once we are finished decluttering.
My Vision Board
flowers / homeschool room / gallery wall / teal room / bookshelf / family room / outdoors
I chose these pictures for my vision board because they represent what I hope to have in our home.
I want to create a welcoming, homey, clean, and organized home, and these pictures are great representations of what those qualities mean to me. I want our home to be colorful, clutter-free, and comfortable. I want people to feel welcome and relaxed while visiting, and I want our family to feel that way while living here. I want the peace and order that will come from eliminating clutter and to be able to find what I'm looking for right when I need it. I want a home we can enjoy and be proud of.
I also want every belonging to either serve a purpose or be something we truly love. If something isn't loved or used, we don't need it in our house.
Tomorrow, we'll start to declutter our physical spaces, focusing on small tasks for big results, but before we move on, I'd love to know what you thought of this first week. I'm sure some of you were surprised (maybe even a little disappointed?) that we started in what was probably an unexpected way, but I think the work we've done this week (paying attention to how we spend our time, figuring out why we have clutter, and focusing on creating a positive mindset and vision board) will only help us as we go through the next 25 weeks.
We are probably going to eventually feel burned out, discouraged, and like "What's the point?!" In those moments, please refer back your questionnaire and vision board. Focus on why you're doing this, and the kind of home and life do you want to create.
If you're needing or wanting more support, I highly recommend the Declutterathon facebook group. People are being very brave and transparent in their sharing, and they're encouraging and empathizing with one another. This is a great group to turn to when you're feeling overwhelmed and need a pep talk or a reminder that you're not in this alone.
If you'd like an update any time a Declutterathon post is put up, be sure to sign up for the declutterathon newsletter. Now that we're moving into tackling our physical clutter, I'll also be sharing more tips and resources.
Most of all, remember that nothing worthwhile is ever easy. If we stick to this, we'll succeed.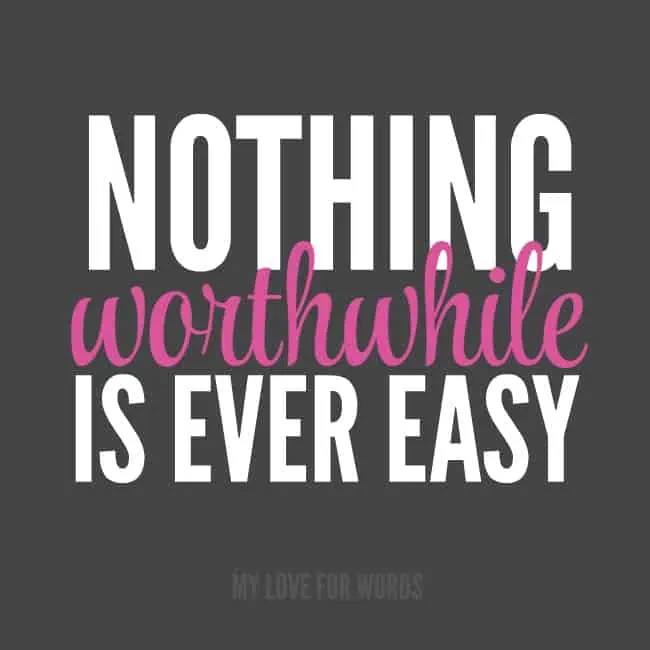 Looking back on this first week, I think my favorite part was probably making the vision board. I found it really motivating and inspirational, and I'm looking forward to printing it out and having it to focus on. What was your favorite part?