One of the hardest parts about being a blogger is exposing your vulnerabilities to the entire world, and mine are definitely exposed by leading a decluttering challenge.
Most of the organizing blogs that I have seen seem to be written by people who are naturally organized and on top of things. They have an endless amount of beautiful pictures of their homes and wonderful ideas to share, and while I wish that was my reality, the truth is I still struggle with clutter.
Just in case you think I'm exaggerating, here's footage from my bedroom just a little over a month ago! ?
I started sharing my decluttering journey simply because it was something I was struggling with in my own life. I used it as a way to keep myself accountable and let others know they aren't alone with their clutter issues.
I eventually started the Declutterathon decluttering challenge and facebook group in 2015, and I couldn't be more thrilled (or shocked!!) by how many of you have joined me on this journey.
After a couple years hiatus and many requests, I decided at the end of 2017 that another Declutterathon would be a great way to start the new year. I shared the exciting news with the people on my newsletter as well as in the declutterathon facebook group, and spent the holidays mapping out the details.
I was going to have multiple new posts and videos each week to share my before and afters, and my house was finally going to be decluttered once and for all!
Then came the curve ball.
I found out I'm pregnant again! Yes… again!!
If you've been following the blog for a while, you might be thinking, "Didn't you just have a baby?"
Yes… yes, I did. We welcomed our fifth child in December of 2016. I spent most of 2017 in a haze of all things newborn related: endless diapers, breastfeeding around the clock, and sleep deprivation while simultaneously keeping the older four alive so as much as I missed it, blogging had to take a backseat to real life.
As our youngest got older and started sleeping through the night, I started to focus on other things. I joined weight watchers, got back to blogging, and decided that 2018 was going to be the year I really focused on myself for the first time in a long time. I wanted to whip both my body and house into shape, but you know what they say about making plans.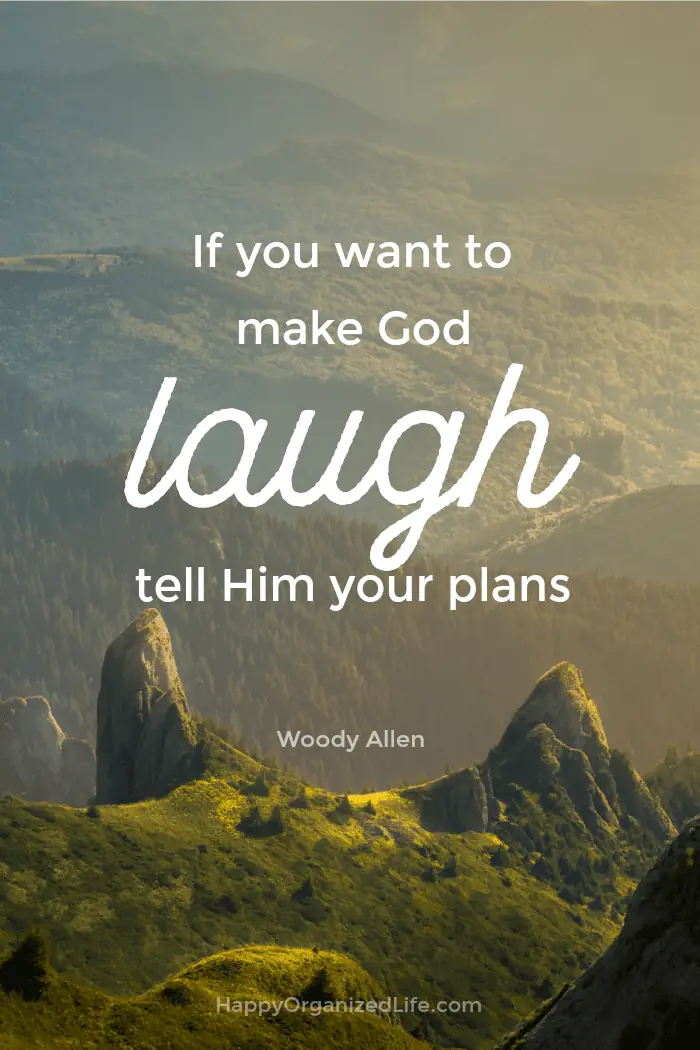 We found out that we're expecting again just a couple days before Christmas, and while we are very excited, the news suddenly made the new year feel completely up in the air.
On one hand, I knew I probably wasn't going to be able to tackle my house with the gusto originally intended thanks to morning sickness, exhaustion, and all the fun stuff associated with pregnancy. On the other hand, I didn't want to disappoint all of the readers who were anxious to get started on a new decluttering challenge! I also didn't want to give up on the idea of decluttering our home, especially now that a new little kid tornado will be arriving in the fall.
I decided to proceed according to my original plan, and, surprise surprise, I haven't been able to keep up. I shared the video above on my YouTube channel, but I haven't posted anything since. Ahh!!
I spent January and February feeling extremely sick and/or tired so not much progress was made. The good news is that I'm now in my second trimester and starting to feel better so things are finally starting to happen!
My progress hasn't gone according to plan, but I can't help but think that's actually kind of a good thing.
I've never written this blog from the position of being an "organizing expert." I've always been very honest (sometimes probably too much so!) that I'm right here in the clutter trenches with you so if you've fallen behind or felt discouraged, I hope you'll feel better knowing that here I am, the creator of the decluttering challenge, and even I'm having trouble sticking to the schedule!
This is also great reminder of our true goal, which is to focus on progress not perfection. If you started the declutterathon excited only to find yourself burned out and exhausted, that's okay! Do what you can with where you are. This is all we can ask of ourselves. The most important thing is that we don't give up!
We deserve to live in homes that are free of clutter, beautifully decorated, and always ready to welcome guests. Our homes won't be perfect tomorrow, but with some time and regular attention, they can look great before too long.
My husband and I have done a lot of work over the last couple of weeks, and I can't wait to share those before and afters with you very soon!
How is your decluttering going? Have you stayed the course? Fallen off track? Finished?! I'd love to hear all about it.