It wasn't until I became a mother that I started to really consider the importance of using natural cleaning products.
Until then, I just used what I'd grown up with, conventional cleaners that I could barely breathe around but seemed to do the trick. The experience of breathing in those chemicals was unpleasant enough for me to naturally limit my exposure, but it wasn't until recently that I realized just how dangerous that exposure can be.
This post contains affiliate links. For more info, please see the disclosure page.
I recently read about a study that blew my mind! According to this Newsweek article, "Regular use of cleaning sprays can have as much of an impact on health as smoking a pack of cigarettes a day."
Can you imagine? Here we are using products in an attempt to clean our homes all while unintentionally polluting our bodies! We might as well be smoking 20 cigarettes a day. It's horrifying!
I started creating my own natural cleaning products a little over a year ago when I started using essential oils. I loved the idea of reducing our exposure to potential toxins and hormone disrupting chemicals, but I truly had no idea just how damaging those products could be.
Furthermore, the study above is about women… grown adults. I can't imagine how harmful these products are for little lungs that are still growing and maturing.
DIY Natural Cleaning Products
Making your own natural cleaning products may sound intimidating, but I promise it really couldn't be easier. Best of all, the ingredients are usually pretty inexpensive so you should save a lot of money in the process.
As a mother of five, I try to get ahead of any seasonal yuckiness that may be going around because once one of us gets something, the rest of the family usually falls like dominoes. That usually leads to a couple weeks of stuff being passed throughout the house, and I end up exhausted because everyone knows moms don't get sick days.
The very first natural cleaning product I made was my attempt to get ahead of that scenario. I made a hand sanitizer that I keep in my purse for when we're out and about and hand washing isn't an option.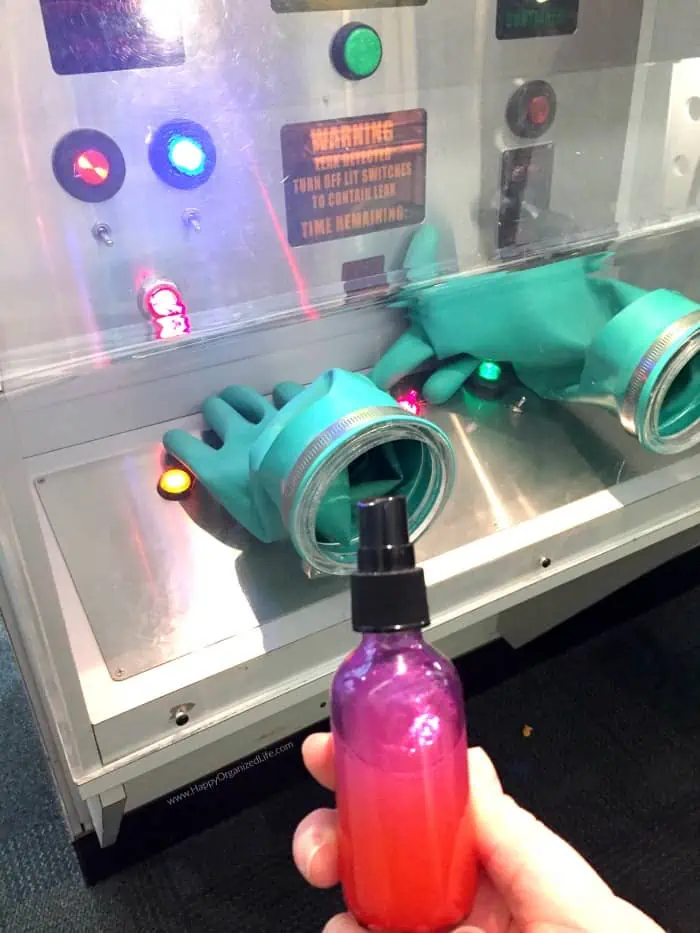 I keep this pretty glass bottle in my purse at all times for moments like this one last week. We took our five kiddos to a local children's museum, and it wasn't until my hands were in these gloves that I thought, "I bet these are really dirty!" The kids tried the gloves too, and when they were done they got a few squirts of homemade sanitizer, which gave them clean and great smelling hands. Yay for being prepared!
DIY Hand Sanitizer
2 1/2 Tablespoons Aloe Vera Gel
2 Tablespoons water
1/4 teaspoon Vitamin E Oil
5 drops OnGuard protective essential oil blend
3 drops Wild Orange essential oil
This recipe is enough for a 4 oz glass bottle, which is the perfect size for a purse or diaper bag.
As much as we try to buy only organic produce, sometimes it just isn't possible. Conventionally grown produce brings with it the unappetizing additions of pesticides and other chemicals, but even organic produce can have germs and other yucky stuff on it, which is why I always clean our produce before we eat it.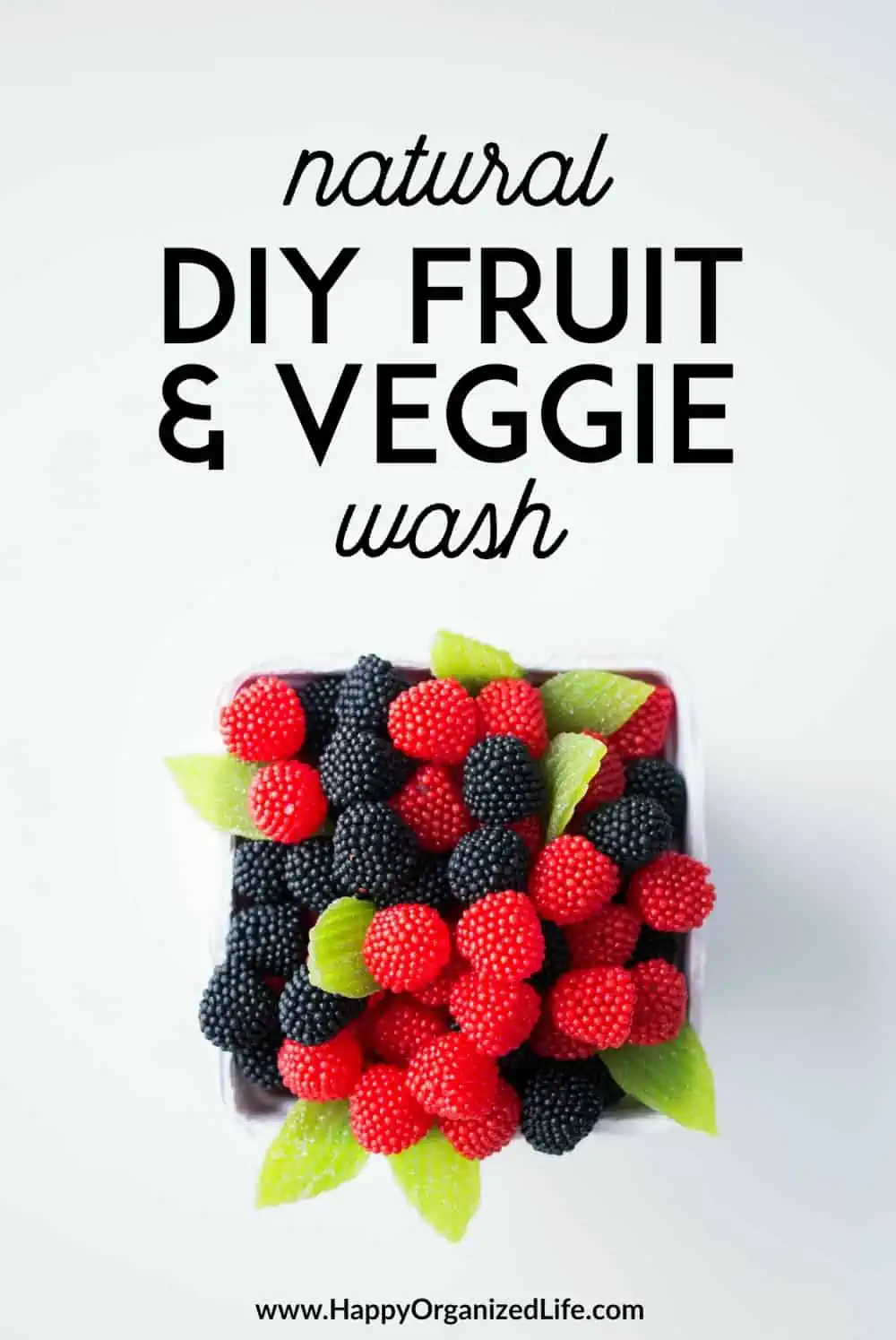 I used to think a simple swish under running water was good enough, but once I tried this fruit and veggie wash, I saw just how much stuff was being left behind when I used only water. Gross!
DIY Fruit and Veggie Wash
1/2 cup Apple Cider Vinegar
1/2 cup water
5 drops Lemon essential oil
5 drops OnGuard protective essential oil blend
Not only does this recipe remove nasty pesticides and germs, but it also has germ-killing properties thanks to the OnGuard protective blend. This is just one of the many reasons OnGuard is one of my favorite oils!
Ready to Use Natural Cleaning Products
The great news is that there are pre-made natural cleaning products you can use if you don't want or have time to make your own.
One of my favorites is the OnGuard Cleaning Concentrate. Just dilute it in your favorite glass cleaning bottle, and you're ready to spray away and spare your lungs.
I use this for all kinds of cleaning around our house, but my favorite use yet just may be cleaning legos. My kids are obsessed with legos, and we've ended up with more than I could probably ever count, but cleaning them can be quite a chore. Truth be told, I don't think we ever cleaned them until we had to (I'll spare you why!).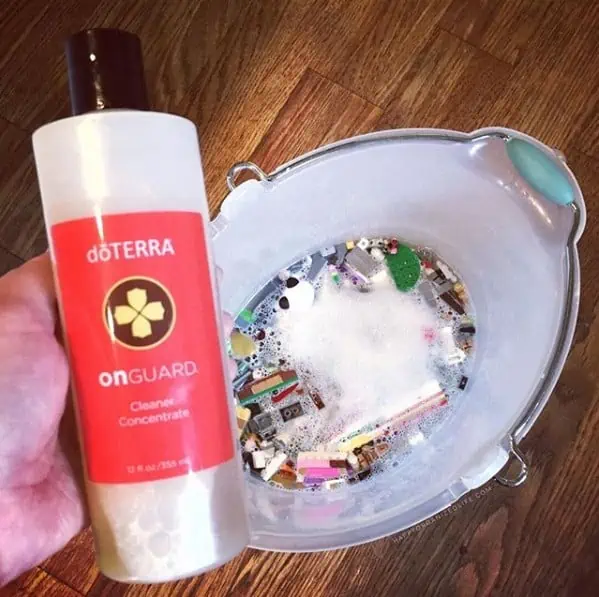 I just added a couple Tablespoons of concentrate to a bucket of water, sloshed the legos around, let them soak a little bit, and we were done! We then laid the legos out on a towel in our sunroom and ran the ceiling fan to help speed up the drying process. It couldn't have been easier, and my kids were thrilled to not have to throw their beloved blocks away. Truth be told, I was thrilled too because legos are expensive!
I'm currently working on a free printable ebook filled with easy DIY natural cleaning recipes for the home. If you'd like to receive it when it's ready, just enter your email in this box, and it'll be a special treat in your inbox in just a few weeks!
If you'd like to learn more about oils, I'd love for you to join my private oils group on facebook! In the group, I share lots of great oil info, recipes, tips, and giveaways (woohoo!). Just click here to join!

Have you ever made your own cleaning products? Have any favorite recipes? Please share in the comments below!