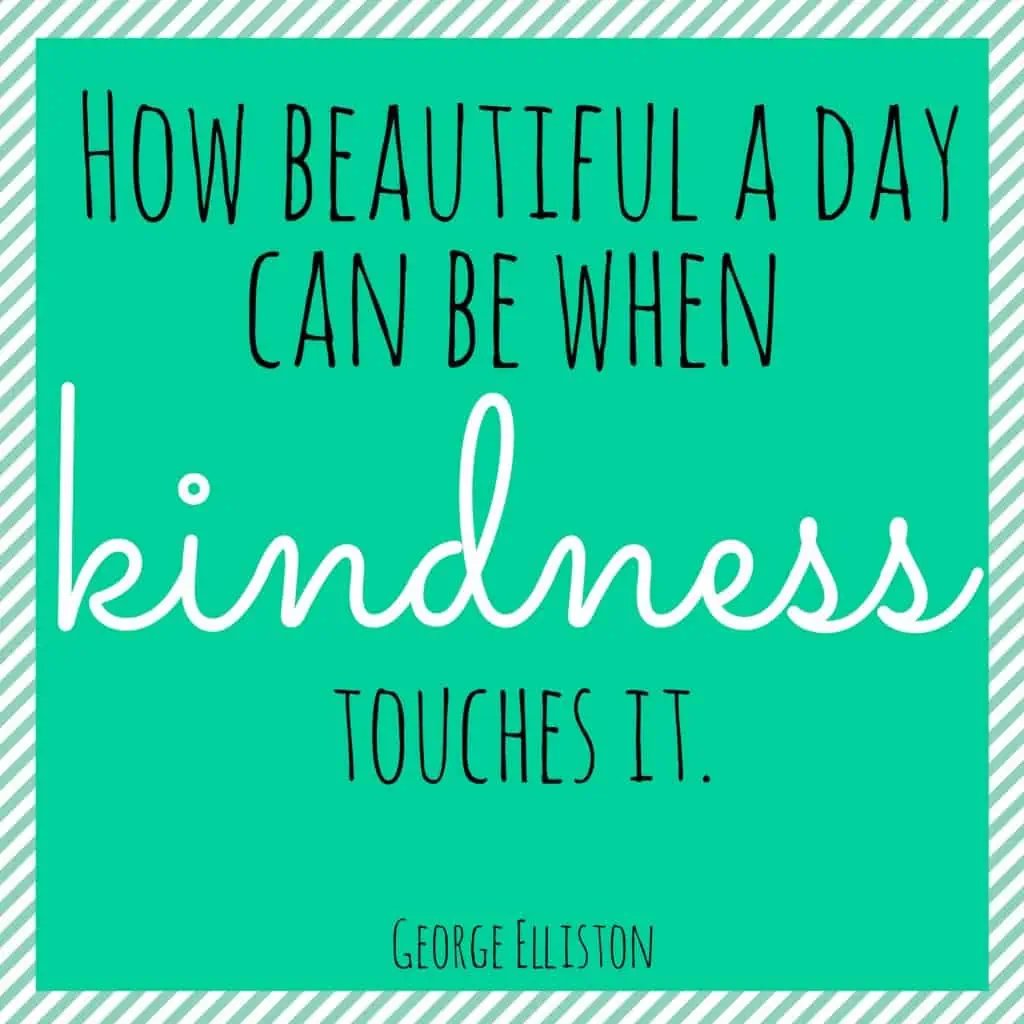 A little bit of kindness can really go a long way, and this year I've committed to and written about doing 100 Acts of Kindness. I've been the recipient of unexpected kindness many times, and the experience always leaves me feeling happier.
While grand gestures are great, sometimes we underestimate how much a small, kind act can really mean to others.
When I'm pregnant, I feel like a whale. I feel gigantic and as uncomfortable and unattractive as possible (seriously, how does anyone feel attractive in maternity clothes…at least the ones my budget can afford). However, even feeling blah (to put it mildly) couldn't keep me from making the occasional trip to Michael's. Every time I went in, this one woman would compliment me when she saw me. I suspected she was either blind, delusional, or just being nice, but it made me feel great nonetheless.
Here are 20 more Random Acts of Kindness ideas, both big and small. To see ideas 1-20, click here:
21. Donate to the poor
22. Work in a soup kitchen
23. Send surprise gift to your doctor(s)/nurse(s)
24. Surprise coworkers with food
25. Leave change at/in a vending machine for next person
26. Leave flowers on cars in a parking lot
27. Leave nice notes on cars in a parking lot
28. Donate to homeless shelter (socks are much appreciated in the winter)
29. Take flowers to a nursing home and give to someone who rarely or never has visitors
30. Offer your time to someone (e.g. help someone clean, declutter, shovel snow, cut grass, etc.)
31. Write a thank you note to someone from your past
32. Send flowers to your favorite teacher growing up
33. Leave plant on someone's doorstep
34. Take toys to local police department for children who end up at the station
35. Introduce yourself and have small talk with someone you often see but don't know
36. Give money to someone who is struggling financially
37. Let another driver into your lane
38. Thank spouse/parent/child for all they do
39. Release yourself from your to do list for a little while
40. Give yourself a break! (Only positive self talk)
Some may think including oneself on a random acts of kindness list is silly, but I think we'll treat others (and allow others to treat us) however we believe we deserve to be treated. If we don't have a standard for ourselves and our own self talk, we'll end up taking the same horrible comments and treatment from others.
To read more about this challenge or for additional ideas click:
Have you commit ted any random acts of kindness lately?