It's amazing how quickly a year can pass. 2017 seemed to go by in a blink, and the realization that a new year is only weeks away reminds me of how much (or little) can be accomplished as life whizzes by.
2017 was a wonderful year, and it unfolded in ways I never would've been able to predict just a year ago. While most of those detours were wonderful surprises, I did end up losing my way a bit in other areas. I want to be sure that doesn't happen again in 2018 so I'm being intentional about setting goals for the new year, and I'm going to start sharing them here on the blog. (Talk about major accountability!)
Be sure to stick around until the end of this post for an exciting giveaway!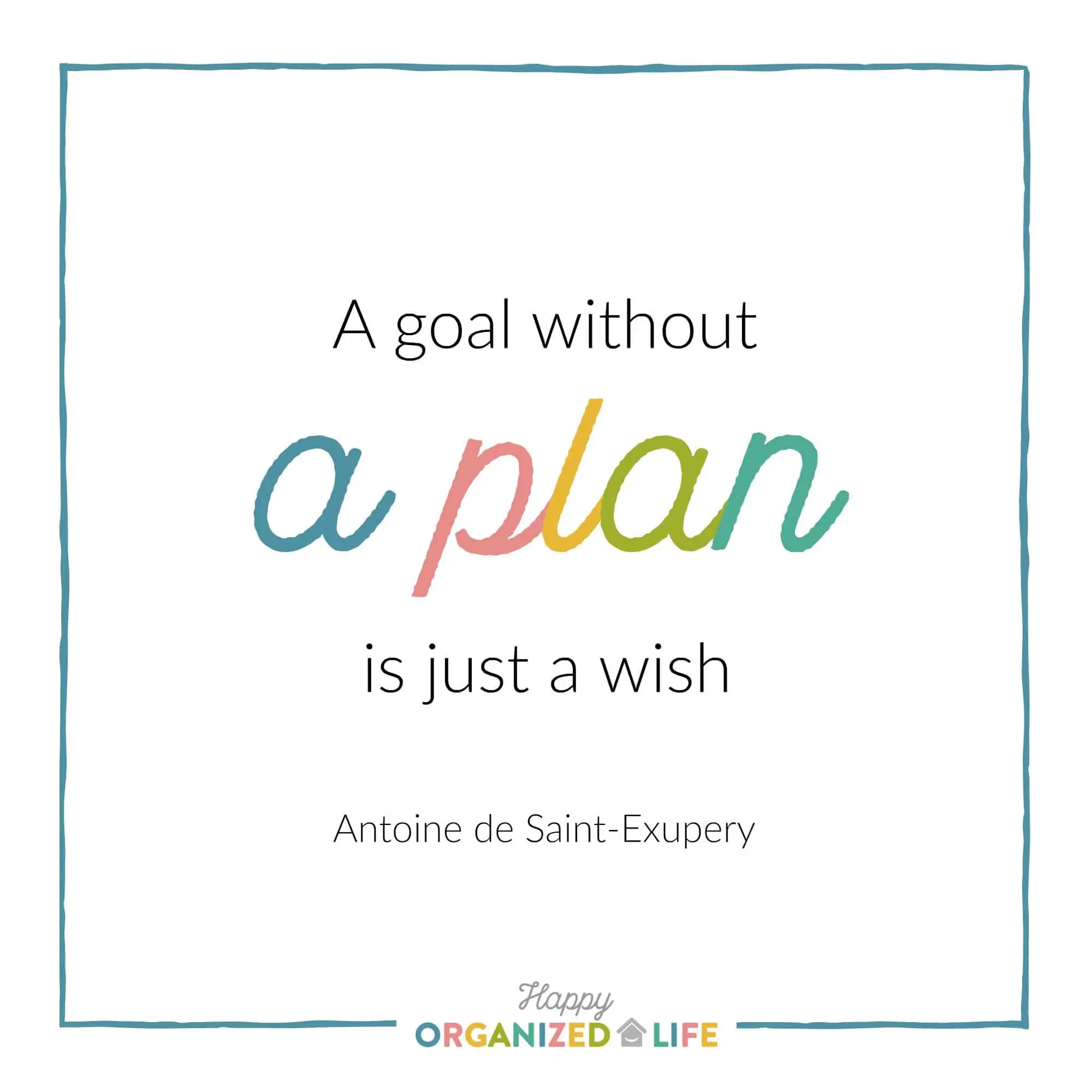 Before I get started, I do feel I need to share that I don't believe we have to wait for a new year, month, or week to start working towards the lives we want to live. The best time to start working towards our goals is now, this moment, because that's really all we ever have. Continually putting things off until the future or after some event happens is a recipe for a life unlived and a lot of regret. (Please don't ask me how I know.)
Far too often, I've let fear hold me back from doing what I truly want to do. A fear of being judged and what others will think has kept me playing small in so many areas of my life, and I've finally decided I've had enough.
It's for that reason that I'm choosing a phrase for my year instead of just a word. I guess I could've boiled this idea down into a single word, but I like the phrase more. It makes me feel empowered and motivates me to take action, and that phrase is, "Do it scared." I know myself well enough to know that if I keep waiting until I feel ready to do things, I'll probably never start them. Instead, I need to get over the idea of ever feeling prepared and just get started, no matter how scared I might be.
Getting Started Setting Goals
I think it's important to keep in mind where we want to end up when we're setting goals. We need to remember the things that really matter to us in the long run. From there, I like to work backwards and break my goals down into small action steps that I can take to make those goals a reality.
Far too often, I've found myself saying certain things were at the top of my priority list, but the way I was spending my time said otherwise. Tracking how we spend our minutes really reveals what we're giving priority to in our lives, and if those moments don't line up with what we claim or truly want our priorities to be, we have a problem.
When I think about where I want to be in 40-50 years, I imagine being a healthy grandmother of many who is happily living with my husband and surrounded by a supportive and loving group of family and friends… maybe even traveling the world. That sounds like fun!
I could get much more detailed in my dreams for the future, but once I have a vision in mind, I think about whether or not I'm currently on the right path.
Family
In some ways, I feel I am. I've always wanted a large family, and we have five children and are open to possibly having more. It seems no matter how many times I think, "Our family's complete!" there's something about a baby's first birthday that gets me thinking, "Hmm… maybe just one more." And no, this is not an announcement! We may be done for all I know, but I feel our dream of having a large family is definitely on the right path.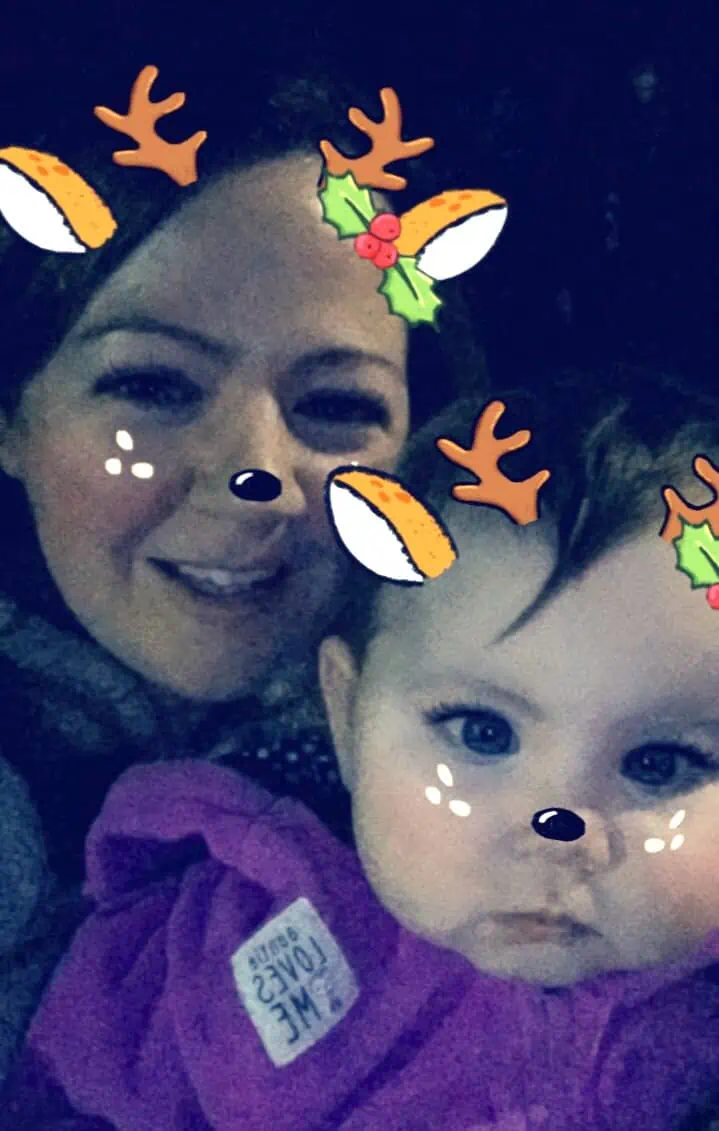 The two of us a couple days ago. How is this sweet baby already a year old?!
I want my children to have wonderful memories of their childhoods, and I don't want to end up feeling like I squandered my chance at motherhood because I was too distracted or overwhelmed by other things. Unfortunately, I already kind of feel this way. Ugh… mom guilt. The good news is there's still time to course correct and do something about it.
Health
One way I'm not on the right path is with my health. With all of those babies has come a lot of extra weight, and I know I can't go through life at my current weight and expect to be healthy for long. I also, as a result of life-long bad habits and my blogging career, tend to be rather sedentary. Add that to an addiction to sugar and unhealthy foods (and I do not use that word "addiction" lightly), and you can see where this is going… no where good! Given that all of my future dreams really hinge on good health, I need to make this a priority for 2018.
Home
I also want to create a beautiful and happy home environment for my family. I think we have the "happy" part down most of the time, but the beautiful part could definitely use some work.
We have a nice home, but the inside leaves a lot to be desired. Not only is everything original (hello, 21 year old stove, dishwasher, oven, and carpets!), but it's cluttered and disorganized. To be honest, it sometimes doesn't even feel like our home even though we've lived here for almost six years. We've invested in replacing the parts of the home that keep things running (like the furnace, water heaters, etc), but all of the cosmetic choices beyond paint, are still those of the original owners.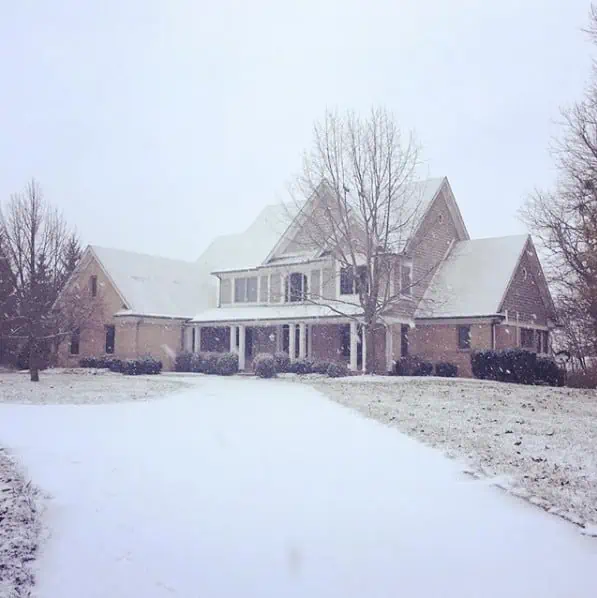 I shared this picture of our home in this year's first snow a few days ago on Instagram.
My husband and I were toying with the idea of moving, but I think we're going to stay put, at least for a while, so my goal for 2018 is to not only declutter and organize this place once and for all, but to really make it feel like our home. I'd say it's about time! The good news is this also means I'll have LOTS of content for the YouTube channel I'm getting ready to start!
My Focus when Setting Goals
When I write goals, I think it's really important to focus on the things that I can actually control. As much as I want to lose 60-70 pounds (ahhh!), I'm going to try my best not to focus solely on the number on the scale. I'm going to let that be the outcome I'm working towards, but my action steps are going to be the things I need to do to get there.
I'm going to share my entire process for setting and achieving goals in my new goal planner and goal setting masterclass, including how I break these goals down into small, actionable steps and make sure I'm on the right track, but since this post is already over 1200 words long, I'm going to cut to the chase! These are my big goals for 2018.
Goals for 2018
Family
Big Goal: create a happy, loving family and great memories for my kids through activities and family traditions
at least 1 family movie or game night per week
2 vacations (or staycations) per year
1 weekend outing a month as a family to an exciting or new place
Health
Big Goal: reach a healthy weight by making healthy food choices and move more
follow the new Weight Watchers Freestyle program (I started Weight Watchers mid-September and really liked the Smart Points program so I'm having a hard time transitioning to something new.)
exercise for 30 minutes at least 3 times/week
Blogging
Big Goal: post consistently and share my journey (the good, bad, and ugly. Eek!)
start my YouTube channel and post at least 1 video a week
2 new posts on the blog each week
1 newsletter a week
Home
Big Goal: create a beautiful, organized, decluttered home
declutter and organize the whole house (I'm exhausted already!)
decorate and redo areas for how we live and to make it feel like our home
Self
Big Goal: keep my cup filled so I can be more present and giving for others
schedule more "me time"
read at least one personal development book a month
practice daily gratitude and positive affirmations
From here, I'll break these big goals into smaller, doable steps similar to those under my family goals. I know my health and home goals, especially, will require a detailed plan to keep me making progress.
If you want to set goals and achieve amazing things in 2018, I have a special surprise! I've decided to do a give away! One lucky winner will receive a free copy of my 2018 printable planner (Happy Organized Year), a free copy of my new goal-setting workbook (Happy Organized Goals), and free membership to my new goal setting masterclass, Achieve!
If you've taken advantage of the pre-sale and already grabbed your copy at the pre-sale price, you can still win! If you're chosen, I'll send you a refund for your purchase. 🙂
Just enter here to win. Good luck!
Are you setting goals or choosing a word/phrase for the new year? I'd love to know! Please share in the comments below.