Around our house, handling chores has been a tricky thing. One, they're never ending, and two, I was conflicted on how to handle them.
I wanted to give our kids a way to earn money so they can learn how to save, give, and responsibly spend, but I didn't want to just give them money for existing. (Though if someone wants to pay me for simply existing I'd be happy to oblige.) I also wanted some chores to be done without payment because they live here and should contribute to the family so I came up with this work for hire diy chore chart.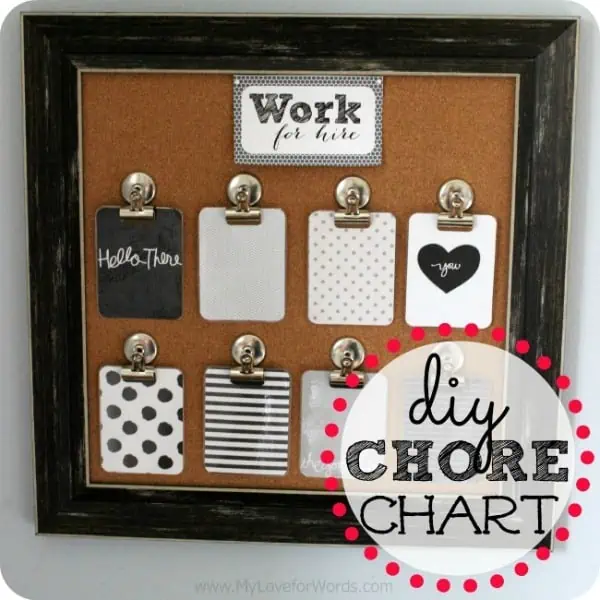 I was inspired by a few variations I've seen floating around pinterest. With this system, each child will have their list of required daily and weekly contributions (which I'll share in another post), and once those are complete they can choose to do extra "work for hire" chores to earn money.
I had a few requirements for the system:
1. Chores that could be easily changed depending on what needed to be done.
I didn't want to have one basic chart of a bunch of chores the kids could choose from because I knew they'd end up always picking the same chores or doing things before they needed to be done just to get money. Instead, I'm able to choose from my deck of chore cards and put the 8 that I'd most like to have done on the board.
2. Something sturdy enough to withstand little fingers pulling on it.
3. A chart that  could hold the chore card and money at the same time.
We've been bad about paying the kids in the past. We've tried keeping track and just paying them at the end of the week, but we'd end up forgetting or disagreeing on how much was earned, and it ended up being more trouble than it was worth. Plus, the kids didn't seem too motivated by the promise of future money. I like having the money clipped to the board because the kids can see what they're working for, and I think it will be a better incentive to get to work.
4. It had to be cute.
This one had me stumped for a while, but I didn't want to make something that I wanted to hide every time we had company. I wanted to have a chart that could pass as decor, which is why I used  project life cards. They're cute, coordinate, and are the perfect size for my board.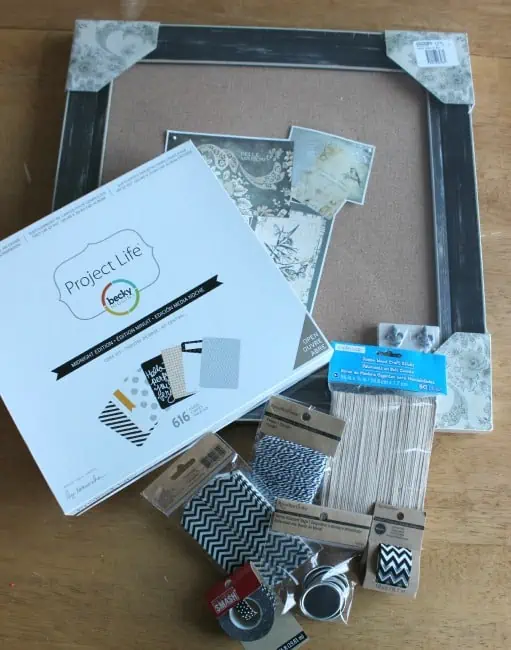 These are some of the supplies I used (and a lot that I didn't. Mommy got a kids-free trip to Michael's and went a little overboard.) I found the framed bulletin board at Kohl's, and the Project Life cards and metal clips at Michael's. I used super glue to attach the clips to the board, and they're holding up really well.
Putting this together was really easy. I just wrote the chores and what they are worth on each card, laminated, and cut them out, glued my clips to the board, made a little sign, and I was done.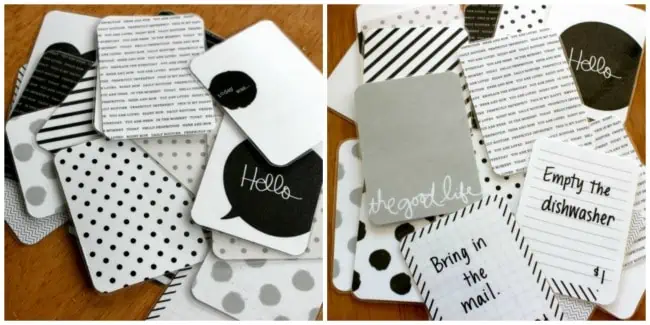 In case you're wondering, this is the list of chores and the prices we used:
Wipe down upper kitchen cabinet doors ($3)
Empty kitchen and laundry trash ($1)
Vacuum family room ($1)
Clean windows ($1+)
Clean one bathroom that isn't yours: toilet, vanity/sink, mirror, empty trash, sweep ($3)
Give cats food and water (50 cents)
Match clean socks ($1)
Empty the dishwasher ($1)
Load the dishwasher ($2)
Wipe kitchen counters ($1)
Sweep front porch (50 cents)
Make sure all bathrooms have toilet paper ($1)
Empty all bathroom trash cans ($1)
Sweep foyer (50 cents)
Wipe down lower kitchen cabinet doors ($3)
Vacuum stairs ($1)
Empty recycle bin (50 cents)
Disinfect 5 door knobs (50 cents)
Sweep garage ($1)
Scoop the cat litter (50 cents)
Change cat litter ($3)
Sweep the kitchen floor ($1)
Clean baseboards in one room ($2)
Bring in the mail (50 cents)
Vacuum family room couches ($2)
Wipe down kitchen table and chairs ($2)
Vacuum dining room and office ($1)
Mop kitchen floor ($2)
Pull weeds ($2)
We're probably generous with some of those amounts and cheapskates with others, but this is our starting point. We can tweak things as we go. I keep my unused cards in a clip on the side of the fridge for easy access.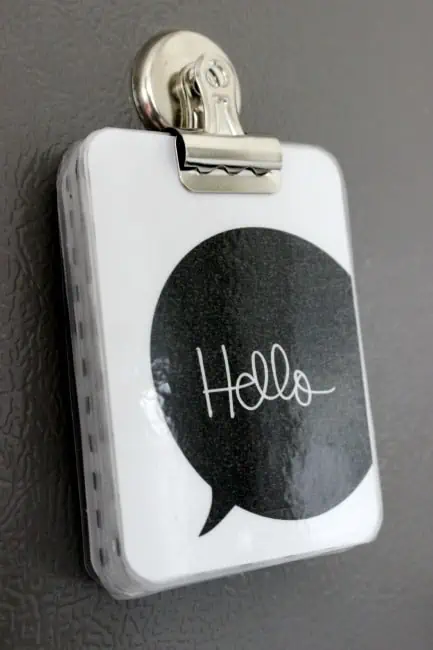 I'm also leaving some cards blank so I can write on them with dry erase markers for random jobs that pop up.
My favorite parts of this system so far are:
It's teaching the kids that the harder they work the more successful they can be. I don't want to raise kids who just expect to be handed things.
It gives them some choice in what they do.
They were thrilled to get started! My daughter, who cries every time the work "chore" exits my lips, didn't want to stop doing chores with this system. She was also thrilled to get the money she earned immediately afterwards.
I'm hoping our new routine will finally be the one that sticks. How do you handle chores in your family?