This post contains some affiliate links, and I did receive the product for free in exchange for hosting this giveaway. However, all opinions are 100% my own. For more information, please check out my
disclosure policy
.  
Have you ever been stumped by a project? Like "It's 15 months since I started, and I'm still not sure what to do" stumped because this was me with my entryway.
Our home has two main entrances, one by the front door and one by the garage. Unfortunately, both are a depressing sight since they're bare and completely lacking personality.
I decided to tackle the entrance by the garage first since it's the one we see most often, and I already had an idea of what I wanted there.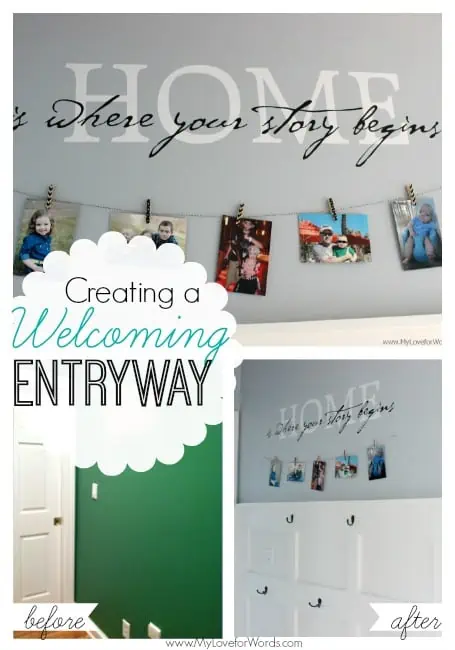 One of my first posts on this little blog of mine was about adding board and batten to the entryway. Bad pictures and no tutorial… suffice it to say I've learned a lot over my first year of blogging. I hope to update that post one day, but for now you get the point.
We started with bright green walls and a blank slate. We have two closets by the garage, but only high bars for hangers, which meant that every time we walked into the house I was left with a mountain of jackets to hang up. In an effort to foster independence (and add a few more free seconds to my day) I wanted to add hooks to the wall so the little kids can hang up their own jackets and bags.
This board and batten was our first DIY project (unlike some other bloggers, diy isn't in my blood), so we were thrilled when we finished. Unfortunately, completing this project did not a finished wall make so for the last 15 months we've been greeted by this: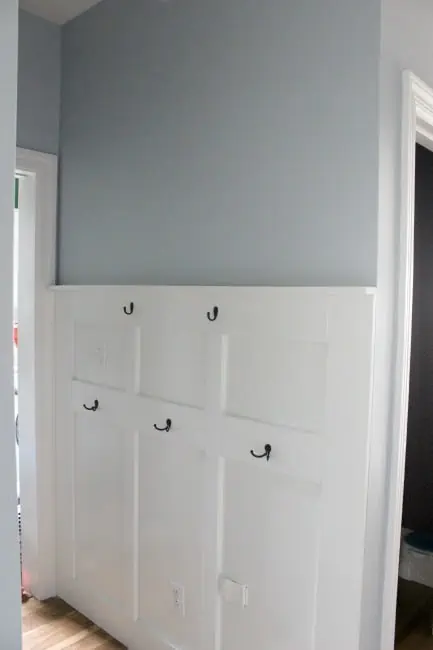 It could definitely be worse (I have the green wall photos to prove it), but it could also be a lot better.
The board and batten goes about 5 feet up so I wasn't sure what I wanted to do with the space above it. At first I thought about putting up some canvas art of the kids, but the ledge on top isn't very deep, and I thought the canvas would look odd since it would stick out rather far.
I eventually decided to try some vinyl letters, but months went by before I did anything. That was until Wall Quotes got in touch with me about hosting a giveaway. That was the push I needed to finally fix up this area, and I'm absolutely loving the result!
I visited their website and had the. hardest. time deciding on what I wanted for this space. They have so many different options for all kinds of spaces that it was hard to settle on one thing (a good problem to have, I'll say).
I finally settled on "Home is where your story begins," chose my size and colors (yes, you can choose your vinyl colors!), and anxiously awaited its arrival.
It came not long after with easy to understand instructions and almost everything I needed to get it on the wall. The card that says Belvedere Designs is actually a hard plastic squeegee that you use to apply it to the wall. The only other things I needed were painter's tape
 to hold the decal and a Hang & Level Tool, which really made the process a breeze.
First, I centered and applied the "Home" to the wall. I knew I wanted to do the overlapping look like Wall Quotes does on their website, but I could've just as easily applied the message below the "Home" or somewhere else entirely if I'd wanted to.
The application process was really easy. Once I leveled the words and taped the top of the decal to the wall, all I had to do was lift the bottom portion of the vinyl up to peel off the paper backing. I then lowered the letters back to the wall and used the squeegee to apply it.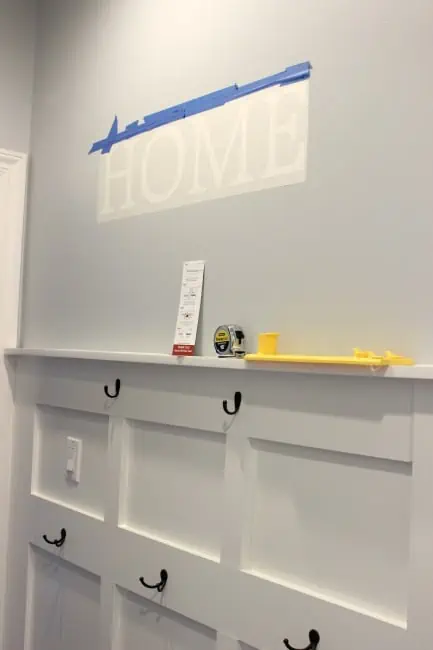 I then repeated the process for the rest of the phrase.
Once the letters were up, I put two nails in the wall, hung some black and white string between them, and decorated some mini clothes pins with washi tape to keep the black and white theme going. I then added some pics of the kiddos, and I was done.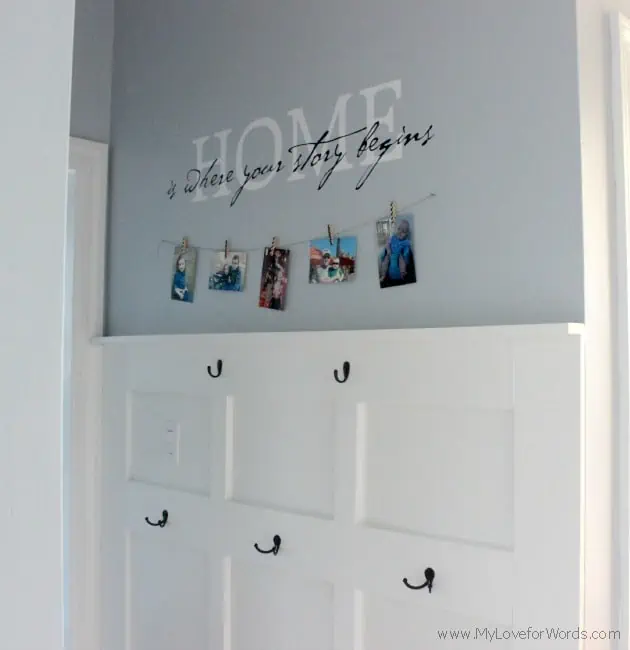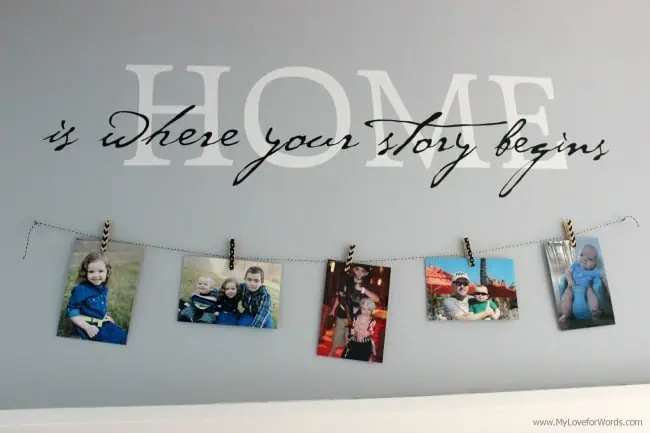 I'm really happy with how this turned out (hence the gazillion pictures). The entryway seems so much happier, like it's finally ours. I also love how I can easily change out pictures as different things happen. These little touches really help to make our house feel more like our home (about time after 2 years!).
Now, for the most exciting part of this post, you can get a $50 credit to WallQuotes.com! You can find the quote I chose here, but be sure to look around, because they have a ton of options and colors.
We're also doing this giveaway blog hop style, which means you can enter multiple giveaways for even more chances to win! Be sure to stop by Mabey She Made It to enter her giveaway and find out who the third giveaway host is. Who knows, you might win all three, which would be $150! Good luck!