Any other parents terrified of this school year?
To some, terrified may sound melodramatic, but it's not. I really am scared. By choosing to homeschool, I'm taking my child's academic future into my own hands. If this fails, I'll have no one else to blame and a permanent resident in my basement.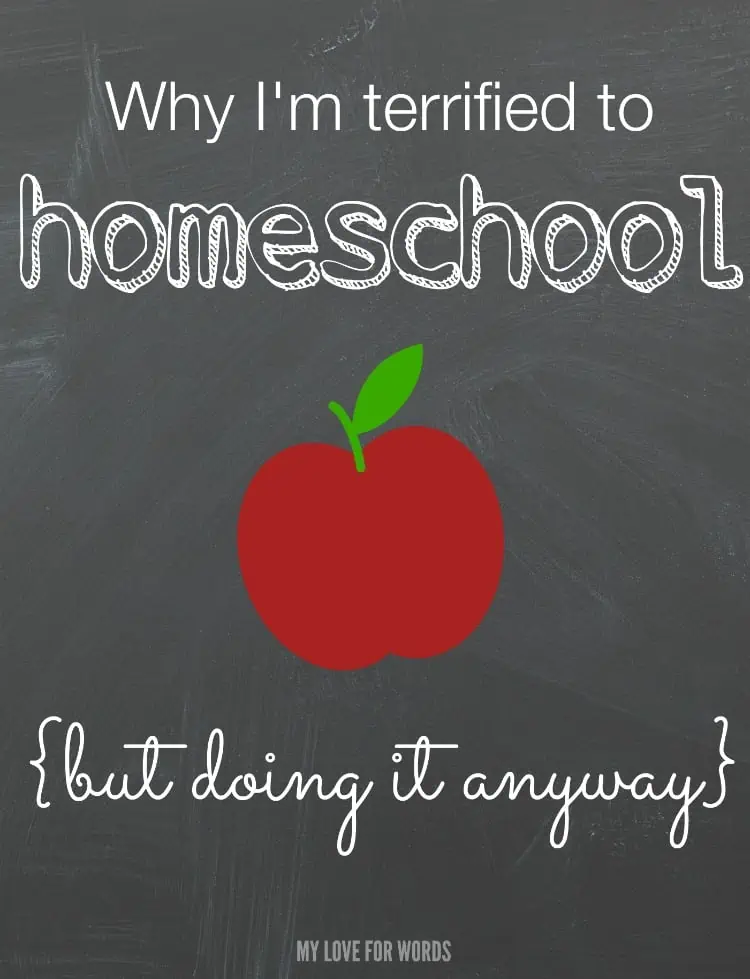 I'm scared that I won't be enough, do enough, or teach her enough. Will she be behind her peers? Enjoy learning from me? Get enough time with kids to whom she isn't related?
But to tell you the truth, even though I have worries (many more than I've listed above), I'm feeling excited more than anything else. I always envisioned my daughter starting kindergarten with a cute little backpack and a tour of her classroom, not a trip to the basement and her teacher perpetually disheveled, in pajamas, and juggling two baby boys.
Now I wouldn't have it any other way. We've chosen to homeschool for a couple of reasons:
1. I want my kids to enjoy learning.
I enjoyed the social aspect of school (most of the time), but I really can't say that it nurtured a love of learning within me. I went to Blue Ribbon schools, graduated with honors, by all appearances one could safely assume I loved learning! In reality, I couldn't wait to get out. I was able to successfully jump through the hoops, but it wasn't until I finally left school that I realized how much fun learning could actually be.
I believe people have an innate thirst for knowledge. Hang out with any toddler or preschooler for five minutes, and see how many questions you're asked. They want to know things. Sadly, I think sometimes schooling suffocates those flames instead of fanning them. Not all schools or in all instances, of course, but sometimes all it takes is one bad teacher at just the wrong time to snuff out the flame completely. School then becomes a tedious task that one has to suffer through before they can finally enter the real world.
I'm hoping to create an environment for my kids that turns their flickers into raging infernos. Exactly how I'm going to do that, I'm not quite sure. I am at the beginning of this journey, after all, but I think being able to follow their interests and not just have to do what everyone else is doing is a good place to start, which brings me to point number two…
2) Scream it Braveheart style, "Freedom!"
I love the idea of creating our own family schedule. There are so many advantages: vacations in the off season, no frantic "run to catch the bus" routines, and being able to delve into subjects to our hearts' content are just a few.
I can remember being disappointed in school when I'd be really into a project or the class was having a great discussion only to have to stop because a bell rang. Sure, we could start again the next time we met, but it was never the same. You can't recreate genuine enthusiasm. I hope our homeschooling will help our kids have more of those moments. I did make a homeschool planner, and I definitely have an idea of what we'll be covering when, but if my daughter in enthralled with butterflies, I want to be able to take extra time so she can learn as much about them as she wants.
Unfortunately, this freedom doesn't really exist in schools where deadlines have to be met and certain subjects must routinely be taught, and I get it. I went to school and had planned on being a high school language arts teacher. A large class can't function well if everyone is off doing his or her own thing, but thankfully, a homeschool can function perfectly this way.
3) In the words of Steven Tyler, "I don't wanna miss a thaaaang!"
I recently read a post from one of my favorite bloggers, and my heart broke for her. She's preparing to send her first kiddo off to all day kindergarten, and she said she got upset thinking about what firsts of his she may miss while he's at school. I completely understand.
I think there's something strange about the phenomenon of sending children off to spend the majority of their waking hours in care of strangers. (Because, let's face it, teachers, bus drivers, and the various other adults kids come in contact with during the school day are, more often than not, complete strangers to us.) Sending kids to school seems normal to us today (not doing so seems strange to many.  Trust me, say you're thinking about homeschooling, and you'll hear all sorts of comments!), but compulsory schooling is a fairly new idea in the grand scheme of things. Children used to be educated by their families, and I can't help but feel that that's the way it's supposed to be, for our family at least.
Before people attack me or accuse me of judging others, I know not everyone can homeschool. I was a latchkey kid raised by a single mom. I get it, trust me. I also know that homeschooling may not be best for every child. I'm planning on homeschooling our little ones, but my oldest son (for a couple different reasons) will still attend a public charter school. My hope is to one day be able to educate him at home too, but that may not be in the cards. I get that too.
I don't write any of this as a prescription for all families. I do, however, think there are a lot of people out there who would love to homeschool but doubt their abilities, feel awkward about it because of stereotypes or because they don't know anyone else who does it (I sometimes struggle with this one, to be honest), and I just want to say to those parents, you can do this. I have no doubt that you can do this. Seriously, if I can do it, you can do it.
I've read enough posts on various homeschooling sites to know that not every day will be easy or fun, but the fruit of this season will be magnificent. I'm certain I will (probably in the not-too-distant-future) have days where I feel overwhelmed, unappreciated, and like I've made a huge mistake, but ultimately, I believe nothing worthwhile is ever easy.
I love being at home, but I'll be honest, I'm not thrilled with the idea of giving up the seven hours of freedom school would've afforded me. Sometimes I long for the freedom of jumping in the car without a Babies R Us store's worth of supplies, and for years kindergarten has been my oasis in the desert. I may have had years to wait, but I could see it faintly glimmering in the distance. All I had to do was get there.
I'm mourning that time a little bit: lunches with friends, shopping alone, and quiet time spent reading in the house, all of which now will never be (or at least not as easy to come by). I could have used that time wisely, but when I'm honest, I can't imagine a better way to spent my time than nurturing my children and instilling in them a love of learning.
So here's to our new adventure! May we sleep well and dream of large women. No, wait. Wrong adventure. May we sleep well and dream of large books.