Sometimes the hustle and bustle of daily life can distract us from what's most important, our families. With the beginning of school on the horizon and only more craziness to come, I wanted to share five easy ways to have family fun and reconnect.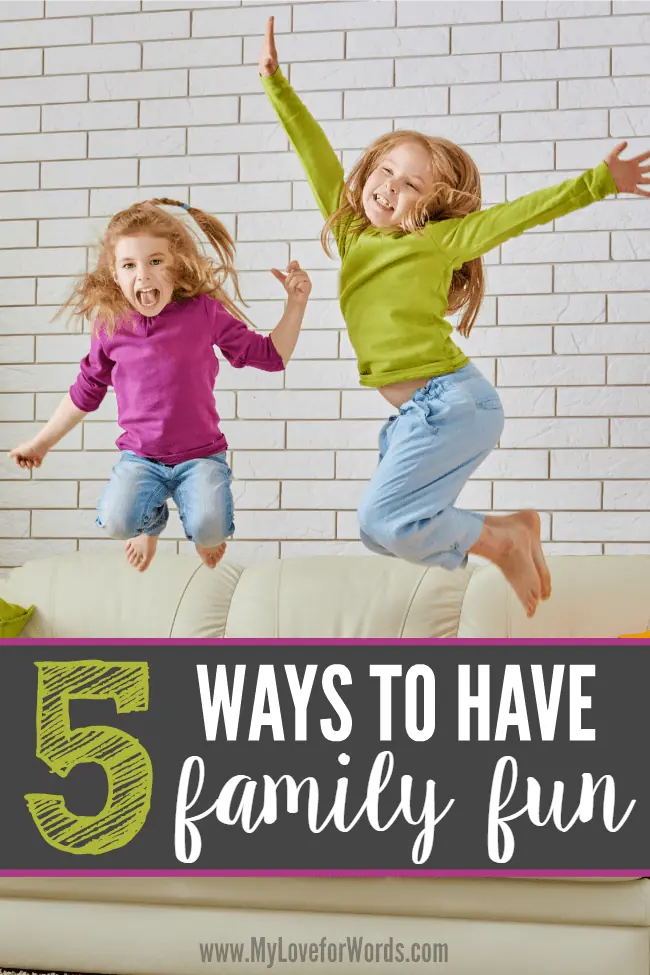 1. Family dance party
My kids love it when we crank up the music and dance. This usually happens when I'm cooking dinner, but it's always a fun diversion from regular life. Just turn the radio up and get dancing!
2. Dessert before dinner
I remember the first time I had dessert before dinner. It was my eighth birthday party, the kids wereZ hungry, and the pizzas were late so my mom made the coolest decision ever, and we had cake and ice cream before pizza! It's a small treat that doesn't cost a penny extra, but it turns a regular meal into a really fun experience and maybe even a cherished memory.
3. Family movie or game night
It seems like the larger and older a family gets, the harder it can be to spend time with one another. Snuggling together on the couch to share a movie or sitting around the table to play a game are fun ways to reconnect.
4. Say "yes" day
Kids don't usually get to make a lot of decisions or be in charge. There are a lot of things they have to do on someone else's schedule and according to someone else's plan, which isn't necessarily a bad thing, but a "say yes!" day can be a very exciting treat. On a say yes day, parents can only say yes to everything the child wants to do. Some careful guidelines before the start of the day are a must (like setting a budget or staying within a certain number of miles from home), but who knows what could happen if we relinquish control to our kiddos for just a day. We might end up surprised by what they choose to do when anything's an option.
5. Create your own traditions
Creating your own family traditions is a powerful way to become and stay connected throughout the years. Traditions can revolve around holidays, birthdays, or random and surprise events like doing well on a test or a certain day of the month.
These are some of our favorite ways to #livebrighter and stay connected, but I'd love to hear about your favorite ways to connect with your family? Have you created any of your own special traditions or surprised your kids with crazy things like dessert before dinner? Please share! I'm always looking for new, fun ideas (an if they're inexpensive that's even better!).
Direct Energy wants us to start having more fun with out energy bills too because they want us to use less of what they sell. Really!
Direct Energy's new "Direct your Energy" system allows us to track our energy usage so we finally know what our energy costs really mean. Click here for more information.
Direct Energy also offers Plenti points, which is a single rewards program so keeping track of rewards is simple. Customers can earn 1,000 Plenti points at enrollment when they link their Plenti card to their Direct Energy accounts. Click here for more information.