It's hard to believe, but it's almost back to school time! This year's going to be a little different for us though because it's the first year we don't have back to school lists or open houses to attend because we're homeschooling!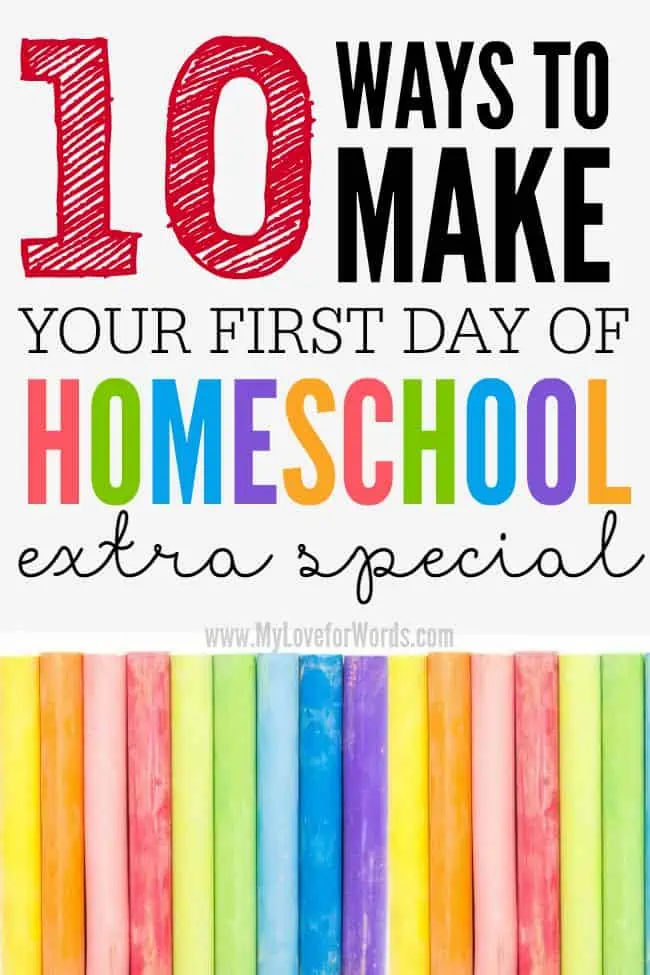 We technically started homeschooling last year, but that was kindergarten so it wasn't very strenuous or stressful. We focused on math, reading, and lots of fun activities. However, in February we pulled our seventh grader out of school and stuff got real. Kindergarten didn't intimidate me, but junior high means high school and college are just around the corner, and that's kind of stressing me out!
We gave my son some time off and eventually started working on different subjects, but this year will be our first full year homeschooling him, and the pressure is on!
In hopes of starting the year off on the right foot, I decided to come up with a list of ways to make our first day extra special and ease us all into a great school year.
1. Decorate the school room
Celebrating our first day is actually going to start the night before in this house. I'm hoping to decorate our school room after the kids go to bed so they can wake up to a huge, exciting surprise.
2. Take first day of school pictures
I love first day pictures. It's so much fun to see the kids with their little signs and all of the excitement that comes with a brand new year. Best of all, it's a great keepsake to compare to their end of school pictures just nine short months from now. I could already get weepy thinking about how much they're going to change.
3. Special Breakfast
I'm planning on treating my kids to a special breakfast on our first day, maybe homemade sausage and cinnamon apples? That's one of their favorite meals, and I can't resist fitting an apple in there somewhere. This is about school afterall!
4. Do a fun craft/play a game
My daughter is a future blogger/pinterest queen in the making. She loves doing crafts. If it involves markers, glue, scissors, sparkles, or ribbon she's ready to go. A fun craft or educational game will definitely be on our first day of school agenda.
5. 1st Day Survey
Just like the first day photo, I think a survey is a must. I love seeing what the kids are into at certain times and comparing it to the end of the year. Their likes and dislikes can change so quickly, and it's fun to have a record of their interests.
6. Special lunch
More apples perhaps? Maybe not, but putting together a special lunch (maybe with little notes or a picnic while the weather's nice) is a fun treat that might not be possible later in the school year.
7. Family bonding activity
This may sound corny, and I'm honestly not quite sure of what I'm going to do for this yet, but I'd like to do a bonding/team building exercise on our first day. I want my kids to start off on the right foot as classmates. I want them to support one another, be encouraging, and it may not last for very long or even dawn on them what they're doing, but I do think practicing these behaviors whenever possible is a good idea.
8. Small school-related gift
I have loved school supplies for as long as I can remember. I literally get a rush walking into an office supply store (kind of pathetic, I know). I want to surprise my kids with just a little something that they'll love but is also useful (no toys, kids. Sorry). A cute folder or fun pencils with characters on them should do the trick.
9. Decorate folders/binder covers
Stickers, markers, whatever they want. I want my kids to take ownership of their learning to be excited to jump into their studies. I think giving them the creative freedom to make their school things their own helps that process.
10. School supply treasure hunt
This is probably my most complicated idea so far, but I think it'll be fun. I want to create a scavenger hunt for my kids as a way of helping them find their school supplies. I'm thinking of making little cards that have age appropriate math problems or trivia that they have to answer correctly to get clues to where their items are. I don't know for sure how it's going to work out, but that's my thought for now. I hope to share more in a future post!
Of course you don't have to do all ten activities, but I hope these have given you some fun ideas on how to make the first day homeschooling extra special.
Do you have any other ideas of traditions you like to do to start the school year in a special way?
If you liked this, be sure to check out my other homeschooling posts. Happy back to school time!