Stateroom amenities and onboard entertainment are important parts of a cruise, but there are a lot of other factors that can make or break a family vacation. In this post, I'll share our experiences with the onboard dining, what it was like to get on and off the ship, and why I think a Disney cruise is best cruise to take with kids.
This is part two of my The Only Cruise worth taking with Kids post. Click here to read the first post where I talked about staterooms, entertainment, and on board water features.
Food
Cruise food is usually pretty good, and Disney definitely delivers. However, one area where Disney excels is that families aren't just welcome, they're expected to dine together. You can choose not to, of course, but you won't get dirty looks from anyone if you do because so many other tables are full of kids too.
We went on a different cruise line in the spring of 2014, and my husband and I were counting the days until we could get off that ship. We were only able to eat as a family in the nice dining room once, and it was a miserable experience, which meant we had a lot of junky buffet style food instead of the gourmet meals they were serving just a few decks below. It was such a disappointment because the food was great, but trying to make four kids (ages 1, 2, 5, and a 12 year old with adhd) sit still for two hours and quietly wait for food was just not happening. The kids were well behaved, but they're kids, and they get a little antsy after a while.
On Disney ships, the dining experiences cater to children. The staff works extremely hard to keep the kids entertained and happy with little touches like pouring their ketchup in the shape of Mickey Mouse, providing coloring sheets and crayons, and bringing their food early if you'd like. Kids counselors will even greet any children who have finished eating at the dining room entrance and take then to the play area.
They also have Mickey Mouse ice cream bars for dessert. Need I say more? I'll just let this face do the talking.

If you're hungry onboard, you won't have to go far to find food. Not only is room service free, but there are many dining rooms and pool-side eateries to choose from.
Soda lovers will be in heaven because the soda is free! Other cruise lines make you pay for every glass or buy a soda package, but on Disney the soda fountains are available for you to help yourself. Soft serve ice cream is available too… not that I would know anything about that.
Getting on and off the ship
Getting on and off the ship couldn't be easier. First of all, let me just say the terminal is gorgeous! There's a giant replica of one of the ships in the terminal, ample seating, and a ton of stations open to handle arriving passengers. There are even greeters waving to you with big white Mickey gloves on. This thrilled our two year old. We practically had to drag him away from them.
We showed up around 1:30pm to get on the ship and didn't even have to wait in line. We walked right up to the counter and then through the big Mickey symbol and onto the ship. The greeter onboard will announce your arrival to the atrium with your family's last name, which always makes me teary eyed. It's silly, but it's such a fun way to begin a vacation, and it always makes me feel so thankful to be able to do something so special with our kids.
Getting off the ship runs extremely smoothly as well. We did have to wait in line, but most of our luggage was removed by ship staff the night before and was sorted. It can be found in the terminal the next day, sorted into different areas according to cartoon character so it's really easy to find. Disney also offers porters who will stack all of your luggage on a cart and walk you through customs and all the way to your car. This help is absolutely priceless when you're juggling passports, keys, and trying to make sure you don't lose your kids!
My husband and I took a Mediterranean cruise for our honeymoon and disembarking in Barcelona was a nightmare. The luggage came down carosels just like in an airport except there were a couple thousand people fighting to find their bags. That was stressful, and it was just the two of us. I cannot imagine going through that with four kids, and I never plan to try.
Overall
The ships are gorgeous. We took a Halloween cruise, which was a blast. The ship was decorated beautifully, complete with a huge pumpkin tree in the lobby, and kids were even able to trick or treat on the ship.
On our second to last day, our baby ended up getting a little fever in the nursery. We had to pick him up early (which was totally fine. We wouldn't have had it any other way), and thankfully, he was fine after a good night's sleep and had no other symptoms. The next day, we received a call asking how we was doing. We were then surprised with a beautiful gift basket full of four large stuffed animals, one for each child! It was such a thoughful, kind gesture, and just another example of how Disney goes above and beyond in every single way.
Honestly, the only downside to a Disney cruise is the price. If you compare Disney to other lines, Disney is more expensive… sometimes much more so, but I promise you it's worth it. Other cruise lines, when compared to Disney, are seriously lacking in entertainment, safety, and amenities. We have tried two other lines, and on both we spent almost the entire cruise regretting our vacation. I jokingly refered to our ship from this past spring as "The Depression of the Seas" because we weren't having fun, and every time I saw a Disney ship next to us in port I desperately wanted to grab our bags and get onboard. Those vacations felt like a complete waste of time and money. I'm not going to go on and on because we were on a cruise, and that's a pretty nice problem to have, but we won't be cruising with them again.
We also got a lot of stares on that trip because so few other cruisers had kids, let alone four! We were like a traveling freak show on that ship, but on Disney we were just another happy family. We did get some looks, but that was mainly because either our kids was wearing a costume and looked adorable (unbiased opinion, of course) or because people recognized the diaper dash champion!
Yes, they sometimes race babies on Disney cruises. It's the cutest thing you've ever seen, and our baby won! At 18 months, he wouldn't have had an excuse to lose. He'd obviously been training his whole life, and we've since joked that he evidently just wanted a trophy before walking because about a week later he was finally on two feet.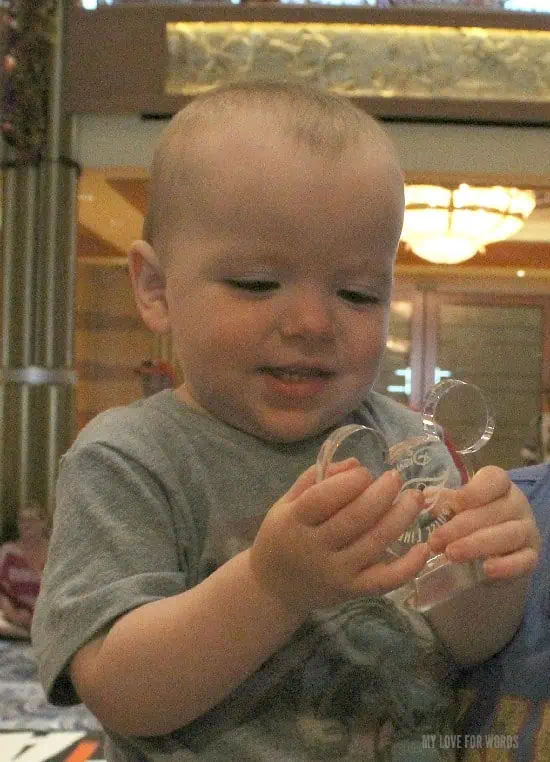 Ultimately, any vacation where a family can spend time together and connect is great, but sometimes they can almost feel like more work for us than if we'd just stayed at home. When we go on vacation, I want to create beautiful memories for our kids and happy family traditions, and that's practically guaranteed on a Disney ship.
Truly, if you, as a parent, want to enjoy your vacation right along with your kids, Disney is the only way to go.