I'm a cruise addict. I can admit it. My love for cruising started eight years ago when my mom won a free cruise in a raffle. She was kind enough to take me with her, and I experienced how relaxing the high seas can be.
Now, a husband and four kids later, cruising is a very different experience. We've sampled a few different lines as a family, and I can confidently say this is the only cruise worth taking with kids.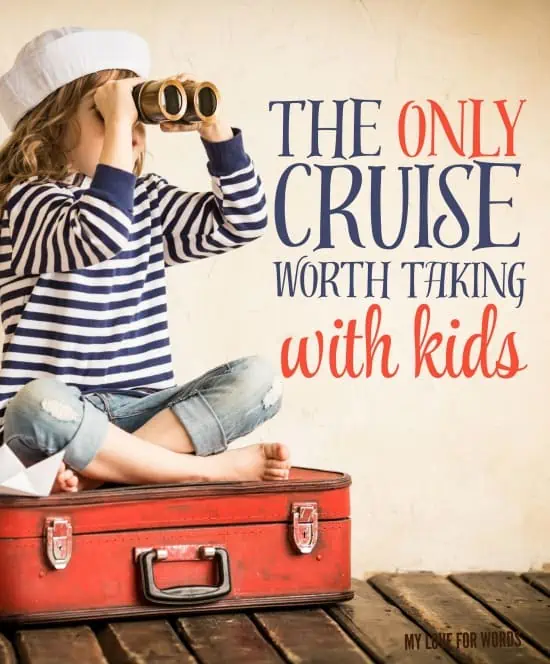 The first cruise we sailed with children was a Disney cruise. This was both a wonderful experience and a big mistake because every other cruise line, that we've been on anyway, is a huge downgrade when compared to a Disney cruise.
It probably won't surprise you to hear that Disney thinks of everything! Our first trip was on the Magic, which is one of their smaller ships. We've since taken three more cruises on the larger Dream and Fantasy ships, and since those are fresher in mind, those are the ships I'll refer to in this post.
Staterooms
The staterooms on a Disney ship are extremely well thought out. We've staying in both balcony and interior rooms, and we've been thrilled with both.
Balconies are great because they're larger and you have not only a window but your own little outdoor space. Unfortunately, they're also more expensive so on our last cruise we booked two connecting interior rooms instead. Each room could sleep three, and since we're a family of six it worked out perfectly. An adult has to be booked in each room, but Disney doesn't care where each person sleeps so my husband and I slept in one room with the baby while our three older children had their own room. Having two rooms was great because we were able to have two bathrooms and two tvs so if the kids wanted to watch a cartoon my husband and I could sneak off and watch our own show right next door. Since the rooms were connecting, we had access to both rooms without having to go into the hallway or use keys. With little kids, unconnected room would've been a deal breaker for us.
Interior rooms have a really neat "magic porthole" above the bed that shows a live feed from the ship. It was like having a small window, but arguably even better since we didn't have to worry about light sneaking around the curtain in the morning and waking up the kids too early. Cartoon characters would also sometimes float across the screen, which the kids loved, and we could turn it off whenever we liked.
Bathrubs are an uncommon treat on a cruise ship, but every Disney stateroom has one. Having a bathtub is wonderful when you have kids. Every other non-Disney ship we've sailed has had a shower, which makes bathing kids a difficult experience. Working around the small sliding door and trying not to soak the entire room is a feat in and of itself. With a bathtub, that problem's solved.
Each room also comes with a wall mounted flat screen tv that has a good number of channels plus a ton of on demand movies and shows. Honestly, if Disney made it, it's probably available in your stateroom. While we don't go on cruises to be holed up in our stateroom, having the option to turn something on is really nice.
Entertainment
It wouldn't be a Disney experience without a visit with Mickey Mouse or perhaps even a princess or two, and onboard you'll have many opportunities to rub elbows with Disney royalty.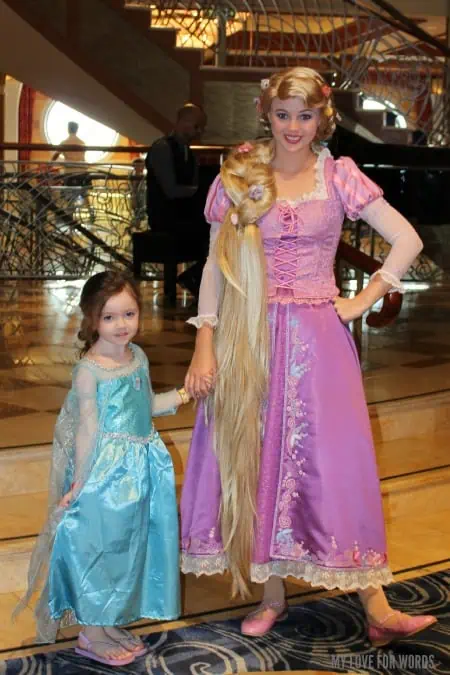 The kids areas are huge and include a lot of fun movie themed spaces. The kids can play in Andy's room, explore a Monster's Inc themed lab, play dress up in a Tinkerbell forest, or play computer games in the submarine. In a connected area, kids can also can play video games where they pretend to steer the ship, watch movies, and do art projects.
The staff is wonderful and extremely friendly, and there are a ton of planned activities to keep the kids busy too. Best of all, the areas for kids through 12 are all extremely secure. Adults are required to give a secret password when checking the kids out of the play areas, and the kids are also signed in and out with wristbands.
We sailed on another line a few years ago whose entertainment and security were both severly lacking. On that ship, the kids area consisted of a very small room with an exercise mat and a few toys, and the check in and out procedure was just a list of the kids names and staterooms out for everyone to see! Every child's full name and stateroom was basically public knowledge. That terrified me. I also didn't like that on this other line we were not allowed into the kids space after the initial open house. On Disney, you're able to go in to get your child and see what they're up to. They don't keep you from your kids.
Other cruise lines typically also have very limited hours and are usually closed while in port. On Disney, the kids areas are open almost all day long, including while in port! On our last cruise, my husband and I were able to book an excursion in the Bahamas while the kids stayed in the kids club and nursery. We've never done that before, but it was so nice to be able to have a little alone time and know the kids were safe and having fun. (It was also the only way I could talk my husband into taking a cruise with all the kids. He's dying to take a couple's vacation, but it's hard for me to be away from the kiddos for a long time so a few hours here and there was our compromise, and it was wonderful!)
The live shows onboard are fantastic. They're creative, funny, and have great storylines. Best of all, kids are expected to attend, and if someone's loud or has to leave everyone understands. They also had some Disney Jr. shows, which the kids enjoyed.
The ships also have onboard movie theaters where first run movies play for free. If a movie is released while you're onboard, the ship will usually begin to play it or offer a sneak preview. They also offer a good balance of movies for children and adults. On our last cruise they were playing Planes Fire & Rescue, Guardians of the Galaxy, The 100 Foot Journey, and Alexander and The Terrible, Horrible, No Good, Very Bad Day.
Our almost-three-year-old got to see his first movie in a theater! I'm not yet brave enough to take him to a theater here at home, but everything's so family friendly on board that it wasn't a problem. I'm happy to say he did great.
Elsa joined us too!
There's also a lot to do onboard even when you're docked. We've been on other lines who offer practically nothing while in port. For example, on a competing cruise line I was excited to see a half an hour of sudoku one afternoon only to realize that all this consisted of was picking up a page of one copied sudoku puzzle. That was it.
Water fun
There are a few different water areas onboard. Beyond the normal family pools, kiddos in diapers can play in an area with a bunch of fountains and a small waterslide, and adults can hide away in the adult only areas. The adult spaces are surprisingly quiet and peaceful. You may even forget there are kids onboard!
The larger Disney ships also have the Aquaduck, an onboard waterslide that goes all around the upper deck of the ship. It's a fun slide, but you will end up soaked if you sit in the back so you've been warned.
I'll share more about the food, our overall experience (including a few more pictures), and a downside to a Disney cruise in tomorrow's post (update: click here to read part two), but until then, I'd love to know if you've ever cruised with kids? How was the experience for you?