Today's post is sponsored by Bona, but all thoughts and opinions are 100% my own.
I've always enjoyed the holidays, but now that I have kids I love them even more.
Unfortunately, motherhood also means that my Holiday to do list is a lot longer than it used to be when all I had to do was wake up and open presents. (Cue Archie Bunker, "Those were the daaaays!")
This year, I decided to make my own Holiday to do list printable so I can stay on top of everything and nothing falls through the cracks… or sticks to the floor.
I wish we could get away with mopping once a year, but with four kids we have to mop a lot! See, this is what happens multiple times a day… and that's just one of them.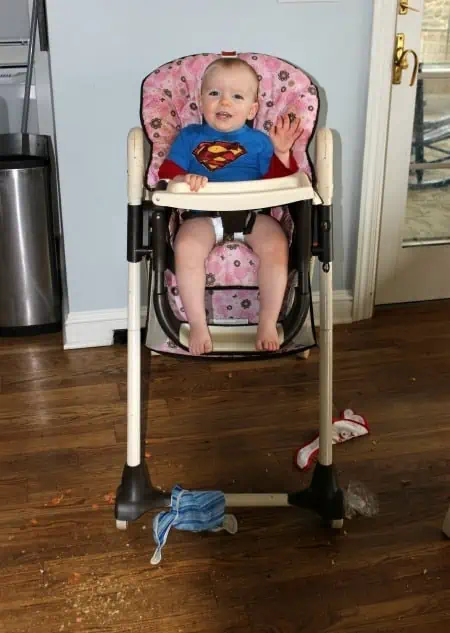 He's Superbaby so I guess I can't get too upset, and just fyi he usually wears pants. I guess it figures I'd notice this is one of the rare time he isn't when I'm editing photos for my blog. Oh well. You're welcome for the cute, chubby baby legs. 🙂
Now that the holidays are here and house guests are on their way, I need to prioritize keeping these floors spic and span.
When I was looking for a product to clean our floors it was really important to me to find something that would work well with wood floors and make them look great. Bona delivers! It doesn't leave any residue, and the floors look good enough to eat off of (just ask my kids).
Most important to me, however, was that is was safe for crawling babies and five second rule believers because, let's face it, if it's on the floor it's only a matter of time before it ends up in someone's mouth. I didn't want my kids ingesting nasty chemicals, which is why I was thrilled to see that Bona products are non-toxic and Greenguard certified. They've also been verified by third party sources to be safe and effective. Check this out, my floor after a quick mopping:
You can click here to sign up for the Bonafide Fanatics mailing list and download a $3.00 off coupon for your own Bona products, and for your own Holiday To Do List, click here.
I'm excited to have "find a great floor cleaner" checked off my to do list. I hope tackling the rest of the list is just as easy.
What will you be doing to prepare for the holidays?