Everyone knows the best gifts come from heart. It's not necessary to spend a lot (or sometimes any) money on a gift for it to be meaningful. Some of the most valuable things we can give a person are our time and attention, which is exactly what these printable Christmas coupons represent.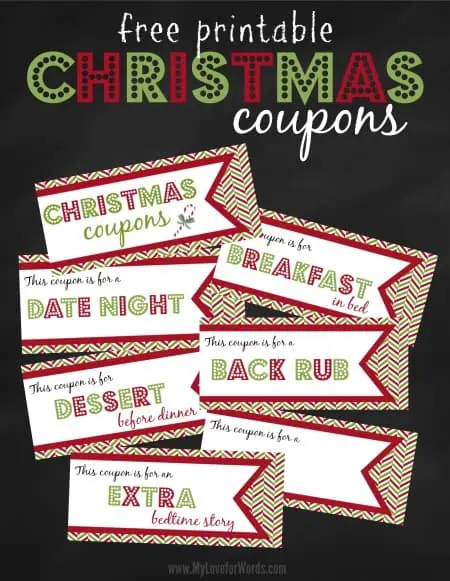 The coupons can be used for adults or kids and include:
Back rub
Foot rub
Day of Rest
Night Out
Hug
Kiss
Movie Night
Date Night
Breakfast in Bed
Weekend Getaway
Play Date
Day Free of Chores
Sleepover
Choosing a Family Movie
Staying up past bedtime
Extra bedtime story
Dessert before dinner
Plus a cover page and blank coupons so your gift can be personalized.
You can download them all by clicking here.
If you're a printable addict like I am, be sure to check out my printables page, and for more Christmas printables, you may like these posts:
Christmas Guessing Game Printables